---
it's a girl!
June 10, 2015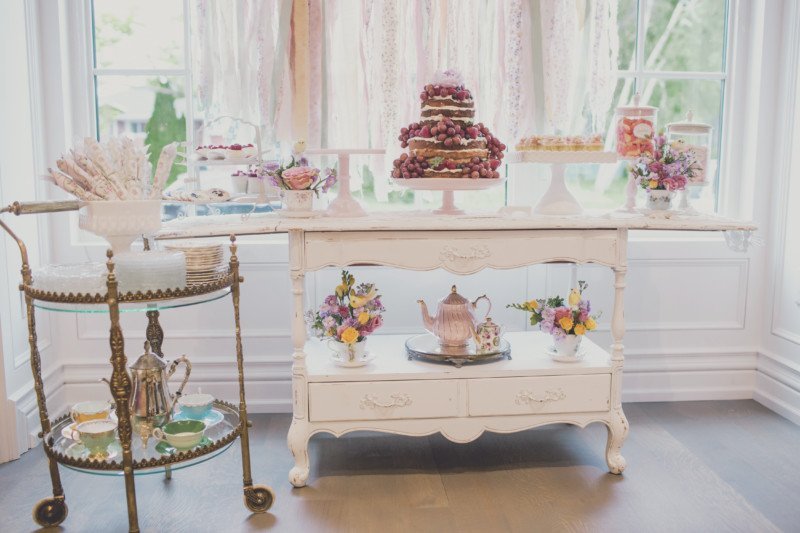 My best friend Erica was due to have a baby girl on July 12th and I was elated to host her a baby shower a month earlier! Since my house is not very big, I asked her parents if I could host the party in their gorgeously landscaped backyard. To my excitement they said yes!
The theme was a garden tea party which has been done time and time again but honestly it never gets old. It is just too cute for a girls soiree!
For 8 months in advance I crafted up to 15hrs a week. Slowly, building the DIY list so that I wouldn't be overwhelmed with crafts last minute. Since crafting is my thing, it wasn't a big deal. Anytime I watched a movie, or sat down, I would pick up a craft and go!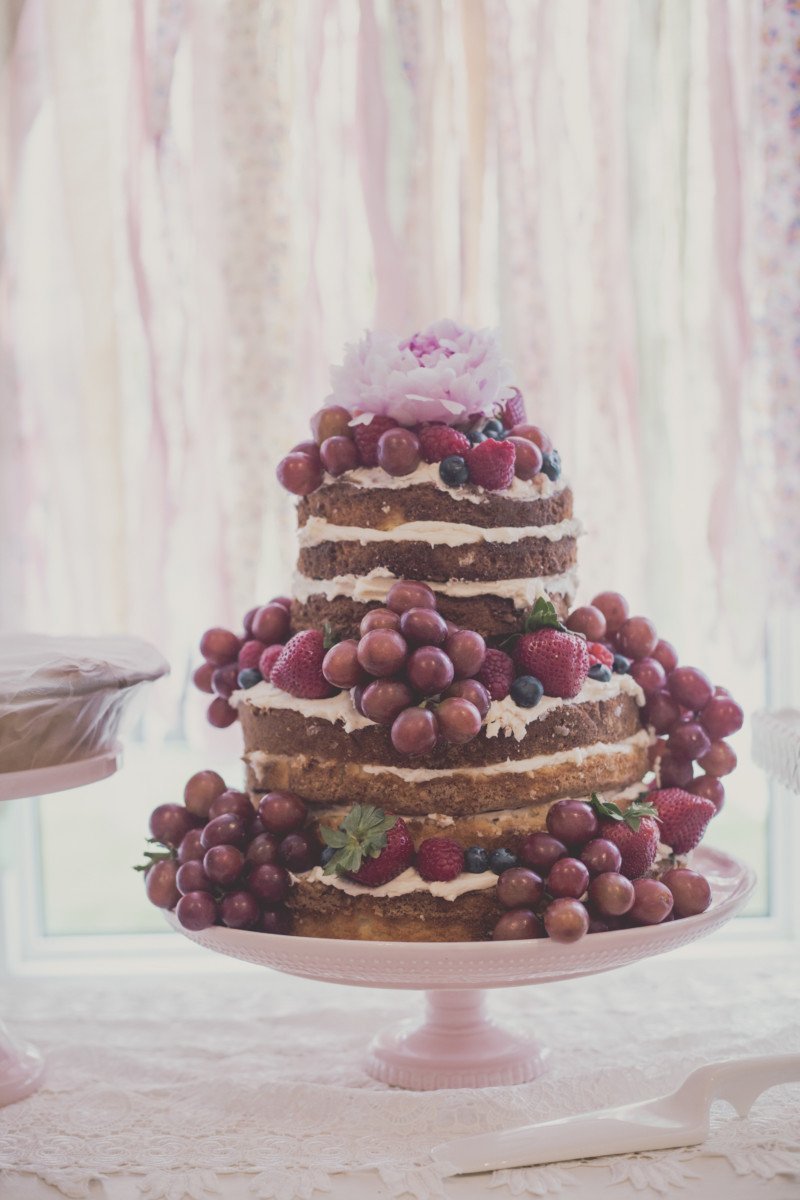 This is my first attempt at a naked tiered cake which turned out pretty awesome for a first time I thought! This buttercream layered vanilla cake took hours to make, but only minutes to assemble and decorate. Why not decorate a cake with fruit? It is fresh, pretty and colourful and serves as a beautiful focal point.
These mini lemon cupcakes with raspberry buttercream are a zesty pop in your mouth treat! Decorate your cupcakes with a flower and voila!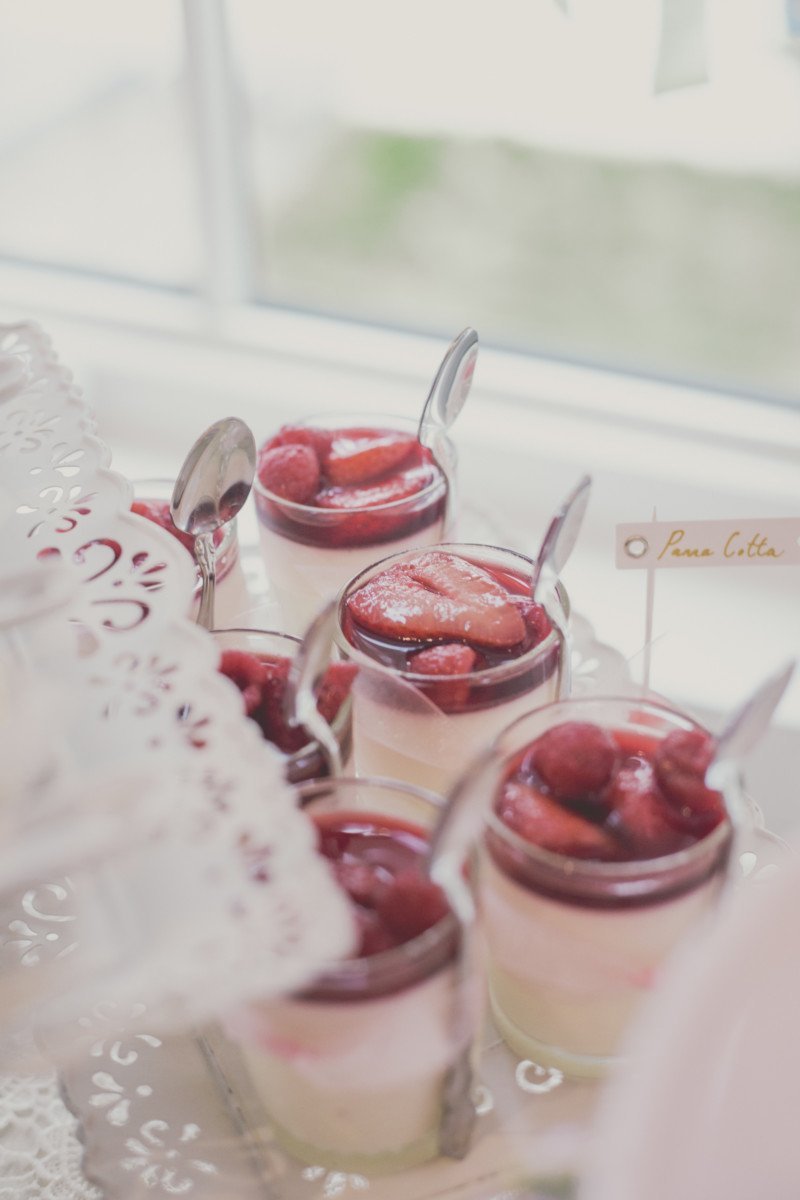 Strawberry and hibiscus infused Pana Cotta always look adorable on a tray. Wrap a mini spoon to the shot glass and you have a mini creamy dessert. Pansie Shortbread cookies were also a hit! They look so pretty for a garden tea party. Baking with flowers is easy but make sure to get organic flowers that have never been sprayed with toxic chemicals!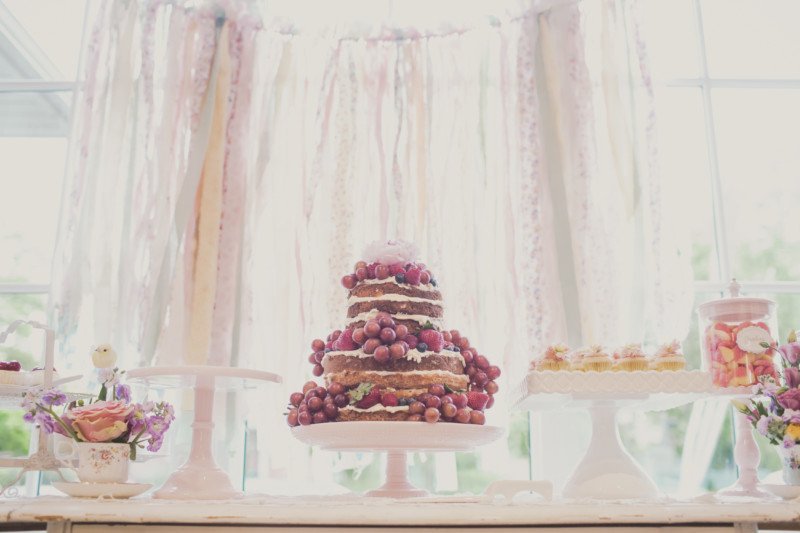 Make sure to ask for help when hosting a party. The key to making sure all the desserts will still look cohesive on your dessert tables is telling your friends exactly what you need and ask them not to cut or portion any of the desserts. This is where you can control the look of the table by portioning the desserts into matching vessels, spoons, or trays. Many times, people are keen to help but making the design look cohesive is hard to do verbally…so control that part for yourself to do. Understand that you can't do it all alone but there is a way to make sure it will look how you envision it.
On a vintage dressing table, I set up a Tea Bar for guests to make their own custom tea. Loose leaf teas sat in pretty tea cups with spoons so that people could customize their own tea.
Open the drawers of the dresser, and style it with flowers, or decor. Use rock sugar to pretty up the sugar options for people and find it in your theme colour.
Here I made a tea cup tiered tray with old plates and tea cups. I hot glued them together and in this case, used the piece to showcase a glass teapot with flowering tea.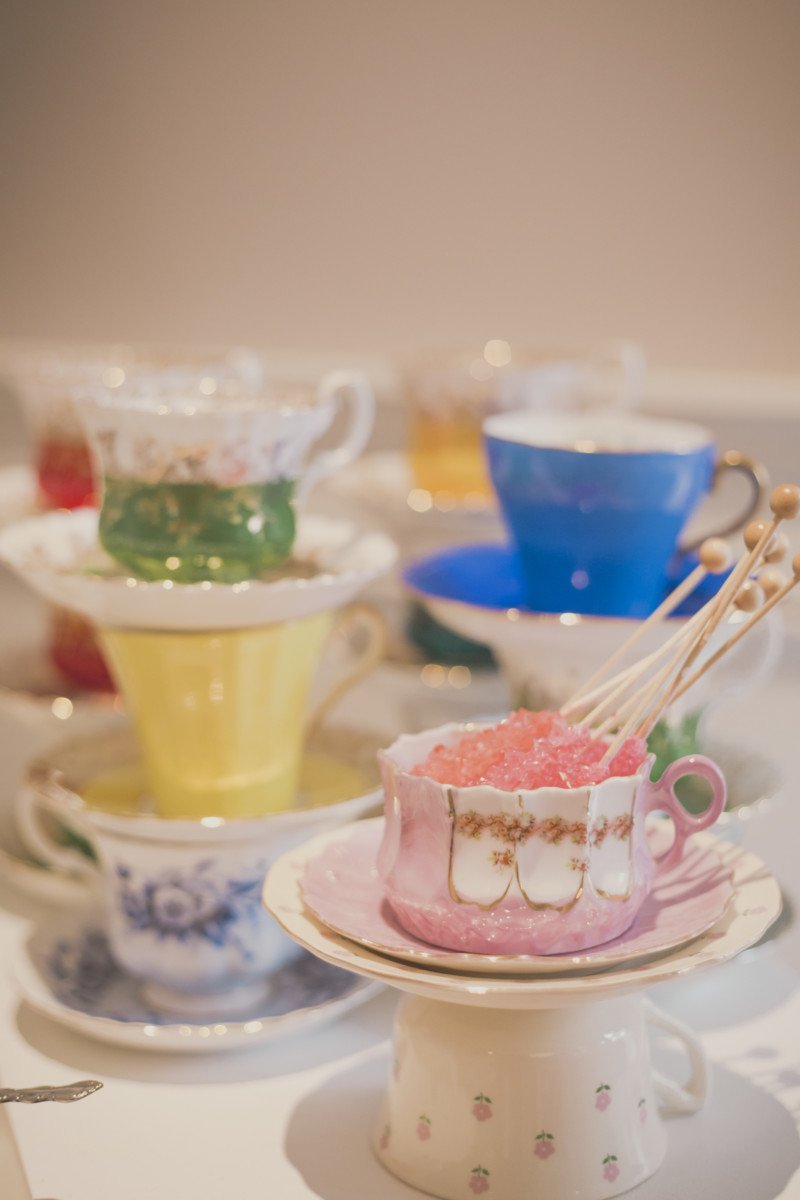 Display the tea cups in towers, at different heights for a cascading effect.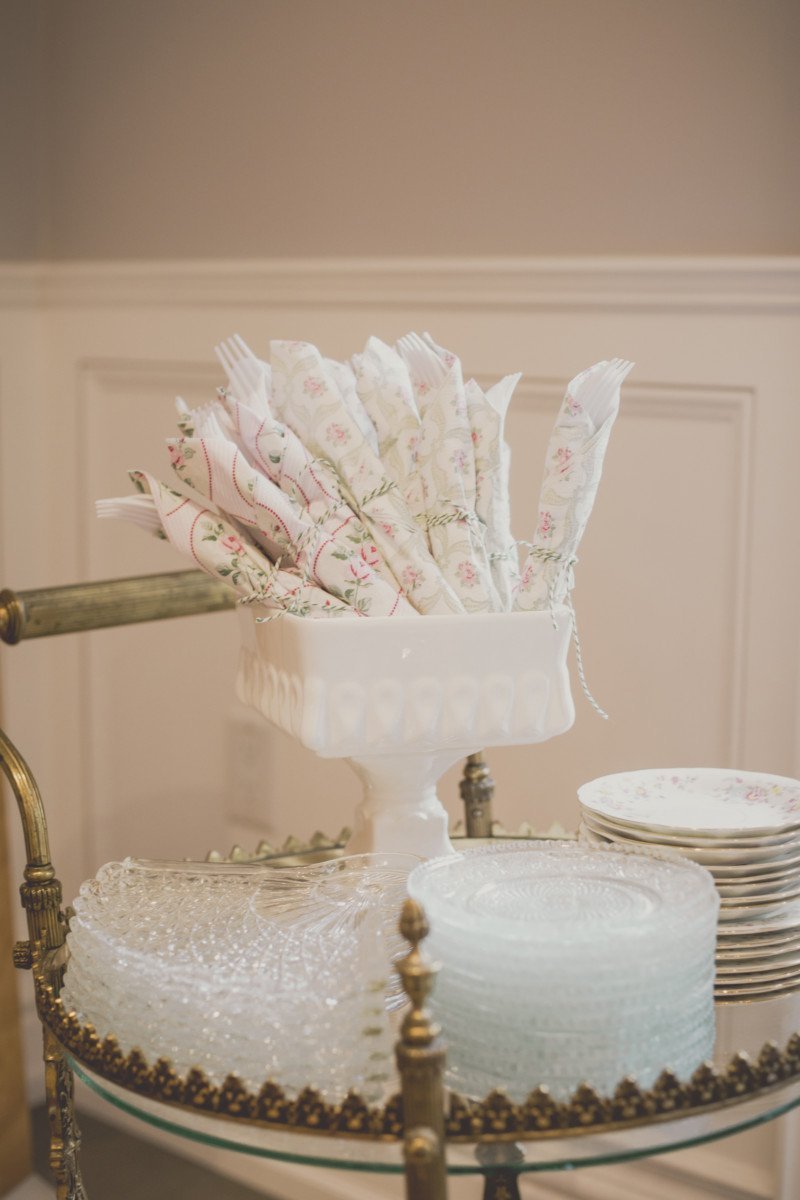 Here, the loose leaf tea is displayed in the tea cups with a bookmark, stating what the tea is good for and if its caffeinated or not.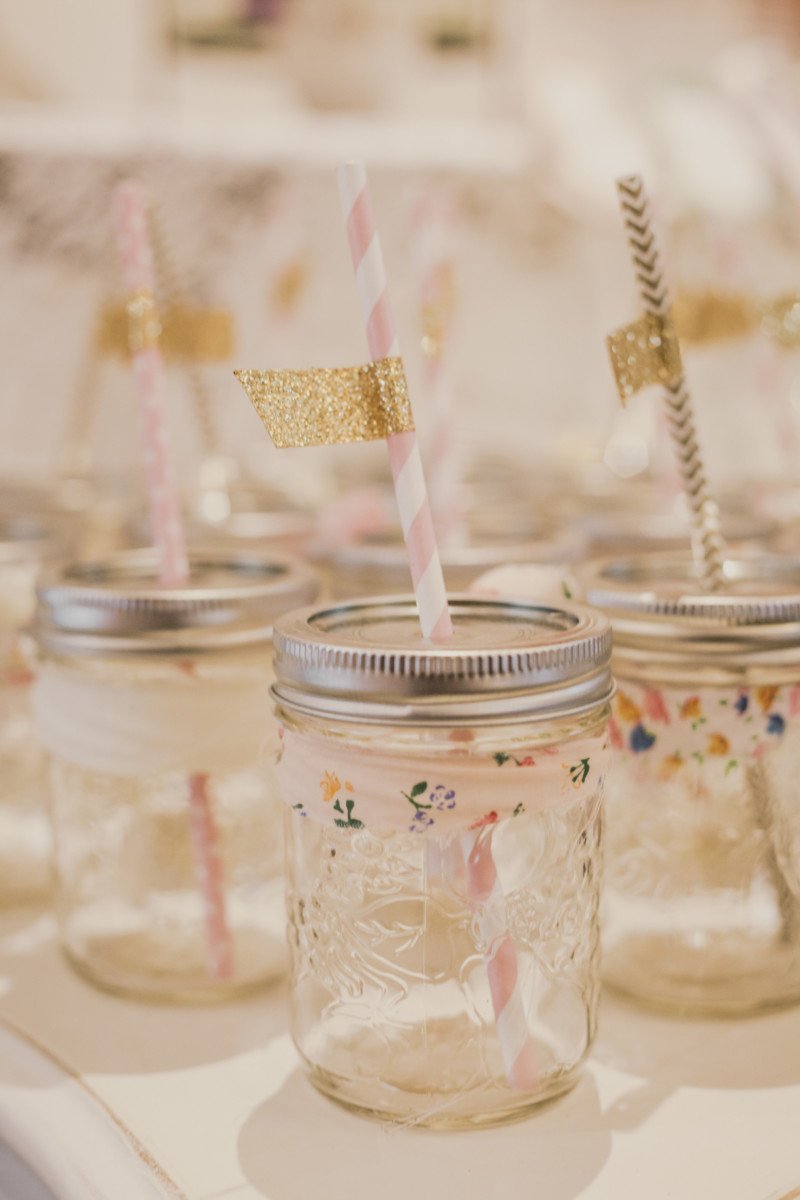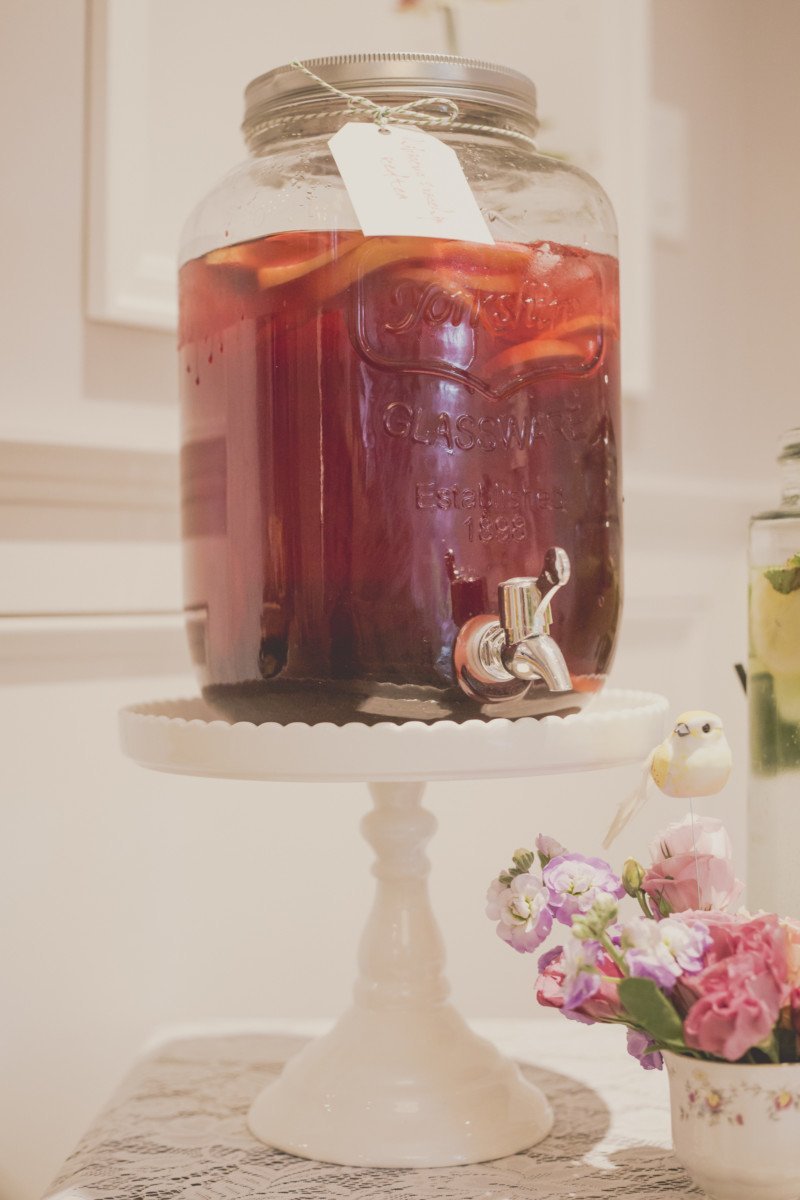 I purchased some cases of small mason jars so that each guest could have her own glass for punch. I drilled a hole in the tops of each jar so that it fit a straw and decorated each jar with a scrap of fabric matching the theme of the party.
I purchased pink and white paper straws and added gold sparkle flags to each by cutting washi tape and folding it onto each straw. I love fancying up a straw for that extra touch!
To keep in theme with the tea party, I made sure that each beverage was a tea infused flavour of some kind. Hibiscus rose, lemon mint, raspberry green tea. For interest, I displayed each beverage on a cake tower.
Fruit was added to each beverage for that extra flavour and appeal.
Of course, you can't have a party without candies to match the colour scheme.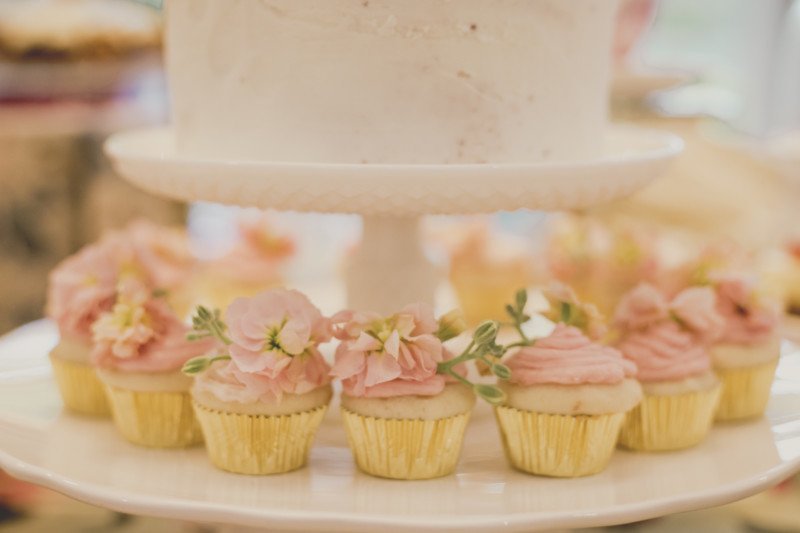 Of course, this partie's theme was all based around a garden tea party and so when the day began and set up started, the sun was a blazing. As the party commenced and guests started to arrive the darkest storm clouds came rolling in. I checked the weather and suddenly they called for a rain storm! I couldn't believe it! I had ordered a ton of antique furniture for the yard and now I had to squeeze it into the house. ugh.
Luckily, the house is large but it was newly renovated and Erica's parents were skeptical. I don't blame them, but we had to act fast. We had to dissemble the entire set up and set it back up within 30 minutes when Erica was due to arrive. OMG!! So with my team of besties, we got it done! The flower crown station went inside, the onesie station, the games, the hats, EVERYTHING!
Some of the furniture wasn't going to make it so we did what we could in a limited time. Take it from me – You must always have a back up plan and make the call with confidence! Lucky for me, I decided to make the call to go indoors because it stormed!!!!!! ….until the last guest left and the sun appeared before it set of course!!!! ahhhhhhrgghhhhh
So here are some shots of the set up outside before the rain. Here is the hair band making station. What a great way for guests to become involved without having to be involved in cheesy and gross tradition games like eating "poop" out of diapers. (weird)
Here you pre cut circles in fabric and felt and provide a glue gun and hair bands. Make sure to display the instructions so the not so crafty people understand what to do. And when your mama to be leaves, she has a plethera of hairbands for baby in all sizes!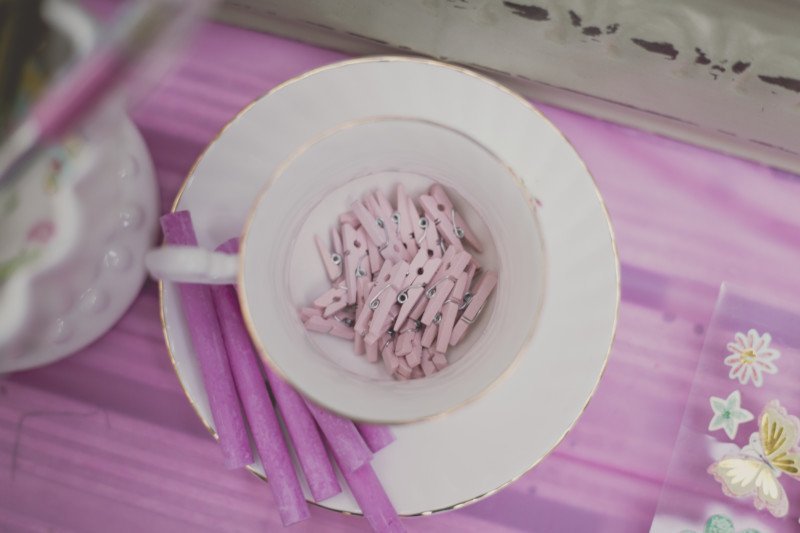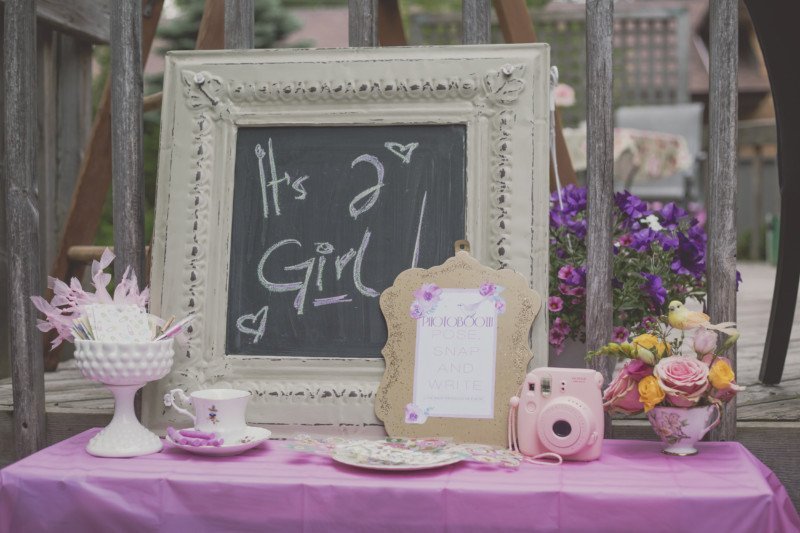 This is a polaroid station for guests to photograph one another and create a keepsake for the mama to be.
These are the paper cards meant for the polaroids to be glued onto and then hung from the clothesline. Guests can write a message on the polaroid for the mama or baby.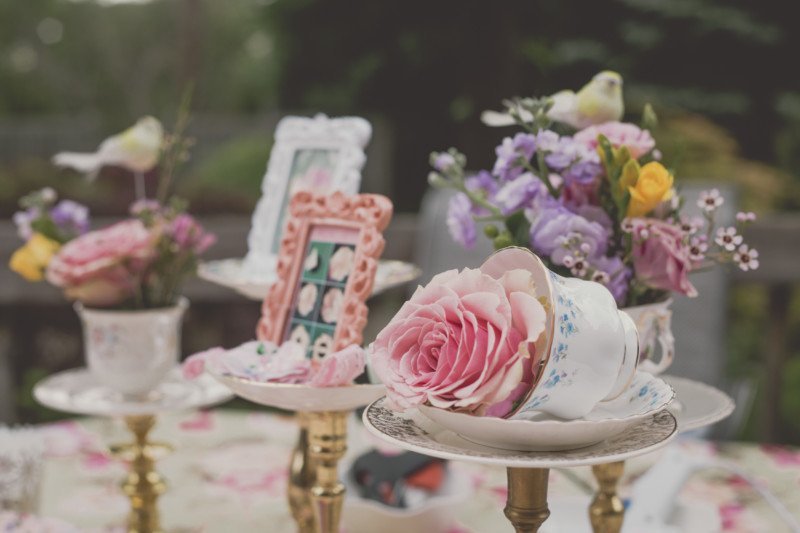 Feel free to use tea cups on their side to display flowers. This creates interest and more dimension.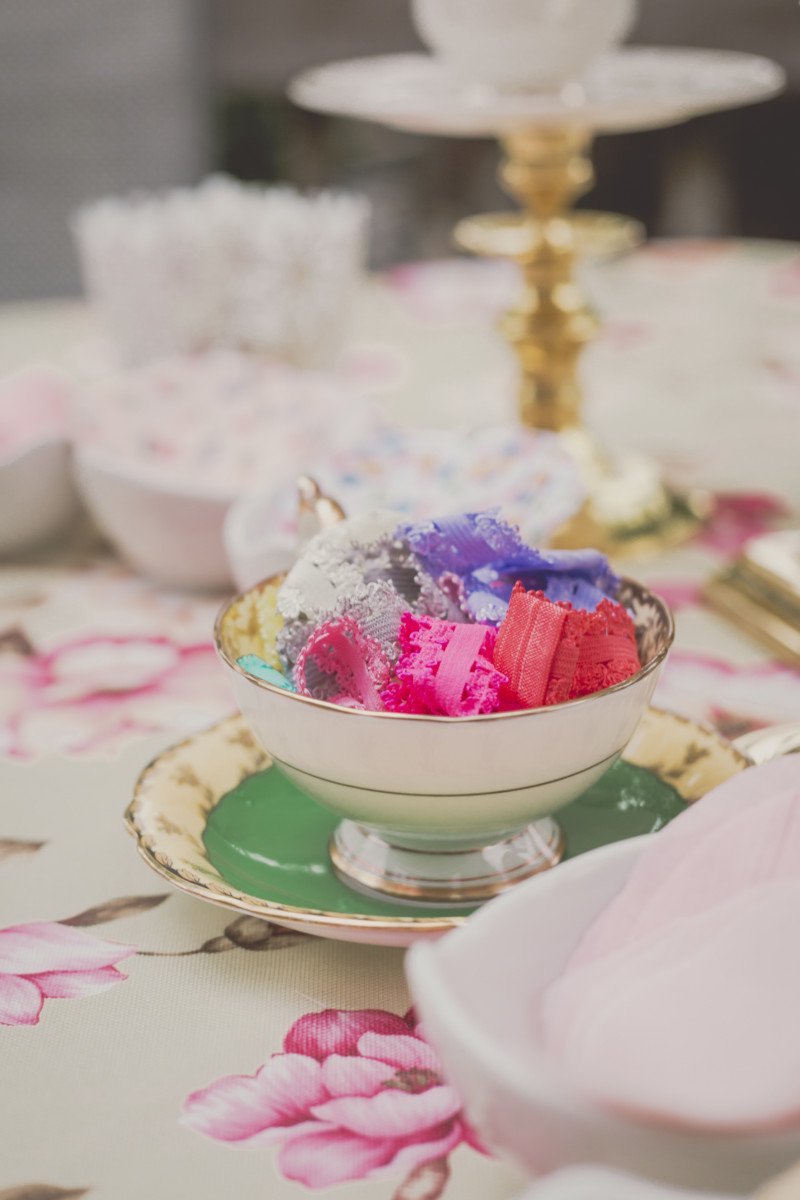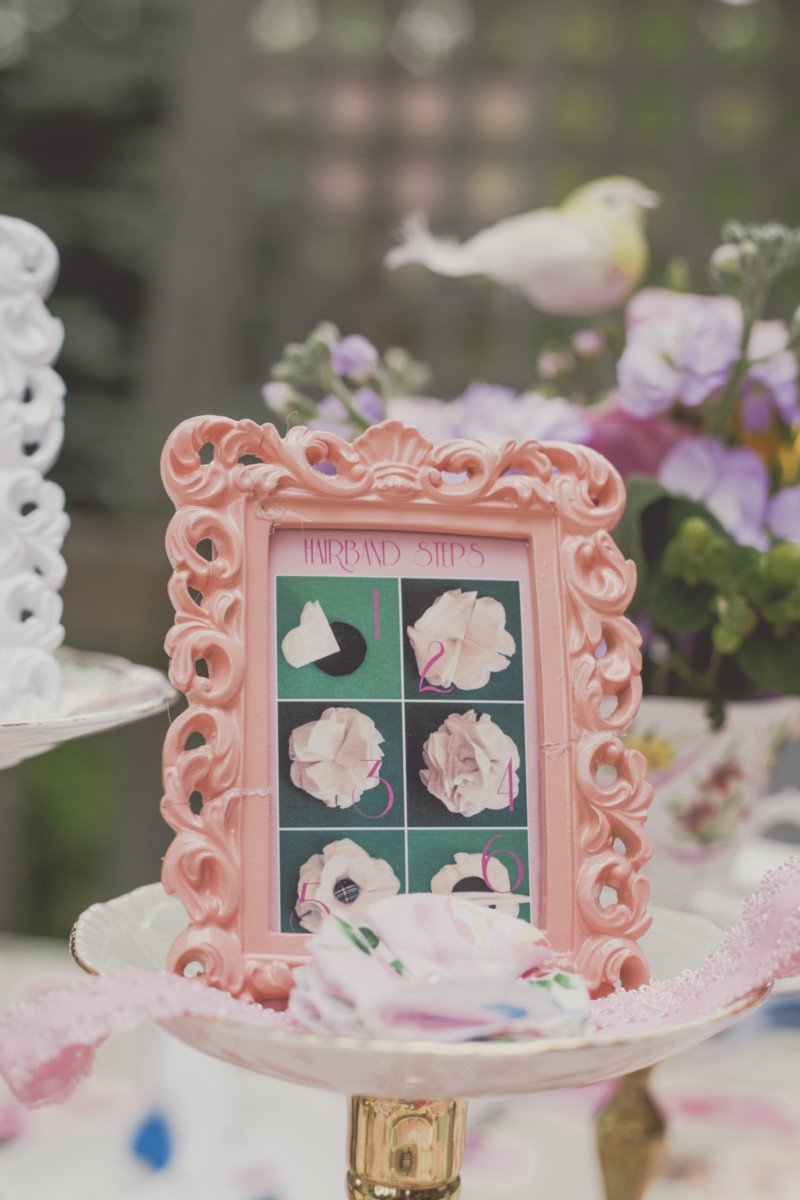 In order to ensure guests understand what each station is for, make signs for them. Use chalk boards, frames, wooden planks or something pretty for your signage. A piece of paper will just not do.