---
modern meets tradition at malaparte
September 13, 2015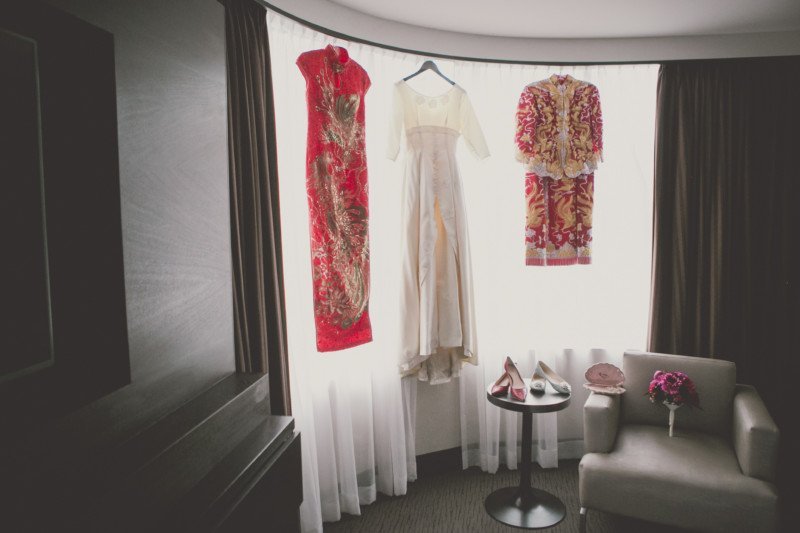 June 13th was a gorgeous sunny and warm day. I had met Emily and Patrick almost a year prior and couldn't wait to photograph their carefully planned wedding day. It was important to them to fuse the traditions of both families heritage. They showcased that by having both families participate in the Chinese Tea Ceremony, and by having a bilingual officiant during the wedding ceremony. "Family" was an important source of inspiration for the wedding day.
The bride has a small Starbucks obsession so I couldn't resist snapping a photo of their coffee cups that morning!
Such a thoughtful touch…the bride's shoes were autographed by her bridesmaids during the bachelorette party.
Classy jewelry for a classy bride! And how can you not love that custom made dress hanger with the bride and groom's names and wedding date. Such a special memento from the day!
A shot of the beautiful wedding stationary, created by Wedding Paper Divas.
The bride surprised her mother by having a childhood photo of them sewn inside her purse. So sweet!
Emily wore her grandmother's 1959 wedding dress that was also worn by her mother. It is a special family heirloom that Emily wanted to carry on into a family tradition and she wore it gracefully. Her classical beauty pulled it off quite impressively.
Emily looked absolutely stunning! Hair and makeup provided by Teryl Crombie of Cosmetic Image.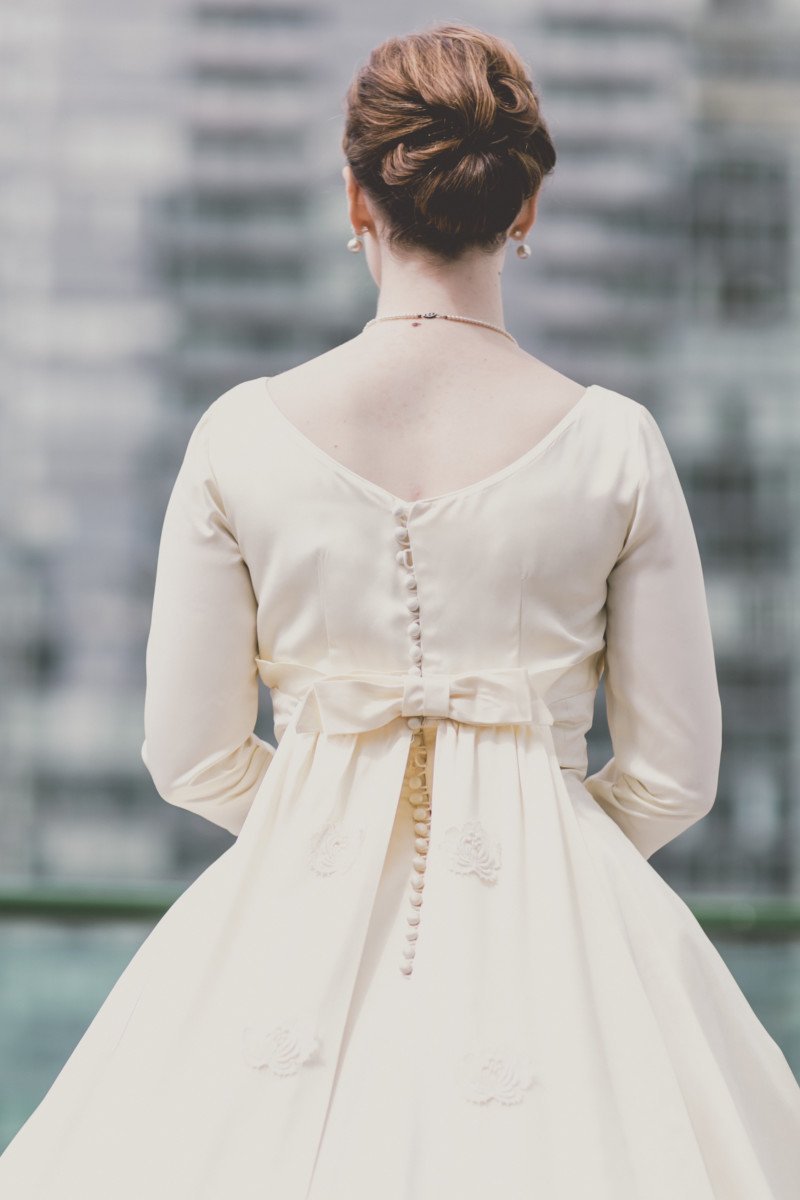 Such incredible detail on the back of this beautiful gown.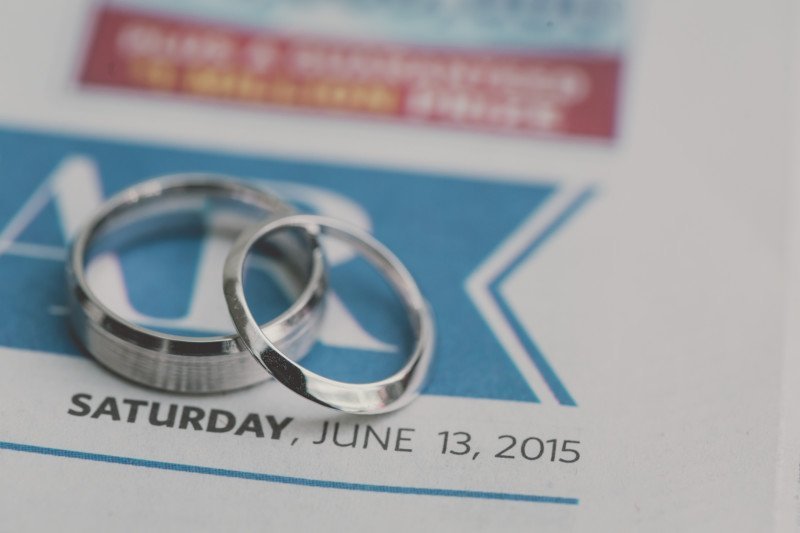 Emily and Pat even had close friends make their favourite strawberry pies the morning of the wedding in a small condo. The assembly line of eager friends, shucked berries and rolled dough and successfully made enough pies for every guest to enjoy a slice.
Patrick is a huge superheroes fan.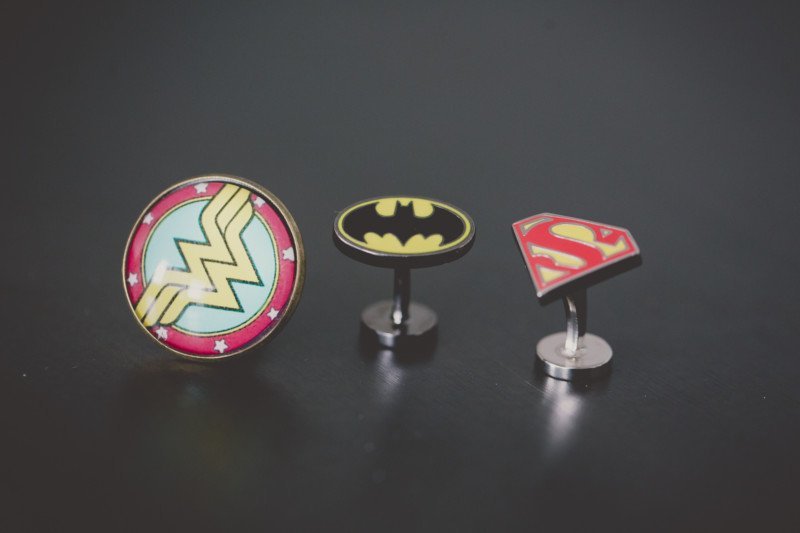 He did a great job of incorporating small touches of that into his attire that day.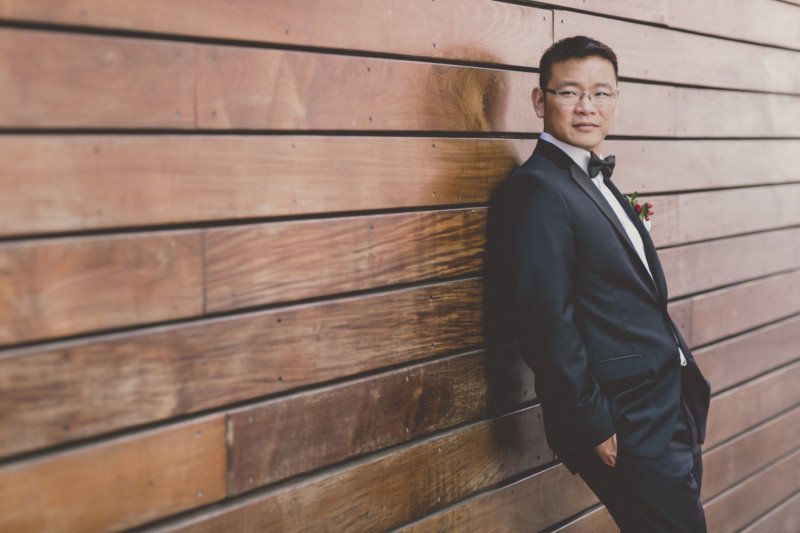 Looking "super" handsome in this tux from Ed's Fine Imports.
In order to save time to enjoy guests, Emily and Patrick opted for a "first look". They chose to do this big reveal on the rooftop of the Hyatt Regency which has a spectacular view of the city and of course the CN Tower. The first look is more of a modern approach to scheduling weddings and has its advantages. The couple wanted their guests to enjoy an evening ceremony and cocktail sunset on the rooftop of Malaparte, so it only made sense that photo taking time would be earlier in the day.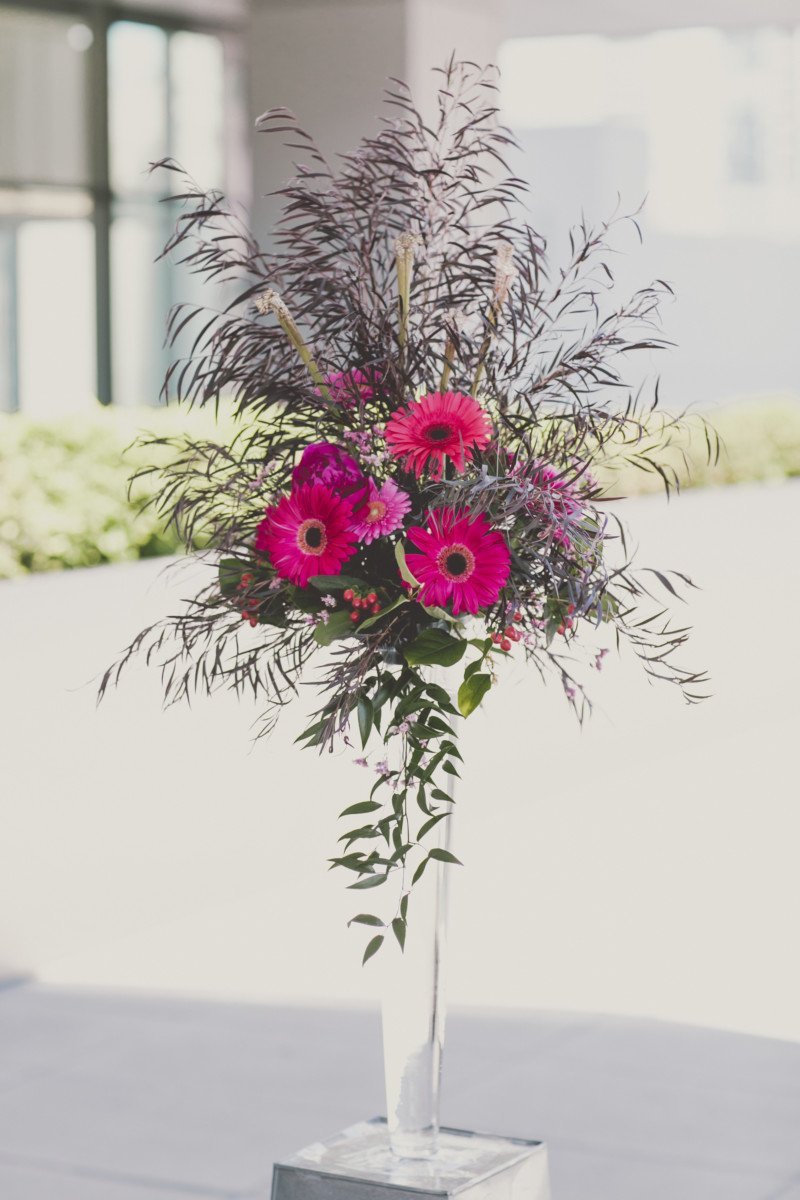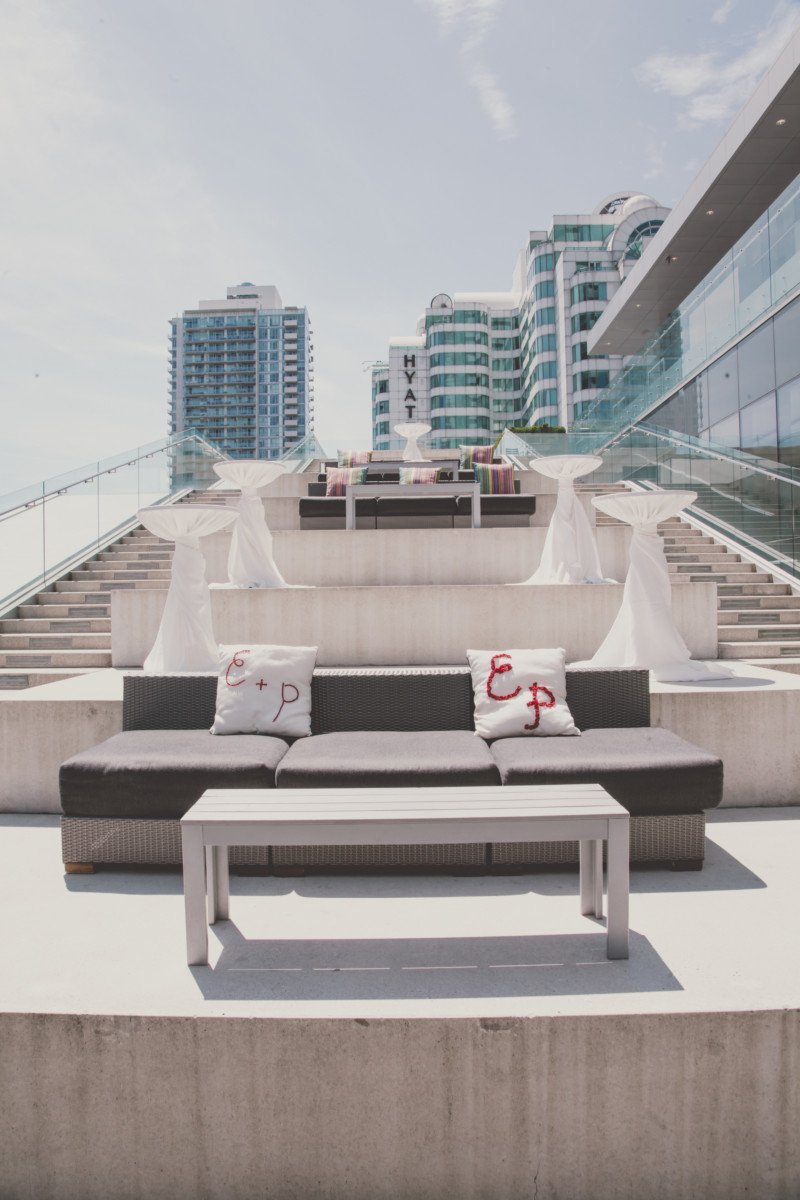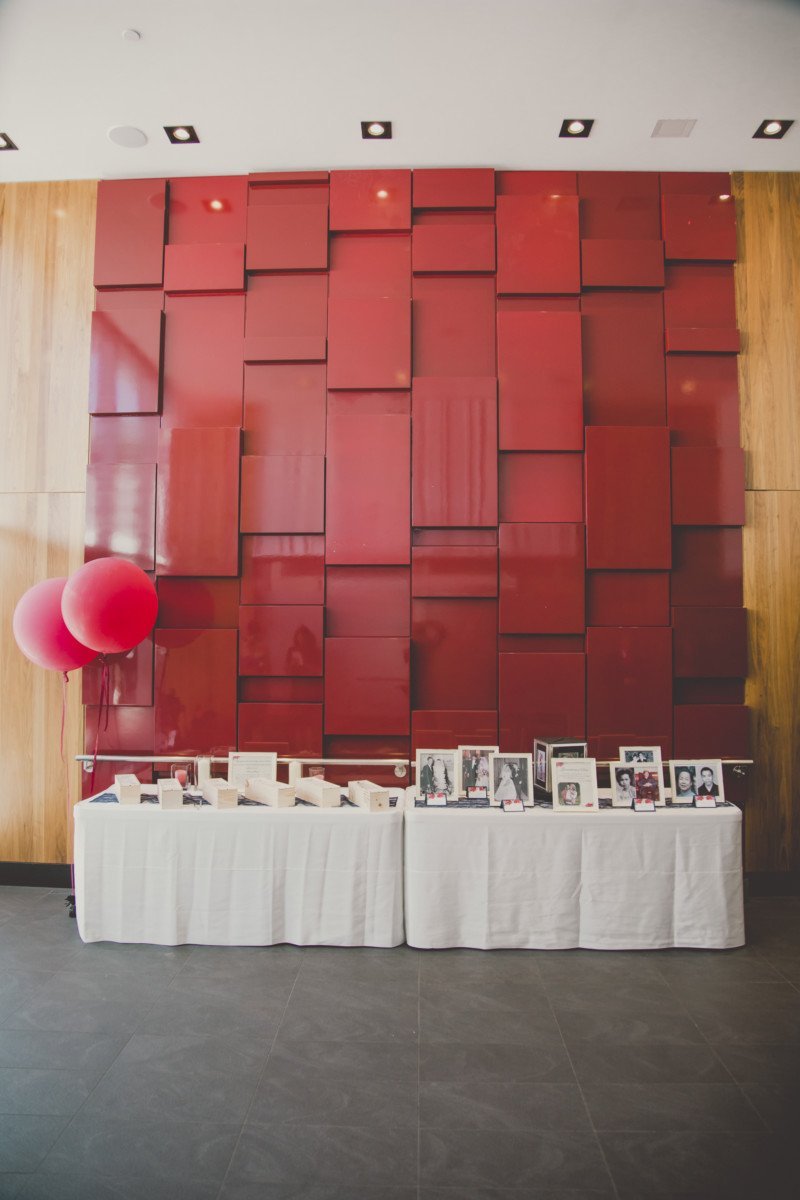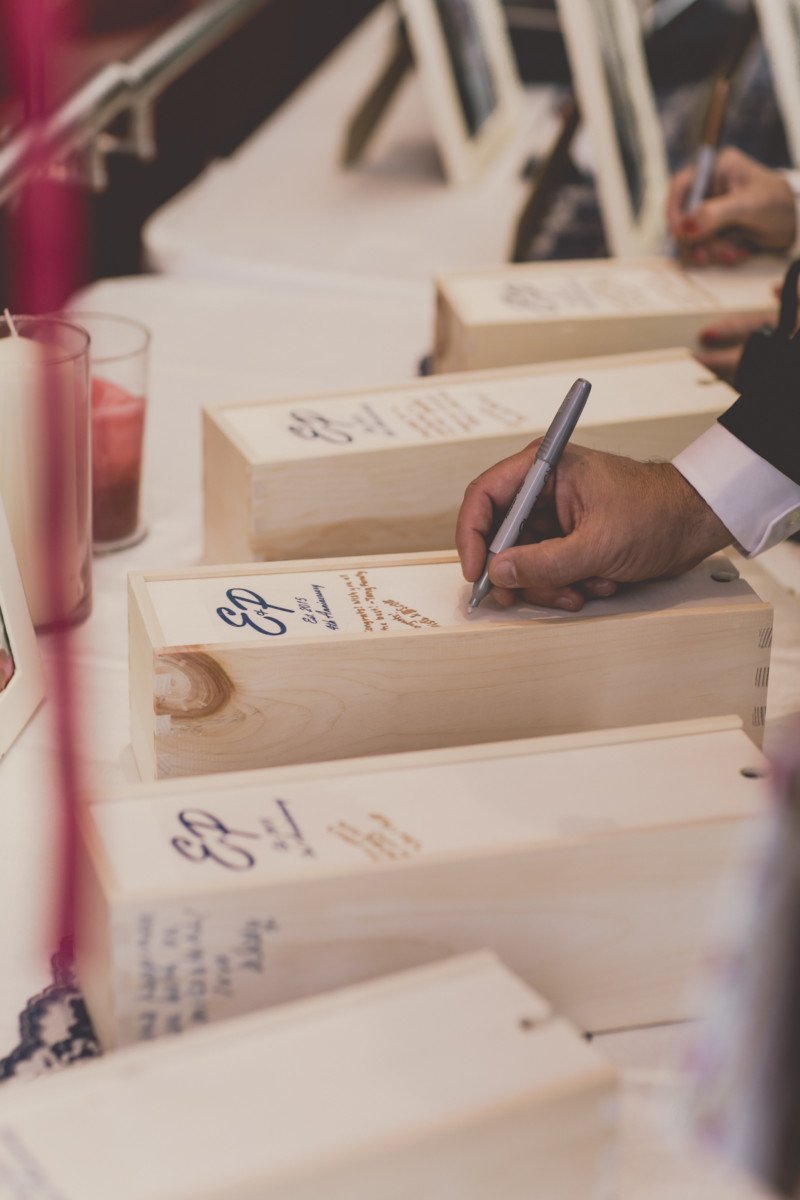 Personal touches from the couple were created for a greater guest experience. They made their own card box out of (4) 8 x 10 frames and put it on a lazy Susan so that guests could spin the box to appreciate all the photos.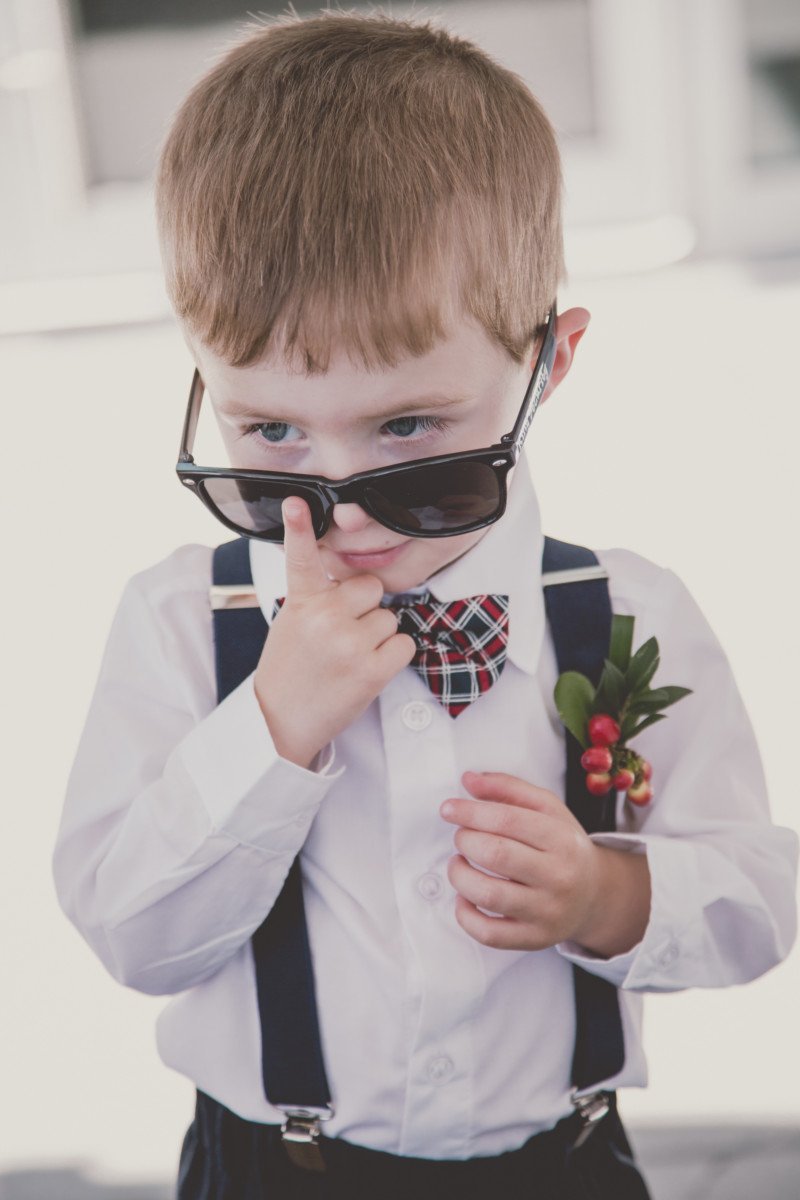 How cute is the little ring bearer in his plaid bowtie and suspenders!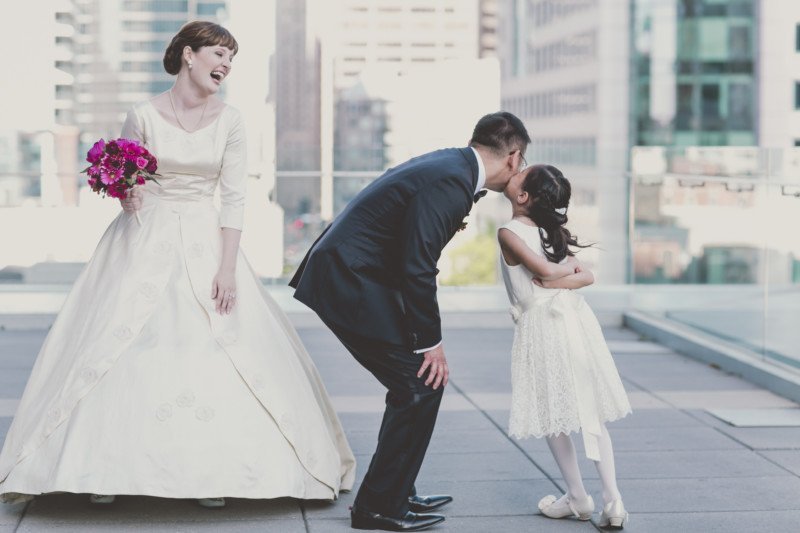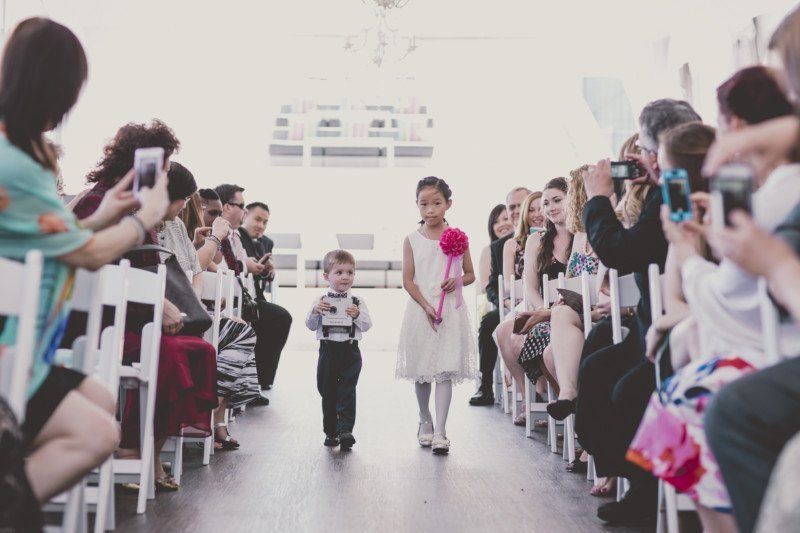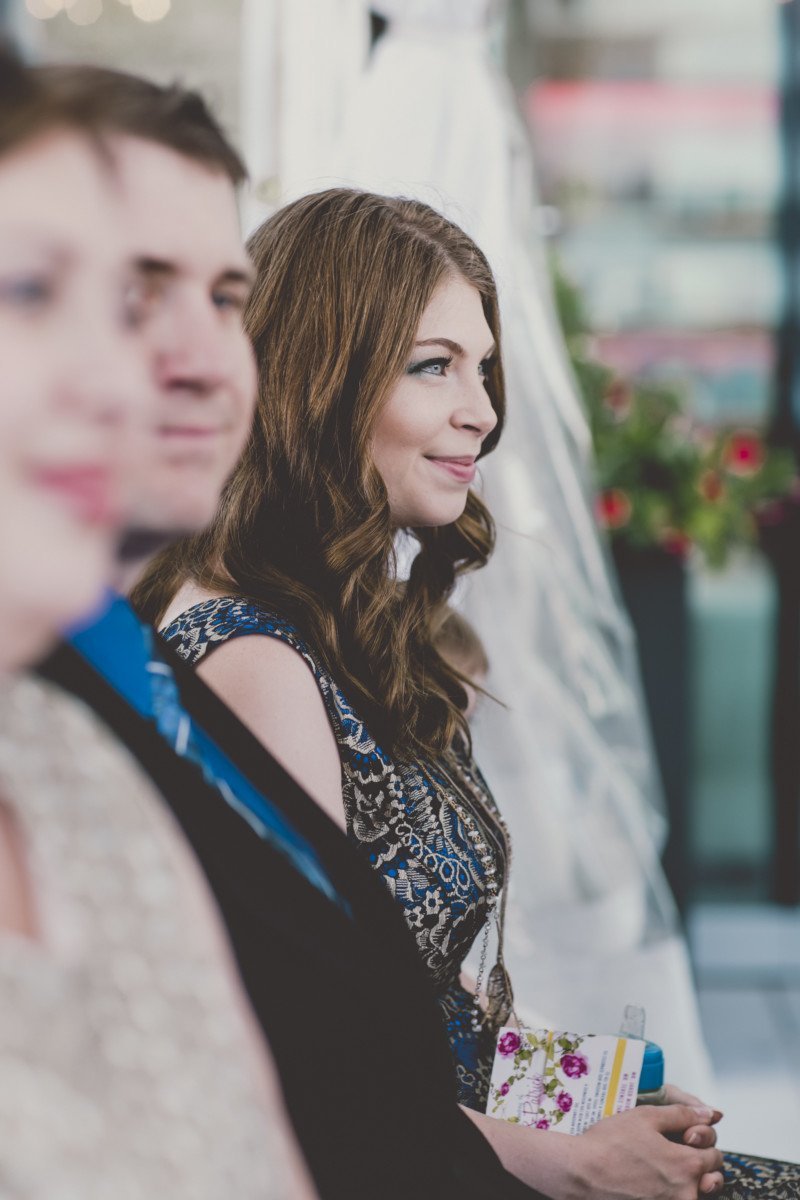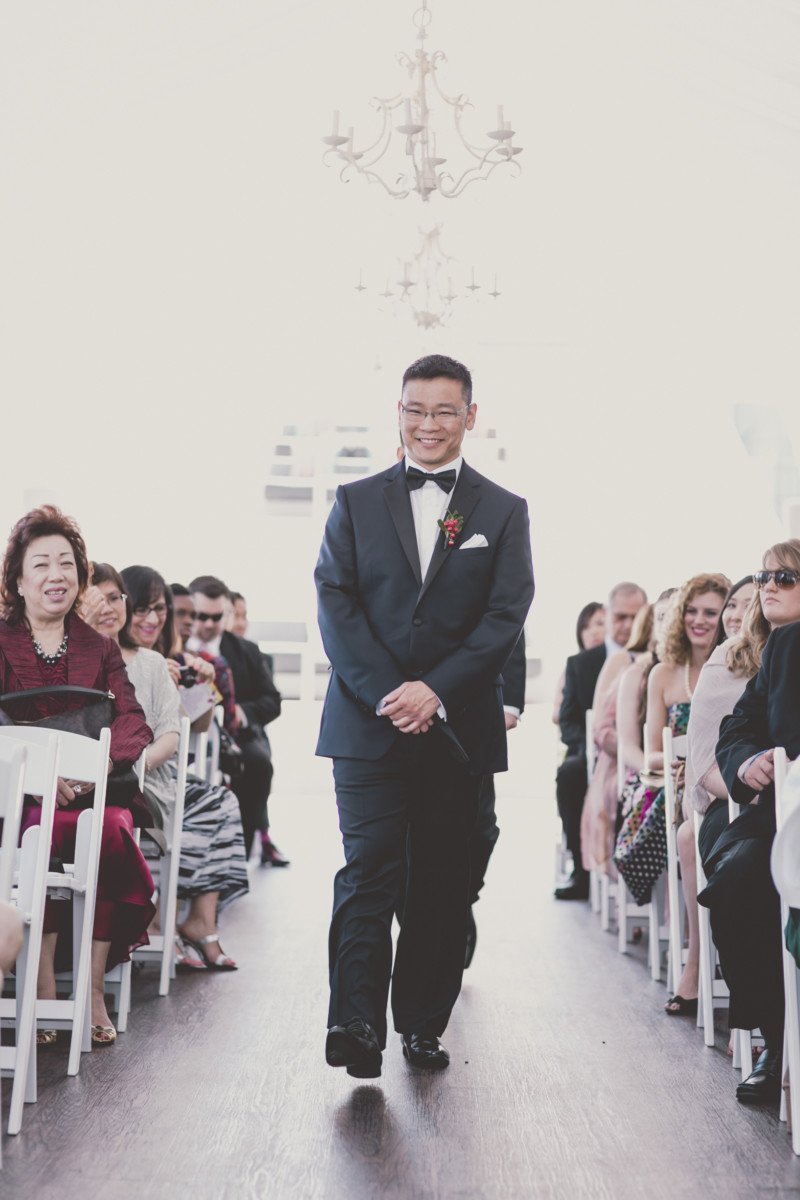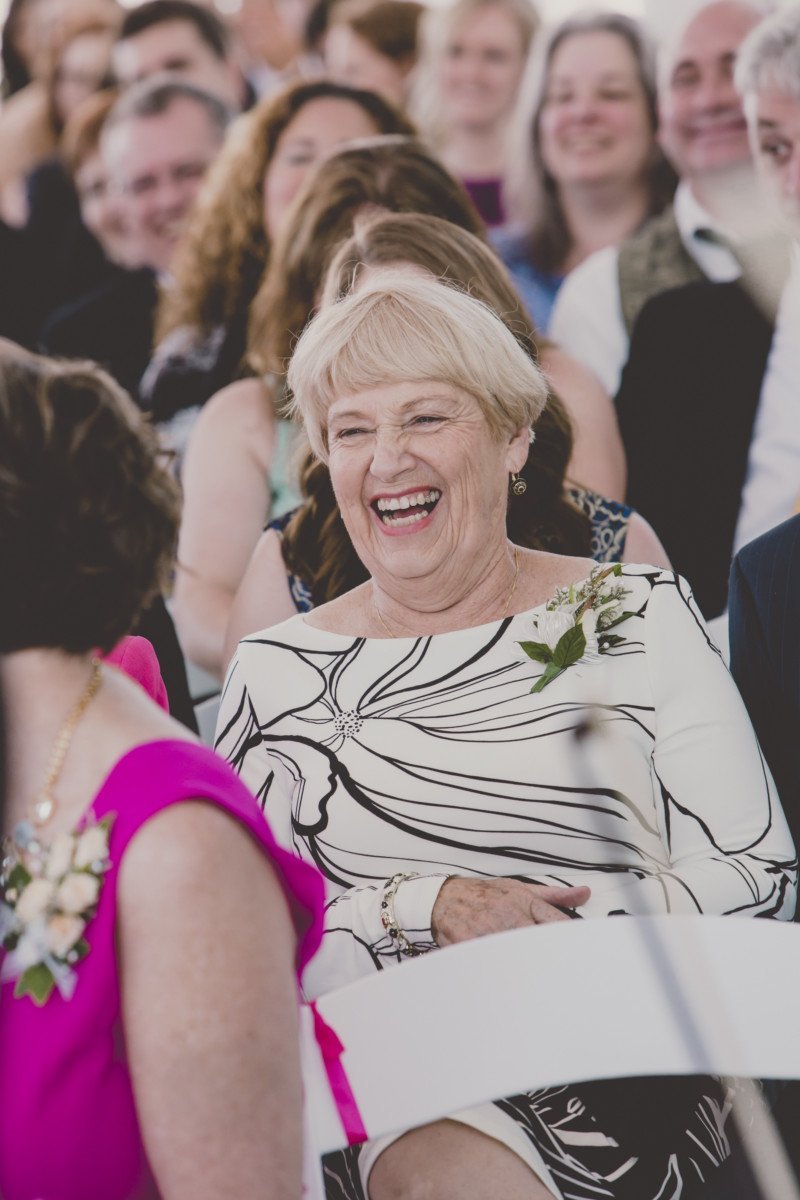 Emily and Patrick are a mix of emotions as they know they are minutes away from being married!
Always a sweet and emotional moment when the bride and her father share one last hug before he gives her away.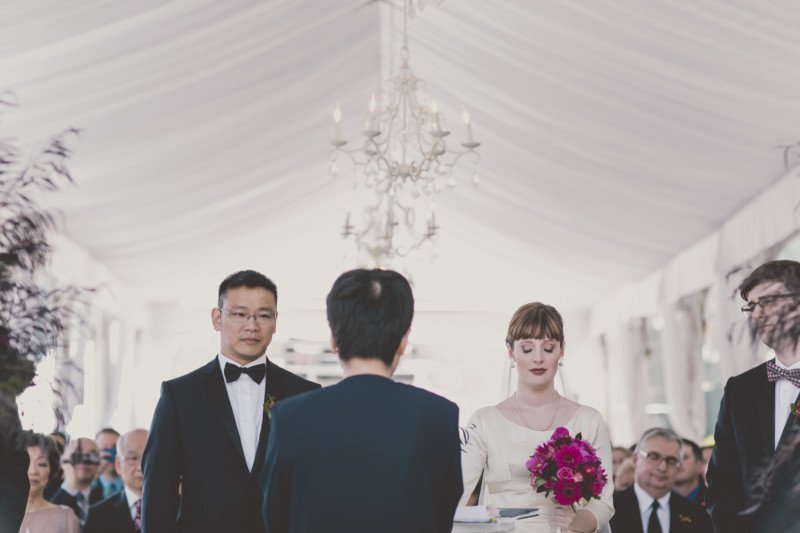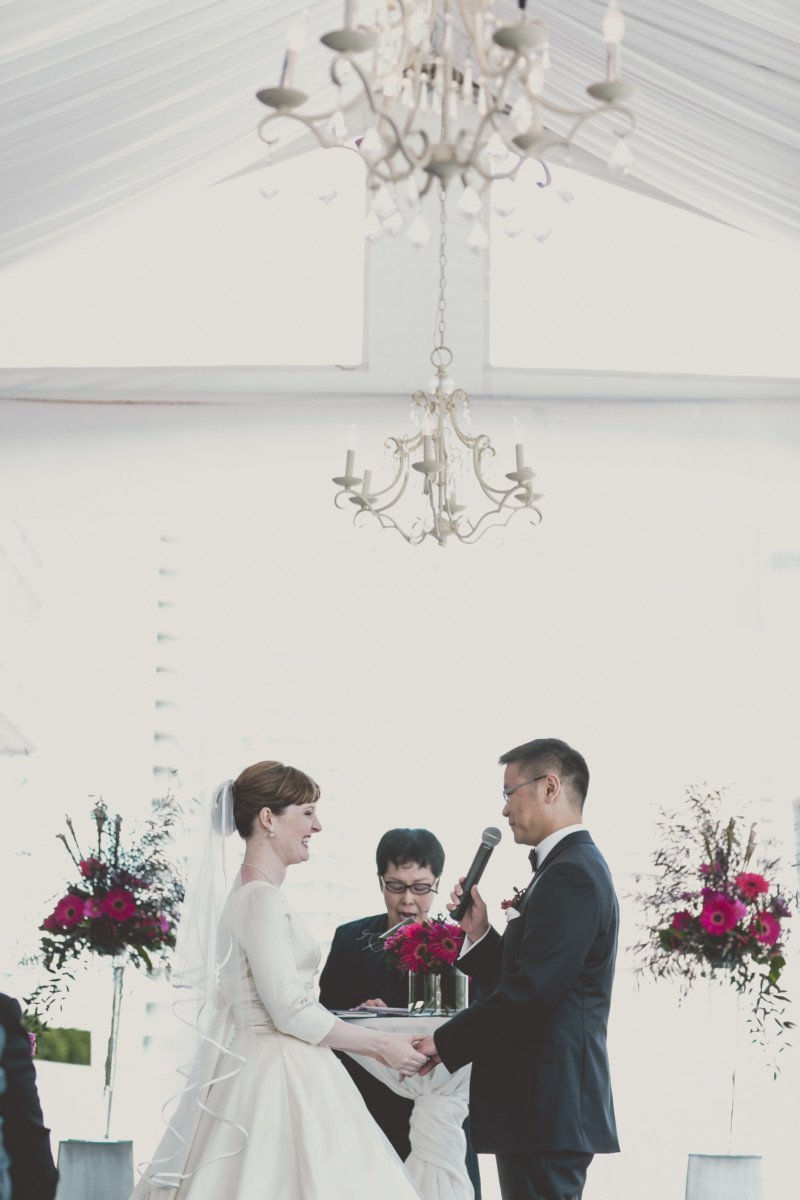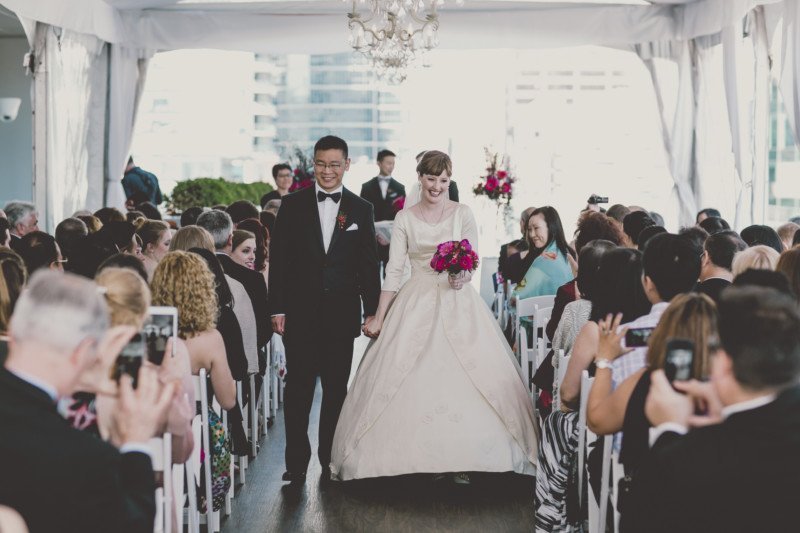 And the moment they've been waiting for has finally arrived…married at last!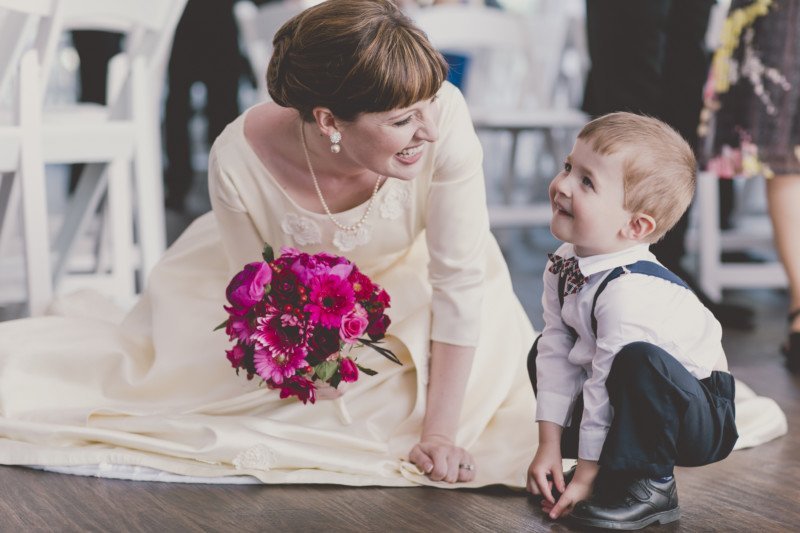 Emily having a sweet moment with her adorable ring bearer. And how beautiful is that bouquet?! Well done, Audrey's Flower's!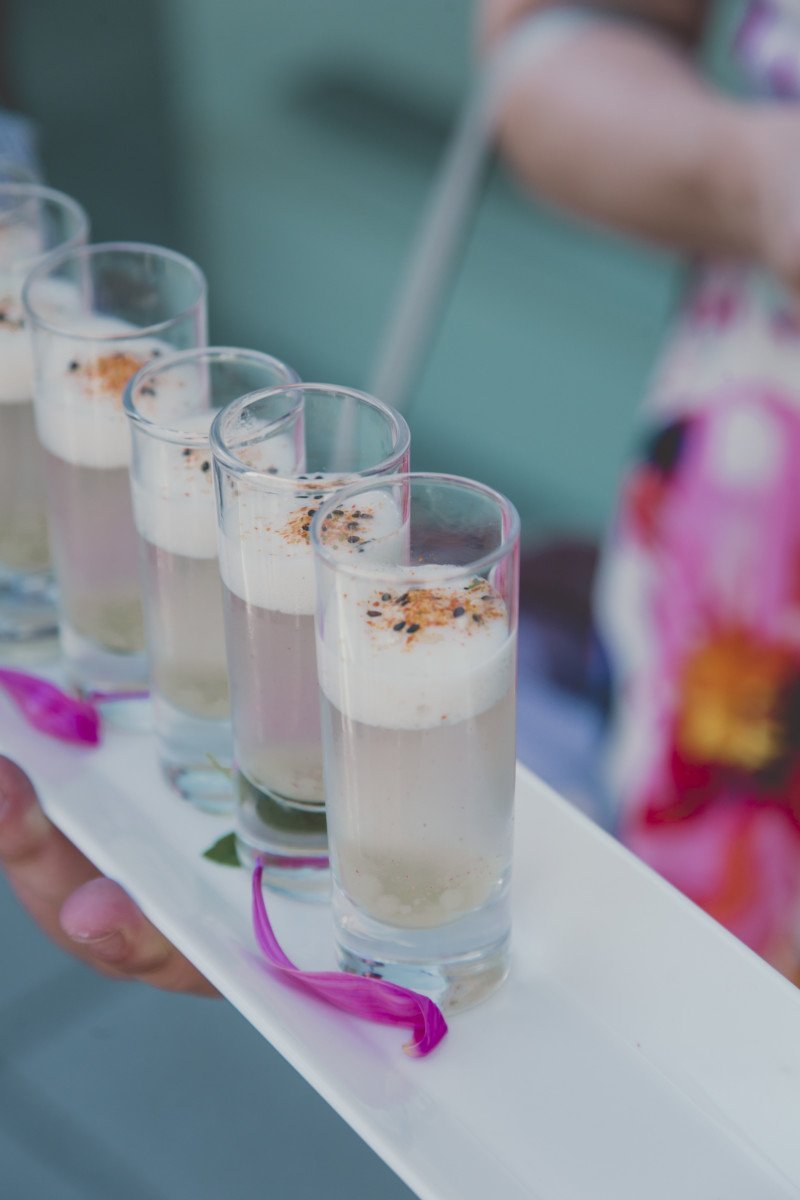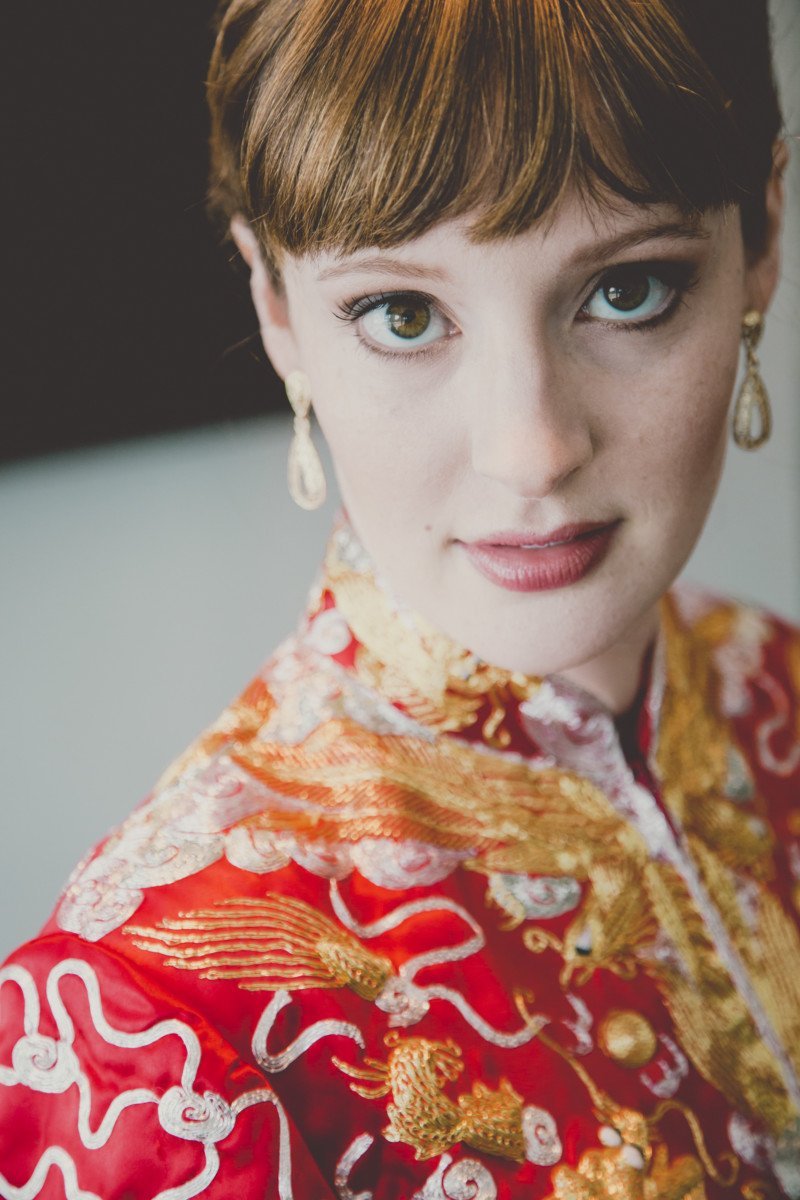 Emily also pulled off a gorgeous Chinese Tea Ceremony dress that she changed into for a traditional tea ceremony that included family from both sides.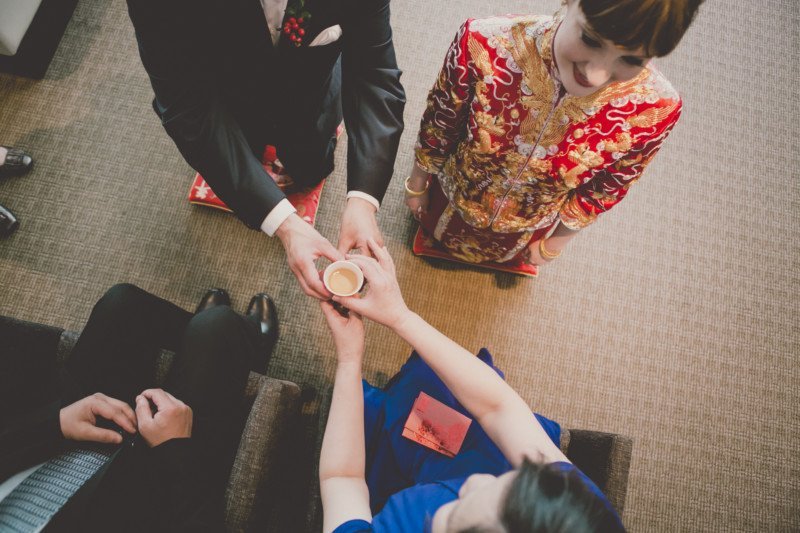 Emily's family took joy in being included in the tradition and shared wonderful words of advice with Patrick and Emily. Patrick's family mirrored that joy by showing their sweet tradition to a new and gracious family.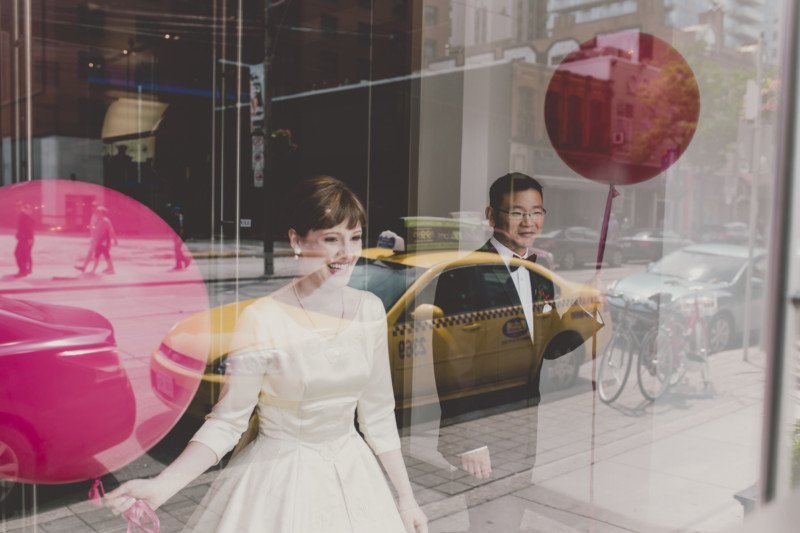 The couple arranged to have two large balloons for the photo session. They were a fun prop to shoot with, adding graphic interest in addition to adding a pop of red that carried throughout the day.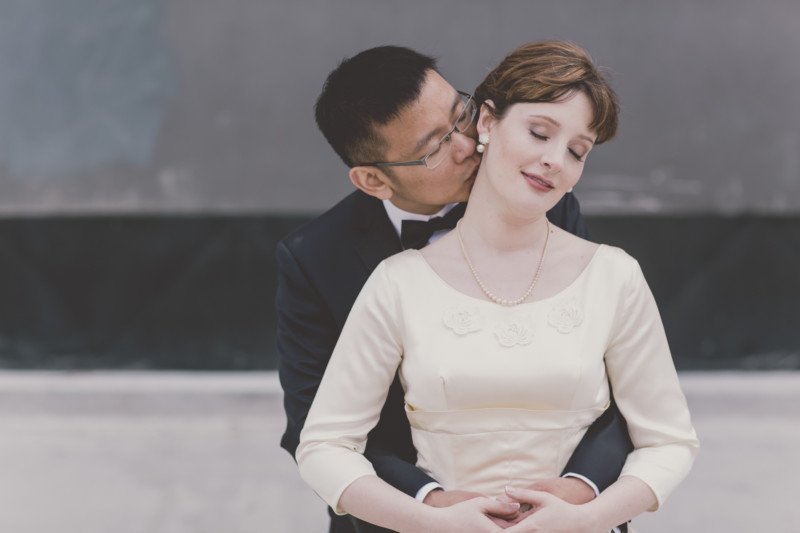 Between their families heart-warming speeches and the couple's sweet words to one another, I was smitten with them. As a newly single woman who strives to find true love; I had been touched by their devotion, loyalty and true admiration for each other. They have found their true love and I knew by watching them interact that they will cherish it forever.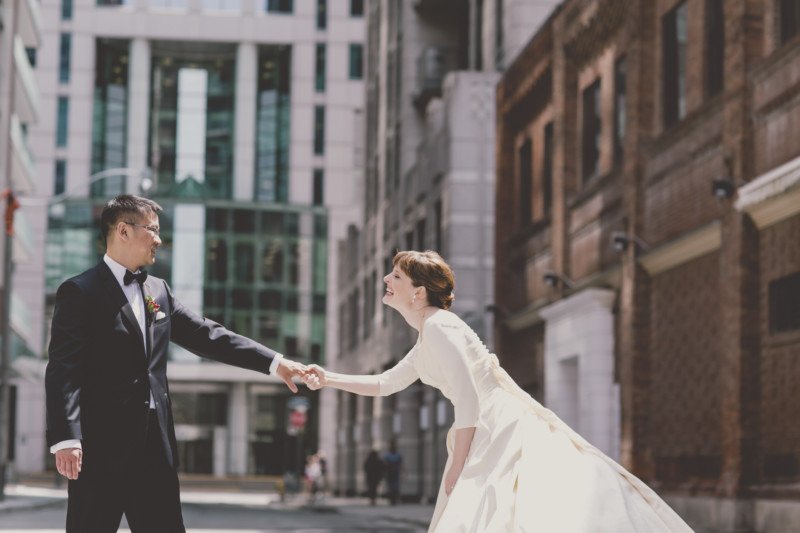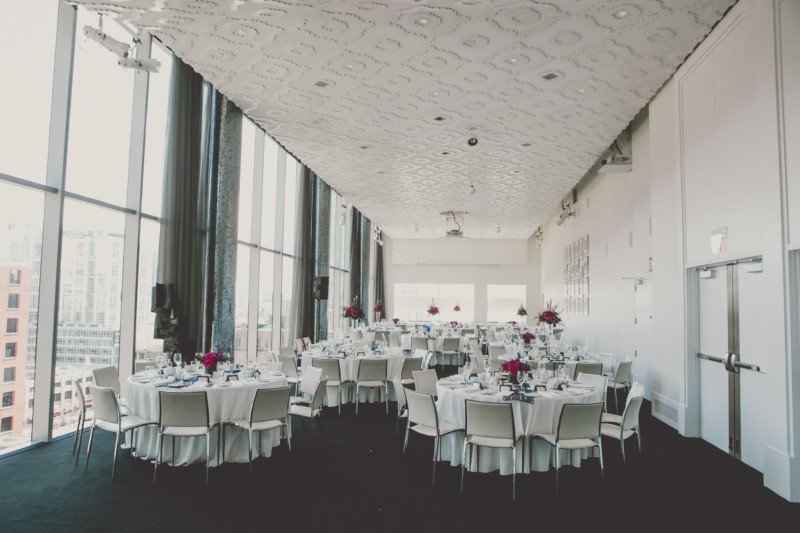 They couple sewed table runners out of lace to add a pop of colour to stand out against the white canvas of the venue. The table numbers featured the bride and groom at each of the ages on the table number (e.g., table one, age one) with a special piece of trivia on the back about the couple relating to that number (e.g., 1 = the number of dresses the bride tried on before finding the "one"). They also featured foam core board collages of family and friends down a long hall at the venue – as without their family and friends, they wouldn't be who they are today.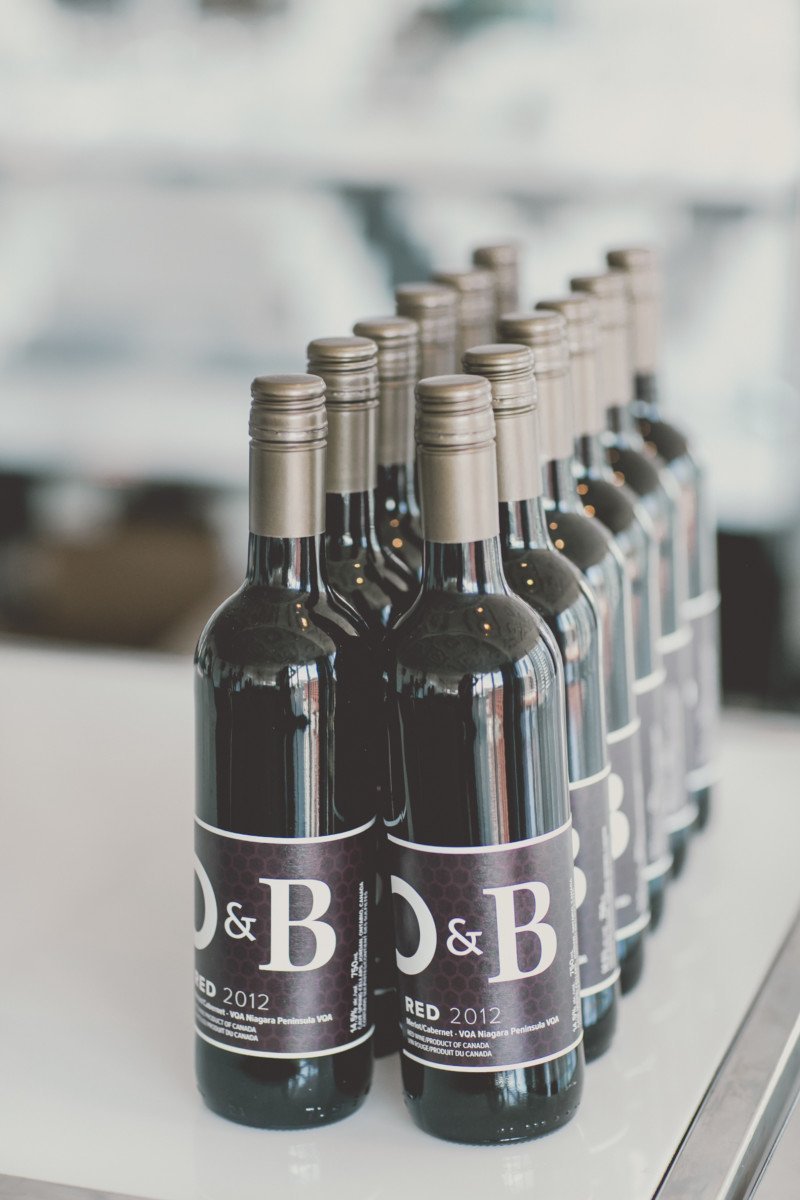 "Our favourite detail was our wedding cake topper. We had a company in England called "Genefy Playground" create it. Each topper is custom made. This seemed like a great way to incorporate the groom's love of Batman. "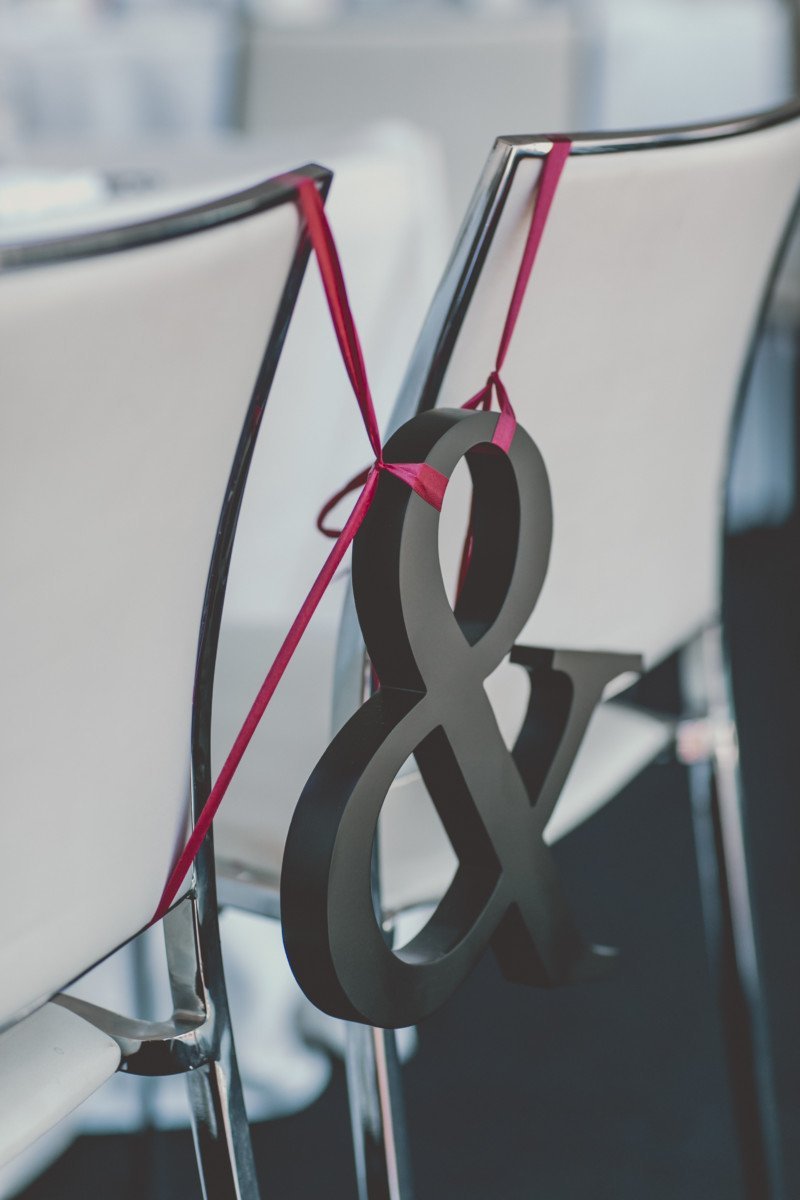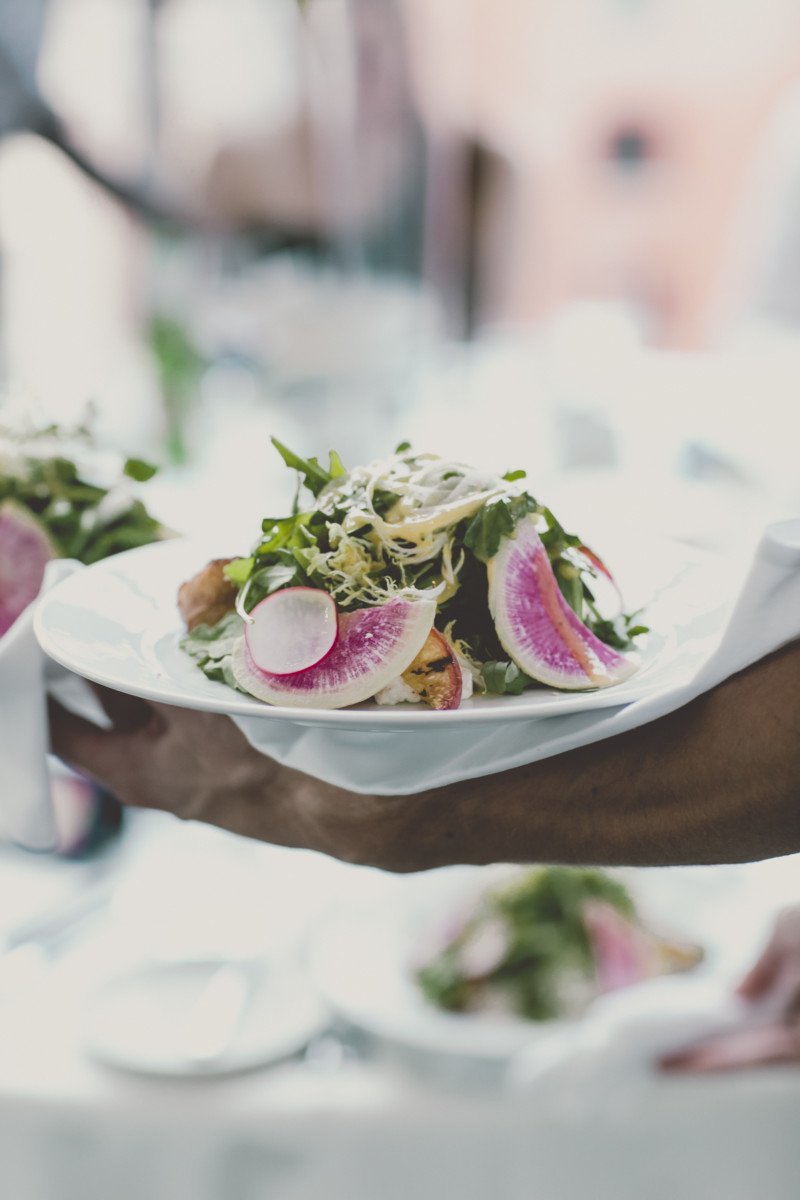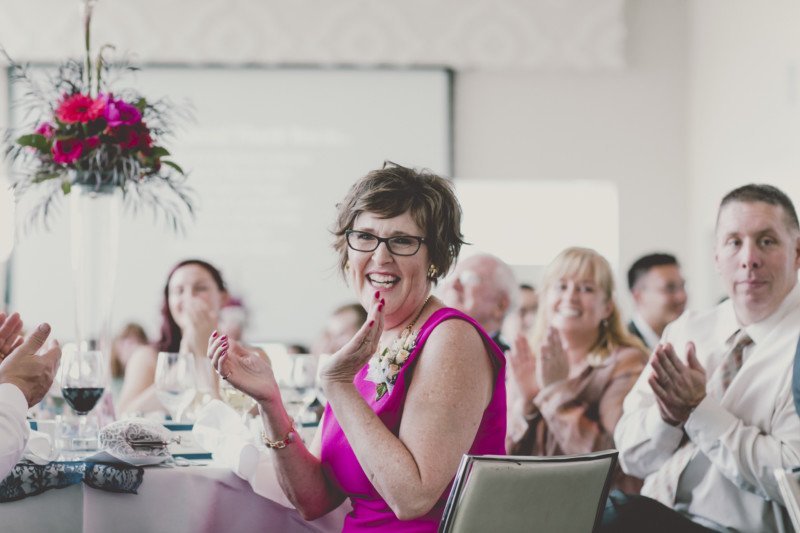 "For our first dance we had family and friends karaoke to Adam Sandler's "I want to grow old with you", a song featured in the movie "The Wedding Singer". A friend of ours who works in the film industry spliced it all together, so our first dance was done to our family and friends singing (with a few hilarious out takes). As the guests watched the video it gave us a few private moments together to enjoy our first dance together. "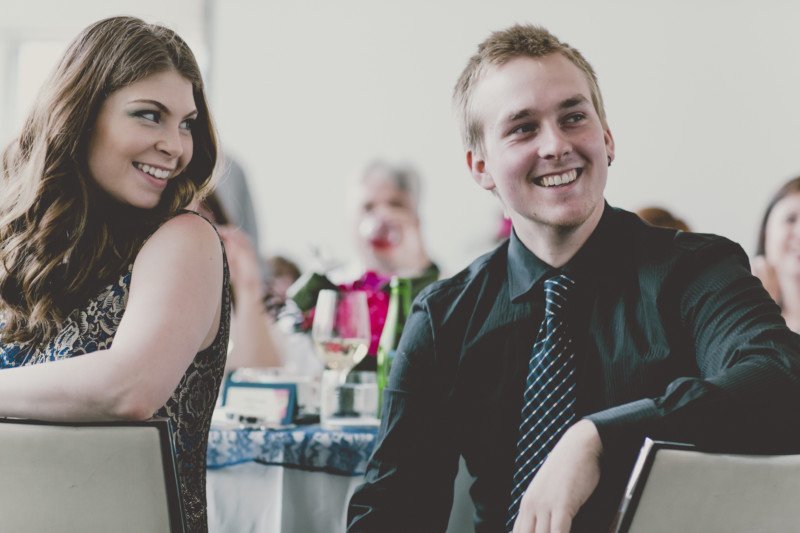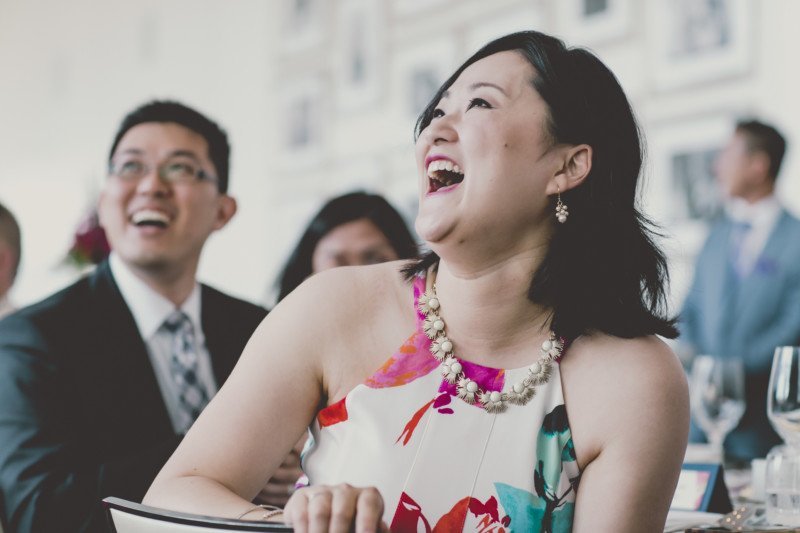 You could clearly see that Emily and Pat are cherished and loved by many people. They are as sweet as the pies their friends made and the love in the room that evening was palpable.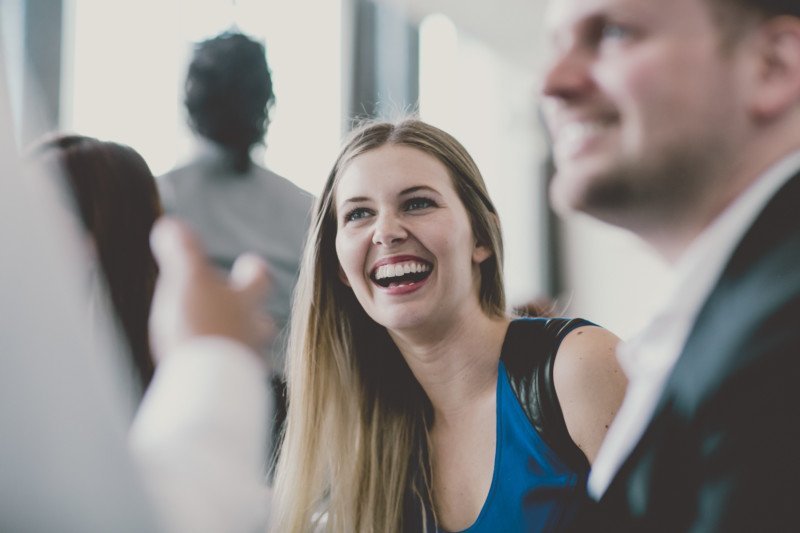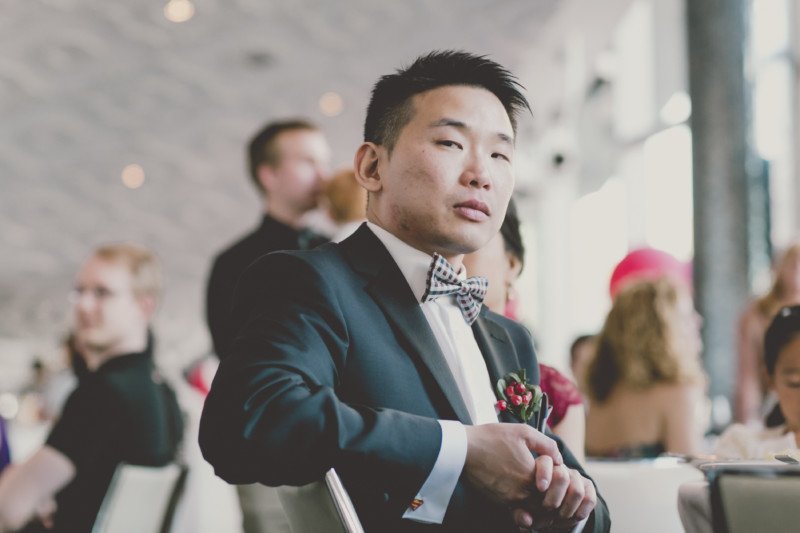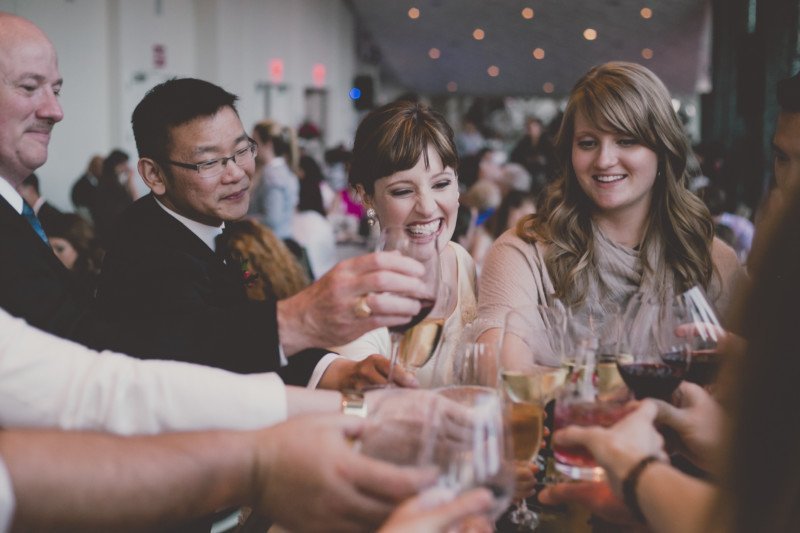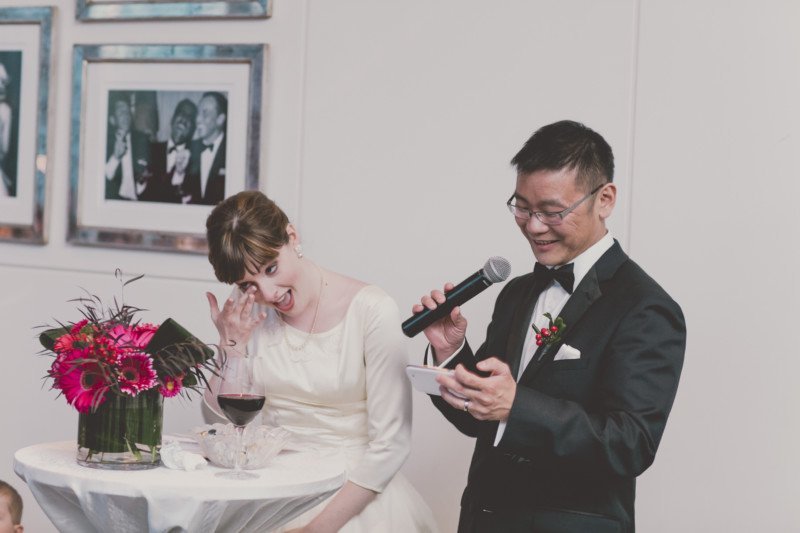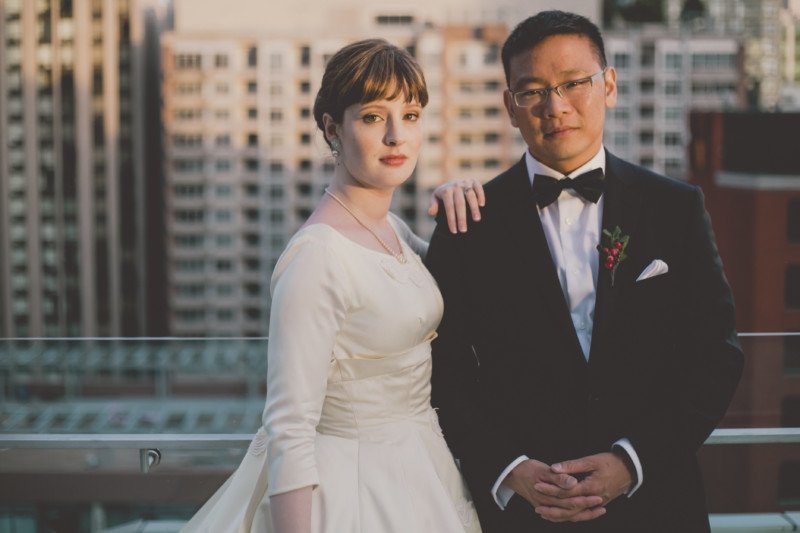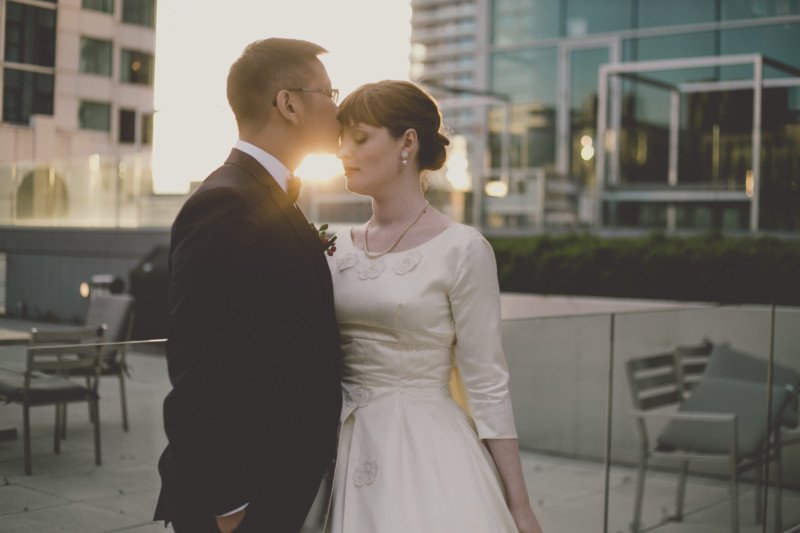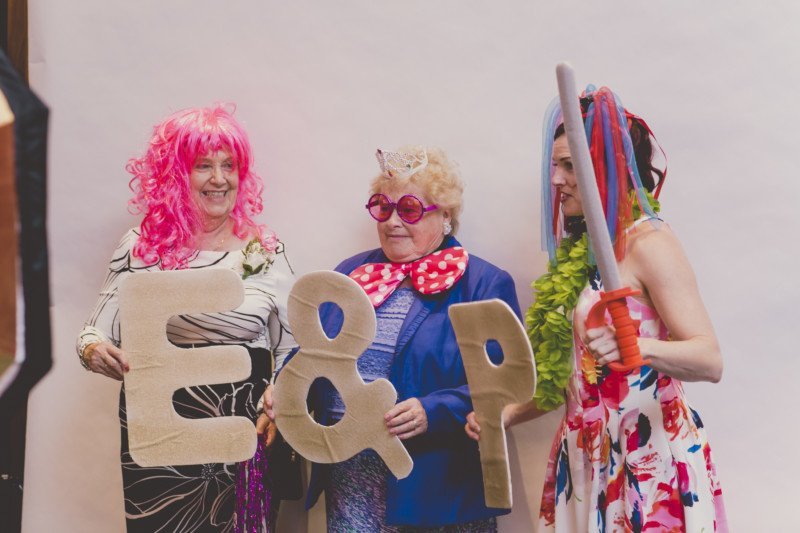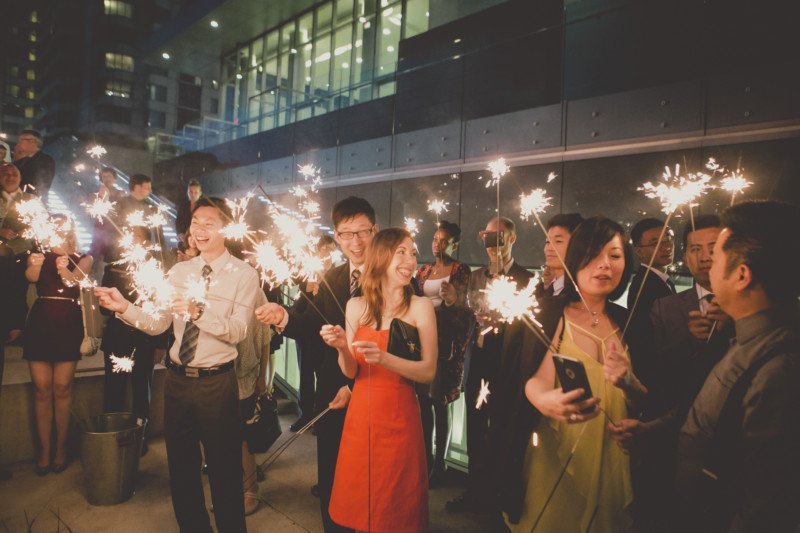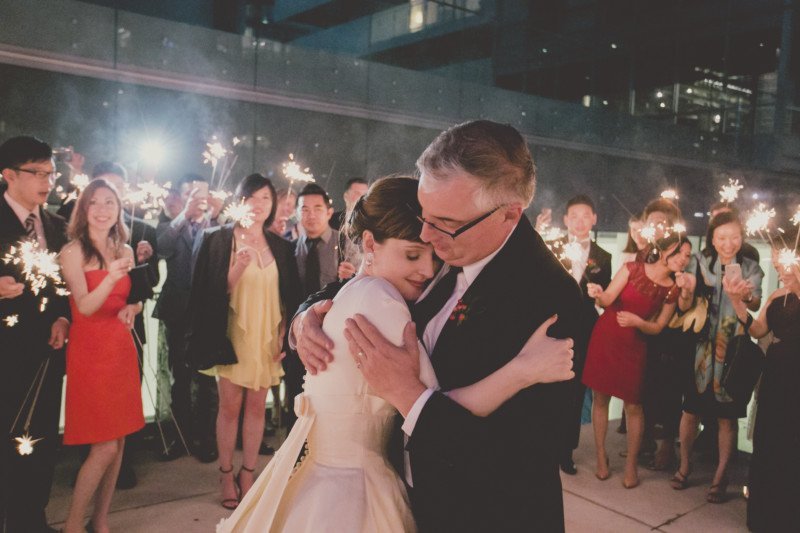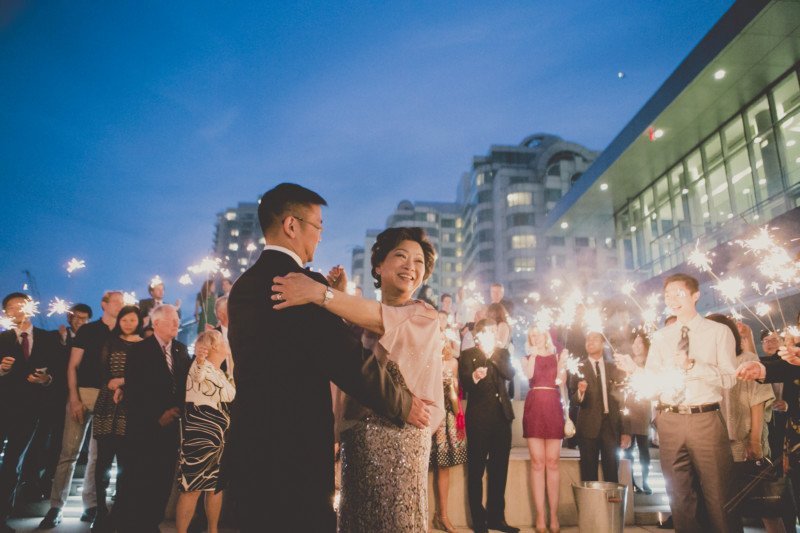 It was a pleasure Emily and Patrick! I wish you a life full of adventure in growing old together.
xx- april
————————————-VVVVVVVVVVVVVVVVVVVVVVVVVVVVVVVVVVVVVVV————————————-
ceremony + reception: Malaparte // wedding planner: Rebecca Chan Weddings // officiant: Linda Wong // cake: Homemade strawberry pies by the bride and groom's family and friends // catering: Oliver and Bonacini // dress: Vintage 1959 Wedding Gown Heirloom // tux: Ed's Fine Imports // shoes: Nine West // accessories: Hair piece – Bittersweet; Pearls – vintage, family heirloom // flowers: Audrey's Flower's // hotel: Hyatt Regency Toronto // music: DJ Danny Floh Back // hair + makeup: Teryl Crombie, Cosmetic Image // favours: Donation to the Canadian Red Cross // bridal party attire: Ed's Fine Imports // invitations: Wedding Paper Divas // photobooths: Instant Studio // number of guests: 120