---
canadiana woodland wedding
February 12, 2016
Last winter I found myself searching for winter wedding inspiration on Pinterest and I was surprised by the lack of snow-themed winter weddings. Every "winter" wedding was from Cali or Australia and it seemed to me as though the wedding industry had forgotten about the countries who actually experience a real winter. Surprisingly enough, people do get hitched in the snow! Where is the imagery? How do other couple's get inspired?
Olive Studio has gone through some major changes in the last 6 months. I have expanded my studio, bringing on new first shooters, a wedding planner and offering my second passion as an additional service; decor styling. I created this winter inspiration as a lift off to introduce planning and decor styling as one of Olive Studio's new services. With the help of a very talented team of vendors, here is our interpretation of a dark and romantic Canadiana winter wedding.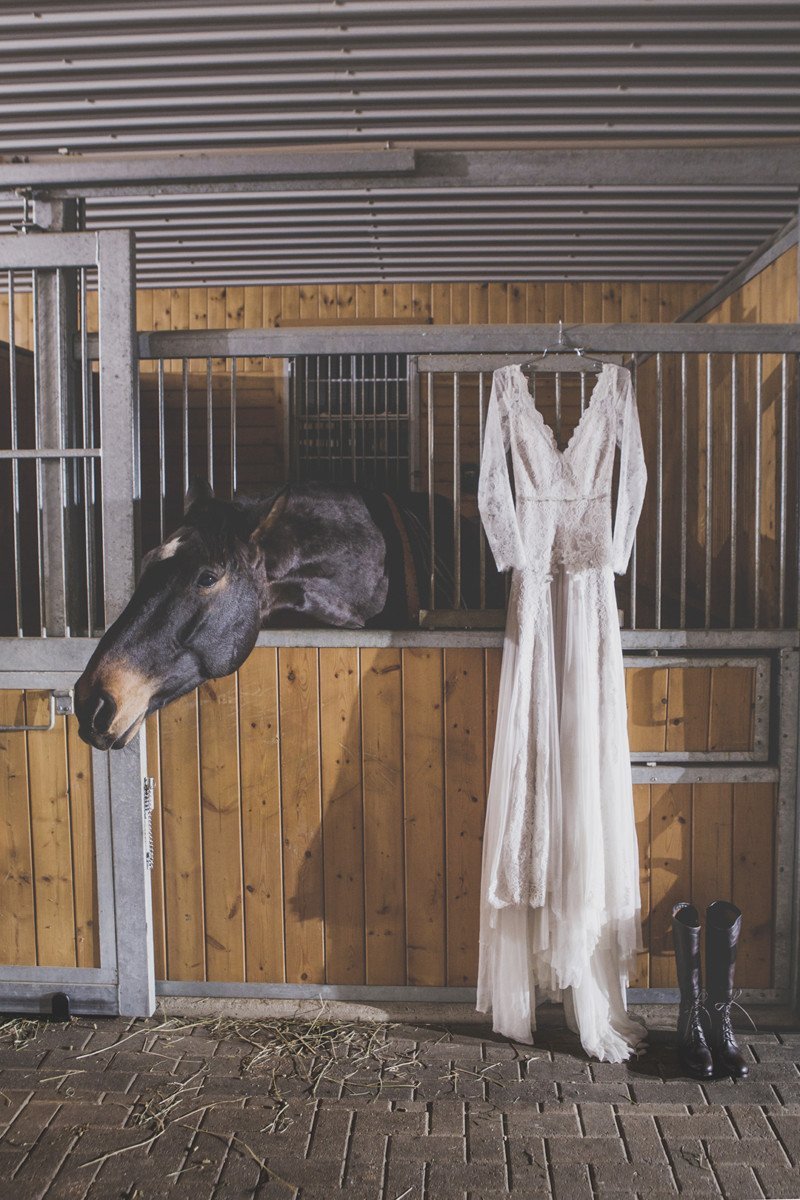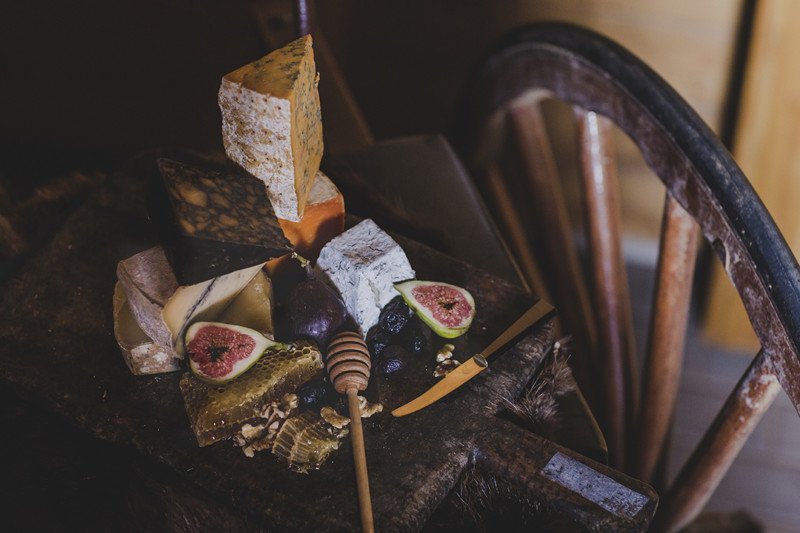 I couldn't think of a more perfect setting for a Canadiana-themed wedding to take place than Linda and John's dream farm called Holly Oaks. Linda is an avid horse enthusiast with a passion for horses and running a successful equestrian business. The property has maintained its 1857 farm roots but the couple has introduced a twist of modern and functionality operating as a very successful equestrian facility. Looking to expand, Linda would like to use the large property to host small functions and unions. With acres and acres of outdoor land opportunities; a huge stable, arena, and barn, the property hosts endless options for weddings. There are not only beautiful horses but also chickens, low line cattle and adorable Shropshire sheep.
When I think "Canadiana" I think of plaid, beards, hipsters, hipsters with beards, hunting, ice fishing, winter sports, woods, deer heads, the great outdoors, wood fires, cider, horse rides, snow, hay rides, blankets, evergreens, pies, cinnamon and shortbread cookies. Instead of focusing on a glamorous snow theme, I wanted the warmth and coziness of Canadian winters to be the over-all mood. After-all, with winter slumps comes generations of perfecting winter hibernation. We are the masters of indoor fires and cozying up in blankets for hours while the darkness sets in early. Why not use our long winters and celebrate something other than Christmas? Since Marsala was the colour of the season, the fairy tale of Red Riding Hood and the Wolf came to mind. It seemed to be fitting to create a dreamy woodland farm wedding in the snow.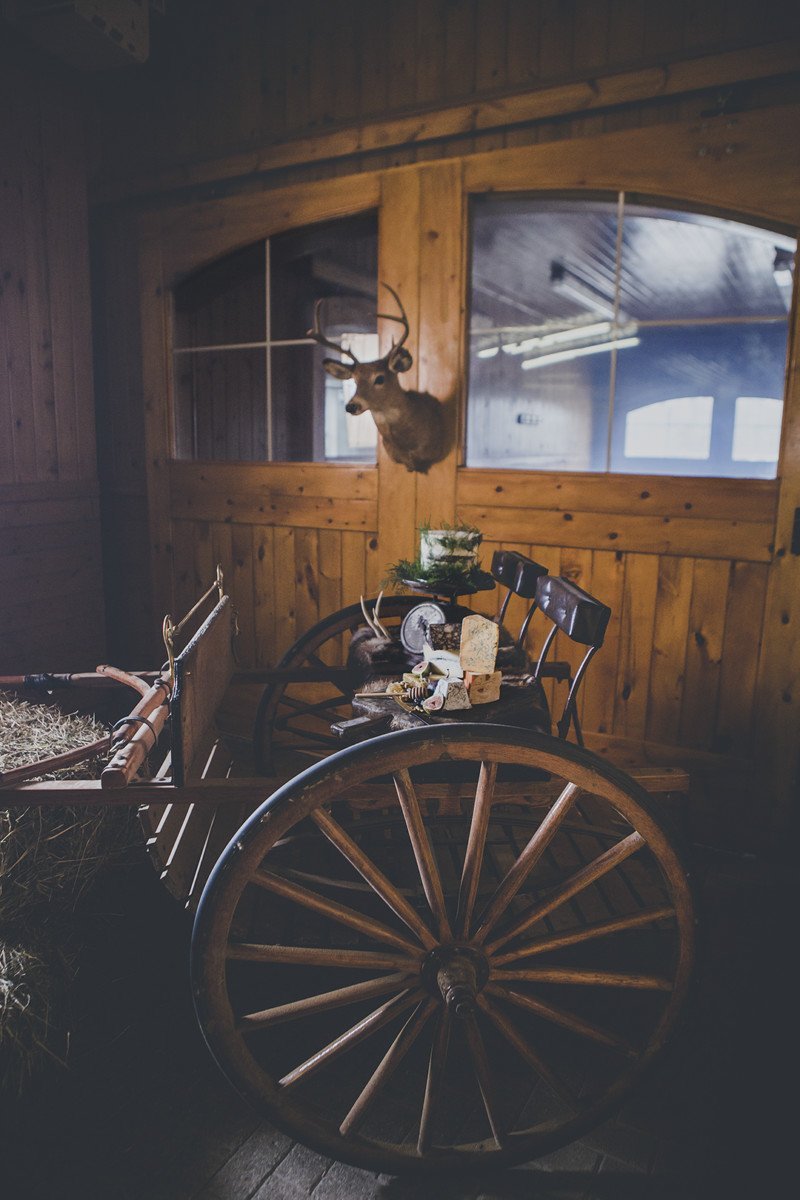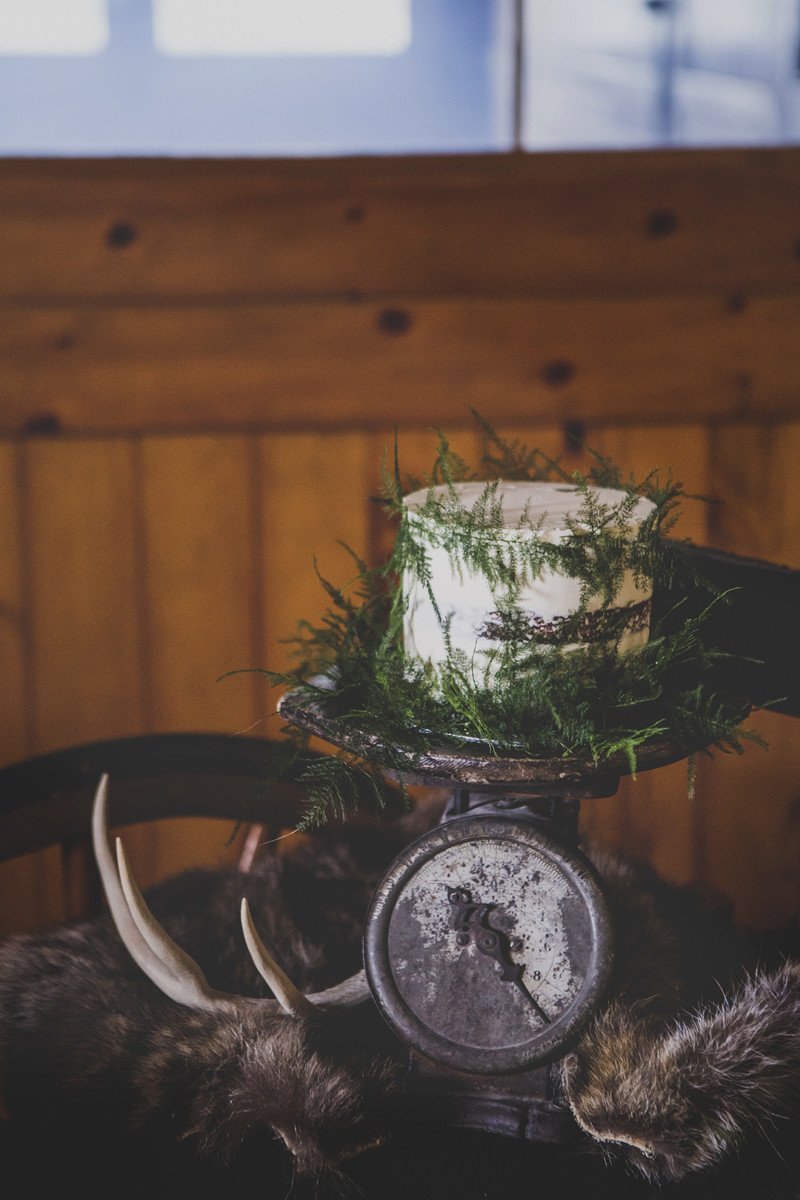 A savory cheese plate and dessert station was set up on one of Linda's antique horse carts at the opposite end of the stable. A rustic chocolate cake iced imperfectly with asparagus fern was the feature dessert by Le Dolci. For the savoury types there was a delicious cheese platter of blocked aged cheeses adorned with honeycomb, olives, figs and walnuts. A stunning deer head watched over them both.
To continue with the theme, we set up a Spiked Cider Station in one of the empty horse stalls. Using hay bales, wooden planks and crates, we created a tabletop for the cider, decorating it with cut logs, garland and furs. A huge chalkboard in an antique frame was used as the sign and farm tools laid about the scene. Fox taxidermy made their friendly appearance as well of course. In another stall, we created a vintage blanket station for guests to grab before they cozy up with their loved ones with a spiked cider in hand for a romantic and moody ceremony experience.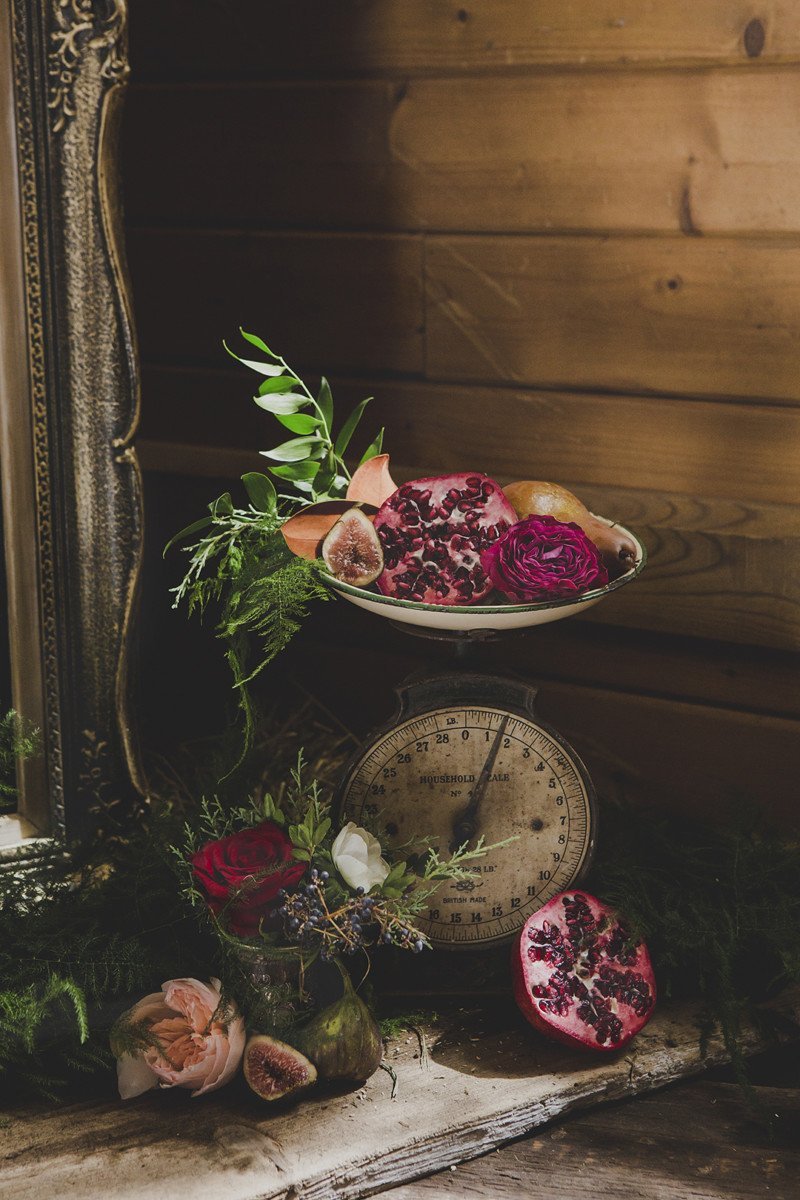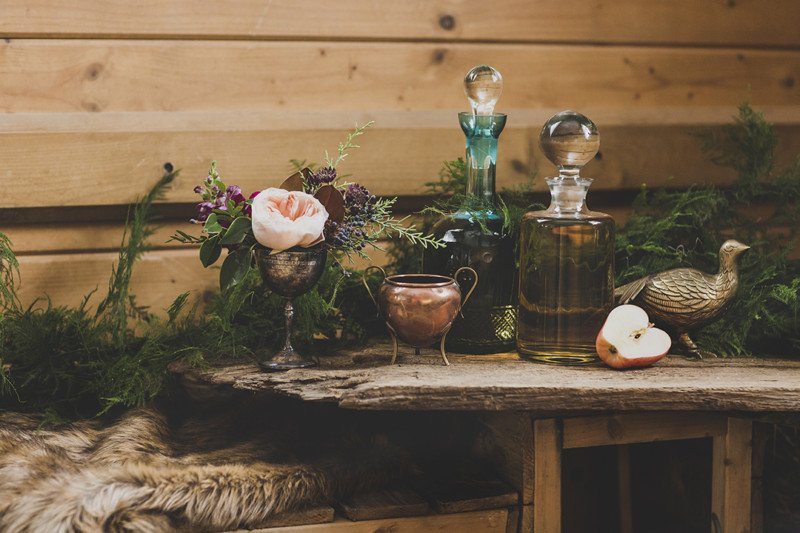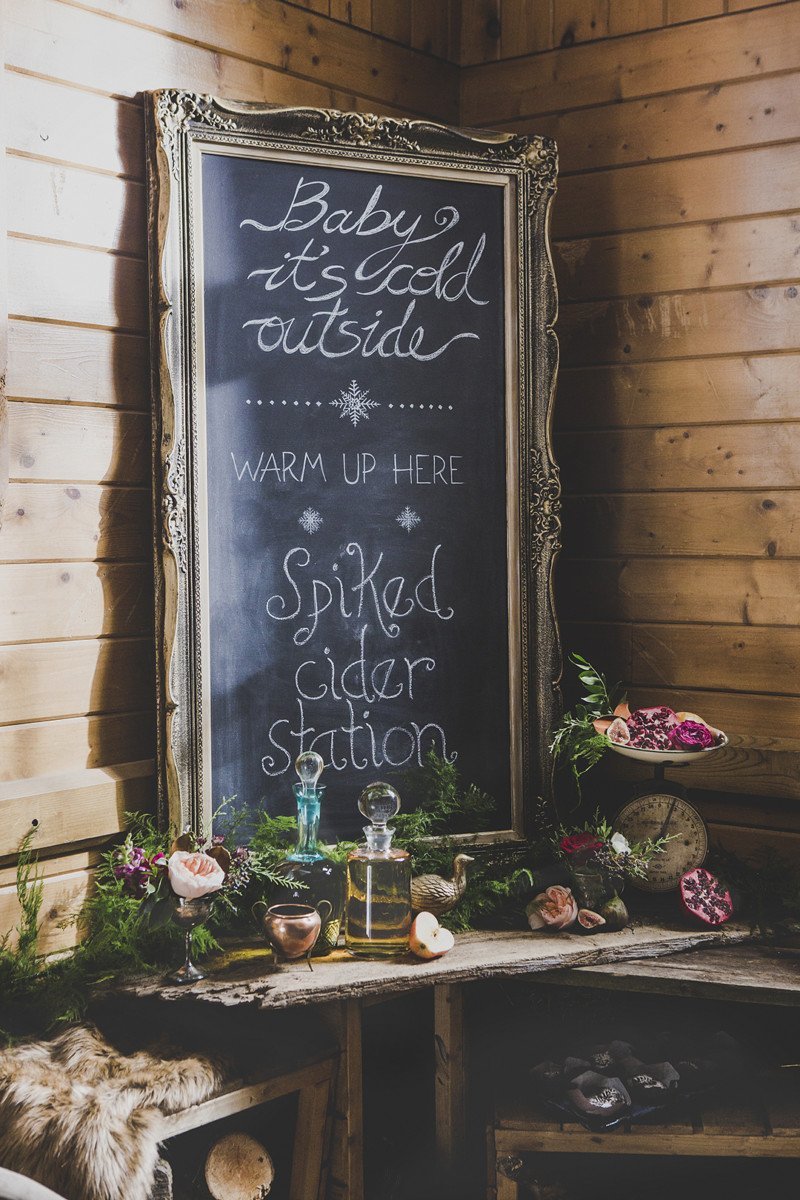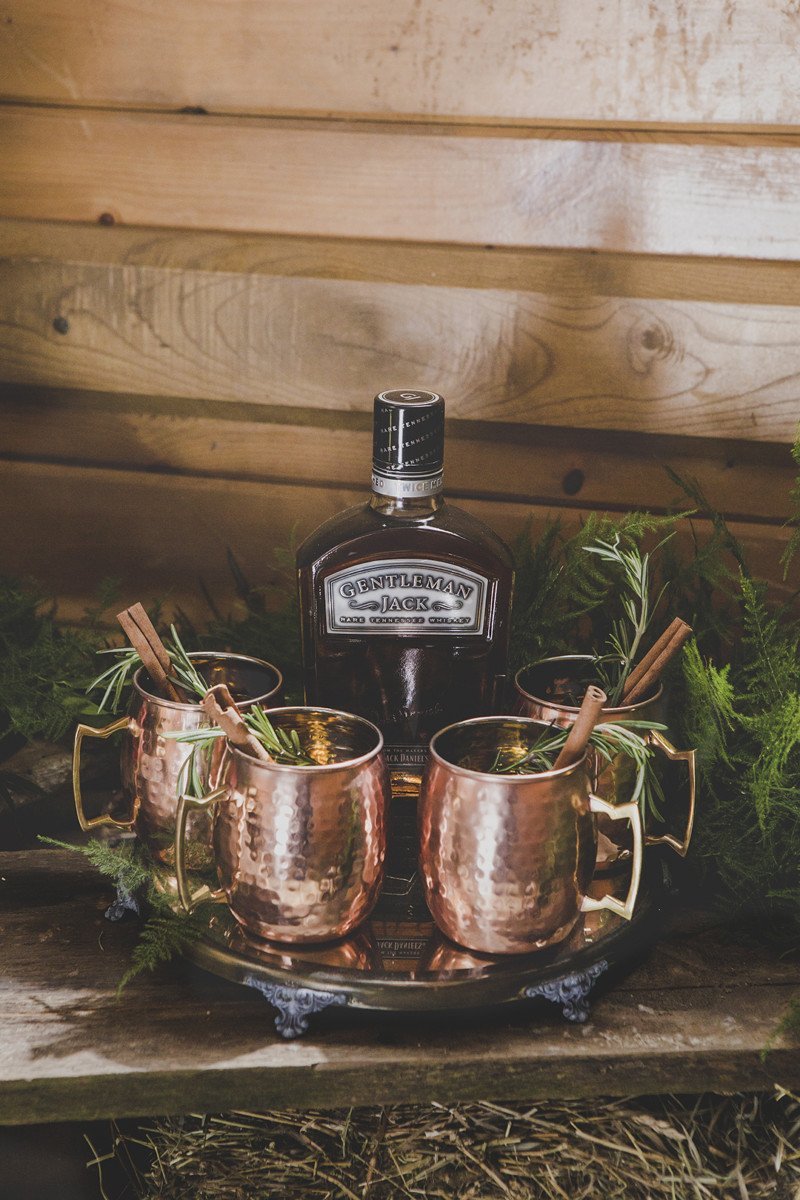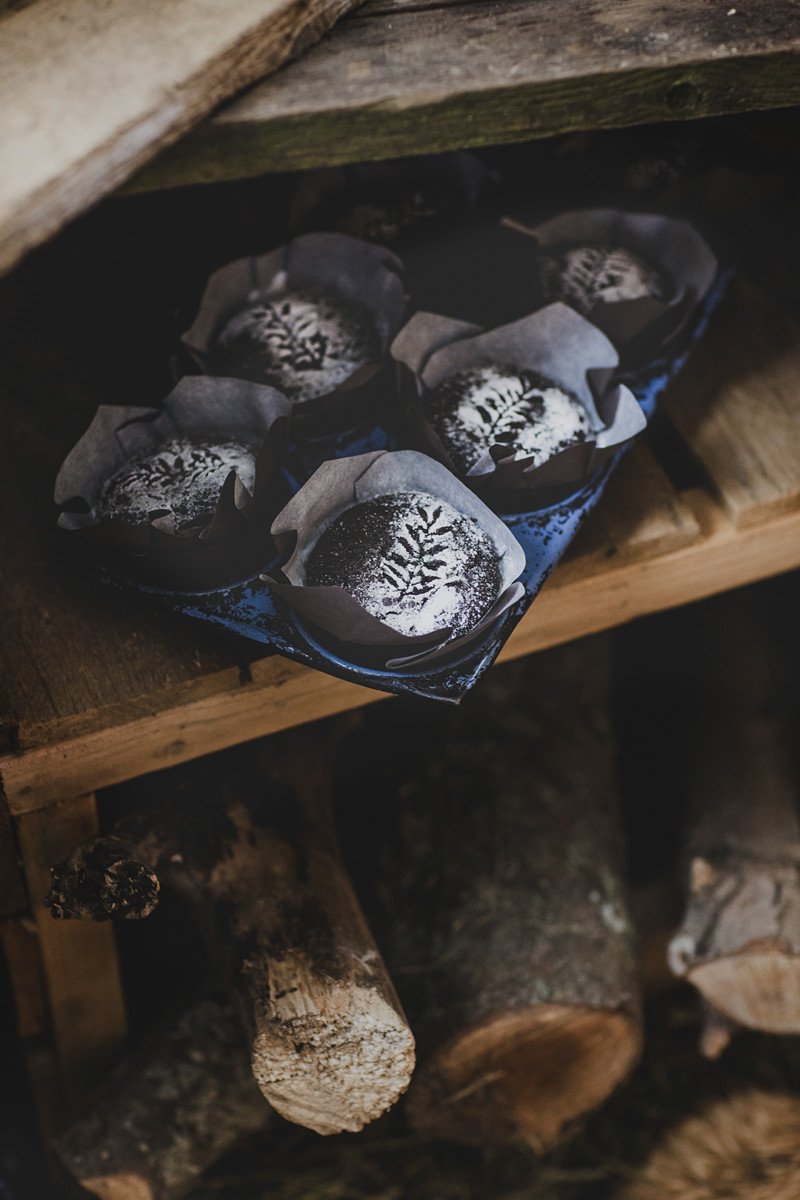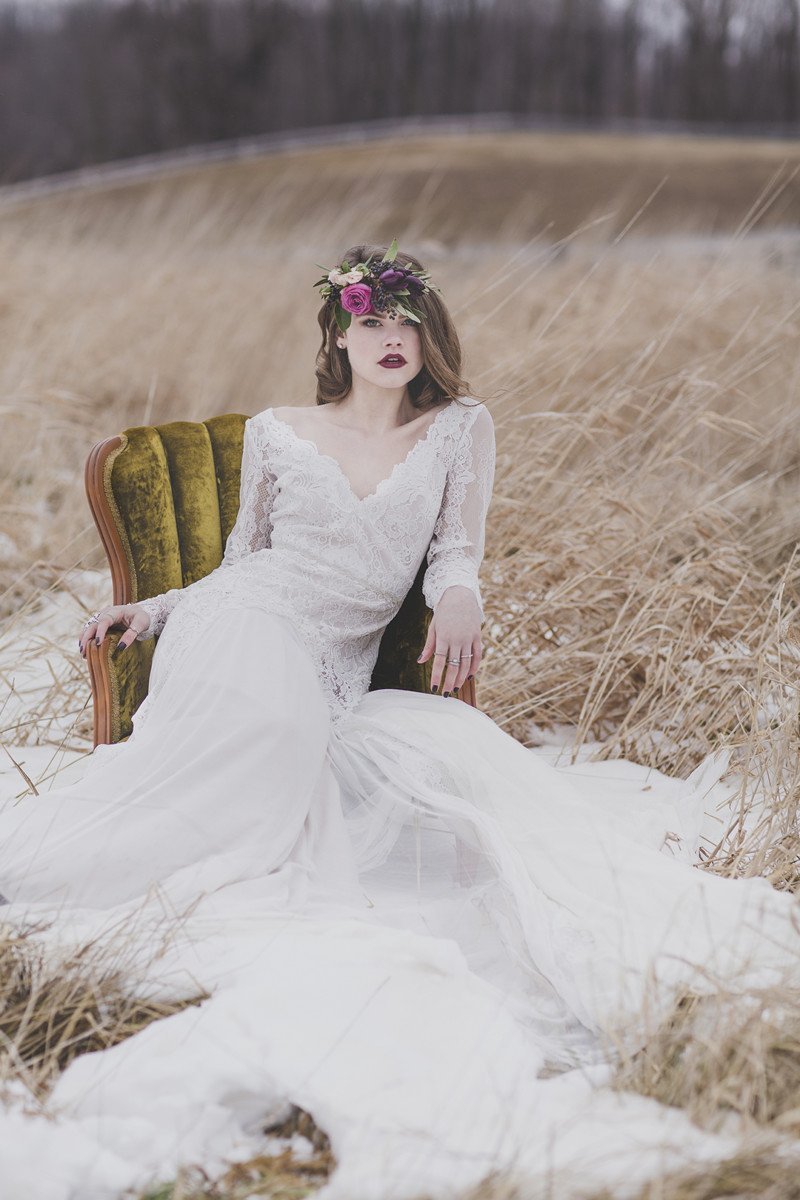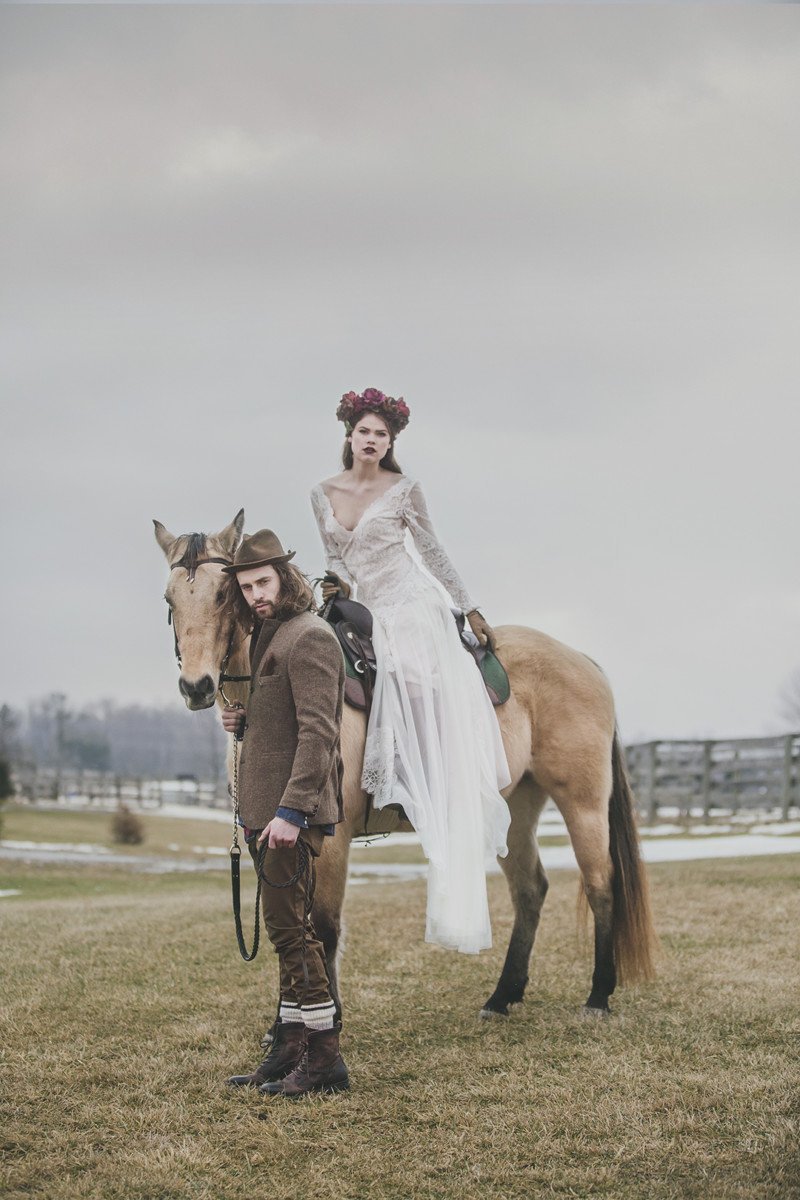 The ambiance was set and all that was needed, was some life. Gill Evans and Josh Mcaree from Lang Models, posed as our bride and groom. Anais Anette created a gorgeous boho inspired lace and silk gown just for our shoot. Canadian, native designer, Angela DeMontigny, selected some of her stunning fur pieces, jewellery and clothing and Audra Harris carefully curated the final look also using some staple menswear from The Bay and House of Vintage. To top off the look, Karima Sumar painted a sultry Marsala lip complimented with natural boho inspired hair. Flower crowns au' natural and in silk were handcrafted by Blush and Bloom and Lady Hayes.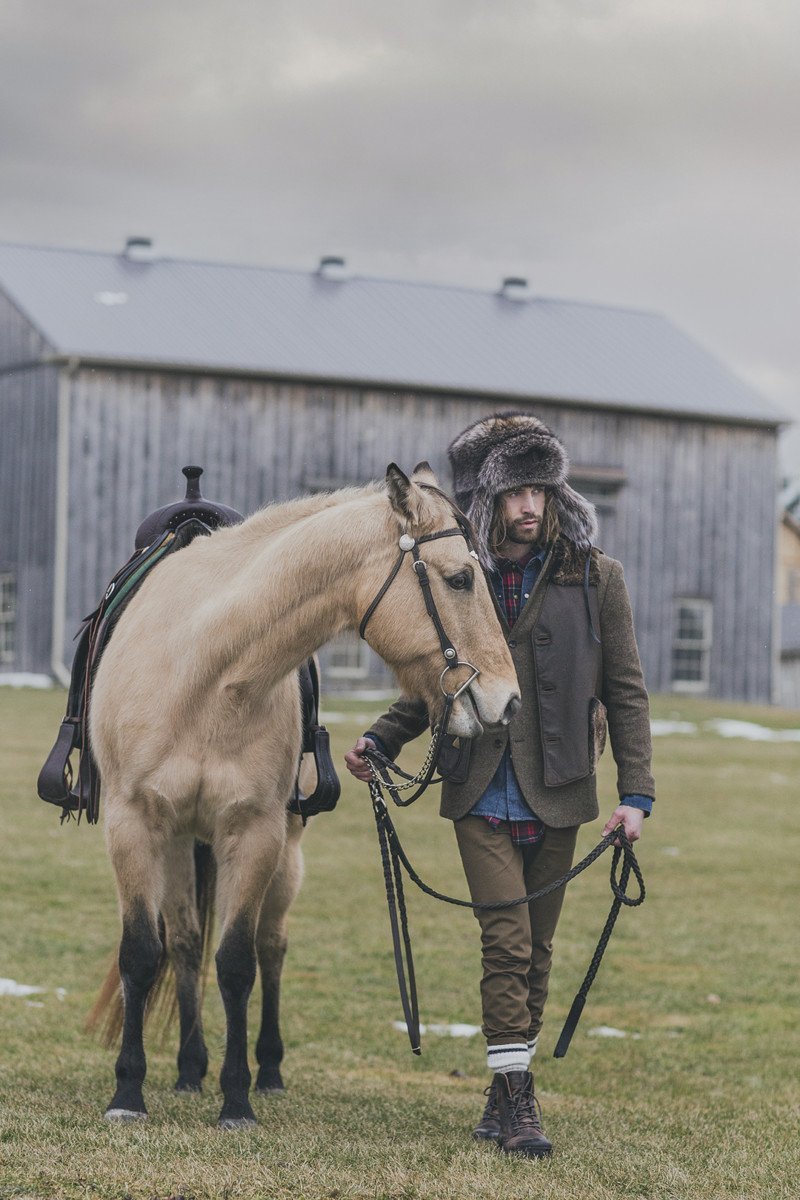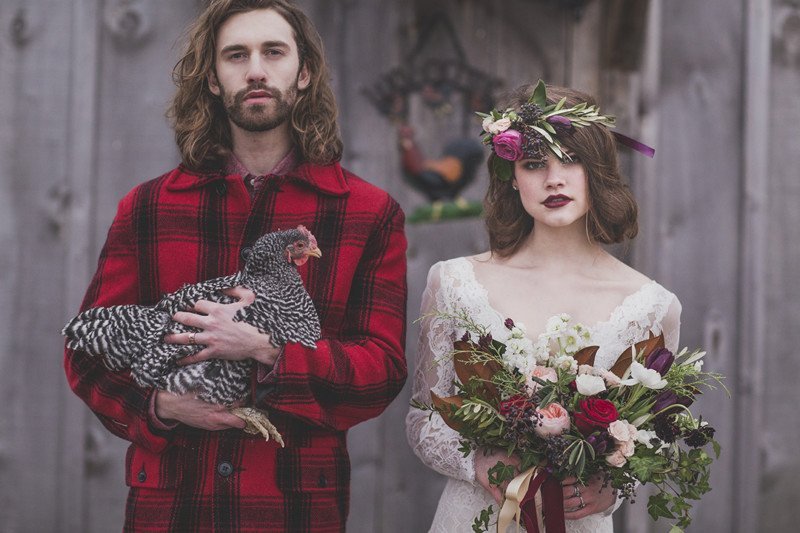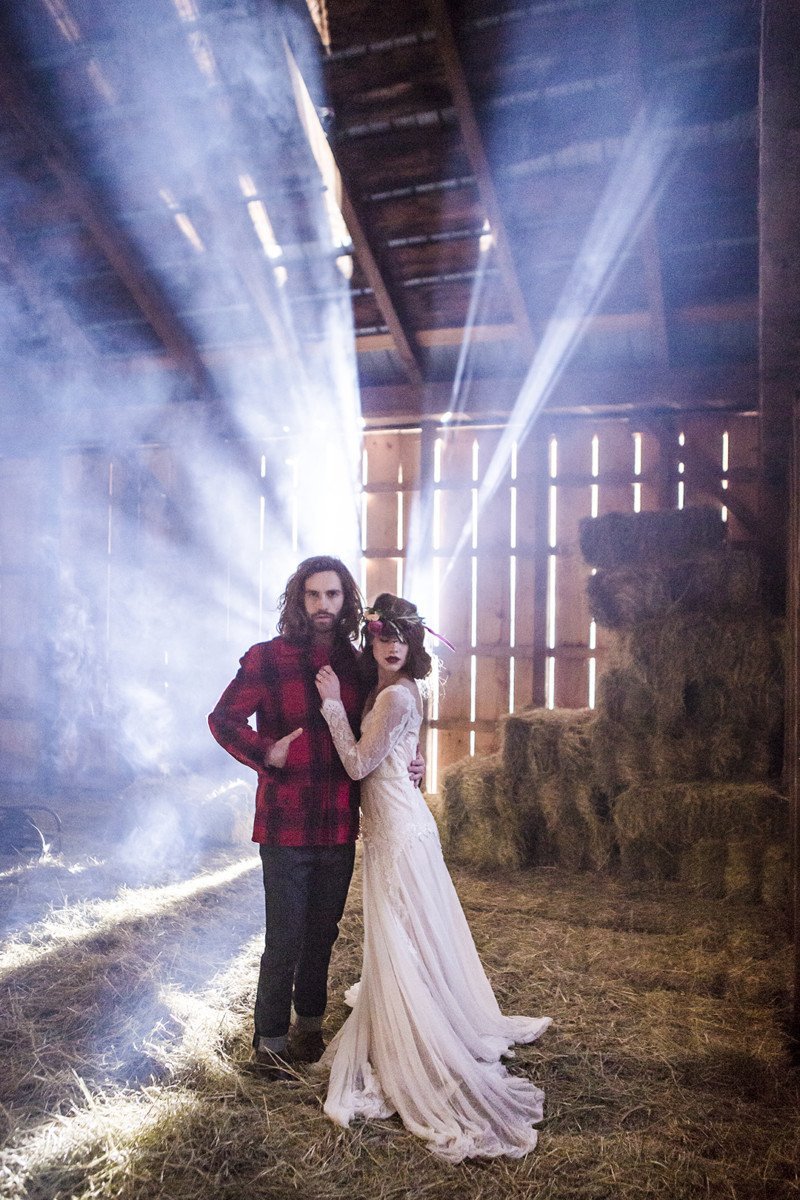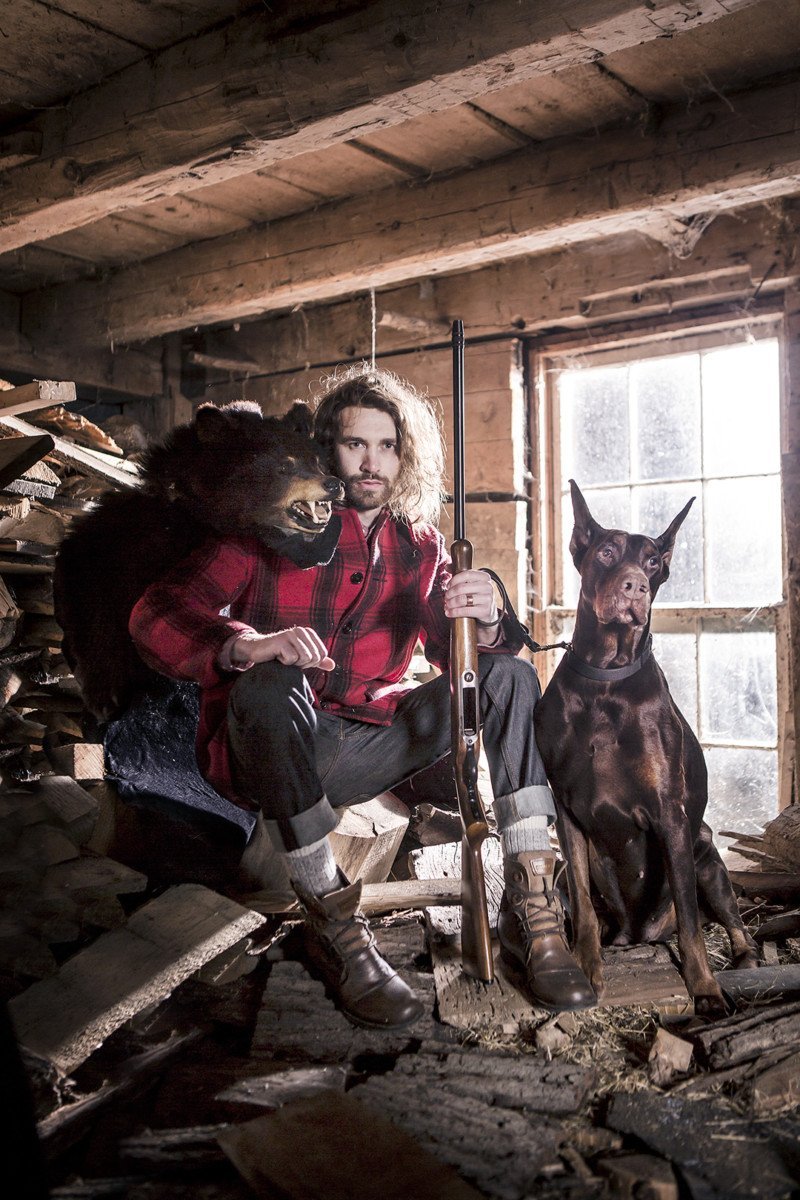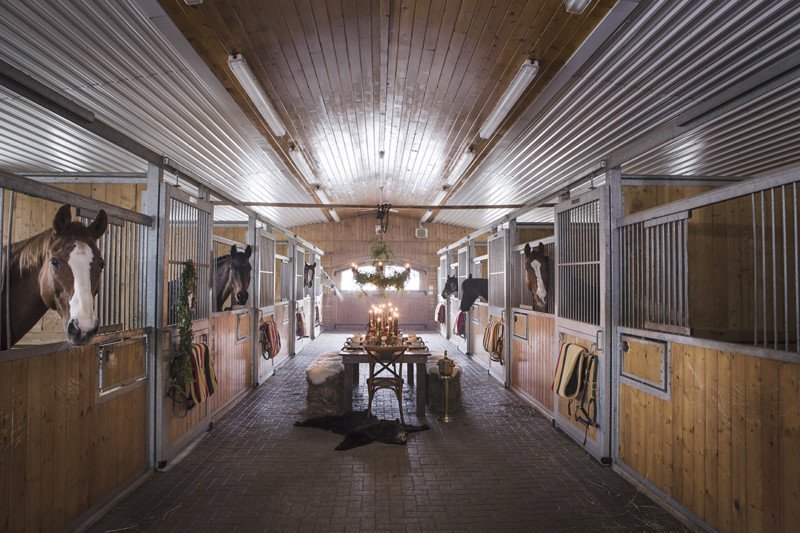 Leslie from Warehouse 84 provided even more brass candlestick holders and added quirky brass deer heads as decoration. Her beautiful antique chairs finished off the ends of the table as hay bales fit alongside as a rustic bench. Sheepskins lay atop the hay, adding another texture and making for comfy seating. Lastly, gorgeous deep coloured and textured fruits are scattered on the tabletop, inviting your eyes to dance from detail to detail. Becky from Blush and Bloom, created a gorgeous whimsy of florals that posed in various brass containers of her own collection. Olive branch, garden roses, anemones, scabies, magnolia, spray roses, pivot berry, double tulips, carolina sapphire and asparagus fern decorated the table top creating a deep and luscious colour story. Asparagus fern was wrapped around the low hanging chandelier and centred over the long harvest table which was situated in the centre of the stable aisle.
With that fairy tale in mind, the table decor was based around my personal collection of brass candlestick holders and a fabulous plaid fabric I sourced. I made napkins out of the fabric and found a winter/deer theme plate at Anthropologie that was just perfect! Marsala, black, white, gold and contrasts of blue quickly became the colour scheme. Antique mixed with new seamlessly: silver goblets sat along-side glitzy gold + glass tumblers. Gorgeous gold-plated cutlery looked modern and as a final woodland touch, turkey feathers were placed in the centre of the gold plated bowls.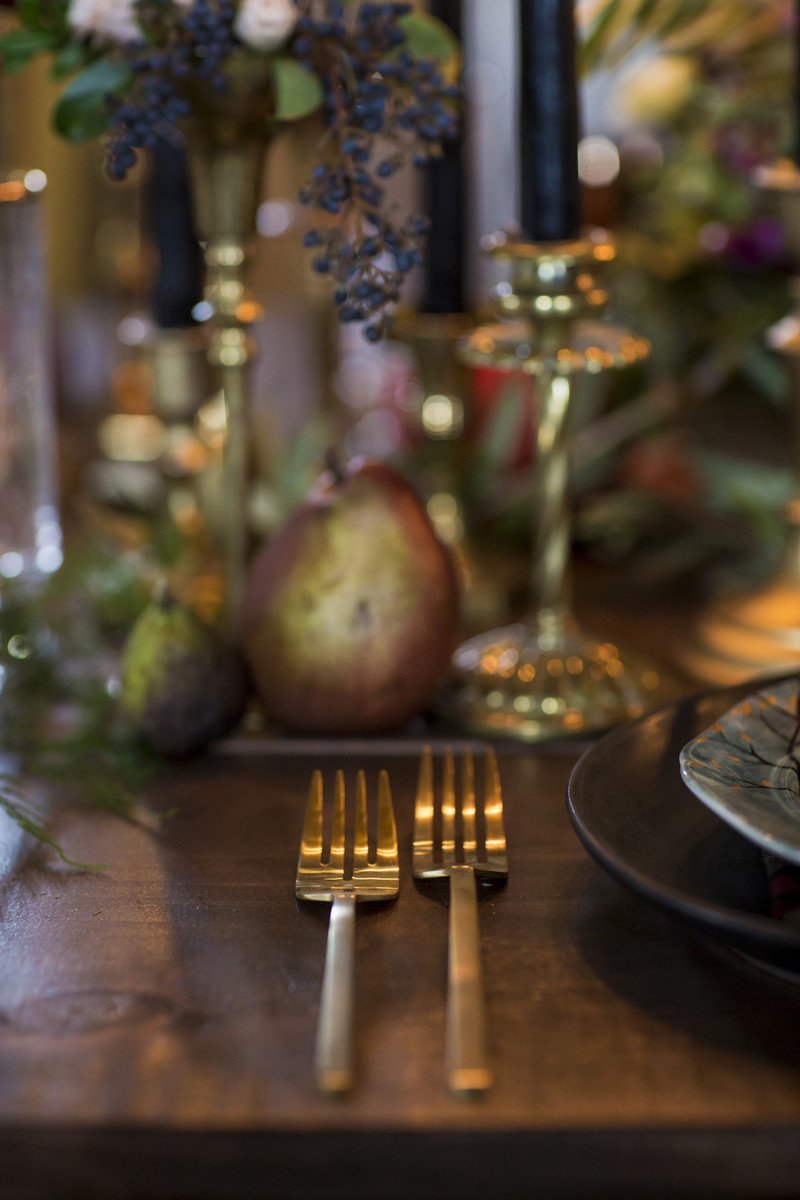 Horse heads poked in and out of the stall doors in curiosity creating an intimate environment mixing nature and glamour. Lastly, a bear rug anchored the table and posed under the grooms chair. The room was elegant, cozy, rustic, and of course romantic and you would never know it was the middle of January in Canada! The overall atmosphere was almost like a Medieval Royal Feast.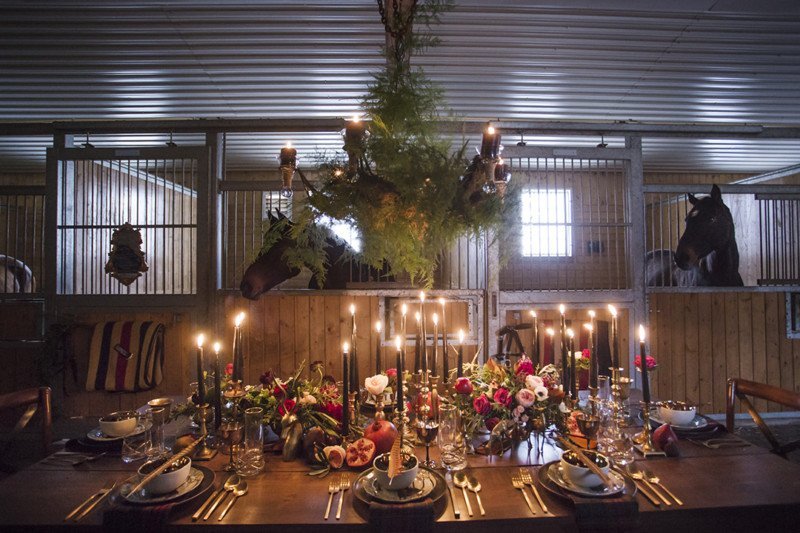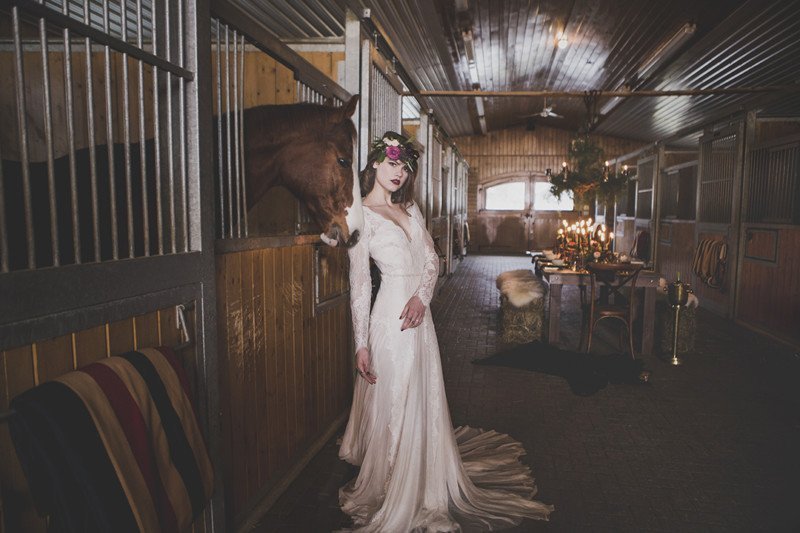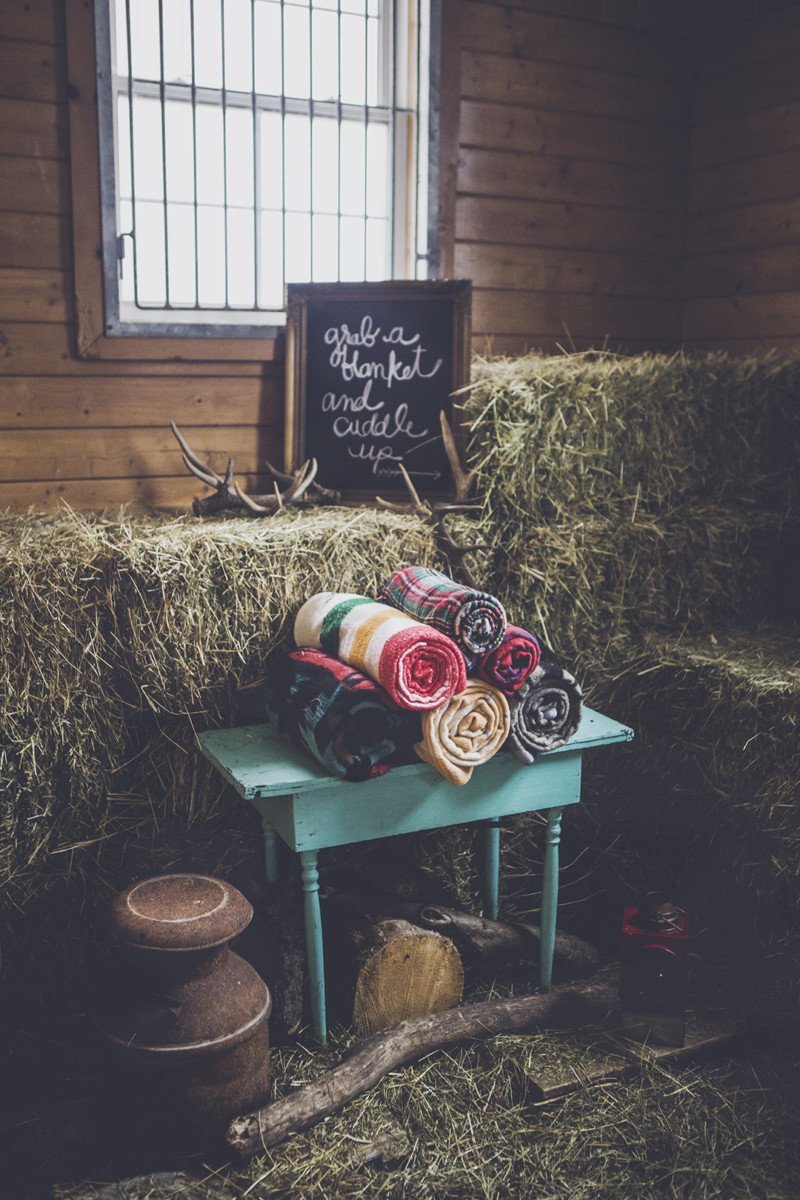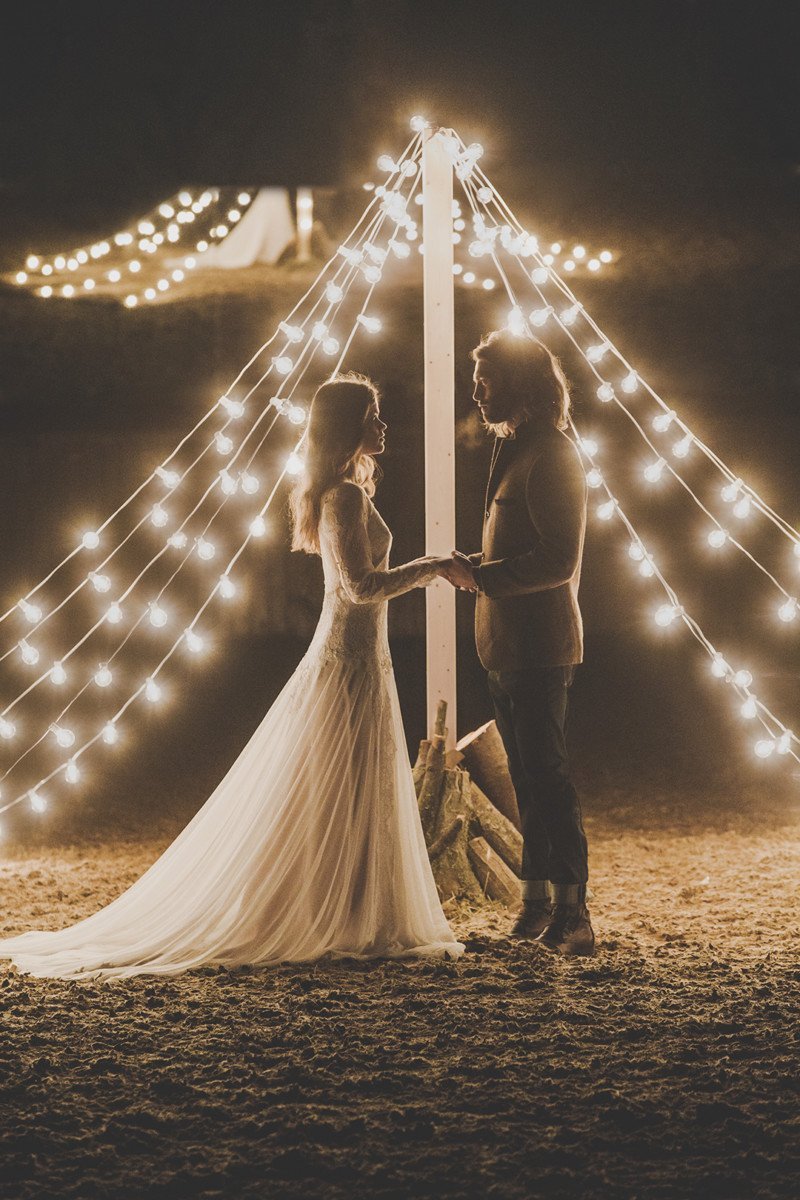 The ceremony set-up was simple and a little boho. In the centre of the huge horse arena, a tee-pee of circular patio lights was created. Using a 2×4 as a pole and many extension cords and staples, a perfect tee-pee was erected. An early evening ceremony sets the romantic tone. All the guests watch in the darkness which makes it feel as though they are witnessing the couple's love privately. It is intimate, emotional and utterly romantic, especially when the guests are watching cuddled up in a blanket of their own.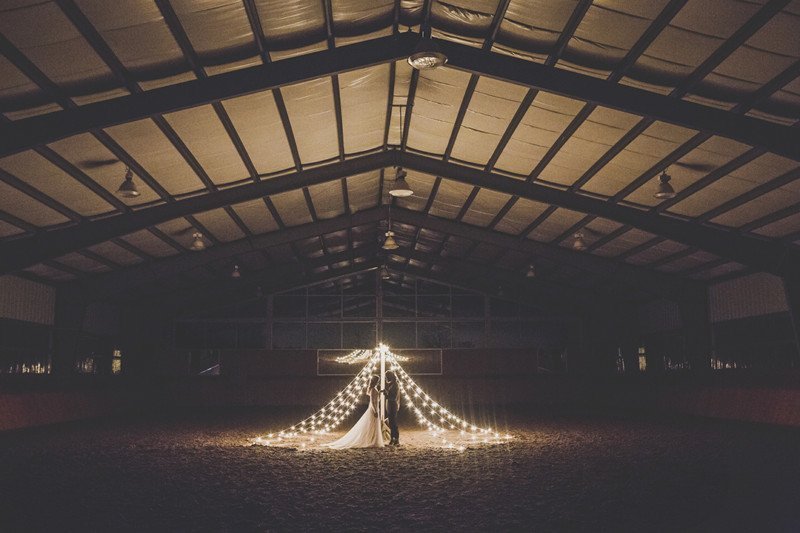 All in all, our team of creative vendors did a fantastic job of creating a moody, woodland winter wedding. It was romantic, off-the-beaten track and for me, very Canadian. I hope this inspires the winter wedding in you! Afterall, it is possible to create a beautiful wedding in a difficult climate. It may take some extra planning and care but even a real snowy winter CAN be beautiful!
xx- april
————————————-VVVVVVVVVVVVVVVVVVVVVVVVVVVVVVVVVVVVVVV————————————-
credits
venue: Holly Oaks Farm // floral + flower styling: Blush and Bloom // furniture + prop rentals: Warehouse 84 // photography / decor styling / art direction: Olive Studio // wedding gown: Anais Anette // native clothing + accessories + jewelry by designer: Angela Demontigny // select menswear: The Bay + House of Vintage Toronto // wardrobe stylist: Audra Harris // hair + makeup: Karima Sumar // silk flower crown: Lady Hayes // cake: Le Dolci // cheese tower: Cheese Boutique // models: Lang Models (Gillian Evans + Josh Mcaree)
Special thanks to every horse owner at the barn for prepping the barn and their horses!
Special thanks to photo and lighting assistants, David Wile, Scott Ramsay and Ally Chadwick
This styled shoot was also featured on Wedding Chicks