---
industrial romance at steamwhistle brewery
April 11, 2016
In just 4 months, Lilia and Andrew planned and executed their wedding at Steamwhistle in Toronto. A few months after getting engaged on Christmas morning 2014, the couple started looking for venues. They wanted the venue to be a reflection of them both – down to earth and casual, yet modern, elegant and romantic. They saw countless venues including countryside outdoor spots and wineries, but came across Steamwhistle as they had been there many times to sample beer before a Jay's game. It also happened to be one of Andrew's favourite beers so it seemed fitting as their first choice! When they had come to the decision they were quickly disappointed as the venue was fully booked for the next year on every Saturday! Since they had been together for 13 years, they didn't want to wait a whole year before tying the knot. They had waited long enough! The Steamwhistle had one Friday opening on September 12th and so the couple put their name down to hold the spot. A week later, they realized that it was the same weekend that their friends were getting married and so disappointed, they took their names off the hold. 2 weeks later, the Steamwhistle called and told them that there was a cancellation for July 4th 2015! They looked at each-other and said "Is it possible to plan a wedding in 4 months?" And simultaneously they said "Of course!" The rest was history.
The ladies look stunning in their floral robes.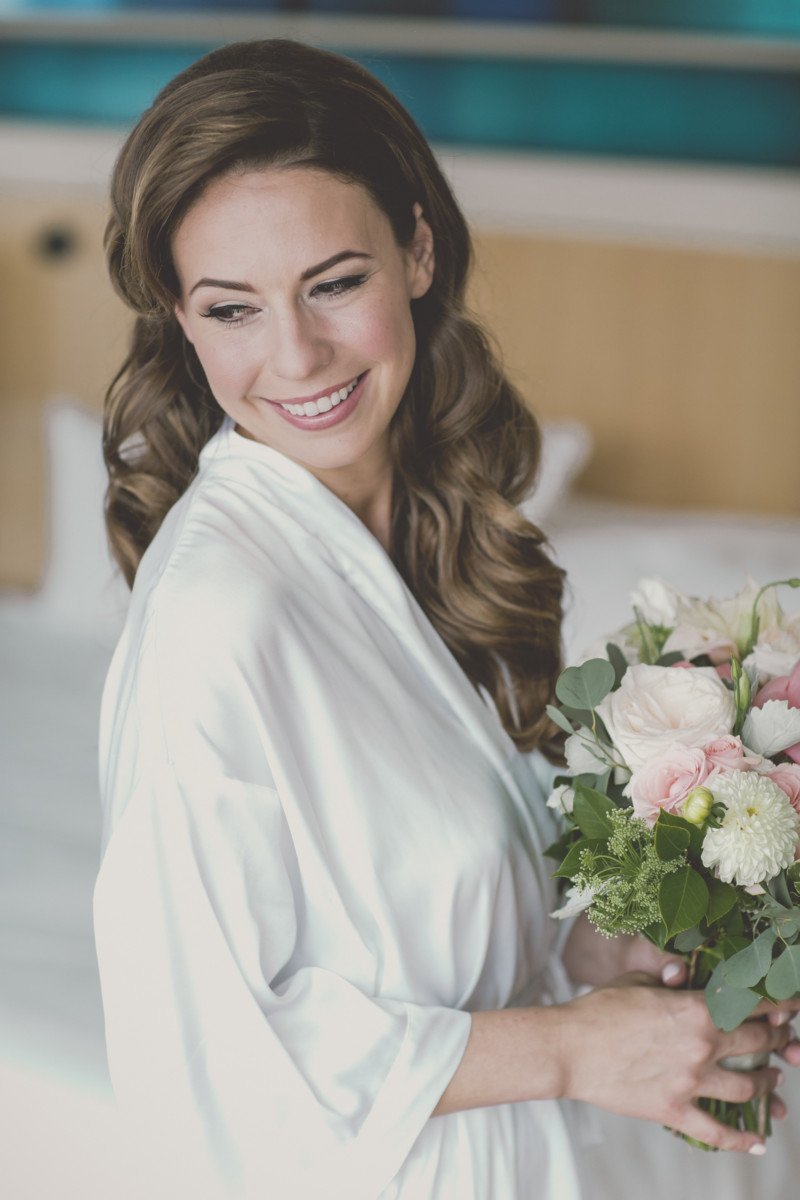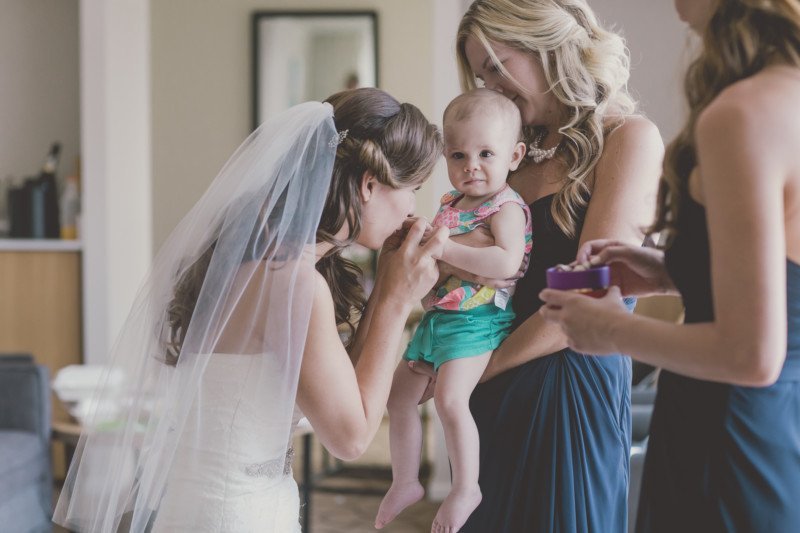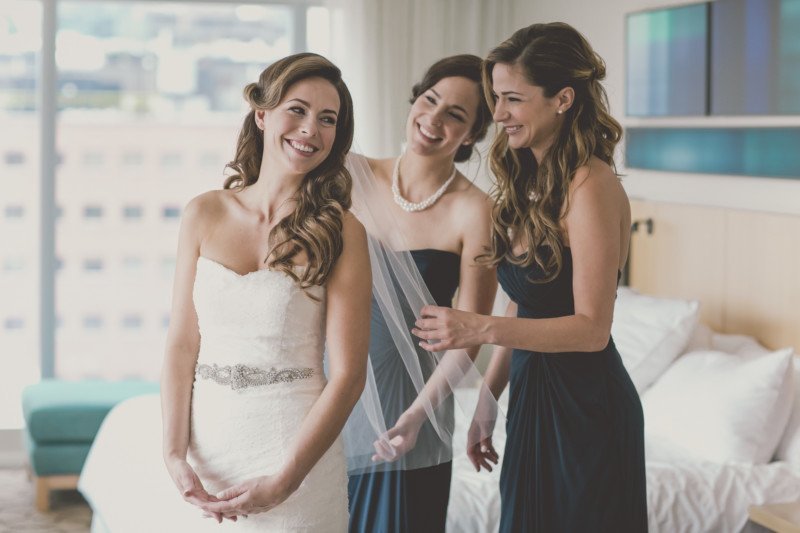 This little muffin was not impressed with her layers of crinoline.
The beautiful bride's hair was courtesy of Dee Dahgher and makeup was by the talented Janine Holmes from I Do! Beauty Co.
These gorgeous dark blue bridesmaid dresses as well as the bride's stunning number are by Monique Lhuillier.
Andrew and Lilia had been to over 40 weddings in their time as a couple so they had a lot of inspiration from their family and friends to draw from. Lilia had a huge network of newly wed friends with recommended vendors and before she knew it, she had chosen them all based on referral and loved them! Lilia really speaks strongly of finding a personal connection with the vendors she chose. Once she was able to do that, she knew that she could trust in them to give her the result that she was looking for. Becky, from "Blush and Bloom" was the first vendor that made Lilia's "heart melt". She was able to articulate Lilia's flower vision perfectly in real life. They were exactly what she had envisioned; whimsical, elegant and eclectic.
Lilia had also asked for an arbour with greenery around it and some flowers on the corners, but when she saw the arbour on the day of the wedding, she was floored! The blooms were so beautiful and plentiful, sitting gorgeously along the entire side of the arch. It was above and beyond Lilia's expectations.
The handsome groom is pressed, dressed and ready to marry his bride.
You can't go wrong with a cute and whimsical touch like this one…well done, boys!
Andrew and the boys had some mischief up their sleeves on the morning of the wedding. Unlike the women, spending the morning primping, the boys threw on their suits and headed outside.
Andrew's good friend and arborist, was prepared to cut down a dying tree in the backyard. This would test the "men" to see who would flinch while they stood with their backs to the falling tree.
And here it goes! The tree falls down towards them, and two people look and one flinches. OMG hahaha. How "boys" love to have fun!
The groom and his groomsmen looking impossibly handsome in their Michael Kors suits from Andrew's Formals.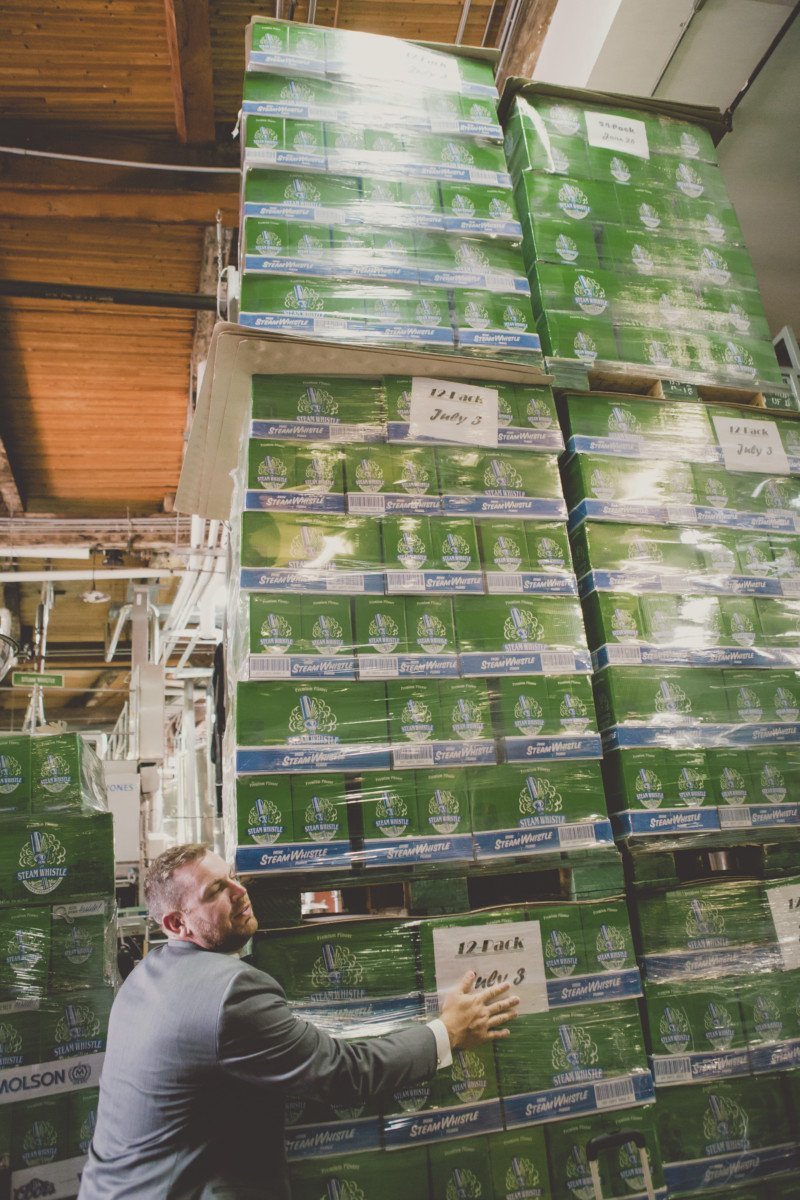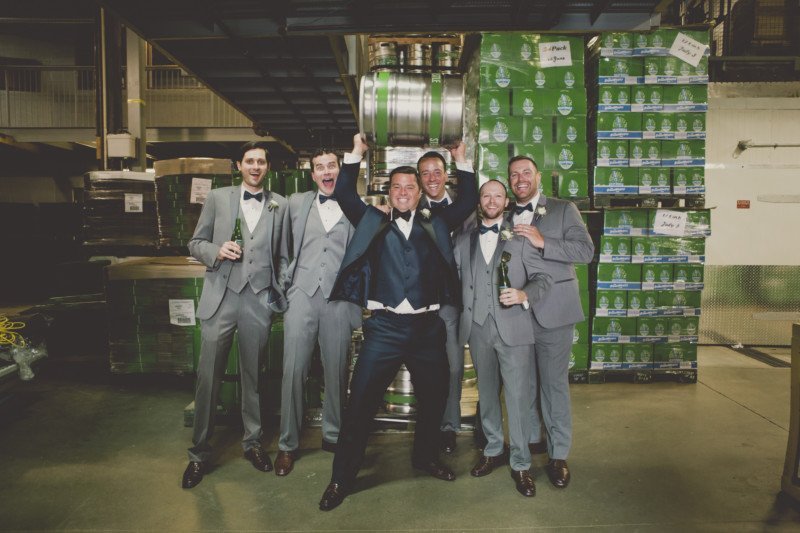 Getting a behind the scenes look at how the famous beer is made.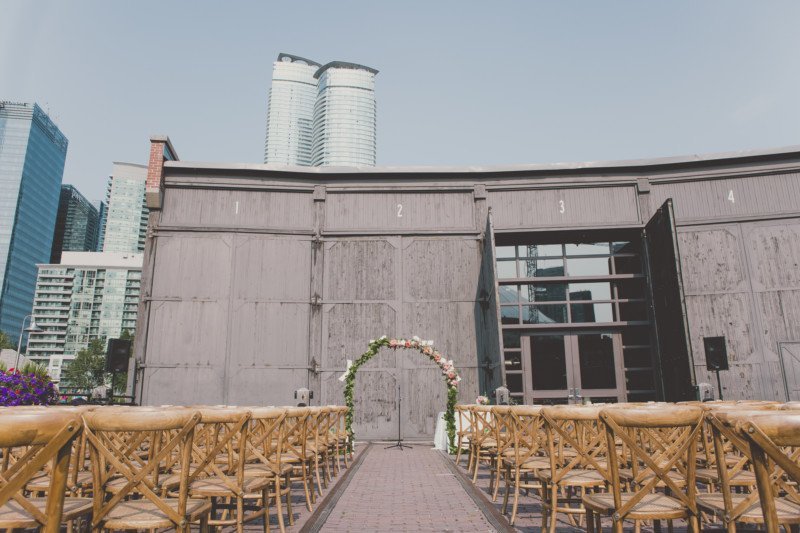 This flower arch altar looks stunning against this Toronto backdrop.
Bagpipe player greets guests as they take their seats.
You can't beat that view of the CN Tower. How's that for a ceremony backdrop!
The bride can hardly contain her excitement as she begins her walk down the aisle.
Lilia, her father and Andrew all tear up at the altar. What a special and sweet moment!
One last hug and kiss before he gives her away.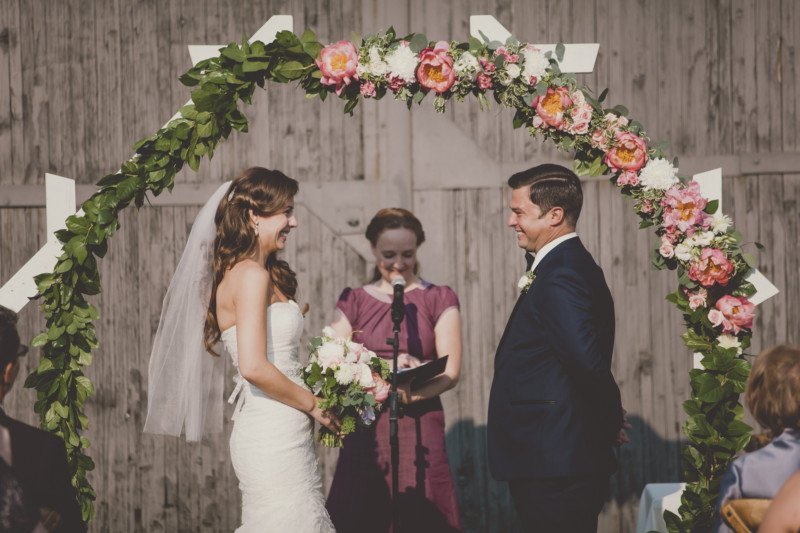 Sealing it with a kiss to make it official!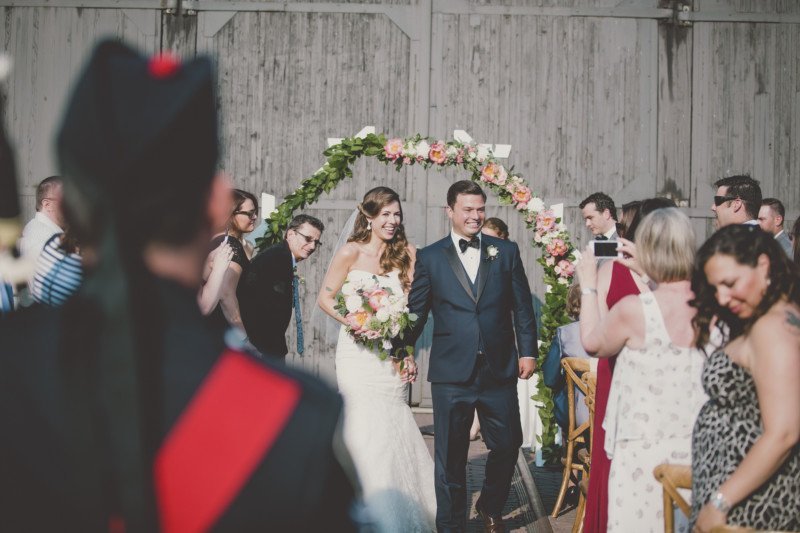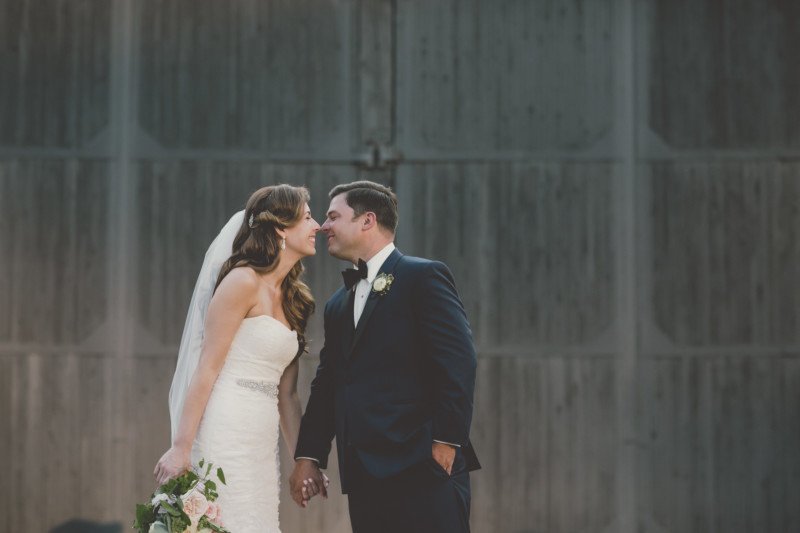 The lovebirds were in their own little world and only had eyes for each other.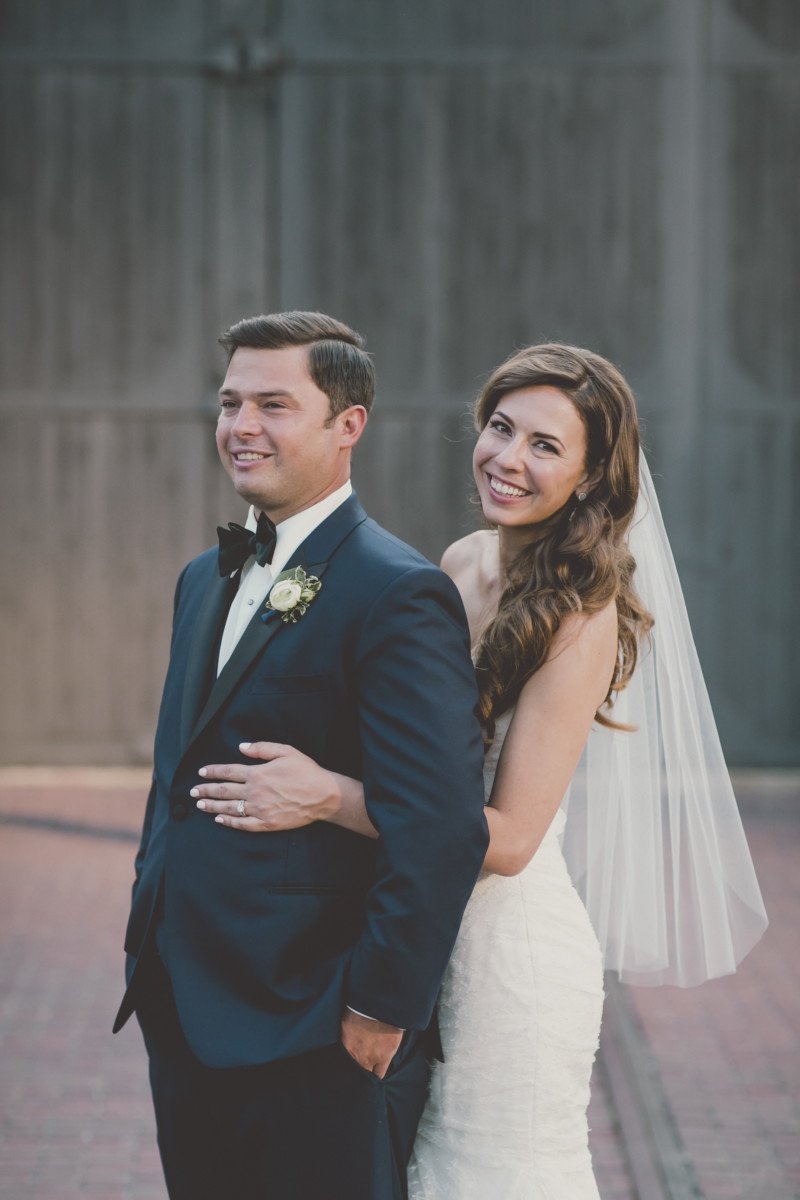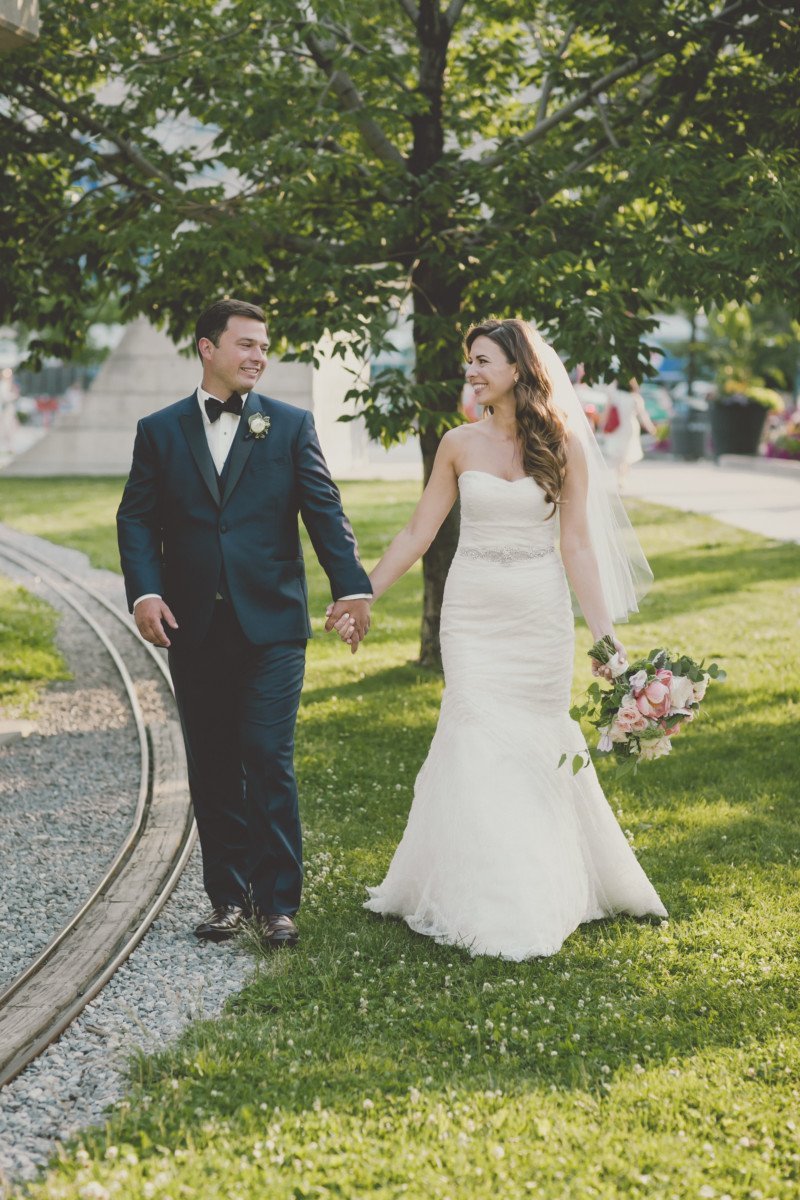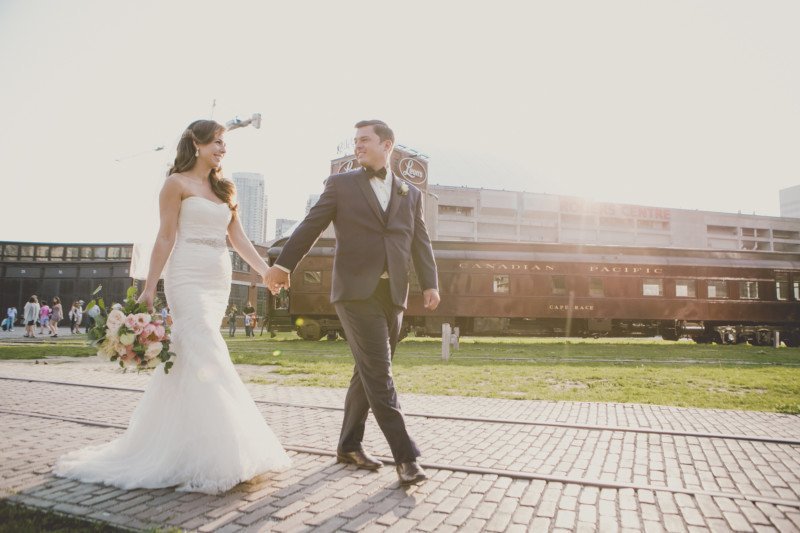 The Steamwhistle Brewery is such a fantastic venue for a wedding. The historical elements on site made for some great wedding photo backdrops!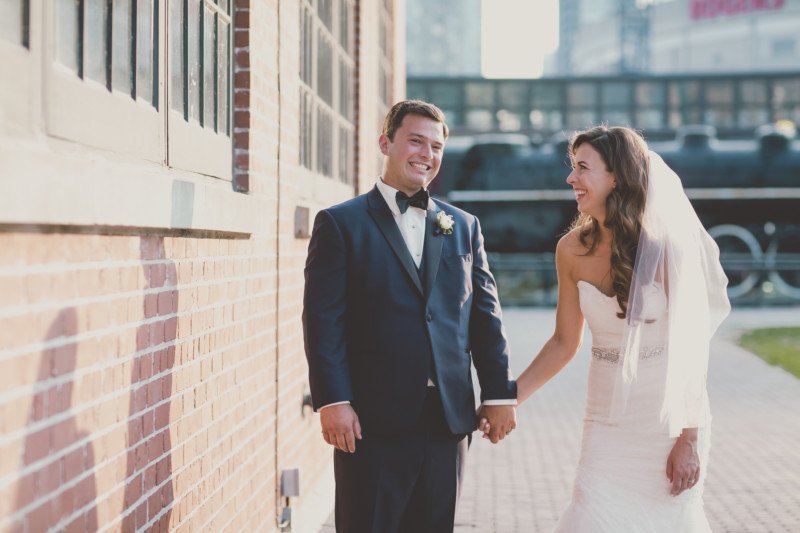 Another detail that made Lilia awstruck was the stationery. She had a vision in her mind of what she wanted, and with the help of a colleague of hers, she made those small details come to life from the personalized menus to the hashtag / candy bar tags to the invitations that were super unique.
Another key factor in bringing the décor of the wedding together, was the decision to go with Farmhouse Chairs. They were well worth the extra investment and tied in the overall ambiance of the room.
Lilia and Andrew decided to forego a traditional party favour and instead made a donation to a charity that was special to them both.
The goregous cake, adorned with real flowers, was created by The Wedding Cake Shoppe.
"There are many favourite details like our invitations which tied into our menus, candy bar and reserved signs to the lotto ticket under the napkin to win the centerpieces to the beautiful florals by Blush and Bloom, they were extraordinary, especially the gorgeous arbour, it blew us away."
"Our first dance was to 'Warm Love' by Van Morrison. Andrew and I love Van Morrison, it was so hard to choose between Crazy Love and Into the Mystic, but we settled on Warm Love as we love the lyrics and love dancing to this song together. We played the instrumental version of Crazy Love when Andrew walked down the aisle. Lilia walked down the aisle and played Into the Mystic for one of our slow songs at the wedding! So we managed to include all of them into our day."
Taking it all in and soaking up each and every moment.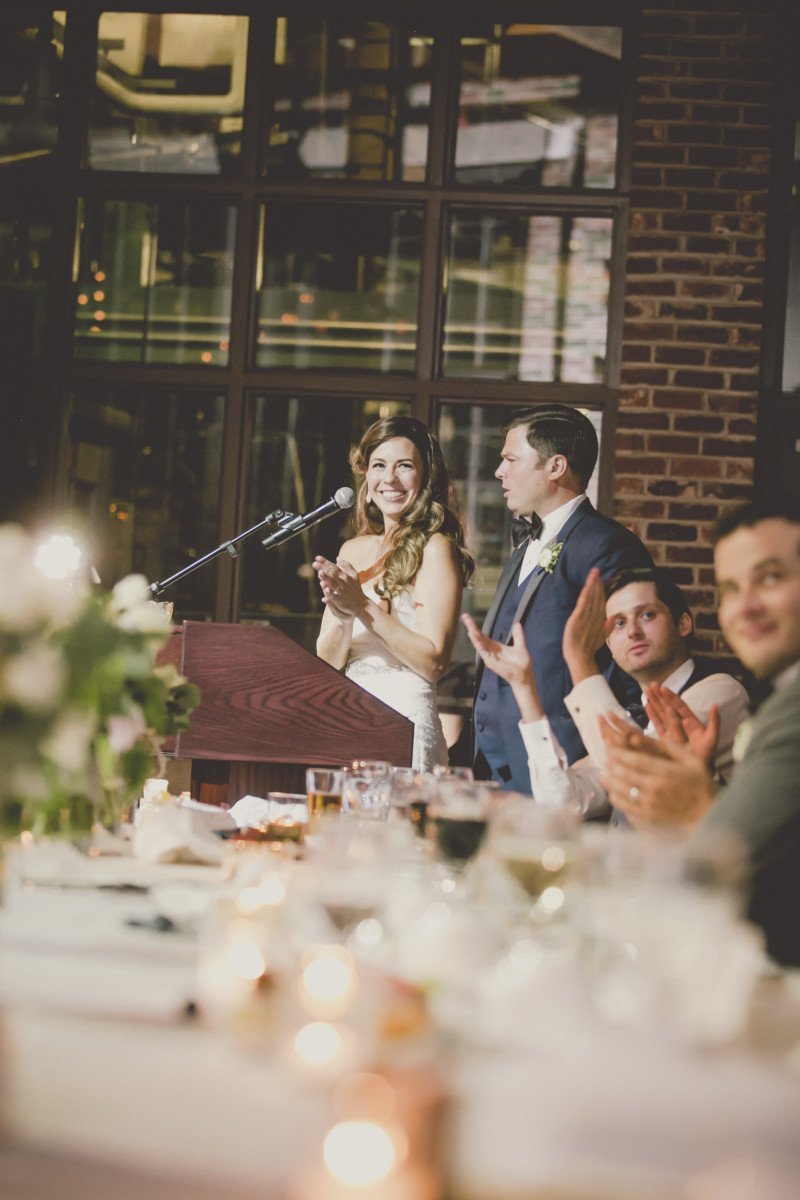 Sharing a few words of love and gratitude with their guests.
Lilia sharing a special moment with her dad during the traditional father, daughter dance.
Night has fallen and the guests are ready to party!
"We can't say that there is just one favourite moment, the entire day was so unbelievably special, the best day of our lives!"
"From both of us spending time with our guys and girls during the day leading up to the ceremony, to the ceremony where we finally got to see each other, to the most amazing, heartfelt and hilarious speeches from our family and friends to the architecturally beautiful space at the Steam Whistle to the incredible dance party that had everyone on the dance floor until after the lights came on at 2am."
"Every moment of the entire day was memorable and will forever be in our hearts and mind."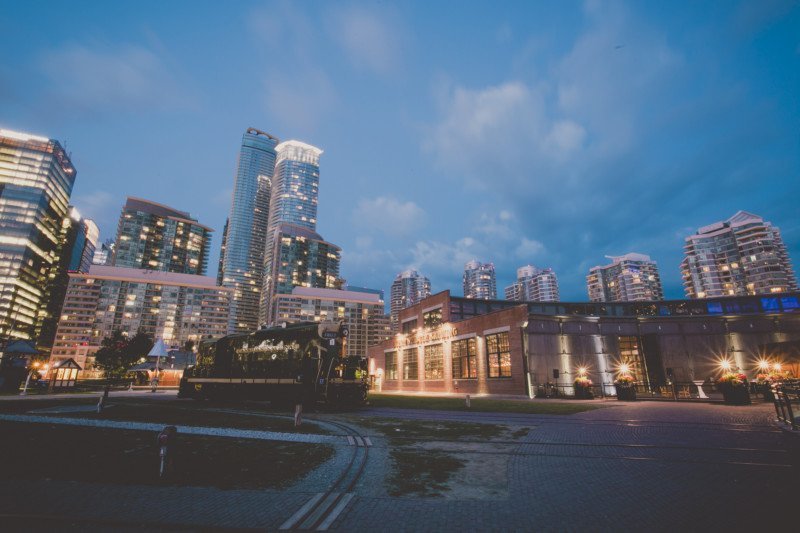 With the help of wedding planner, Alexandra McNamara from Blush and Bowties, the day came together with the incredible vision that Lilia and Andrew had sought for. All in all, with a little help from your friends and putting trust in some key vendors, the day resulted in a gorgeous summer wedding in the city.
I really enjoyed getting to know you both and photographing your beautiful day. You can do whatever you put your mind to – and it can look as incredible as you make it!
Congrats to you both Lilia and Andrew!
xx- april
————————————-VVVVVVVVVVVVVVVVVVVVVVVVVVVVVVVVVVVVVVV————————————-
reception: Steamwhistle Brewing, Roundhouse // ceremony: Steamwhistle Brewing, Roundhouse patio // officiant: Alexa Gilmour // wedding planner: Alex McNamarra from Blush & Bowties // wedding stylist: Lilia; Blush and Bowties executed day of // cake: The Wedding Cake Shoppe // catering: Food Dudes // dress: Monique Lhuillier // tux: Andrew's Formals – Michael kors // shoes: Andrew's Formals // accessories: Kate Spade earrings and Kate Spade sparkly navy blue Shoes // flowers: Blush & Bloom // hotel: Delta Toronto // music: DJ Maren from Dialedn Dj // hair: Dee Dahgher // makeup: Janine Holmes from I Do! Beauty Co // favours: Soma chocolatier and a donation to the SPCA & Humane Society // bridal party attire: Monique Lhuillier // bridal party gifts: Groomsmen – Villeroy & Bosch Scotch Glass, Amazeballs for Scotch, Floor Play Socks, tux rentals; Bridesmaids – Pearl necklaces, Flowered Robes, Special tea cup, personalized bracelet, hair and makeup // invitations: Rena Bronstein Designs // chairs: Contemporary Furniture rental – Farmhouse chair // rentals: Exclusive Rentals // second shooter: Kate O'Connor // diy: Signing table (we had old vintage radios, clocks etc that we used to decorate the signing table) // number of guests: 175