---
a semi-formal sunday lunch affair
May 5, 2016
I met Celine when I was 3 years old at our local Nursery School and since then we have always kept in touch. We were never "besties" but we had fond shared memories and always enjoyed catching up on one another's lives when we had our annual run-ins.
The bouquet was clean, classic and simple. And every bride needs a pair of go-to comfy shoes for the reception. Celine wisely chose the everlasting classic…Converse sneakers!
After I started traveling, I didn't see Celine for maybe 6 years until I returned home and joined my gym spin class and she was the instructor! We laughed and chatted for a long time after she destroyed me on the bike! Since then, we saw each other regularly either in our new Toronto hood or at the gym.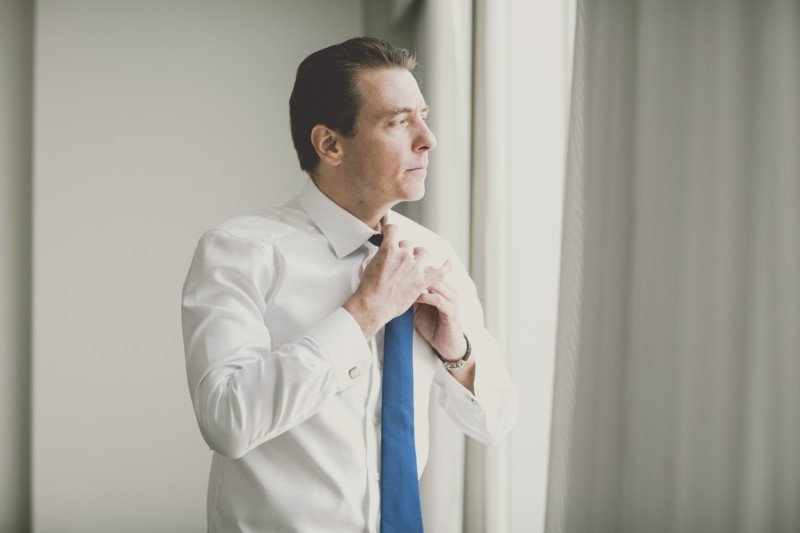 Torsten, a very tall and handsome German man frequented Celine's Monday night spins. Soon enough I learned that he was her other half. After months and months of Monday night spins and after workout chats, Torsten hired me to photograph his condo which was up for sale. From there, our friendships blossomed and soon enough I had the true pleasure of being asked to photograph their wedding day! I was so excited for Celine!!! After many years of us talking about life and relationships – she was getting hitched to both of our surprise! She never thought of herself as the marrying or "do it in sequence" type and here she was – planning her wedding! We find ourselves laughing at life's surprises and embracing the change.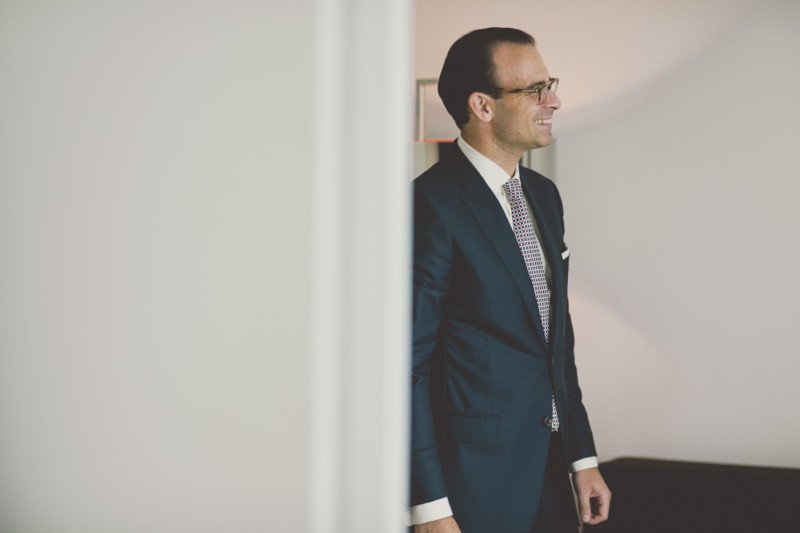 I never tire of shooting weddings in our one of a kind city and I especially love when I'm able to get a shot of that famous skyline in the background.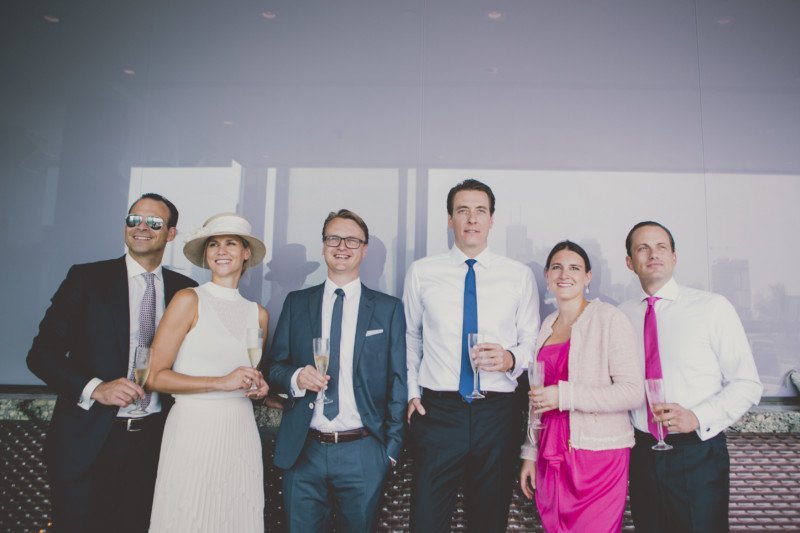 Celine did an excellent job of making a casual lunch wedding. Firstly, the couple decided that having the wedding on a Sunday would set the pretense that this event would not be a huge dinner or party. They looked all over the city for a venue and to their surprise fell in love with the newly renovated Holcim Waterfront Estate in Mississauga.
It feels like a lakeside retreat but it is only minutes from the city and from where Celine grew up. It was perfect for an outdoor ceremony and cocktail hour.
The couple added vintage touches around the grounds such as their welcome drink station. Wine barrels acted as table legs, holding "his" and "hers" flavoured lemonade. Crates were stacked alongside, showcasing photos of the couple. A gorgeous gold framed mirror finished off the whole look.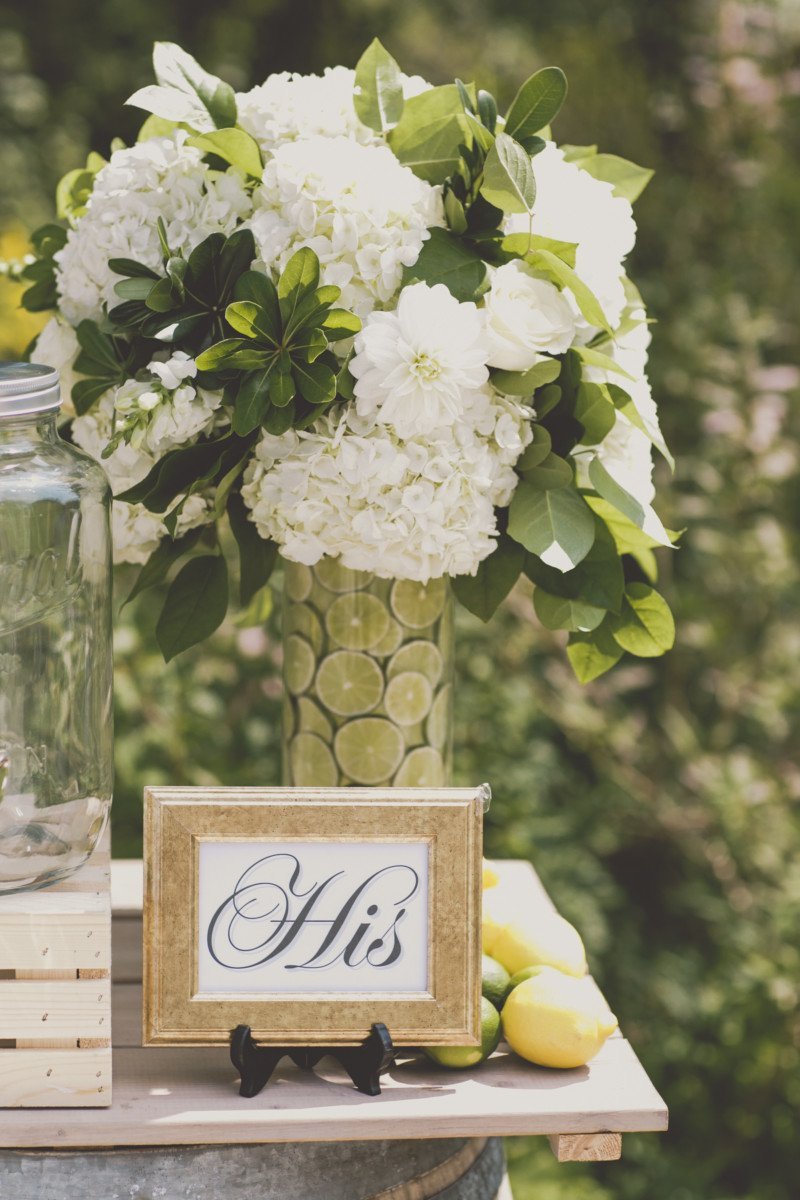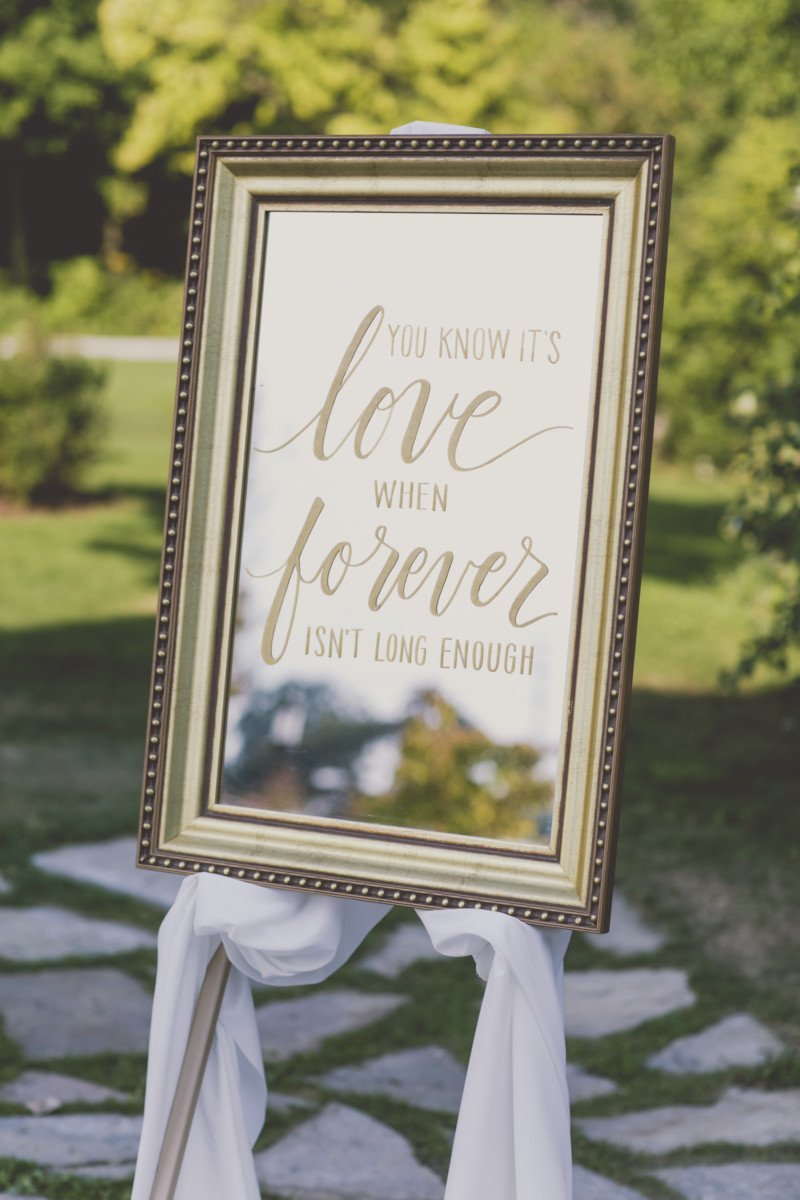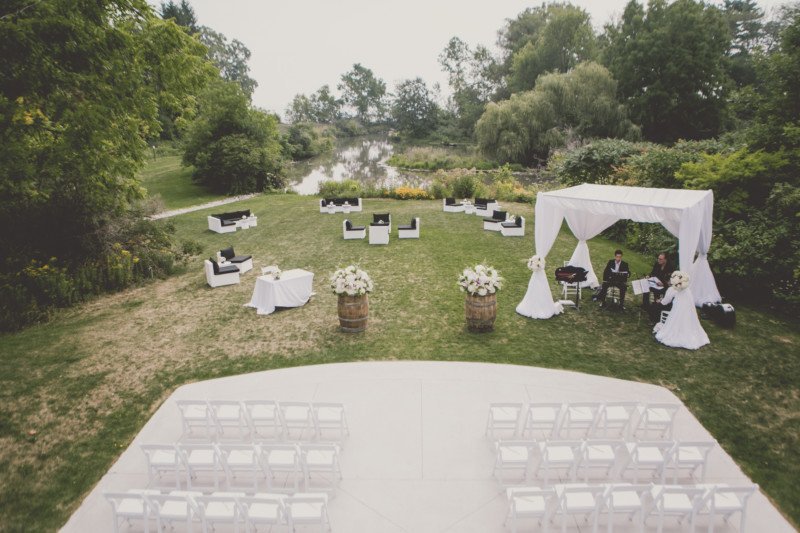 Seating was also a lovely feature that sat around the pond and scattered in pretty groupings.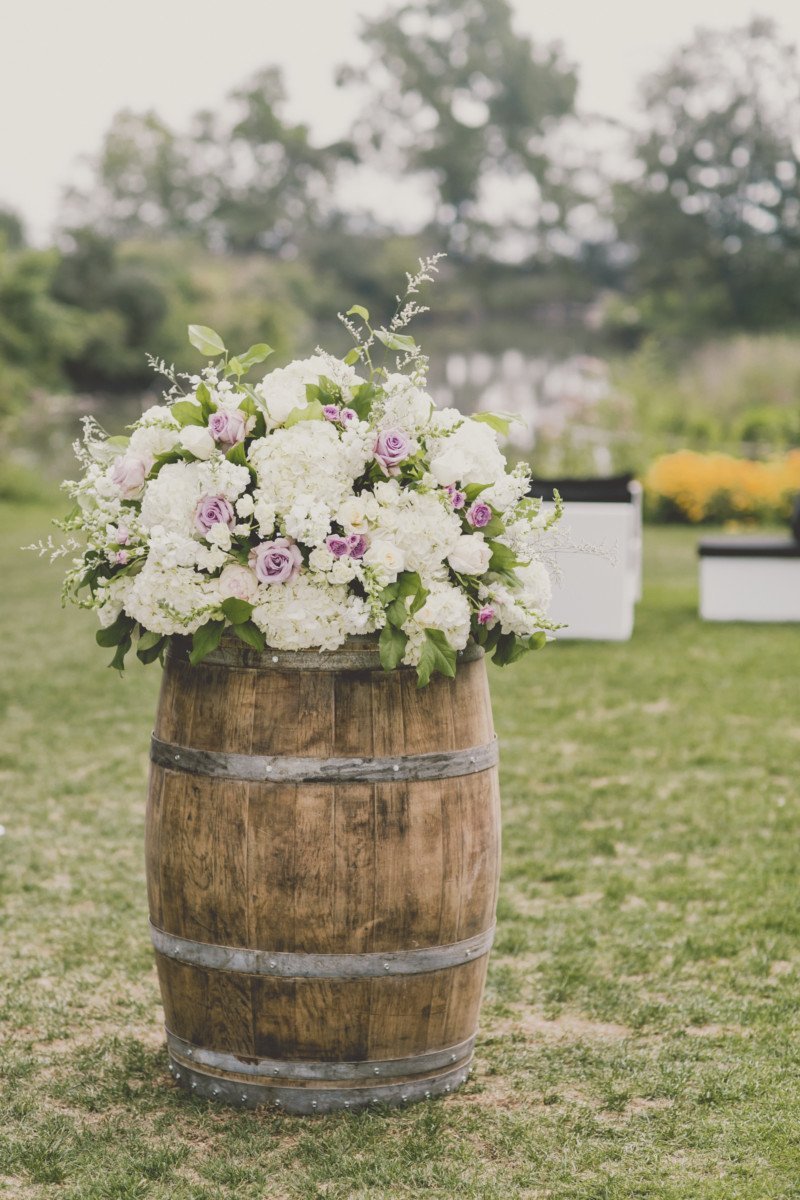 The fans on each guest chair during the ceremony was a nice, thoughtful touch and helped keep the guests cool in the warm Sunday sunshine.
Who doesn't love an excuse to wear a fabulous, fancy hat? An outdoor summer wedding is the perfect occasion for it!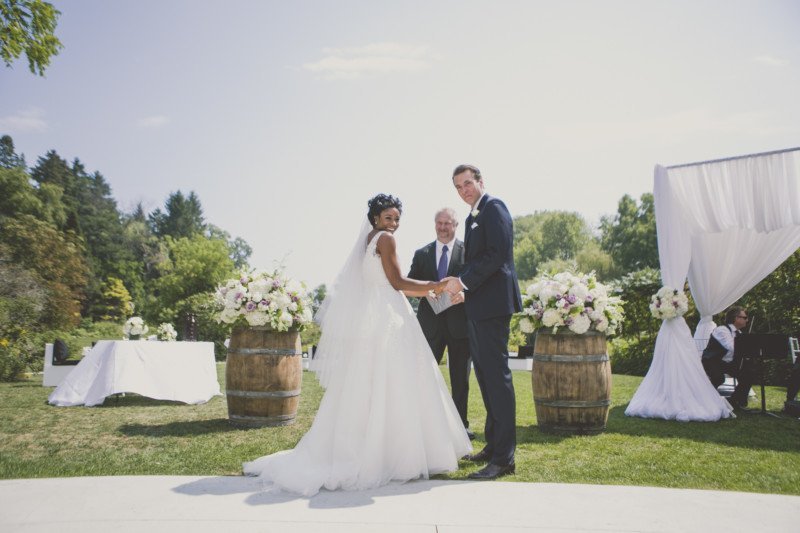 The barrels on either side of the bride and groom at the altar was such a lovely decor accent for the ceremony.
The ceremony was quite special as Celine and Torsten were merging two families and two cultures.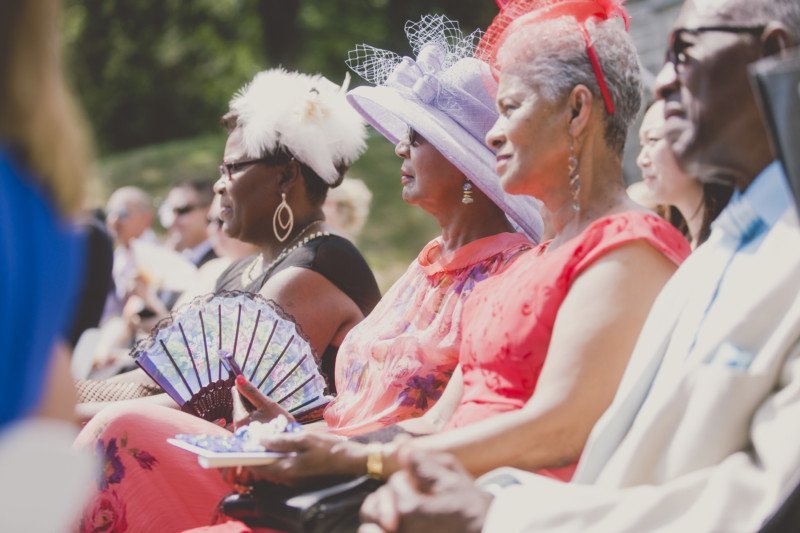 Their friend was their officiant which made the ceremony that much more intimate.
Other friends took turns doing readings and when Celine and Torsten went to sign their registry, they locked a bottle of champagne in a box.
This box had two keys with each of their names on one. Each gave their key to a friend that they cherish and this friend would guard the key until Celine and Torsten would celebrate an anniversary. These friends were not only the key keepers, but also represented guidance and support for each Celine and Torsten, when their marriage faces hardship.
Another very sweet touch that was added was the flag ceremony. The couple had a Canadian and German flag sewn together. At the joining of their marriage, they each cut a side of the flag into a heart shape and met their scissors in the middle.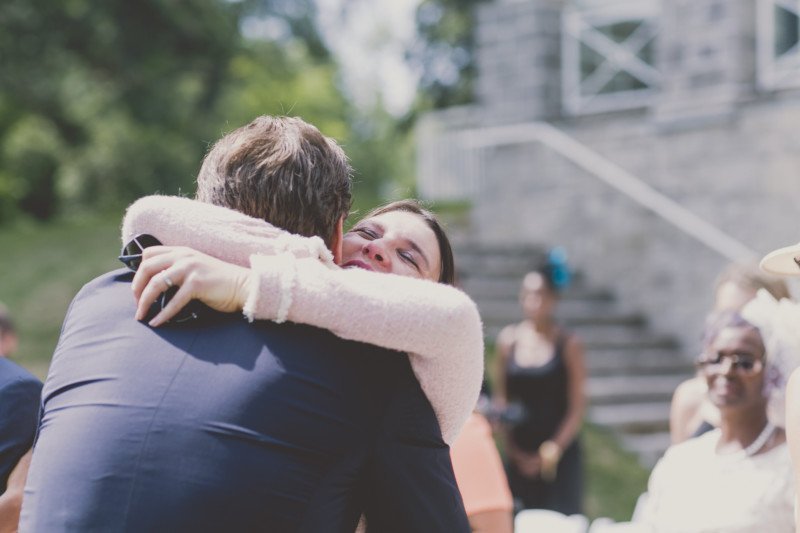 Capturing a group shot of all the wedding guests right after the ceremony is usually a favourite photo for the bride and groom so I try and capture this moment whenever I can. Especially when the venue is as beautiful as this!
A fun shot of the beautiful bride and her girlfriends!
Couldn't resist getting a photo of all the handsome gentlemen!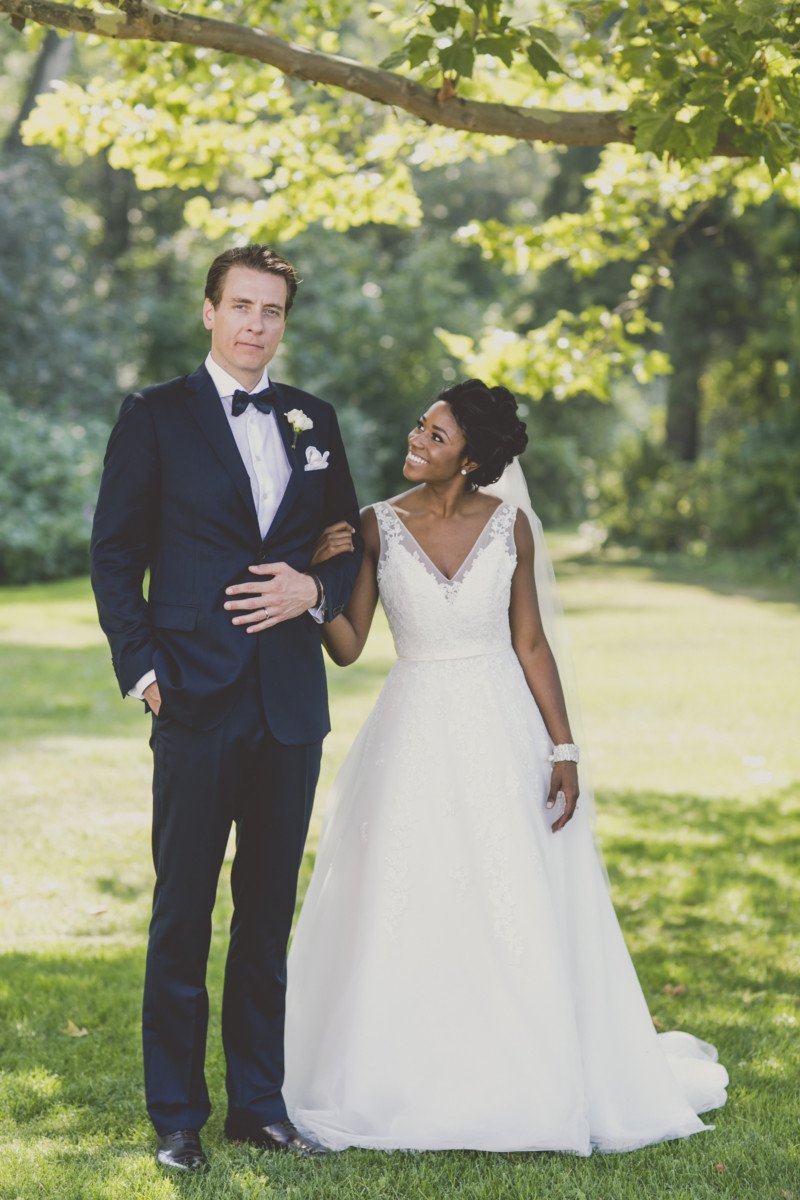 Celine's dress was classically beautiful and she kept her jewelry elegant and understated.
Celine, I am truly honoured that you chose me to be part of your small and intimate Sunday lunch wedding. The day had "YOU" written all over it; from the casual but elegant setting to the vintage details and unique ceremony procession.
I am elated that you found the man who makes you happy, keeps you on your toes and keeps you real.
Torsten, thank you for making my photos even more heart-felt with your crying spells! lol.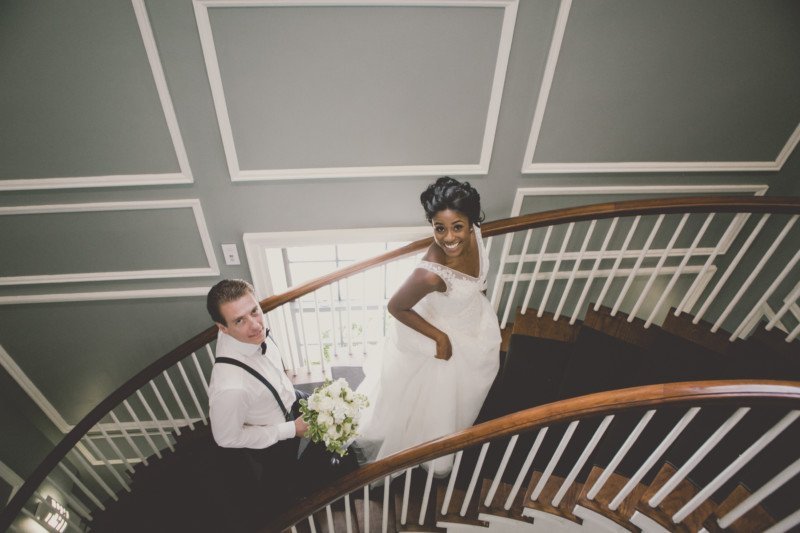 You are a caring and charming man who has many friends that care deeply for you in return. That says a lot about you and your kind character.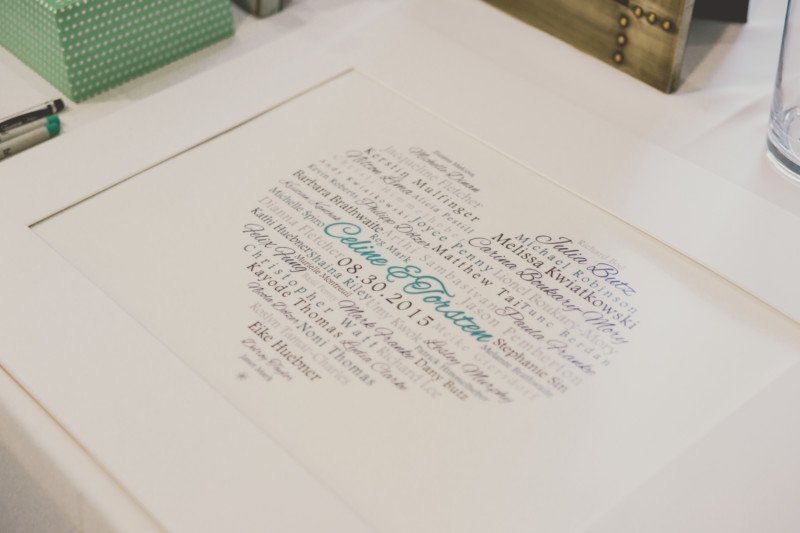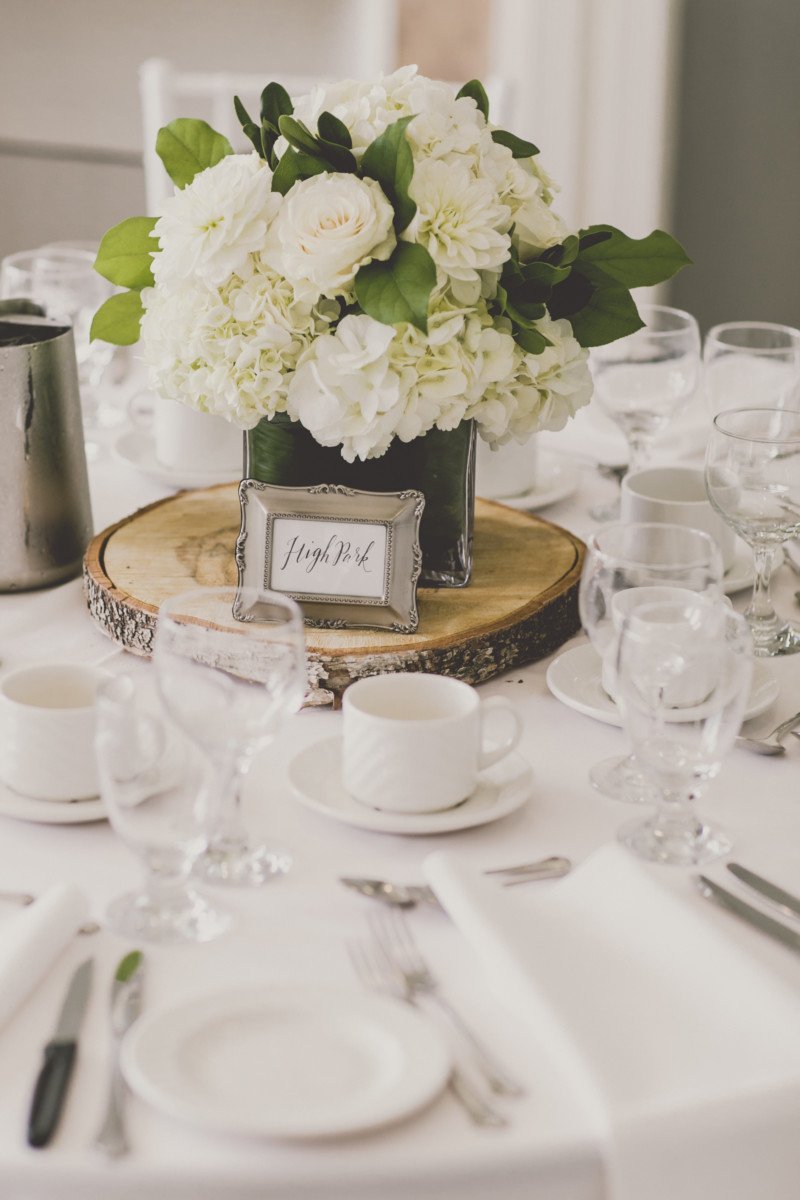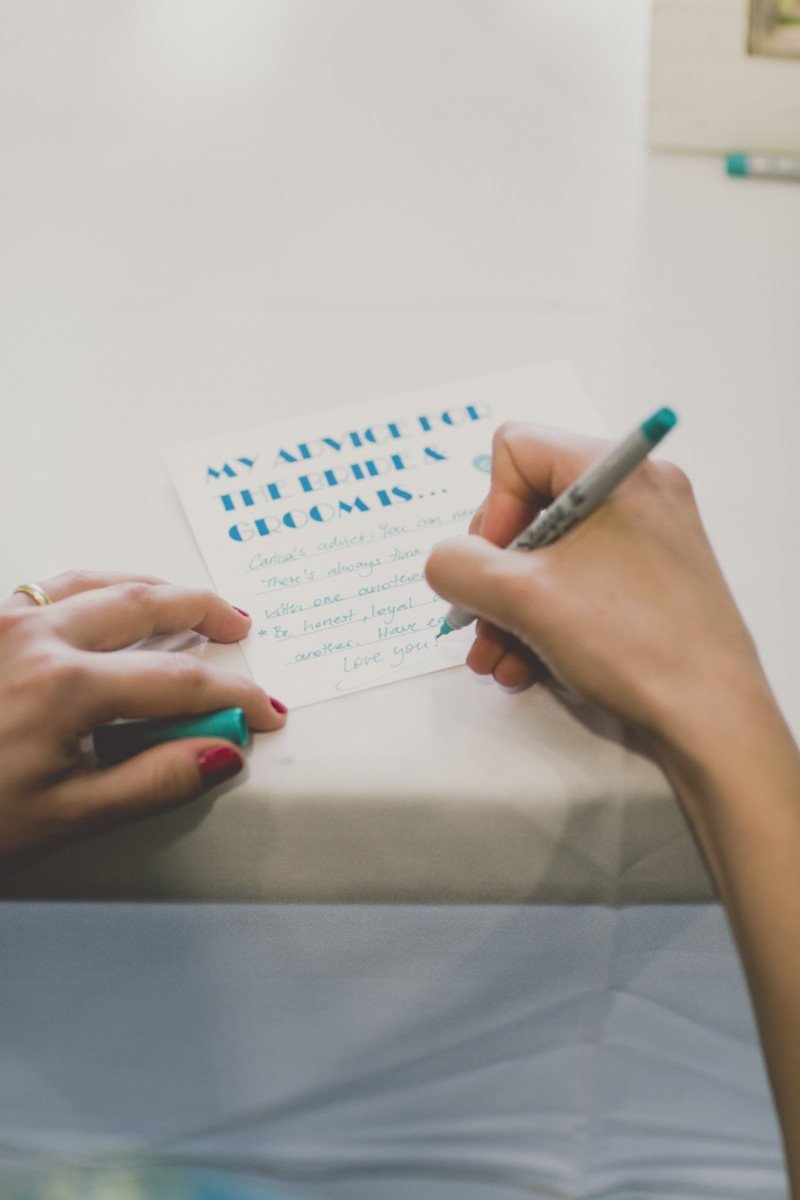 The table centerpieces were simple, yet beautifully elegant.
How amazing is this candy station! The bride and groom wanted to share some of their favourite things with their guests.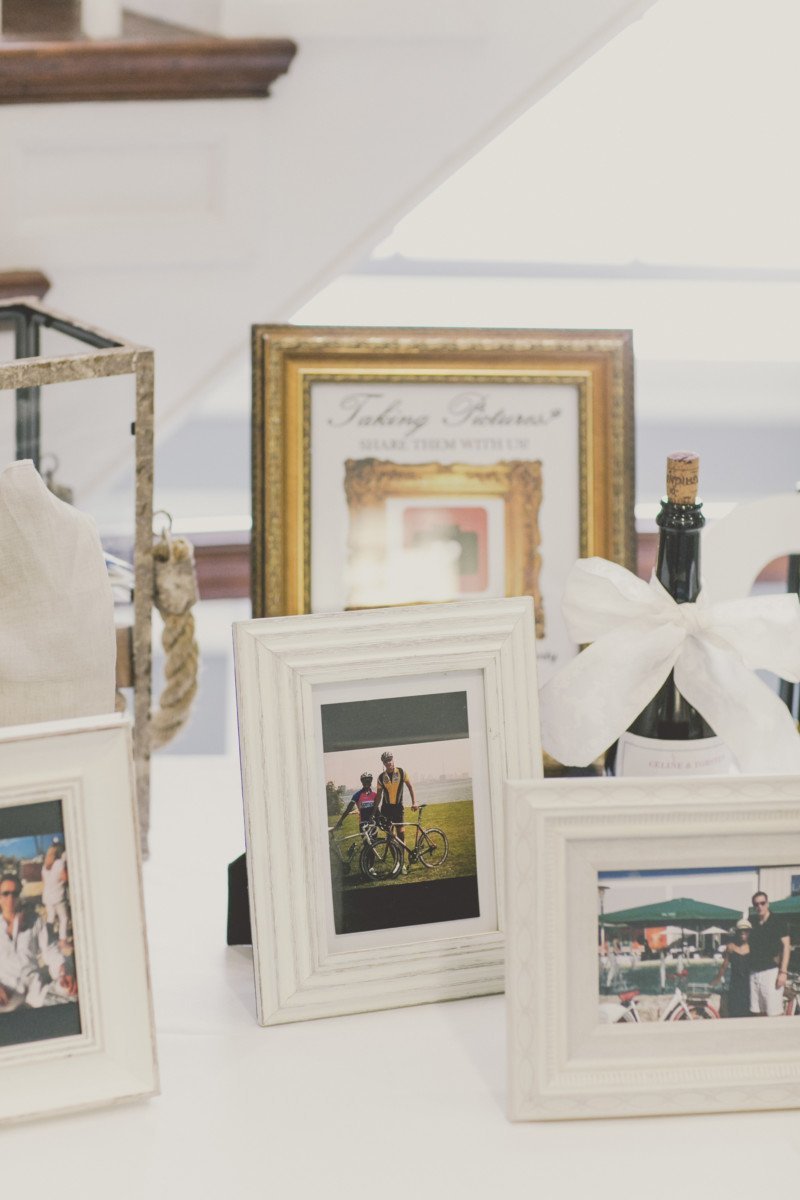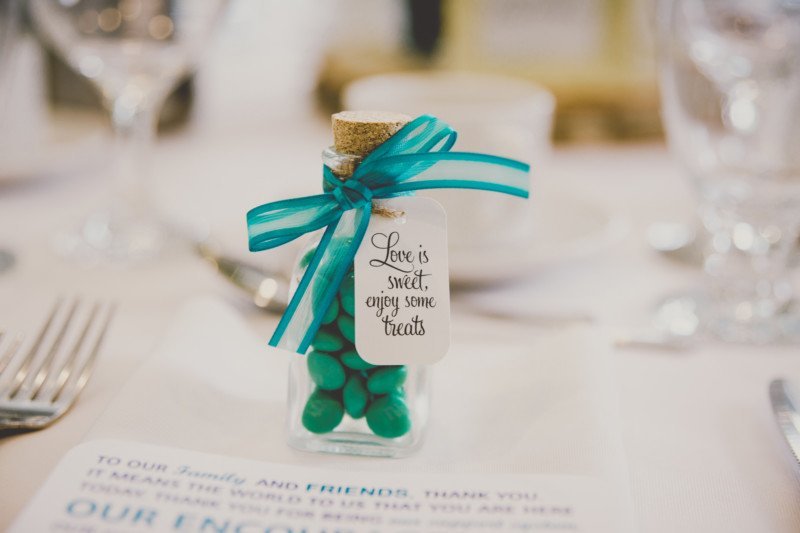 Their party favour was an adorable little cork topped bottle of one of their favourite candies.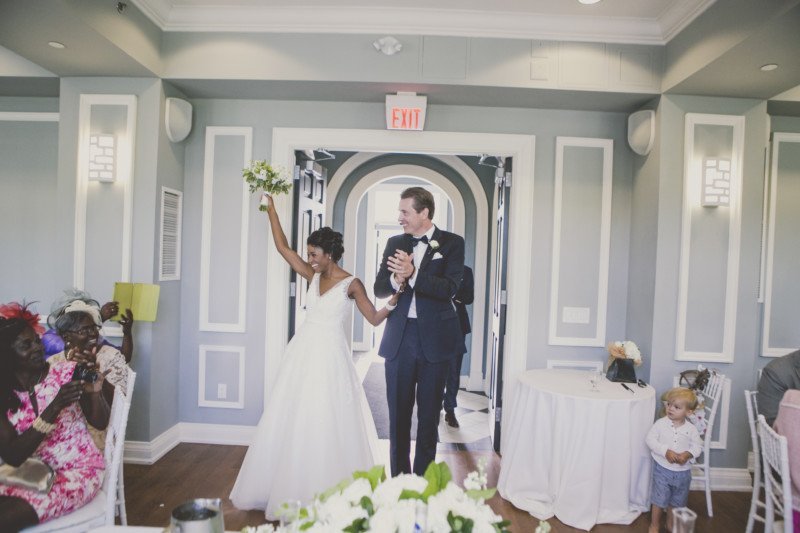 Any kind of game during the reception is always a good idea. Clearly, Celine and Torsten enjoyed this one!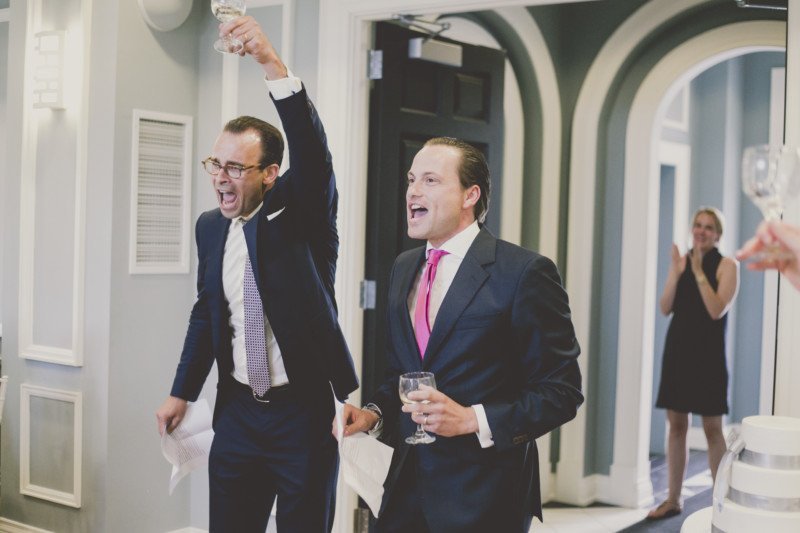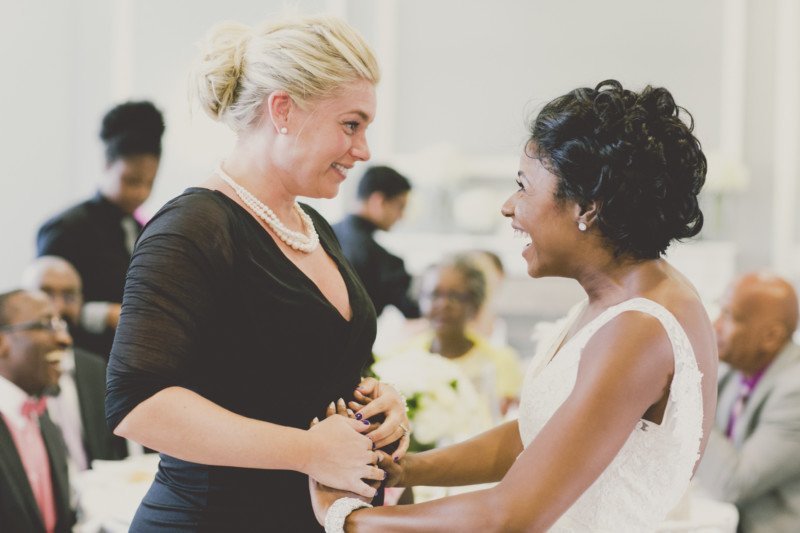 I wish you both all the best in your future endeavours together. Whether it be more spontaneous travel weekends, new fitness goals or even a sweet mixed baby (I'm sorry I can't help it Celine ;)) – I am excited to witness you doing it together.
xx – april
————————————-VVVVVVVVVVVVVVVVVVVVVVVVVVVVVVVVVVVVVVV————————————-
ceremony + reception: Holcim Waterfront Estate, Mississauga // wedding day coordinator: Cheryl Eidt // officiant: Mike VanSlingerland // furniture + prop rental: The Creative Occasion