---
indian summer country wedding
September 24, 2016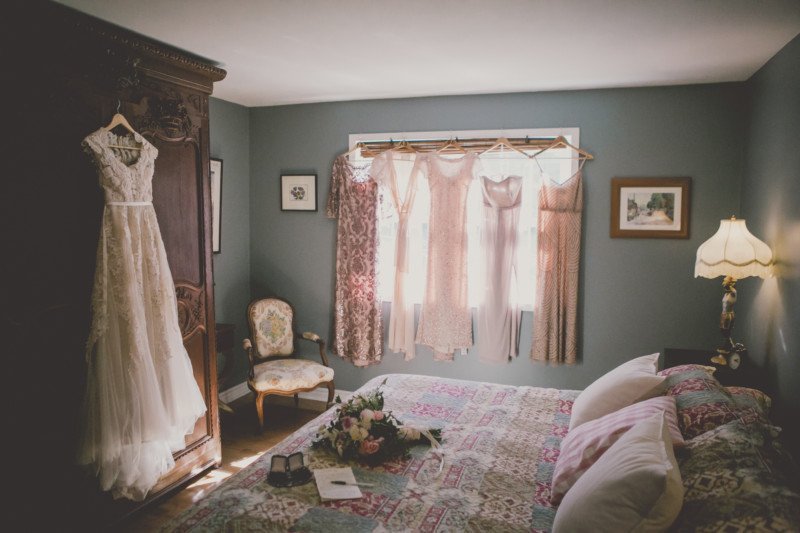 Olivia and Connor had seen my work online and through their two mutual friends weddings that I have shot in the past. Since the couple lives in Vegas, Olivia's mother and aunt had a lot to do with the planning and Olivia communicated her inspiration with them through Pinterest. She had to relinquish a lot of control and trust in her talented mom and aunt duo. It was important for the couple to find a balance between wanting to be original, and using the inspiration from other weddings to create one that was completely their own.
From the very beginning, Connor and Olivia wanted to have a wedding that celebrated not only their union, but their commitment and love in all forms. It was essential to open their friends and family into their hearts and lives and if even for a moment, truly intake the essence of who Olivia and Connor are as a couple.
Olivia looked absolutely gorgeous. Beyoutiful Brides did a fantastic job with hair and makeup.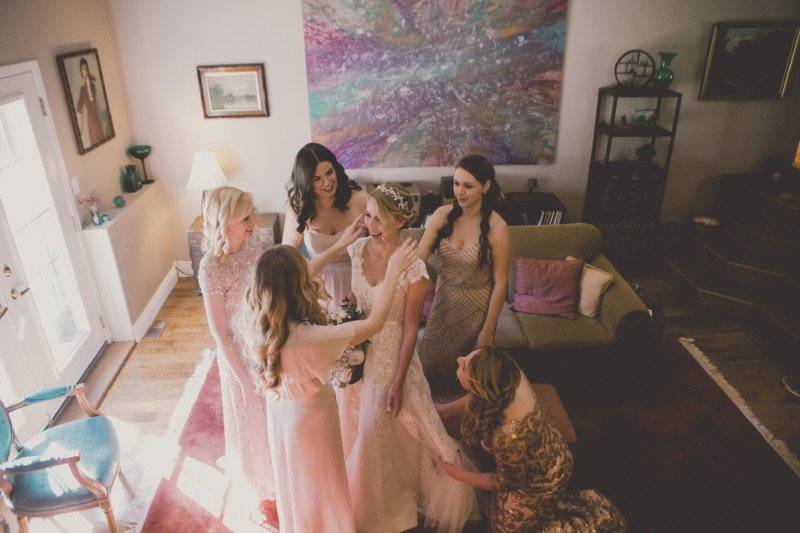 From the start of planning, things fell into place. Olivia's family sold her life-long home in Toronto's High Park area and moved to Fenwick, Ontario. The couple knew they wanted to get married outdoors, somewhere meaningful, and ideally….somewhere free. So when Olivia's parents announced the move to the farm, it seemed perfect.
Connor grew up in California, and despite the distance for his family to have to travel, he was on board for a Canada wedding – but this meant long distance planning. That is where Olivia's network of family and friends stepped in. The days leading up to the wedding day, all of the couple's families came together to make the day more special than they could have imagined. Each place was set, favour made, lantern hung by family members who came early to help pull the day off as a success! It was an incredibly gracious experience.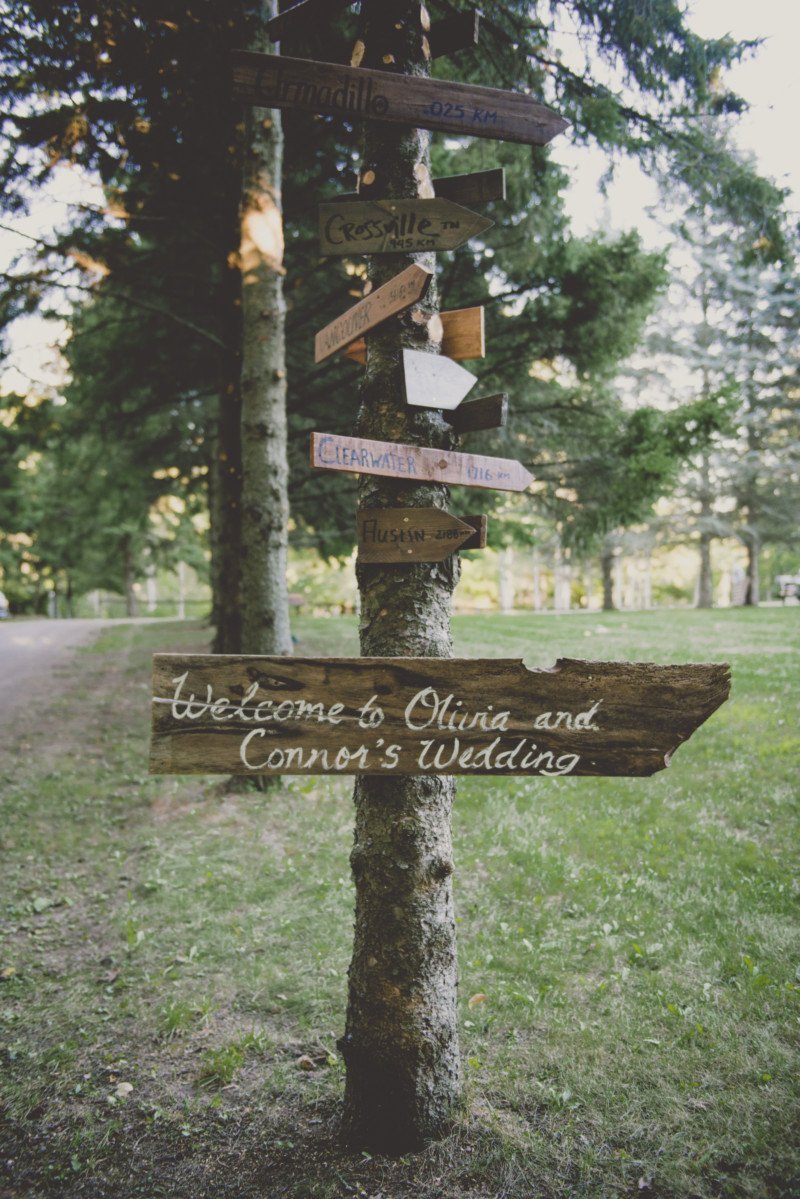 Olivia said that the difficult factor in styling the fall wedding, was keeping the "Thanksgiving" vibe out of the decor. That basically required chilling out on the fall leaves, and leaving out the pumpkins (which she really wanted). Instead of focusing on all fall colours, she also minimized it to two tones which was a success! The autumn vibe definitely felt apparent and the gorgeous warm summerish day helped! The property is surrounded by trees, making it very private and like a glamorous camping retreat.
"The best moment was watching Olivia walking down the aisle."
"My best moment was listening to Connor's Vows."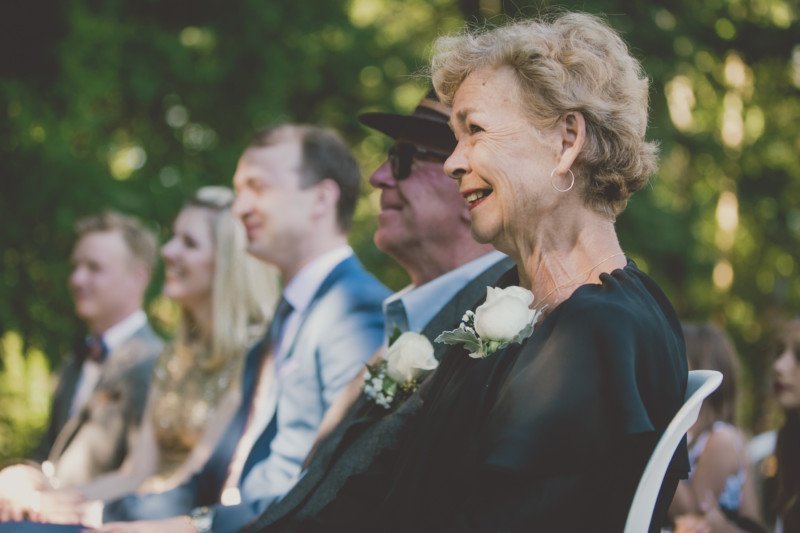 "I was all about the Altar! My Father found an old scratched up fireplace mantle, and we incorporated flowers, reeds and berry branches found on the farm to create layers upon layers of all the natural warmth of autumn that we loved."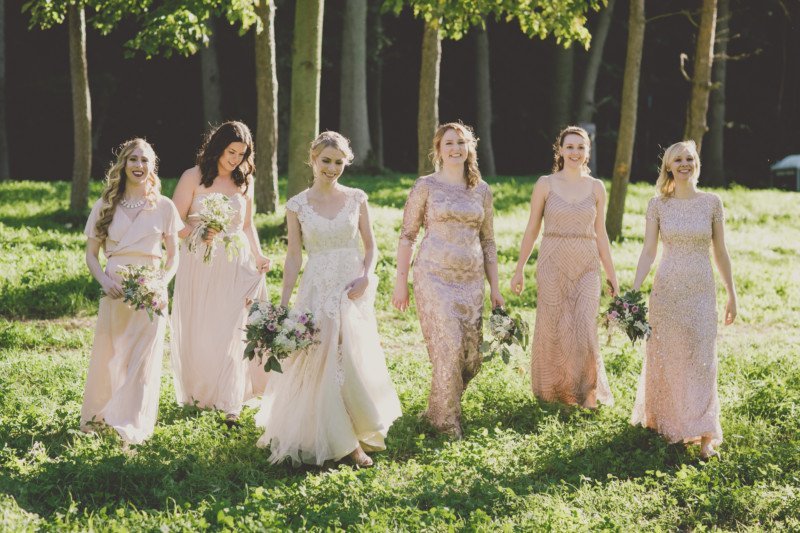 No detail was overlooked. Every direction, your eye was brought to a gorgeous scene. Whether it was lawn games, vintage bikes, twinkle lights, bon fires or hanging frames in the trees; everything was carefully and thoughtfully prepared.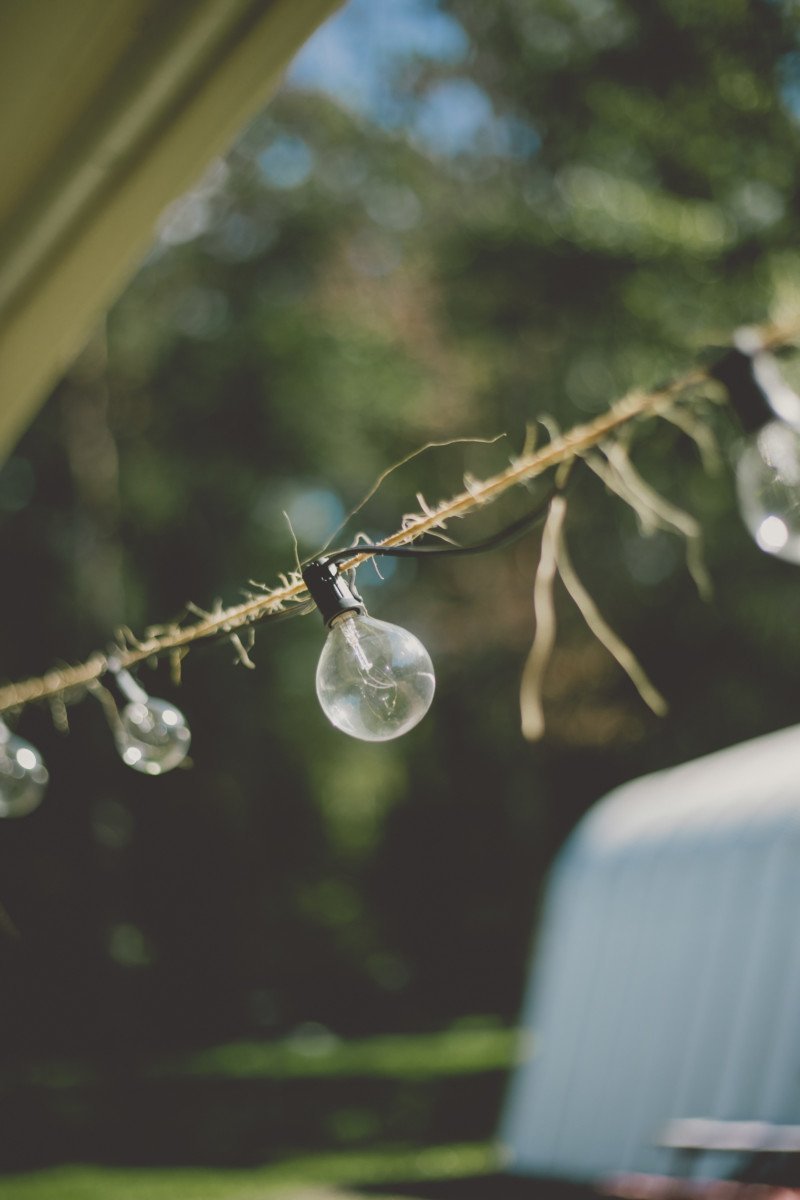 Olivia & Connor were very lucky…they couldn't have asked for better weather that day. Especially considering their wedding was at the end of September when the weather can be unpredictable. It made my job easier because it meant I was able to photograph them outside with the beautiful Wilkens Family Farm providing the perfect backdrop.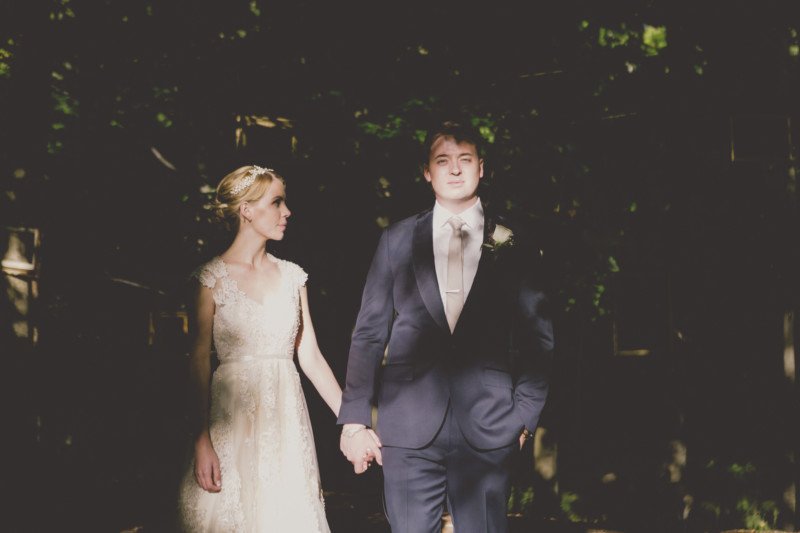 One of my favourite shots of the whole day. The way the sun was streaming through the trees made for such a magical looking moment between the bride and groom.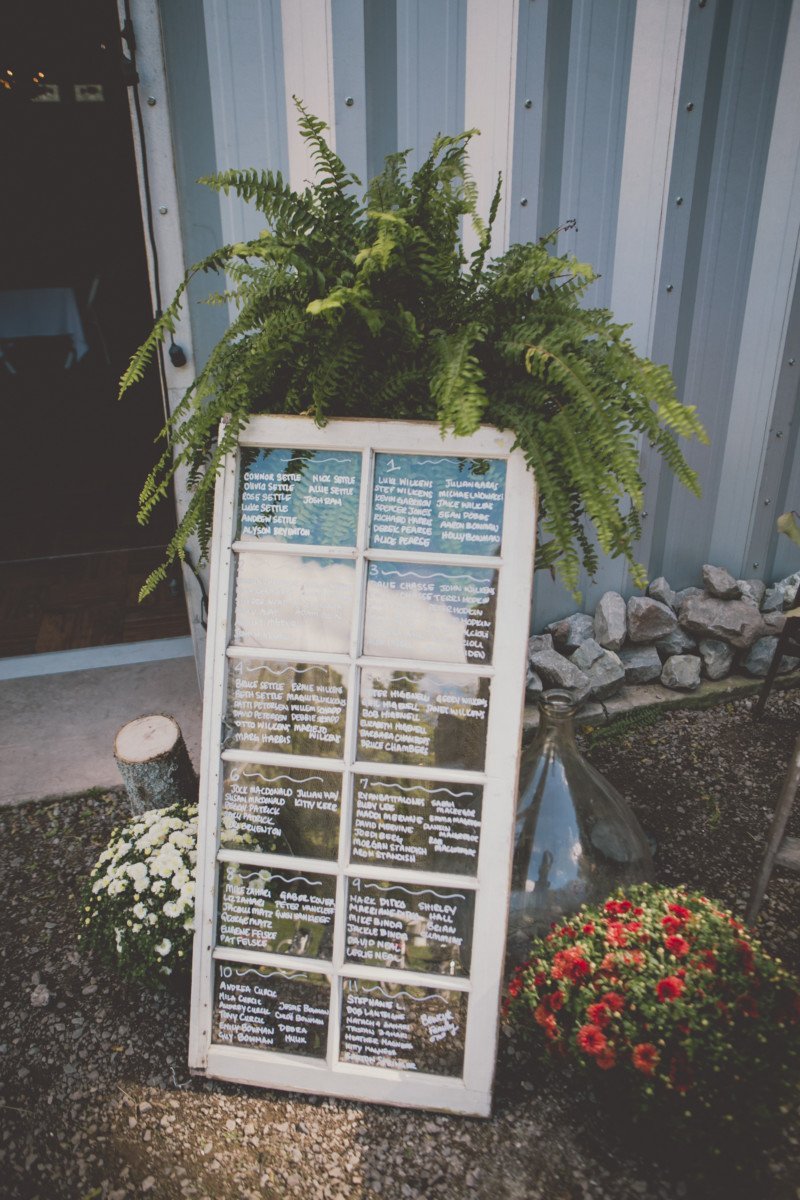 "Oh! The chandeliers! There were two chandeliers hung above the reception tables. My dad picked them up at Habitat for Humanity, a great spot for affordable focal pieces of a "rustic wedding".
Olivia and Connor decided to pick early fall, because they love the colours and weather of the season. Olivia's mum and aunt began collecting antique mismatched plates, vases, mason jars, fabrics etc from thrift stores. For as long as Olivia can remember, her aunt who is an artist, has been collecting beautiful things. Many of these items made an appearance in the wedding such as the collection of over 50 salt and pepper shakers, and the countless beautiful blankets the guests wrapped themselves in as the temperature dropped in the night.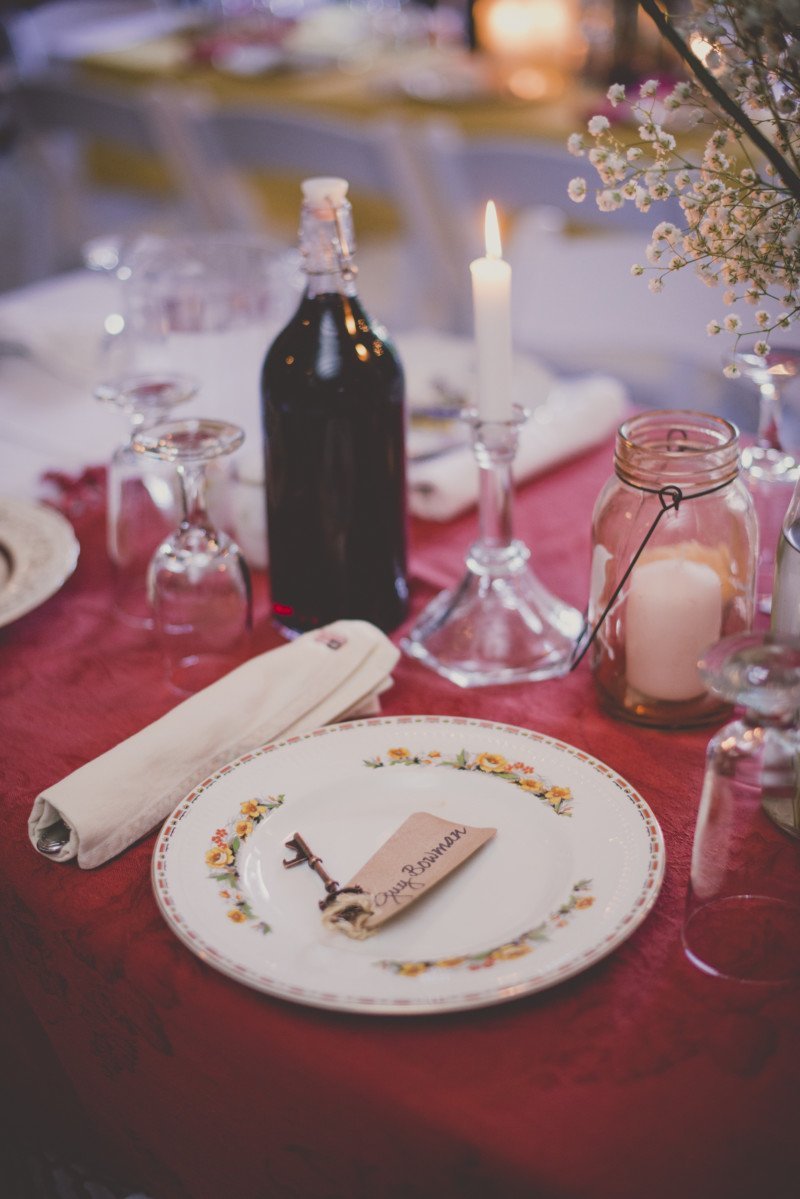 "We used Ikea lamps and pickling mason jars to make lamps that were scattered in the barn."
"I adored the mismatched table settings with all antique plates, embroidered table clothes and simple mason jar candles."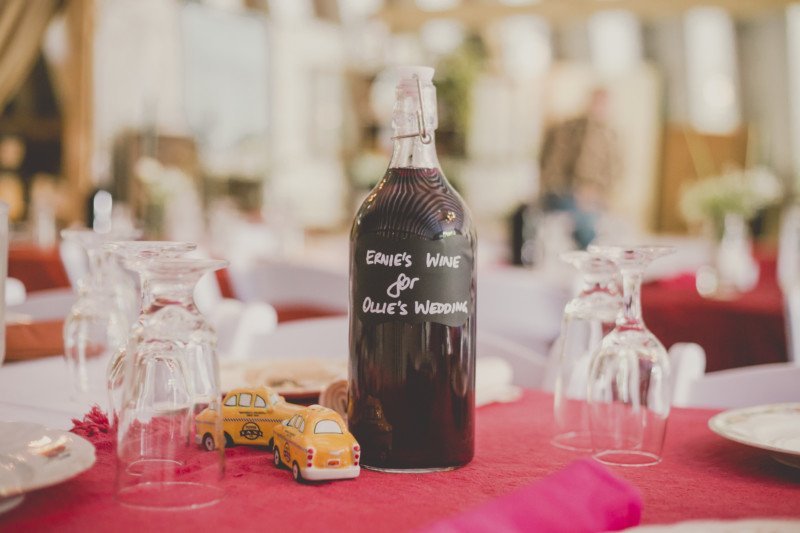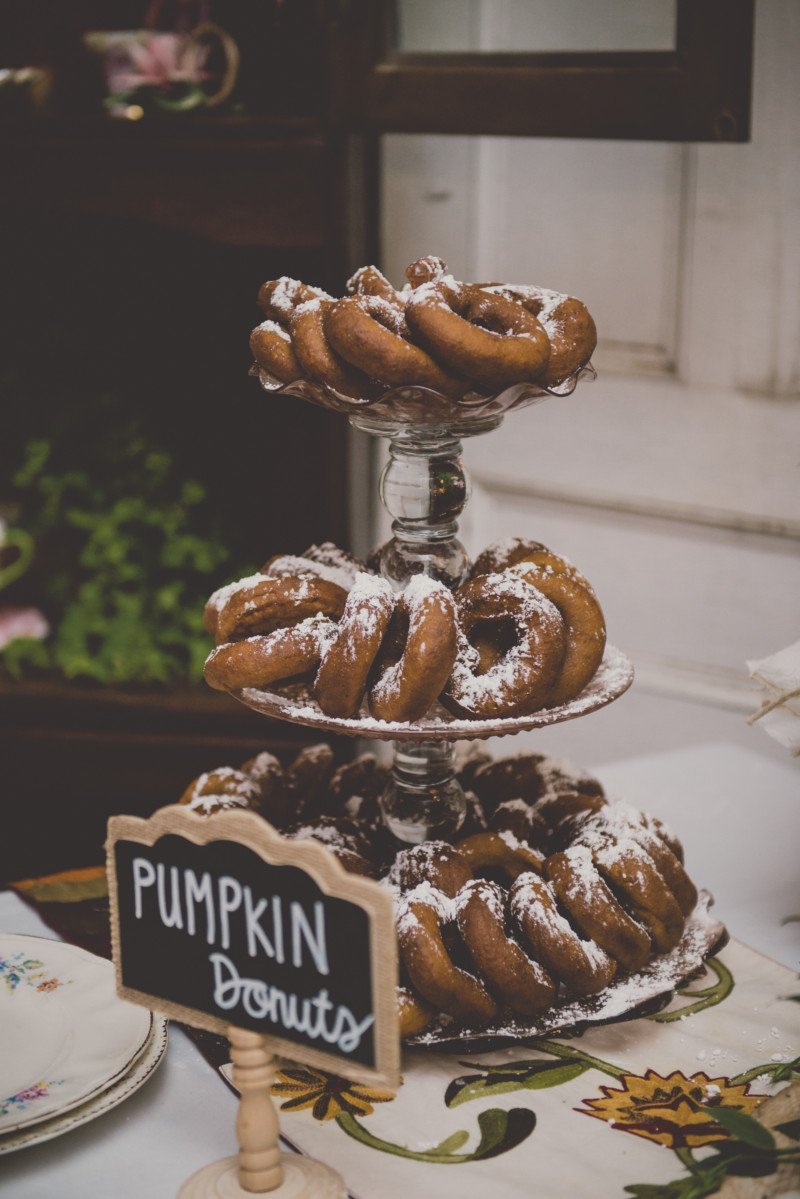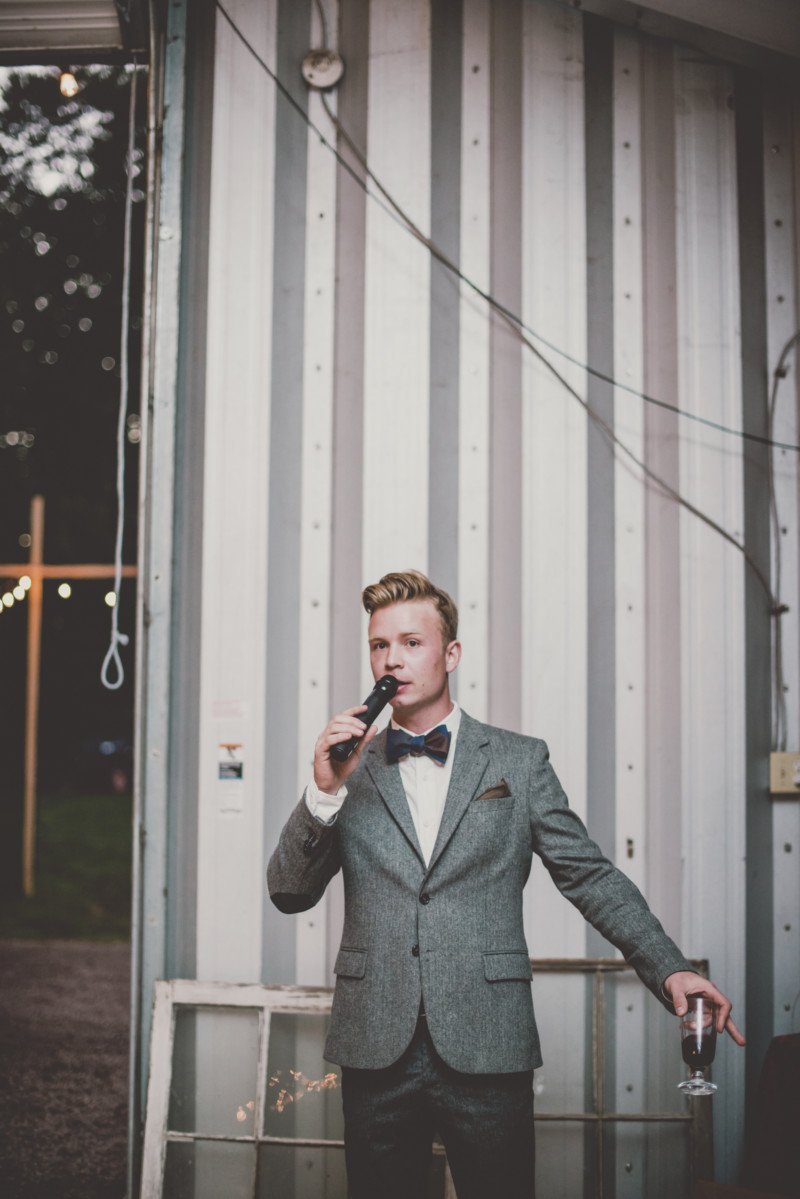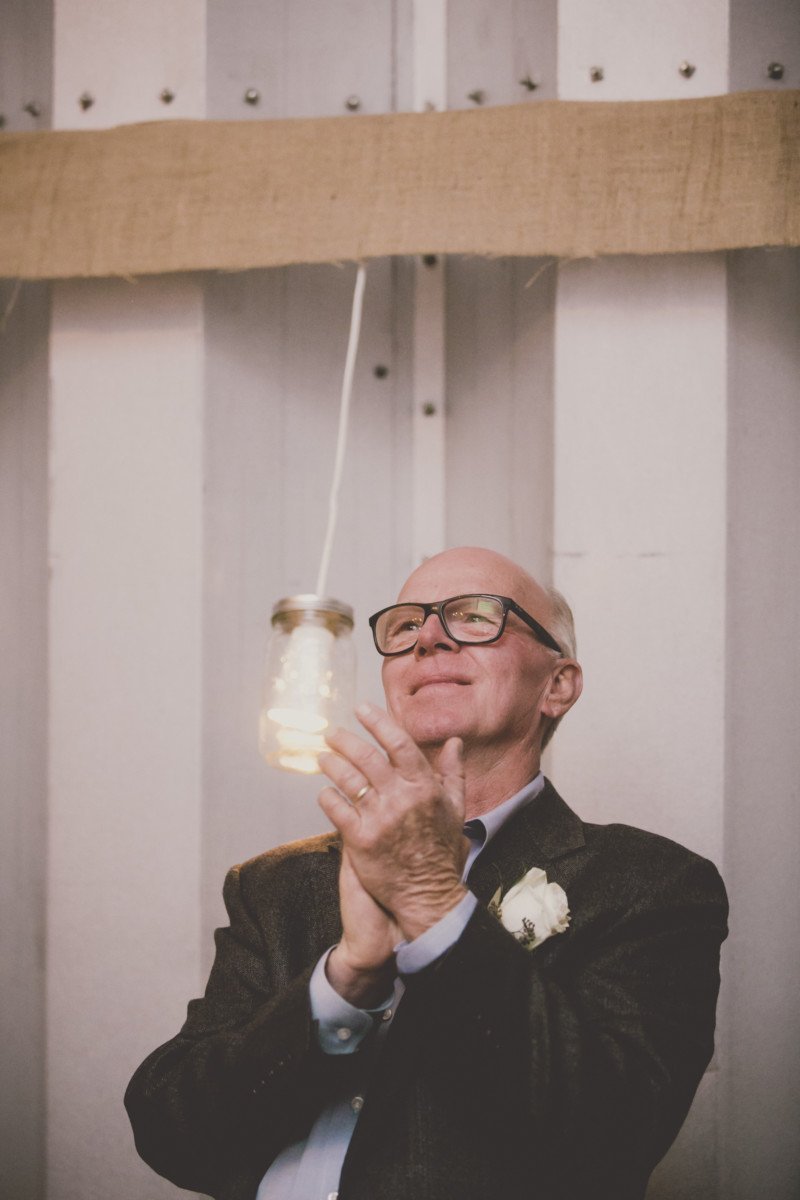 "Connor and I were nervous about a lot of things for our wedding day. But somehow, we knew, after seeing April's work that she would capture our day very well. What she did, was capture it perfectly. When we were looking through our photos we got to relive every moment for a our wedding. We got to see our family and friends looking happy. Mostly, we have photos of ourselves and all the people we love that we can have and look at forever. April is so sweet, but so wonderfully in control, she kept things on track and moving along so well that Connor and I could just relax and be there. That was huge for us! Both Photographers were a pleasure to have at our wedding, they were as comfortable as guests and as professional as the perfect product they delivered. Incredible!"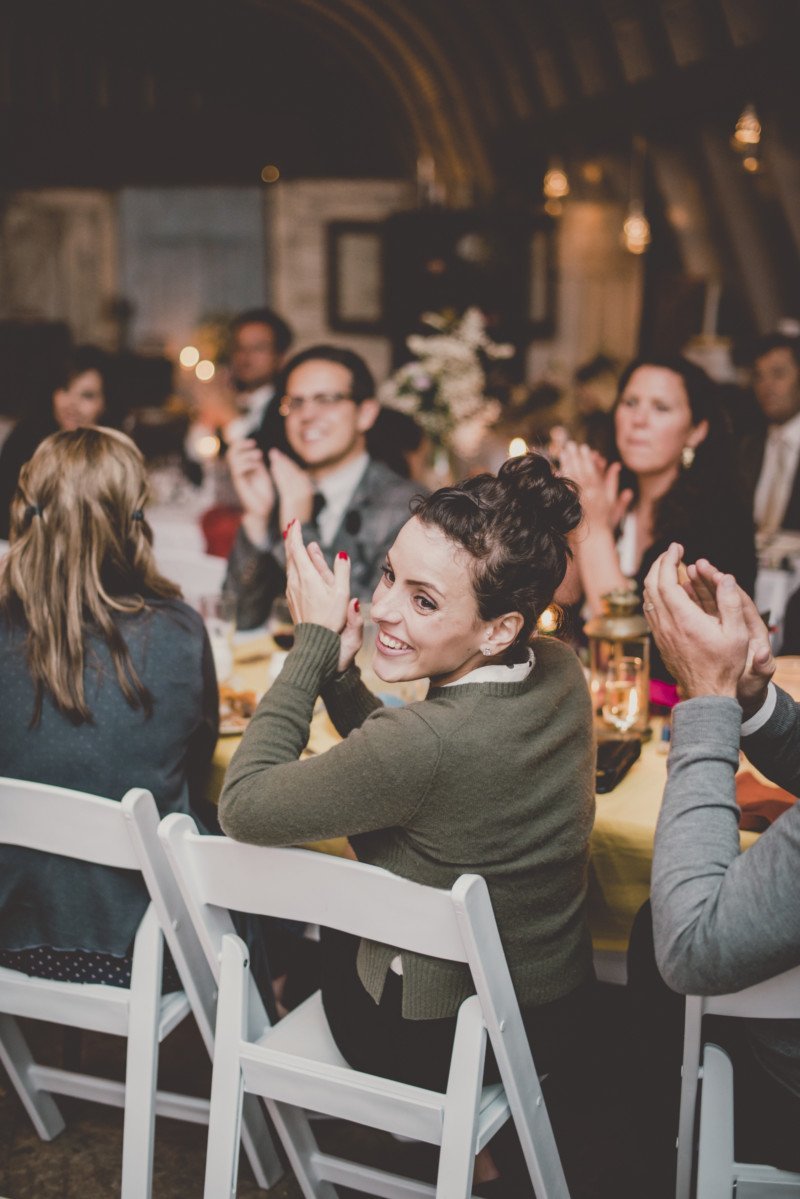 Olivia and Connor's wedding day was the best of her family and the best of Connor's family coming together and throwing the best party ever. It was warm, intimate and allowed the couple to visit with each person attending. It provided guests with ample opportunity to chat with old friends, walk in the woods, eat some great bbq and remember how great it is to fall in love and celebrate that Olivia and Connor did.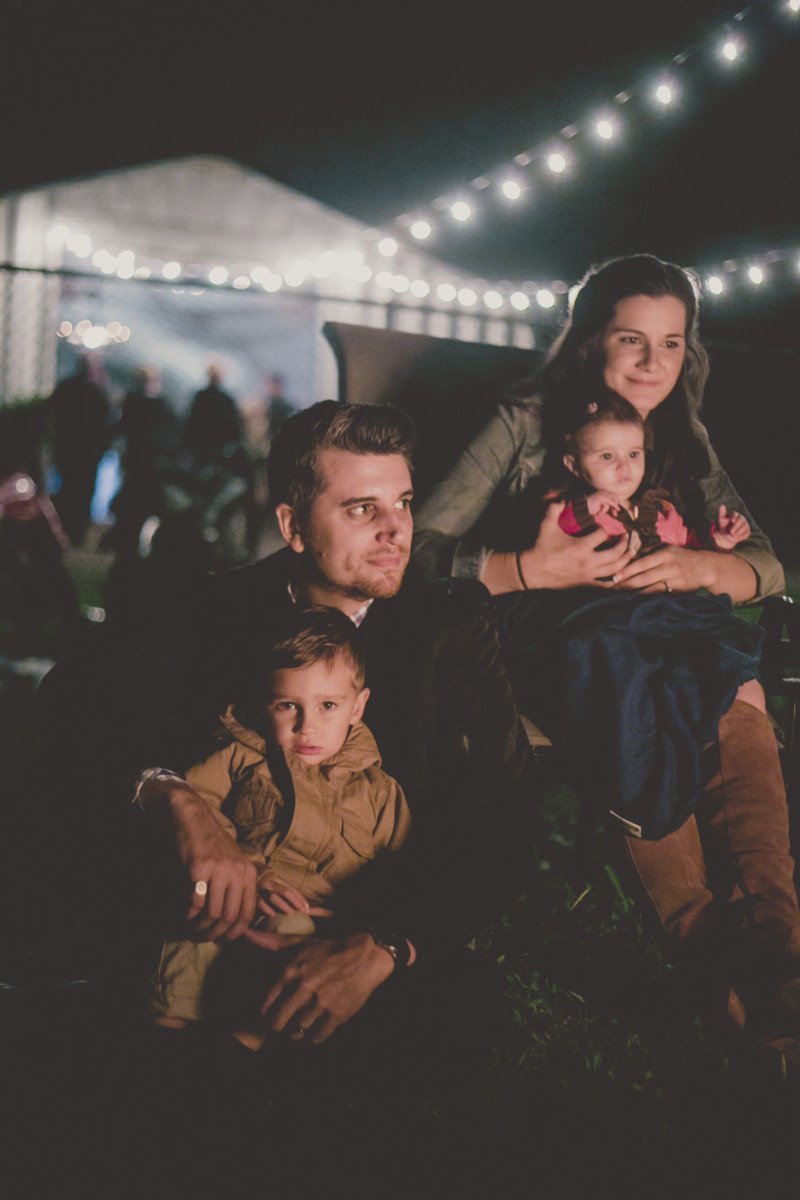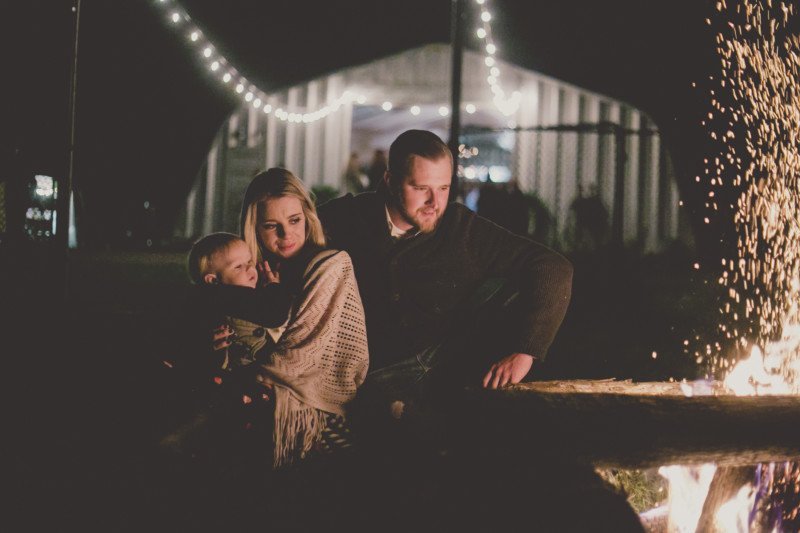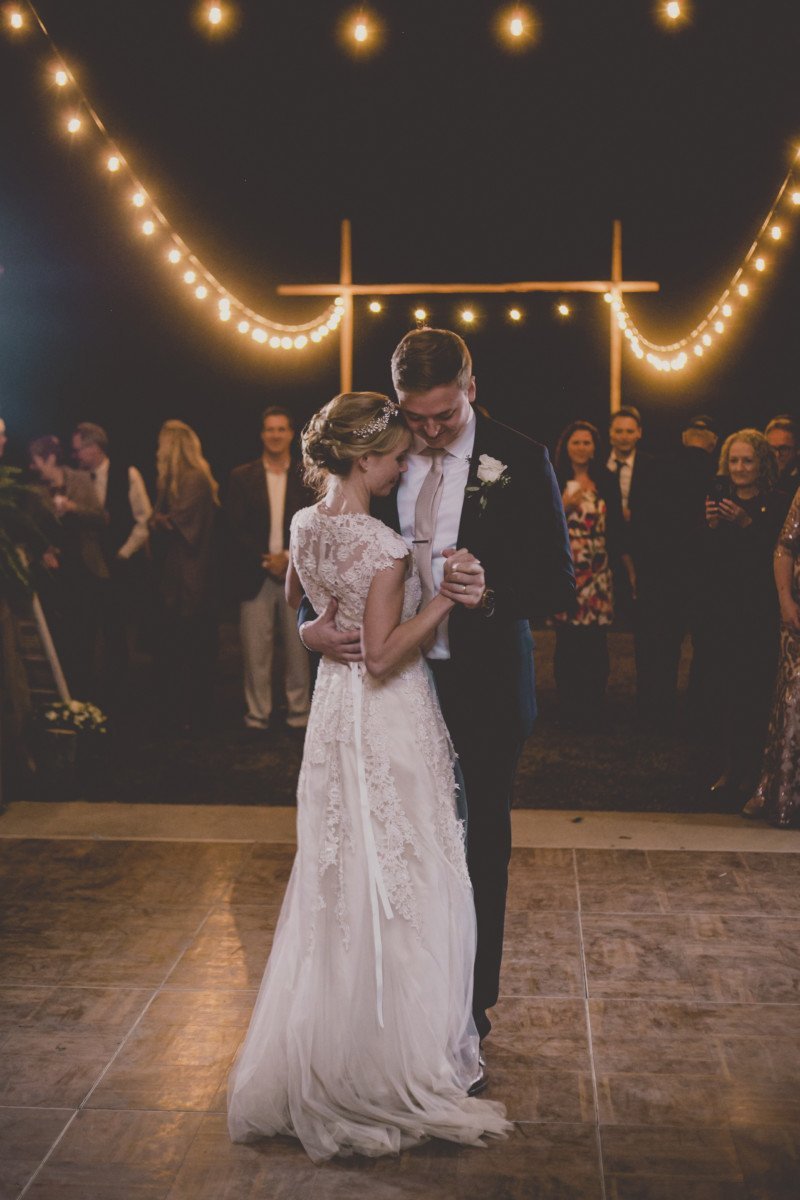 "Louis Armstrong La Vie En Rose, was our first dance song. It's always been our song. It sounds like us."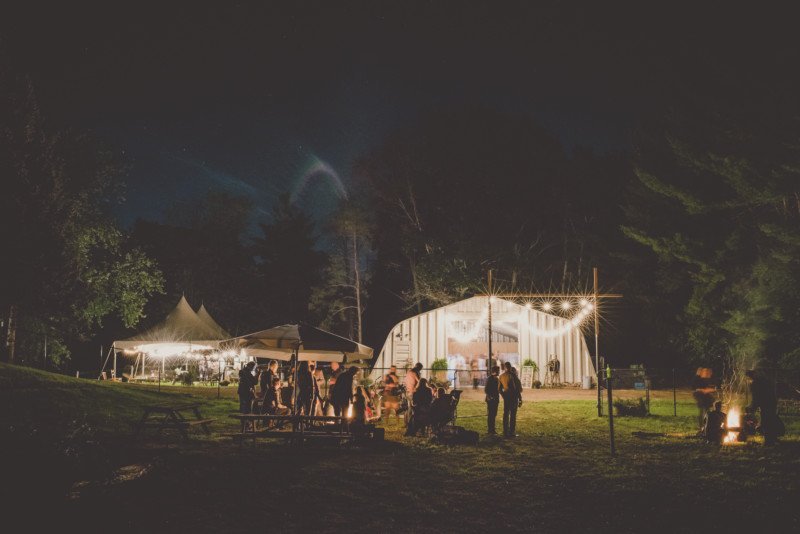 Thank you so much for having me capture your gorgeous wedding celebration. You trusted in us immediately to capture all the details, your love and admiration for your family and friends. It isn't everyday I get to photograph such a thoughtfully planned and creative wedding celebration. It is clear that you both are loved truly and deeply by some very special friends and family.
xx – april
————————————VVVVVVVVVVVVVVVVVVVVVVVVVVVVVVVVVVVVVVV————————————-
ceremony + reception: Wilkens Family Farm in Fenwick, Ontario // officiant: John "Jock" A. Macdonald // wedding planner: Maguite Wilkens // wedding stylist: Margerete Harris // cake: Liz + Natascha Zahari // catering: Pigout Catering// furniture + decor rentals: Party Shoppe // flowers: UFD Canada + Holly Bowman // hair + makeup: Beyoutiful Brides // dress: Etsy Shop // shoes: Dillards // suit: J Crew // favours: Smores + Antique Keys // bridal party gifts: Old Navy Button Down DIY Monogram Shirts + Personalized Straight Razor // stationary: The Paper Source // music: Guest Run //second shooter: Lelania // number of guests: 130