---
tropical inspiration
January 20, 2017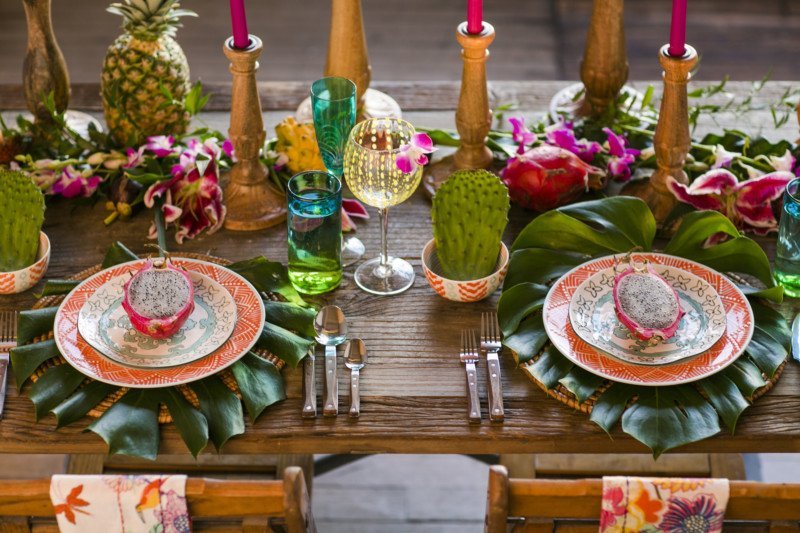 This tropical inspiration is for the couple who is looking for something colourful and lively! It may be hard to find the best venue to make this look fitting, so my suggestion is to bring this theme to your destination wedding venue! It is simple, pretty and modern.
Use food as an inexpensive and colourful way to decorate a tabletop. Instead of having a florist make you a floral garland for a harvest table, why not try loose sprigs of greenery and dot it with flowers, pineapple, dragon fruit, pomegranite and oranges!!! The affect is stunning! Step it up a notch by using colourful candles, plates and glassware. Anchor the look with oversized tropical leaves that stick out from around the dinner plate and you're all set!
Colourful glassware is such a pretty way to make a tablescape eye catching! Finish a glass with a flower, lemon or orange wheel.
Don't be afraid to cut the fruit on the table. This adds more texture and depth to the tablescape. Keep the tablecloths simple and one colour or skip the cloths all together and just use the raw wood!
Here we used wooden handled cutlery to add to the texture and casualness of the tropical theme. Texture and colour is what makes this look put together.
Here is an alternate look, that is more minimalist but still very affective. Birds of paradise are used here as the main focal point of the table.
Don't be afraid of colour! Look at these beautiful yellow yellow fruits! They look incredible on the orange plate.
An edible cacti adds dimension to the side bowl.
I hope you are inspired by this theme for your destination wedding! It is easy to plan while you're abroad and works for anyone on a budget!
xx – april