---
Petite + Sweet
March 1, 2017
Petite & Sweet is a lifestyle/event planning/catering & bakery boutique specializing in covetable sweets, strewn artistically across extravagantly designed dessert tables. They are known for their over-the-top parties, their unforgettable trademark desserts, and for the way they are able to maintain day-to-day relationships with their clients through their boutique.
The team is an amazingly talented ensemble of event stylists, backdrop & table prop artists, graphic designers, pastry chefs, cake decorators, and dedicated interns. People are always shocked to discover that they create and assemble just about everything they offer in-house, from the novelty cakes to the floral arrangements, to the invitations and the party favours.
"My daughter Sophia and I love to try out new recipes together all the time, but I am not a professional pastry chef. That work is best left to Hardi, our Cordon Bleu-trained chef-de-patisserie. His talent shines through his flawless treats – one of my favourite things about being in this business is coming up with new dessert ideas, collaborating with him on their concept, design and flavouring, and then of course, the taste testing!" ~Elle

The Leslieville (technically Riverside) location focuses strictly on the baked goods that light up the sweet tables at the events Petite + Sweet does, whereas the Rosedale location is their lifestyle and event planning headquarters. When business started really taking off for these guys, they realized quickly that they needed a bigger kitchen to keep up with the demand of their clients and fans. From there, "BAKES" was born!
When I asked Elle if there is anything she doesn't do she sweetly replied,
"LOL .. I ask myself that question all the time. Normally, I would advise that one should pick one thing they're good at and focus strictly on that, but I really believe that if you have a passion for something broader like event planning and all the details behind it, there is no limit to what you can accomplish if that is truly where your heart is! I love designing and planning events; my work doesn't feel like work to me. Watching the business I love take off for me leaves me so much to be happy and grateful for." ~Elle

"I think I fell into this business in the most organic way; I was always told by friends and family that I throw the best parties, and that my attention to even the smallest details was what made their experience so amazing. I took that to heart, and realized it is what I should be doing for a living if I wanted to love what I do. So this is me, giving it a try and finding that I picked the right career!" ~Elle
As a business owner and entrepreneur I know that managing a personal life can be difficult at times. I always wonder how it will be when I have a family of my own … Will I have to sacrifice what I love to do? Will my career suffer? I asked Elle this question since she is a mom managing this lifestyle and her answer was what most successful women seem to say; Make a conscious effort to shut off work mode and enjoy life! Isn't that so true? I can imagine however that it takes some time to organize and to strictly know when to shut it down, so my next question to Elle referred to my experience. This is what I asked her…
As a young woman and entrepreneur myself, I struggle with being a "slave" to my job. It is so motivating but also exhausting. Are you in the middle of this conundrum also or have you managed to find a divide between work and play?
"If you had asked me this question a year ago I would have said I'm such a slave! It is really hard to try and stop your brain from thinking and doing when you own your own business, but what I've learned in the past year is that I'm really no good to anyone (especially myself!) if I don't allow myself time to go out, be inspired, and just be. One of my greatest lessons has been to learn to MAKE TIME." ~Elle

"My dream is for Petite & Sweet to become a household name that is synonymous with the finest treats & events that Toronto has to offer, and to eventually expand to the rest of country and then, to the rest of the world. I want to inspire people to create their own perfect sweet tables, using our treats, the ideas they find on our blog, and the decorations and extras that can be found in our shops. I try not to look as far as 10 years ahead, as a lot can change in that time. I prefer to give myself small, achievable goals that will get me to where I want to be, one step at a time." ~Elle

What kind of party or event do you dream of planning?
"I have dreams of styling the Governors Ball for the Oscars, or throwing a party for Vanity Fair or Vogue. I am confident that my team and I would hit it out of the park; I have so many crazy, wonderful ideas!" ~Elle

"We have definitely made some crazy cakes, from cakes that looked like buildings, to race cars, to teddy bears, but the most amazing one to date for me was made by my incredibly talented co-star Yolanda Gampp, which was a cake shaped like a human heart for the Crime Writers Awards Gala. It looked so real, it was unreal!" ~Elle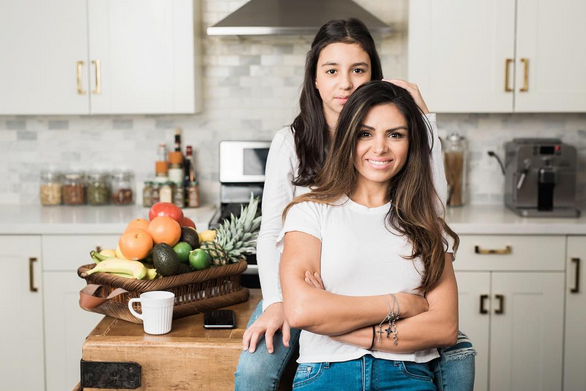 "MY DAUGHTER is definitely my inspiration! She brings so much joy to my life, and is always in awe of everything I do." ~Elle

————————————-VVVVVVVVVVVVVVVVVVVVVVVVVVVVVVVVVVVVVVV————————————-
instagram: @petiteandsweet_ // desserts, cakes, styling, planning: Petite and Sweet // some of the photography: Olive Studio, Purple Tree Photography + unknown