---
Patchouli Design
March 30, 2017
I am fortunate that I get to see LOTS of wedding vendors. I definitely have some preferred ones that I think really coincide with Olive Studio's esthetic. Patchouli Design is a florist shop that I absolutely adore! Alex, the owner, and Dayna, create beautiful floral inspirations.
"Toronto has lots of really great florists, and I'm lucky to call some of them good friends of mine. What's great is that we all do it a bit differently, and have something unique to offer. At Patchouli, our objective is to create beautiful & fresh arrangements that are unapologetically inspired by the beauty of nature (you won't see any jewelled rhinestones on our bouquets). We draw from the proportions and silhouettes that you would see in a garden – no over crowding, nothing unnaturally round or perfect, and we're not afraid of the odd reaching branch or slightly blemished leaf." ~Alex
Gift boxes are one of my favourite offers at Pachouli. Of course, a floral arrangement is provided but then a carefully curated assortment of gifts are arranged in this box too. Sloane Tea, Lavender argan lotion, Eucalyptus soap, SOMA chocolate, a rose quartz crystal and Black plum and Early grey Kitten + the Bear jam! It is a lovely gift that anyone would be delighted to receive and for only $100.
Alex explains that sending flowers is a great option but sometimes the occasion calls for a little more. All the products are their personal favourites and made here in Toronto.
"When doing your own flowers at home I always say keep it simple. You can't go wrong with a clear glass vase and one type of flower – Think spirea or peonies in June, and dahlias in the fall. Carnations and roses are available all year 'round and come in the most gorgeous colours. However when it comes to your wedding, hire a professional." ~Alex

What is the most challenging aspect of floral design and creating bouquets for a wedding? How do you overcome those challenges?
"The arranging of flowers and making things beautiful is the easy part. During busy wedding season where we sometimes have several events in one weekend, the real challenge is in logistics: staffing, truck rentals/returns, 2am pickups, last minute changes. That's where being organized and planning the details out in advance is an invaluable skill and totally necessary for the success of our events, and ultimately, the business." ~Alex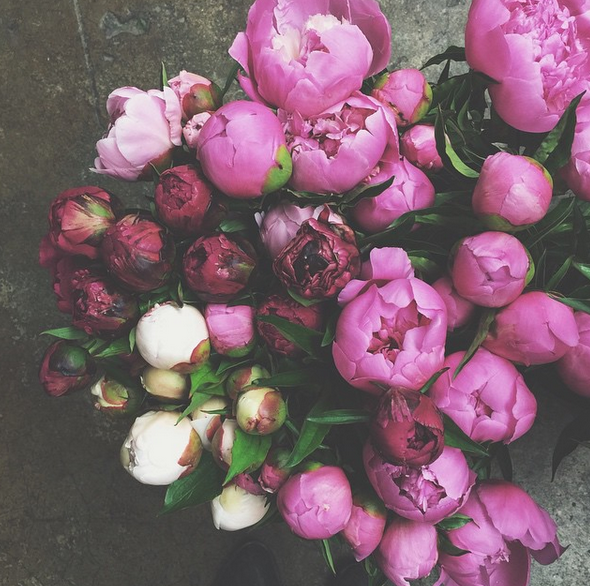 Alex says that springtime is the best season for florals since the options for flowers are never-ending. Some of her favourites include, peonies, tulips and spirea.
"Perhaps because we live in a cold climate where our world turns grey and icy for nearly half the year, seeing nature come alive in the spring is the ultimate inspiration for us. Everybody wants peonies, and it's no secret why. They're absolutely gorgeous flowers. Huge romantic blooms that are fragrant and come in the most swoon-worthy shades. Peonies are available in spring, and briefly in the fall." ~ Alex

A trend that Alex loves is embracing everything green. Some brides are opting for centre-pieces that opt out of blooms entirely. Long harvest tables can have various potted plants (succulents, herbs or cacti), and lots of candle accents add that romance factor. The look is so fresh and they love everything about it!
Alex also explains that couples are opting for more creative floral installations as well. One of her most memorable installations involved covering an entire wall with reaching foliage, and had hanging greenery canopy over the dance floor. She loves the challenge creatively and technically, and her finished product is always a stunning conversation piece amoung guests!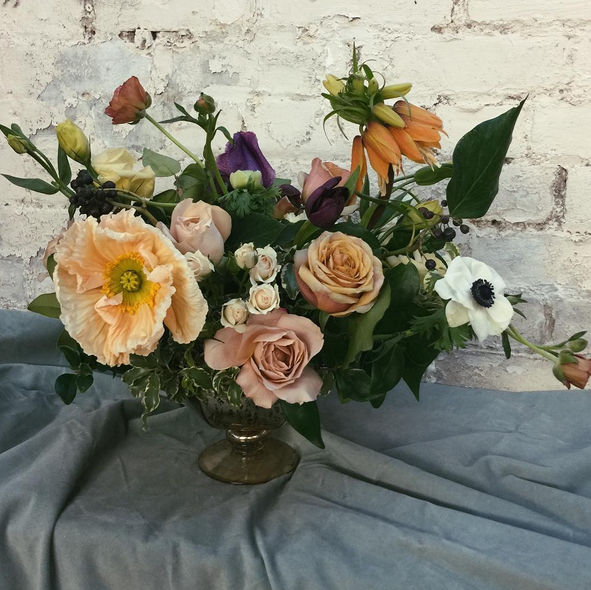 How do you think social media influences the success of your business?
"Being a superficial business that is all about looking good (the flowers, that is), instagram is huge. As a business, we don't advertise and the last couple years we've opted out of participating in wedding shows. Our business is derived from referrals and social media. We are amazed at how many brides tell us the found us by stumbling across our account on instagram." ~Alex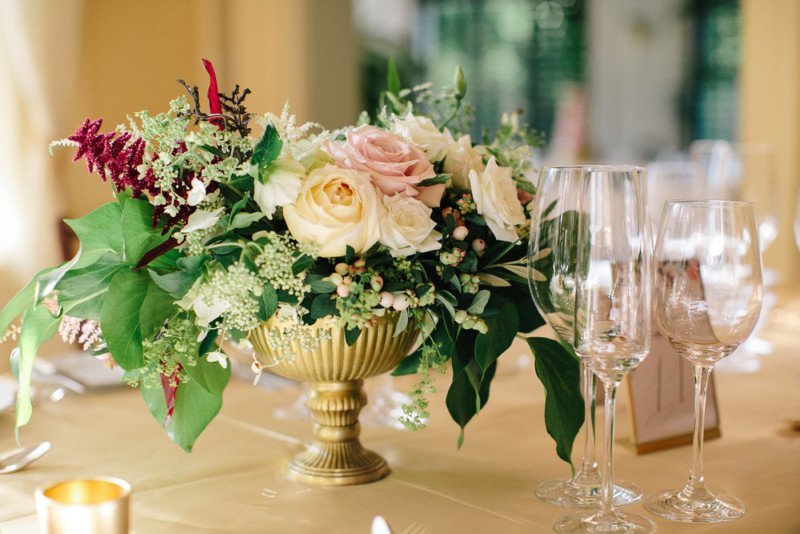 Alex gave me some recommendations on keeping florals to a budget. Her first suggestion is cutting down your bridal party numbers. Having large bridal parties (they've done weddings with up to 9 bridesmaids) definitely eats into cost, as bouquets can be quite expensive. So, keep it simple – focus on the ceremony standards or arch/huppah, bridal bouquet, and centrepieces.
"First piece of advise is to hire a great photographer. Pictures will capture the mood and memory of your day like nothing else. Invest in someone great, choose wisely and you won't regret it! I'm also a fan of taking a few stems out and hanging them upside down to dry. They'll last decades and the way the colours fade so so beautifully." ~Alex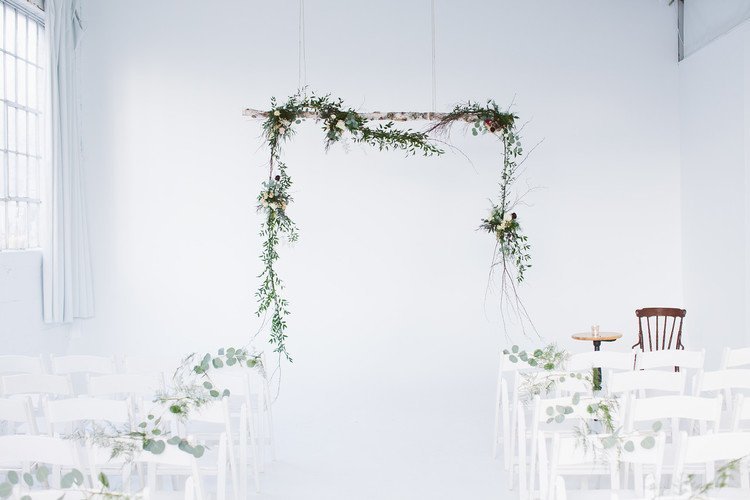 "As florists, we're all obsessed with 'the look' and that goes for just about everything. Interior design & fashion are very real obsessions for myself and my staff and our pinterest boards are reflections of that." ~Alex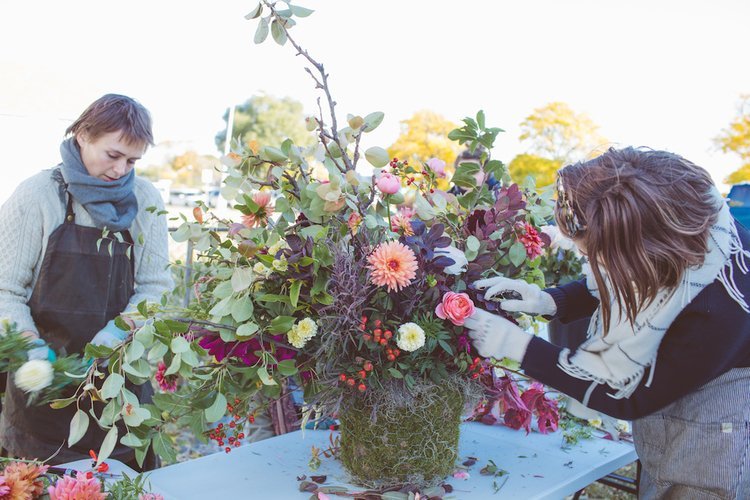 Alex's bucket list…
Be a bright light in the world
Create beauty in everything I do
Try and get more sleep
~Alex
What a noteworthy bucket list! Sometimes keeping it simple and beautiful is how it should be. For more information on the talented team at Patchouli Design, check out their website or instagram. If my say means anything at all, I highly recommend this team for your wedding florals. They won't disappoint you!
xx – april
————————————-VVVVVVVVVVVVVVVVVVVVVVVVVVVVVVVVVVVVVVV————————————-
instagram: @patchoulidesign // florist studio: Patchouli Design // some of the photography: Rebecca Wood Photography