---
Morning Ceremonies & Brunch Receptions
June 9, 2017
I have yet to have the opportunity to plan one of these myself, but they definitely have peaked my interest. Morning Weddings and Brunch Receptions have unquestionably started trending!
Brunch wedding receptions have become more commonplace in large cities mostly due to the fact that they impact the 'ole wallet a whole lot less than the traditional evening reception while still allowing couples to have their day in the venue of their dreams. Take Toronto, ON for example. Expensive reception venues such as The Ritz-Carlton, Distillery Event Venues (Archeo, The Loft, Cluny Private Dining Room) and The Old Mill now offer Brunch wedding packages of which are a fraction of the cost of your usual Saturday evening wedding rental.
The minimum spend at Archeo, for example, for an exclusive daytime rental of 8AM to 3PM on a Saturday in July is $5,000 while an evening rental from 5PM to 2AM is $13,000 (Distillery Events, Venue Pricing).
Brunch weddings also offer greater opportunities if you wish to approach restaurants as your reception venue. Restaurants find brunch weddings as a lucrative opportunity because it allows them to be open at a minimum spend that would bring in more money than their usual breakfast/lunch run and still allow them to open the restaurant "business as usual" for the evening.
Outside of brunch receptions being financially more affordable, they also allow couples and planners to tap into even more creative food, design and activities that normally wouldn't meld well with the more popular evening shindig. Popular themes for brunch and lunch weddings range far and wide:
Bring the Kids
For one, brunch and lunch weddings are much more family friendly. If you are a couple looking to have a number of little ones milling about your big day, this might be a route to look into. Not having to sit through a whole long day of activities makes for a much cheerier bunch of children.
Forget the suit jacket
Brunch weddings allow for a much more casual dress and a laid-back atmosphere.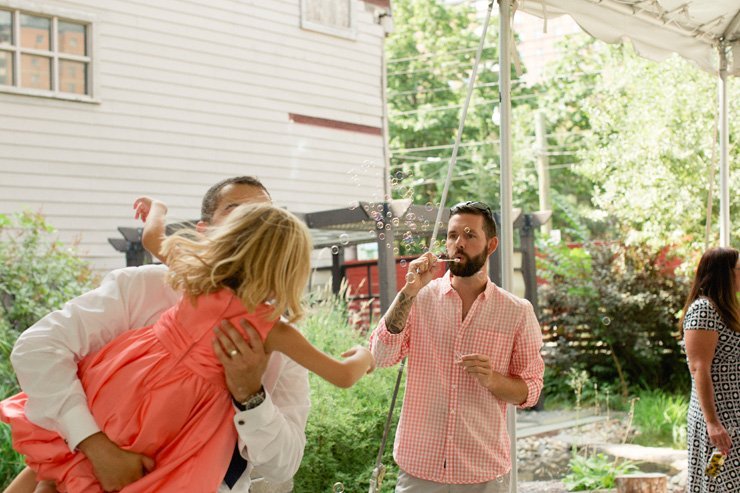 From black tie to khakis, a brunch wedding can transform into a multitude of themes.
Play a Game or Two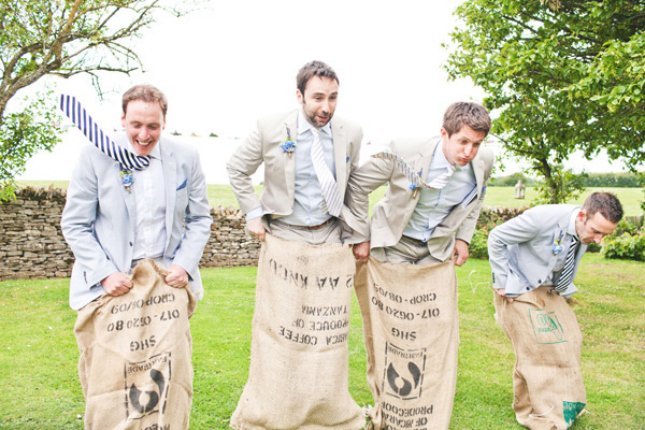 Brunch weddings are one thing in particular: Playful. From table games such as personalized crossword puzzles or setting up giant Jenga and spray painted twister on the lawn, the ideas are endless when it comes to entertaining guests during a brunch wedding.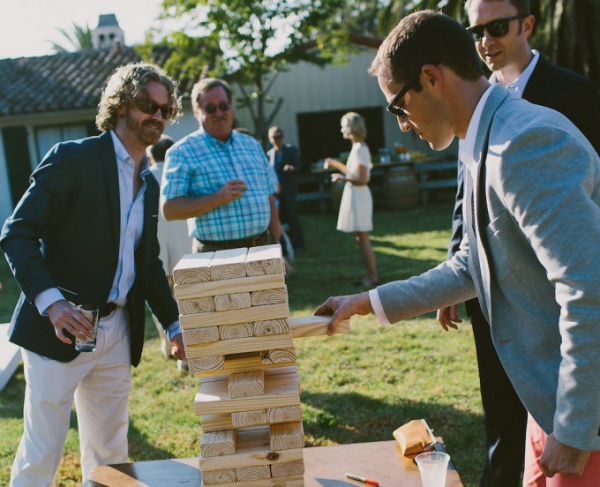 Waffles, Cereal and Bacon! Oh My!
From stacks of mini pancakes, cereal bars, mimosas and bacon galore, brunch receptions satisfy all the senses with lunch and breakfast favourites for all ages.
For all of those health conscious couples you have your fruit and granola parfaits, egg-white omelet stations, and salad nicoise. The menu options are endless and allow for personalization based on the overall theme.
Thx for reading!
Lo
————————————-VVVVVVVVVVVVVVVVVVVVVVVVVVVVVVVVVVVVVVV————————————-
Pancake Cake and Couple: Michelle Kim Photography // Bride & Groom Bubbles: Wild Eyed // Archeo: Mango Studios//Happy Kids at the Table: Emily G//Boys in Bowties: Green Wedding Shoes // No Suit Jacket: The Allen Photography // Pink Shirt and Bubbles: Blue Colibri // Gold Shoes: Yes I Do // Potatoe Sack: You and Your Wedding // Giant Jenga: Marisa Nicole // Crepe Stack & Doughnuts & Doughnut Coffee: Austin Gros // Waffle Cake: Becca Rillo // Savery Food: Paul McNulty Photography