---
Creative Menu Displays
July 24, 2017
If you're really crafty and live to DIY anything and everything, then creating a unique looking menu for your wedding reception is such a fun way to get your creative juices flowing!! Much like your seating chart, the menu display is another way you can have fun adding your own personal touch and style to your wedding decor.
I don't know about you, but the dinner at a wedding reception is one of the highlights for me! I've been to some pretty fantastic wedding venues over the years and you always hope that the dinner is as great as the venue itself. Displaying the menu creatively is a great way to get your guests excited for your fabulous party!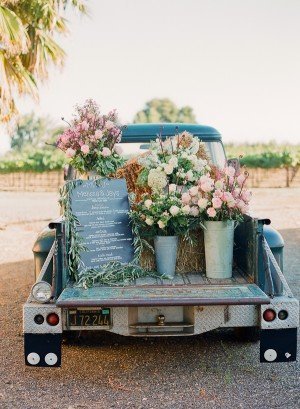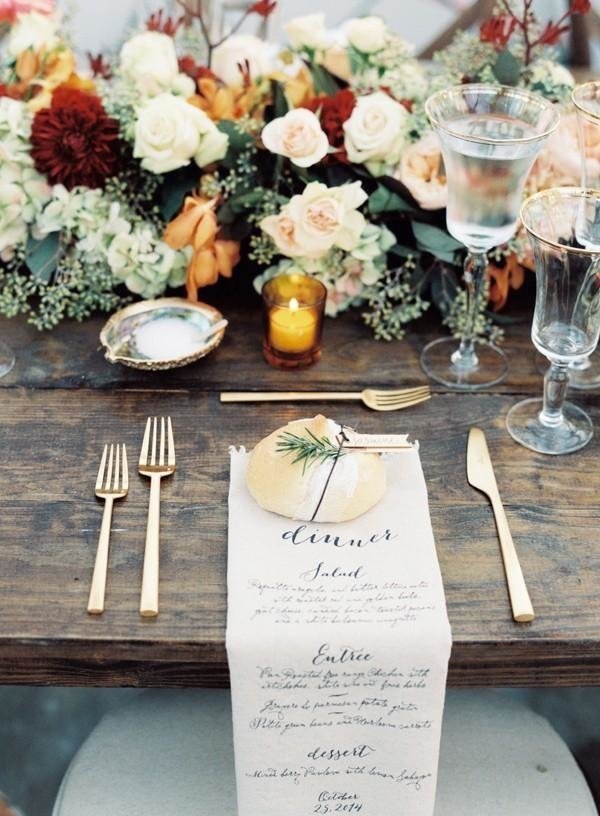 Rustic weddings are so fun to plan and there are so many ways to get creative with your decor. A wooden barrel is a definite staple and it's an item that fits in perfectly with country wedding decor. Utilize the space on top of the barrel and accent it with cute, vintage items. You can display your menu on top of the barrel itself or better yet, if you can find a big enough frame, display it on an easel and it'll stand out even more!
A chalkboard is a simple and accessible option and you can easily paint the glass of a beautiful picture frame with chalkboard paint but if you want to get even more creative, why not write out your menu on the glass of an antique window frame, a vintage looking mirror or even painted on a wooden pallet.
If you prefer to simplify things but would still like to make a statement with how you present your menu, think smaller scale and print the menu on a hand held card that can be tucked into a napkin at each place setting or displayed in a lovely way in the middle of each table.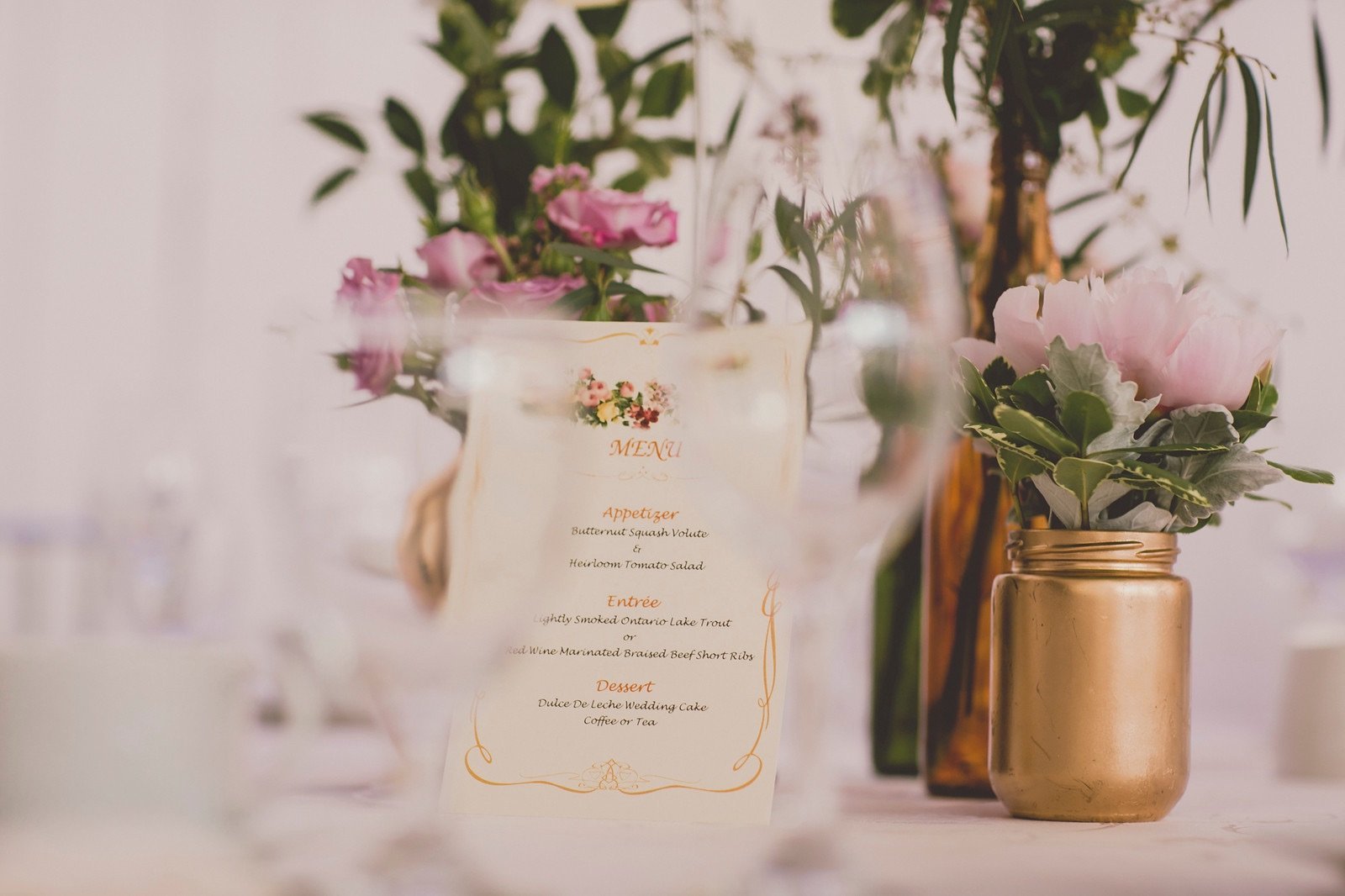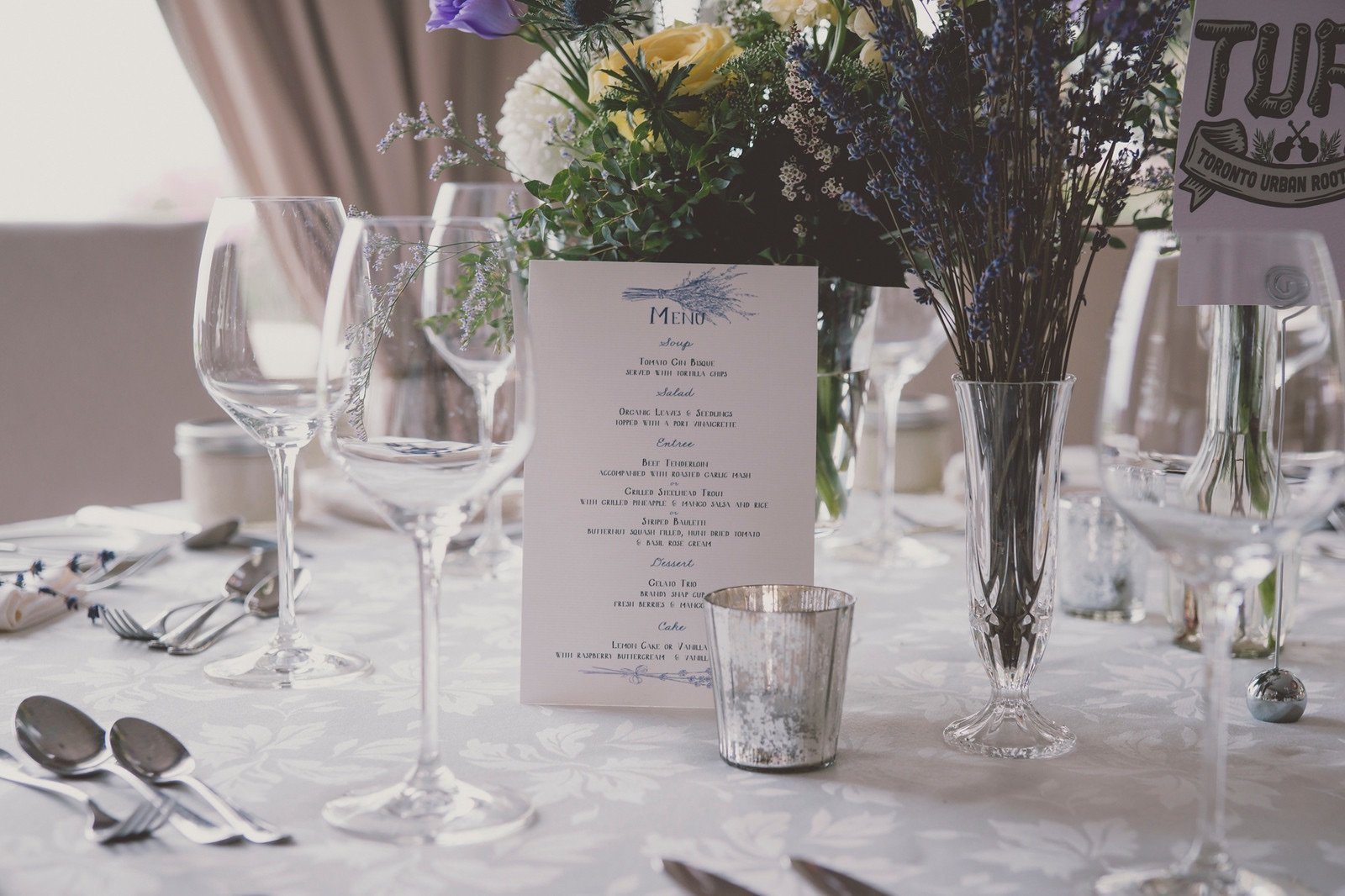 There are so many ways you can play up the decor here too. Place a bundle of fresh herbs or flowers alongside the menu card. You can even make it a part of your centerpiece by printing menu labels and sticking them on a pretty bottle with flowers or simply placed in a beautiful frame. Or, if you want an even less fussy way to go about it, just make the menu card itself pretty enough to display all on it's own!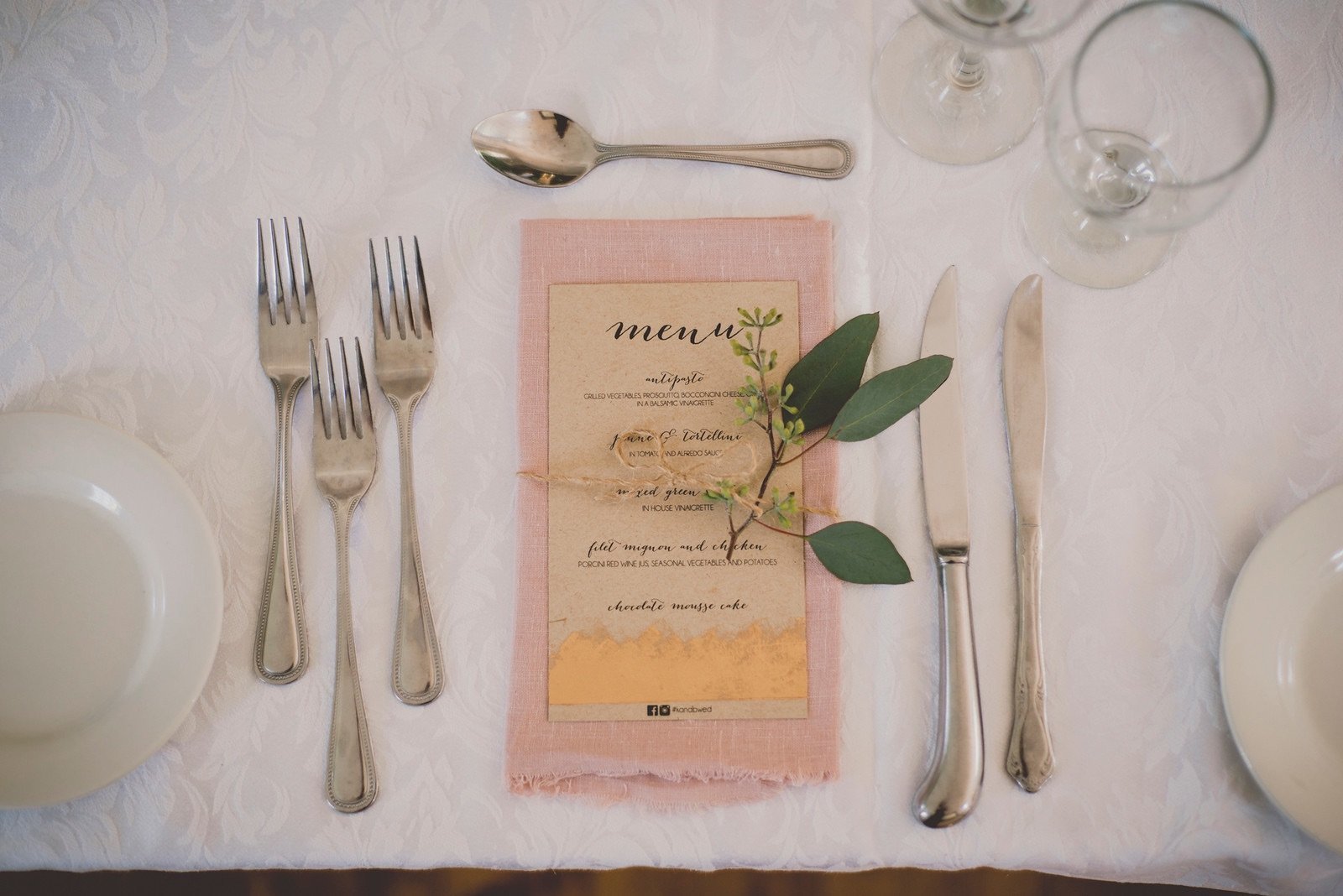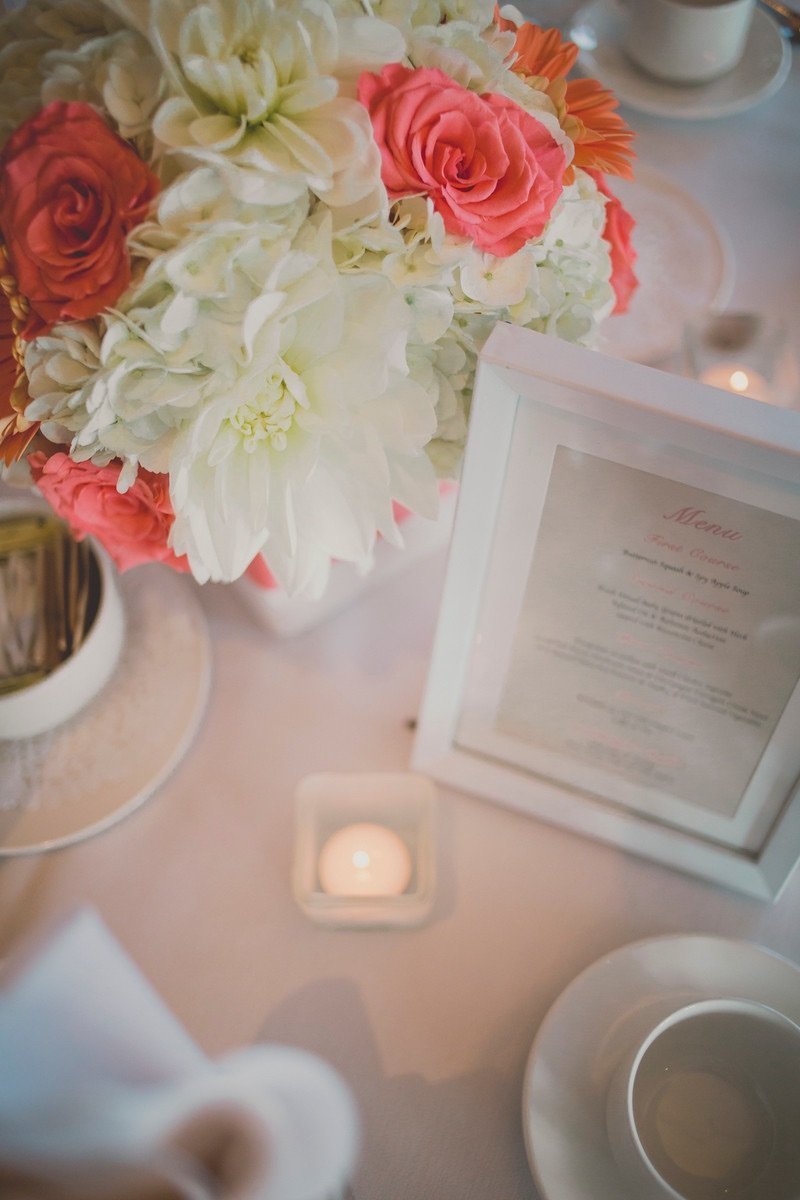 Select a material or fabric, other than regular paper, to print your menu or accent how you present it. Burlap or butchers paper, for example, may seem plain and unexciting but they are the perfect clean slate to work with. Hand write your menu in lovely calligraphy on a cloth napkin at each place setting and tuck it under the plate. This is such an unexpected and fresh idea, your guests are sure to be impressed!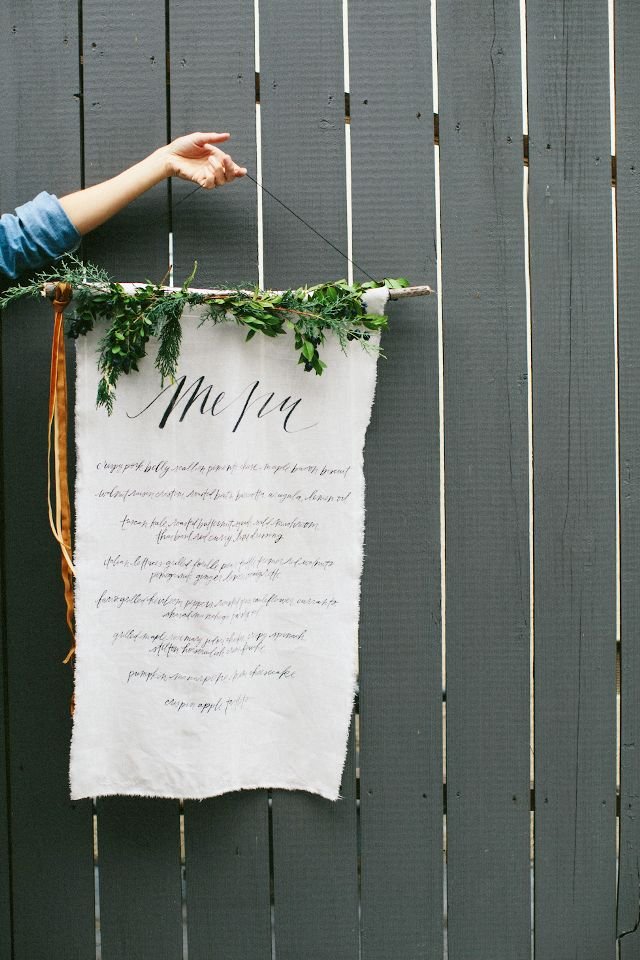 If edgy and modern is more your style, check out these great geometric inspired menu cards. They're simple yet beautiful and will definitely make a statement.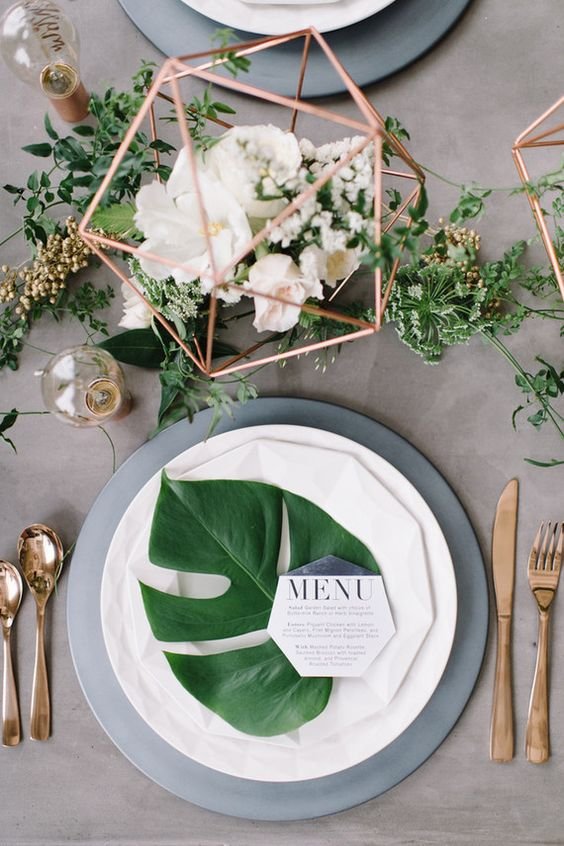 If you prefer something a little more unique looking, how about writing out your menu on acrylic or lucite? Select an interesting font and colour, such as rose gold or silver, and consider adding a simple design detail for some added flair. Make sure you place the menu card on something of colour to make it stand out.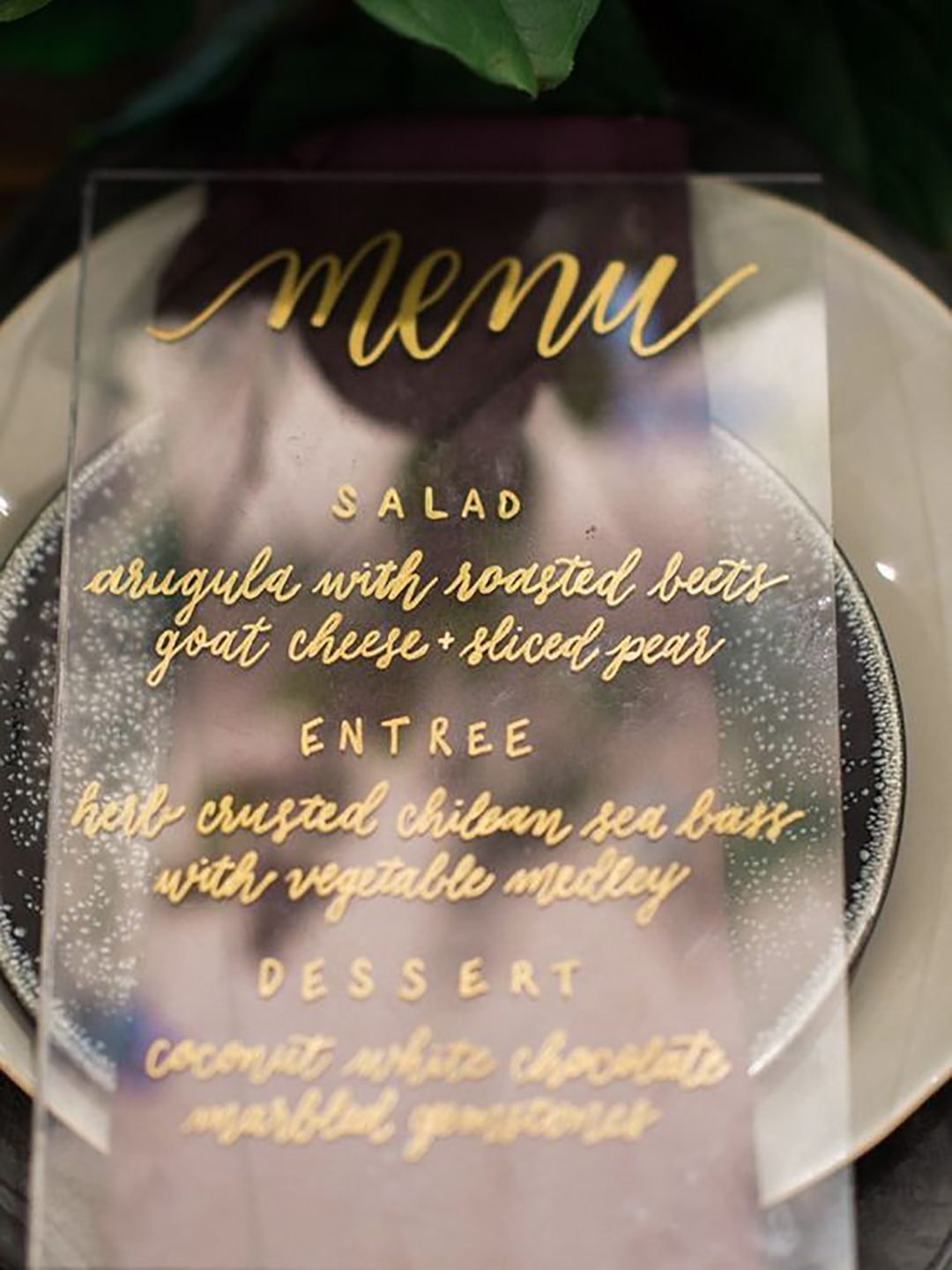 Acetate menus are the new trend. Fancy it up with gorgeous calligraphy in white or a metallic, and you are set with a simple, yet pretty menu at each seat. This allows guests to see the details in the fancy plate you have chosen, or allows you to display something of interest behind the acetate. Creativity is endless with this simple option.
————————————-VVVVVVVVVVVVVVVVVVVVVVVVVVVVVVVVVVVVVVV————————————-
photos credits: Olive Studio // idotaketwo.com // engagedandinspired.com //
stylemepretty.com // mydomaine.com // theeverylastdetail.com // greenweddingshoes.com // secretdiary.co.za // etsy.com // junebugweddings.com // thebohemianwedding.com // bloglovin.com // crazyforus.com // festivalbrides.co.uk // rahelmenigphotography.com
~Marilyn