---
Industrial Chic Storage Container Wedding Inspiration
November 17, 2017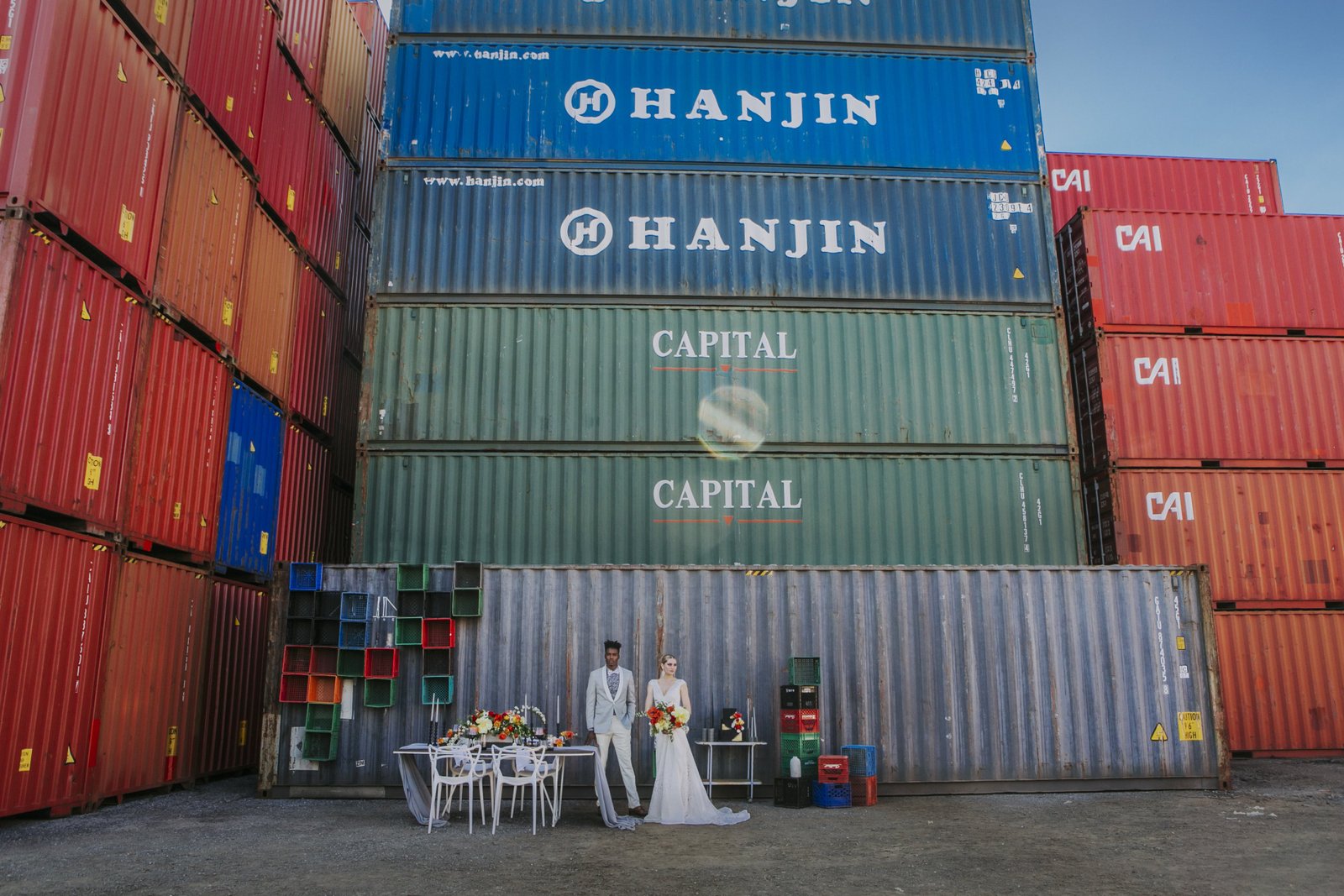 2017 was a year of bringing inspirational creative shoots to the table; showcasing Olive Studio's newly comprised team of creatives' multi-talents; Lauren Maciborka as our in house wedding and event planner, Susan Findlay as our florist and prop stylist, and myself as the photographer and newly embraced role as wedding stylist.
I am without a doubt, a colour girl. As much as the muted and jewel tones of these past years are beautiful, I am so eager to advocate something fun, edgy and colourful for prospective couples this coming year! Whether your vision is vintage or modern, colour CAN be embraced! For some people, colour can be a bit scary, so the way that it is introduced is of course important.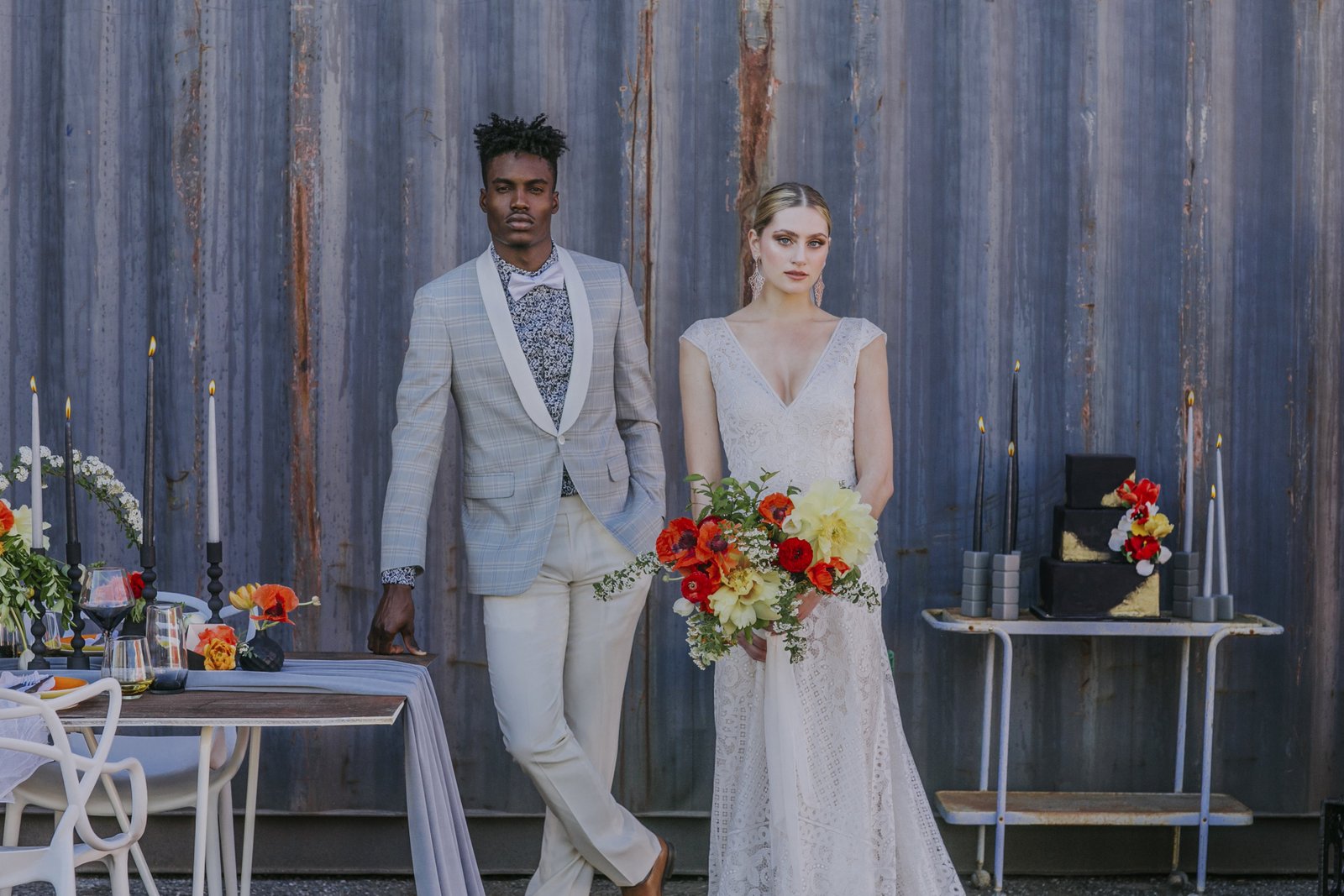 Shipping containers are the way of the future and lets not forget that not only do they serve as a cool and colourful background in photos, but they can double as a wedding venue, vacation home, or even a kitchen on the go for catering companies! We absolutely LOVE this eco-friendly concept! Storsac was generous to allow us the freedom to shoot on their property, beautifying the somewhat gritty and dusty shipping container field. We had found our vision to create an Industrial Chic Storage Container Wedding Inspiration!
My overall vision was to utilize the containers as building blocks to our background, finding beauty in the patterns or the blocks that broke the patterns. When I saw the slate gray container positioned against all the primary colour containers, I knew this was our neutral background. The inspiration decor would be set up against it relieving the viewers eye from all the colour. It did just that! It helped ground the table decor, and made the flowers and milk crates pop. Neutral colours of gray, black and white were consistent in the propping and clothing and made sure to break the bright colour scheme of red, yellow and orange.
I found a gorgeous slate gray silk fabric that I sewed in an over sized length of the table which was gathered and cascaded to the floor as a table runner. It added a soft and romantic touch to the otherwise cold and modern table which would help anchor the eye from the bright colours everywhere else.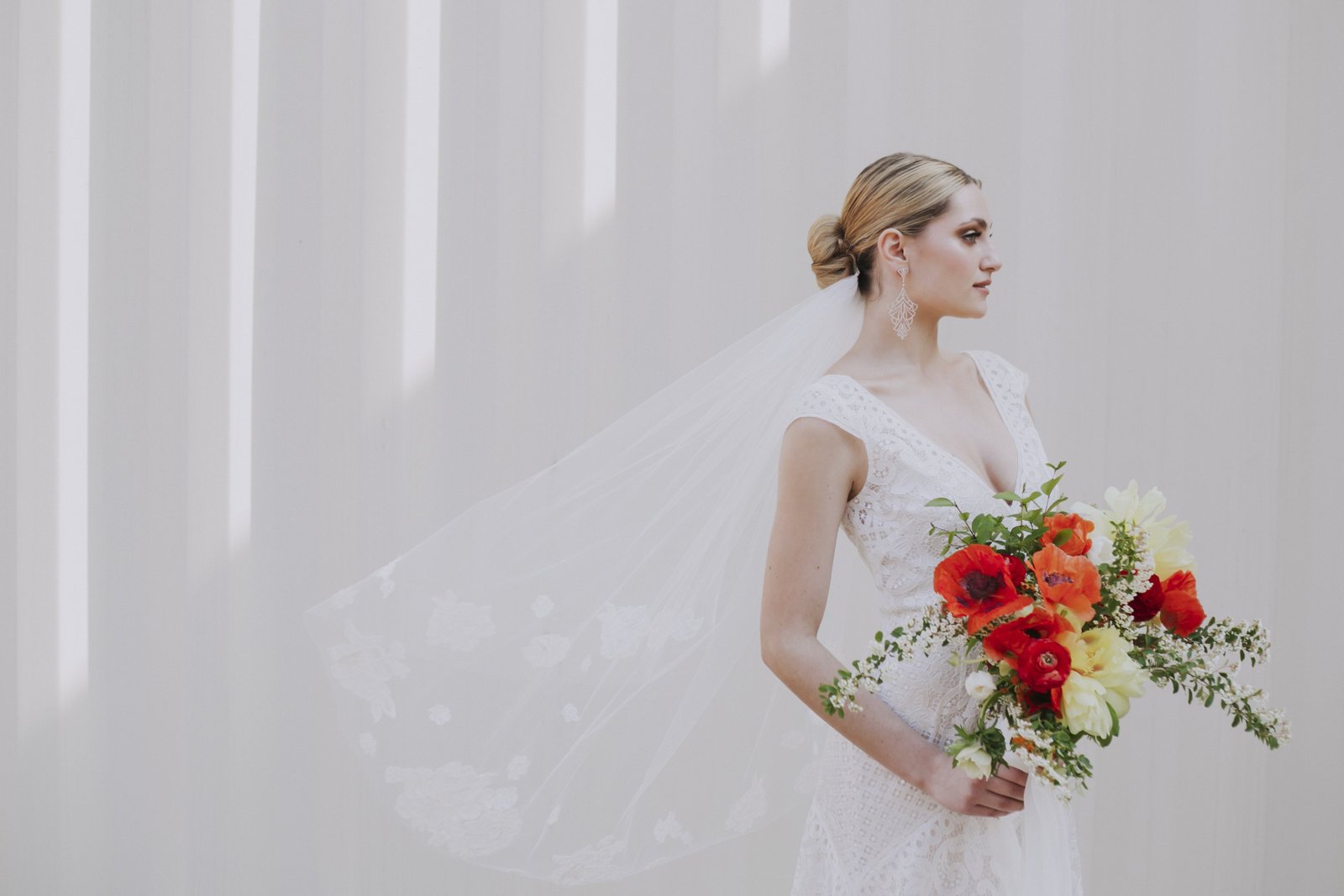 Can you say bridal envy?? This look is just so sleek and modern. Its definitely a look that years down the road, you won't cringe at when reminiscing about your wedding day. The geometric earrings, play on the deep plunging Margot V-neck gown designed by the lovely and talented Anais Anette. The veil balances out the sleekness of the never old low bun hairstyle. The bouquet – well, that just finishes the look with a bold and beautiful statement.
The white geometric shaped chairs are curvy and romantic which helped soften the overall vibe. I love mix and matching chairs. This is an easy way to add texture and design to your decor set up. Don't feel shy to anchor the ends of the table with something different. For this shoot, I added black chairs on the ends of the table as an option. These chairs were made out of plastic like the white ones, but a different design. In this case I kept the material consistent and played with colour and design.
Metal gilded chargers anchored the end seats, while large bright yellow dinner plates added to the colourful and playful design. The side seats received orange salad plates and the end seat salad plates were just a bit different; with a water-colour swirl of orange and yellow. Silver and black geometric cutlery sat atop of hand-torn white cheesecloth napkins.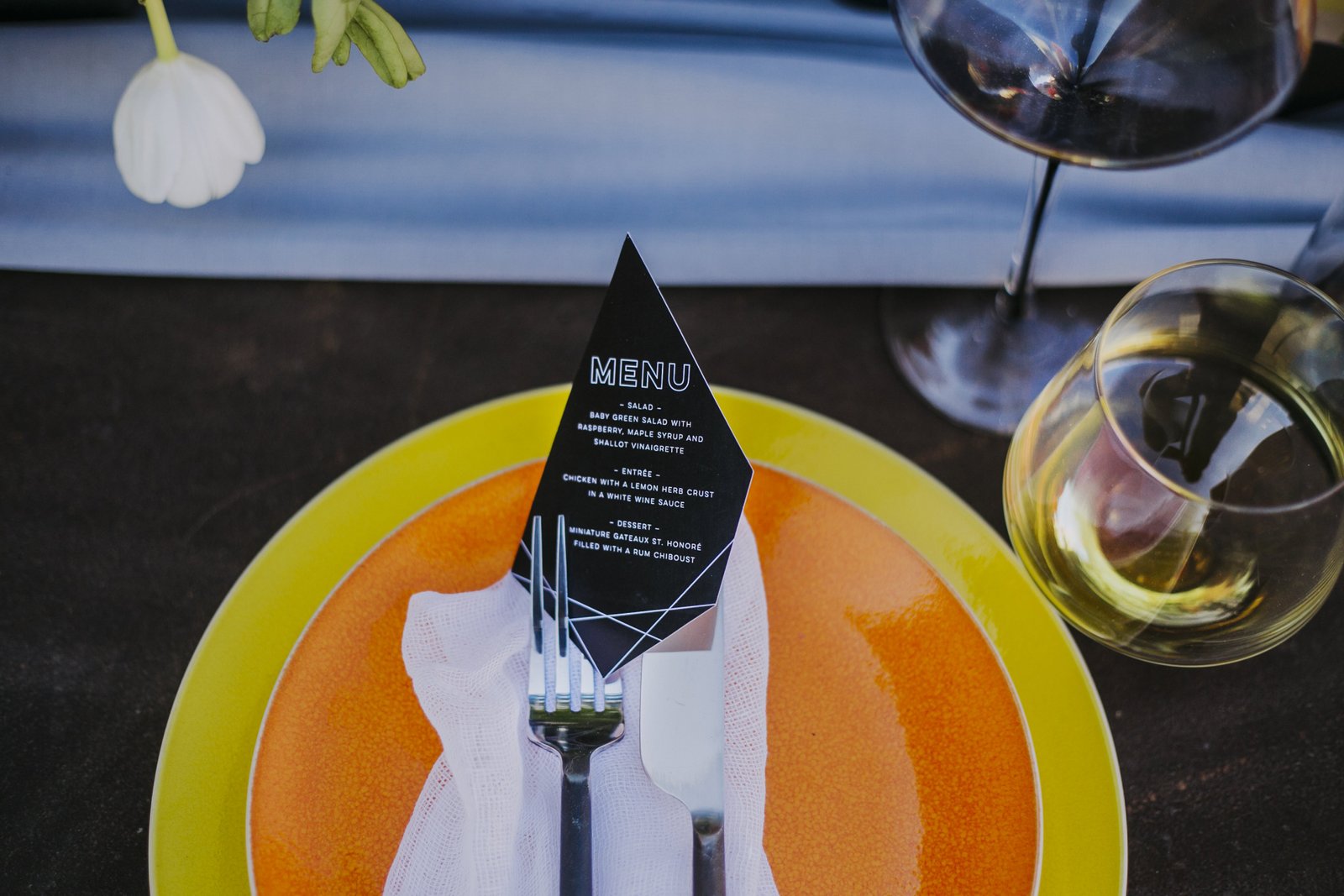 Tiny geometric menu cards slid into the fork grooves adding contrast to the bright plate layering and added a modern twist to the typical menu display. A collection of yellow and black coloured glasses added to the overall modern visual, keeping the pops of colours consistent and not too over-powering.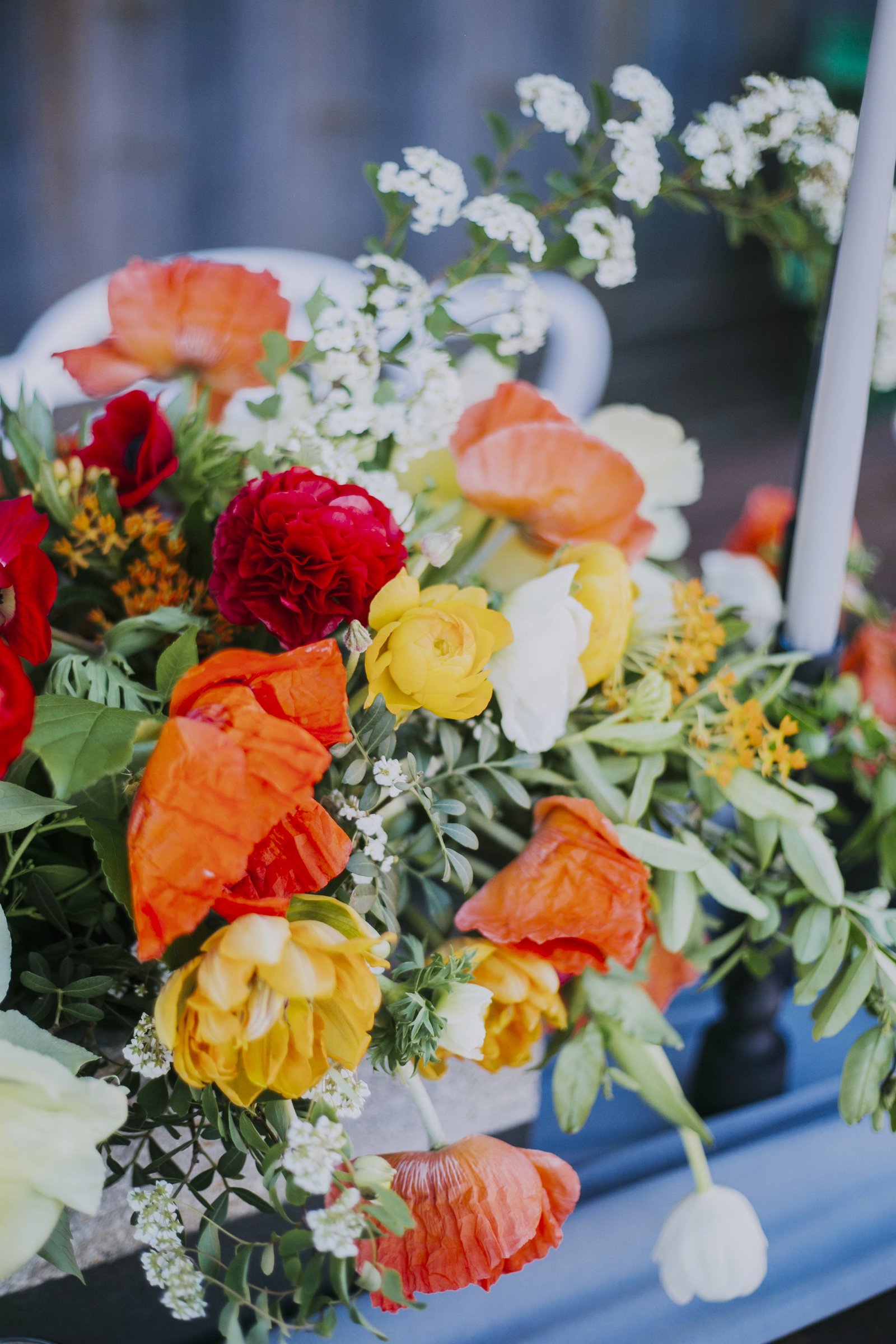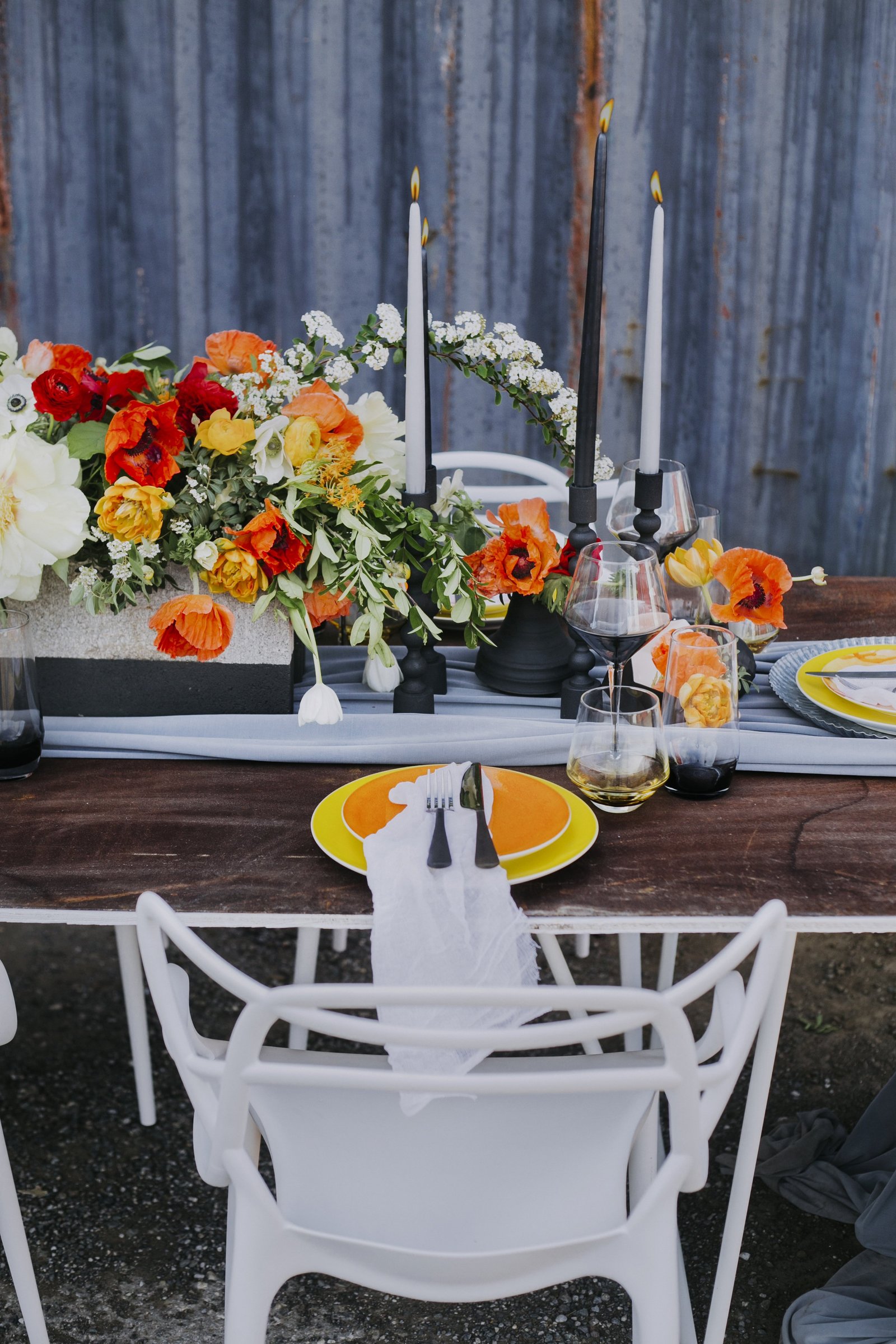 Once the table was set with an industrial and geometric tone, Susan finessed the look by adding the gorgeous pops of colour with fragile bright poppies, spirea, ranunculus, tulips, huge yellow tree peonies, and anemones. The soft textures and creped fragile petals added such elegance to the otherwise graphic look – it was just how I envisioned it!
These tree peonies add such a wow factor to this stunningly organic bouquet! We are in LOVE!!!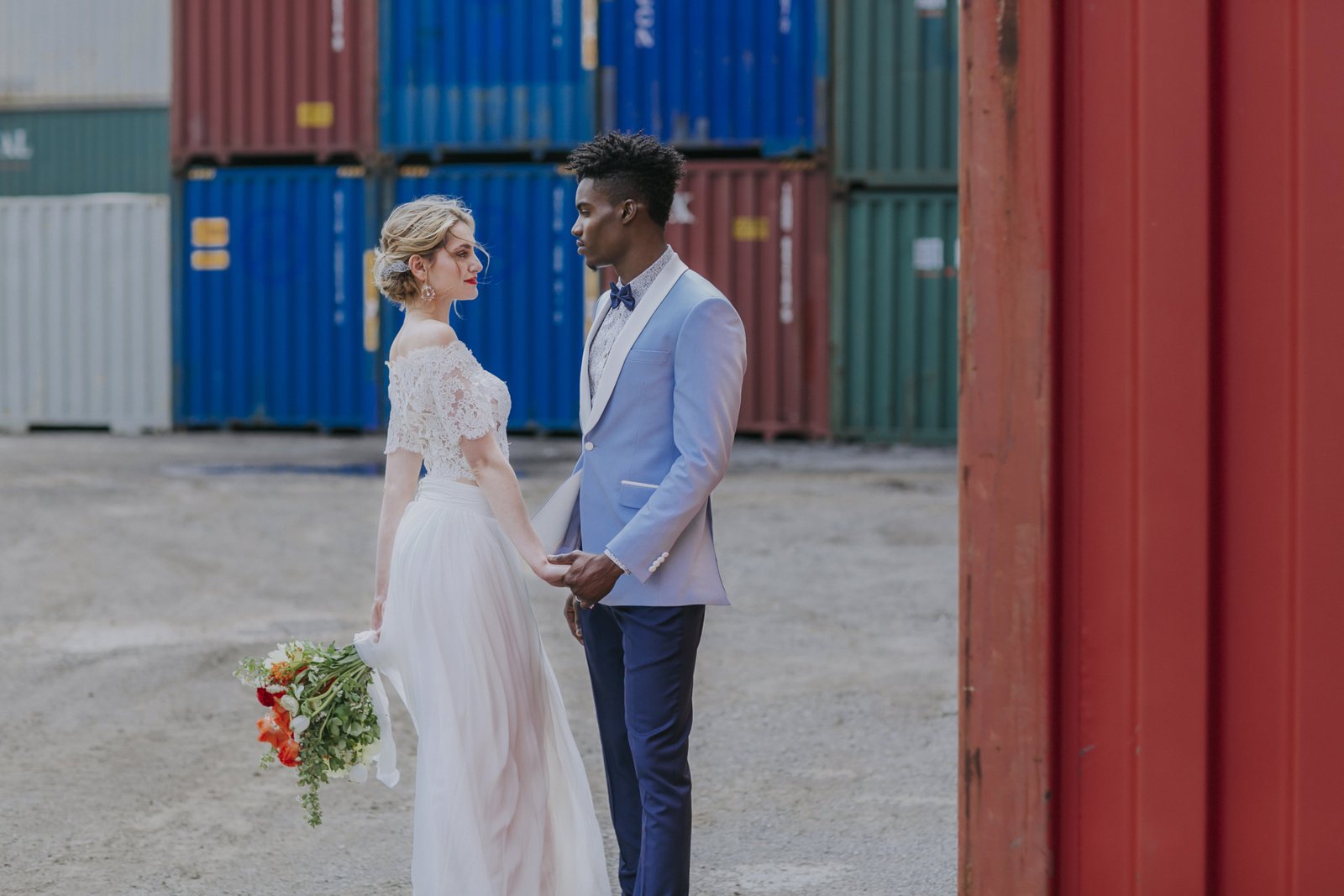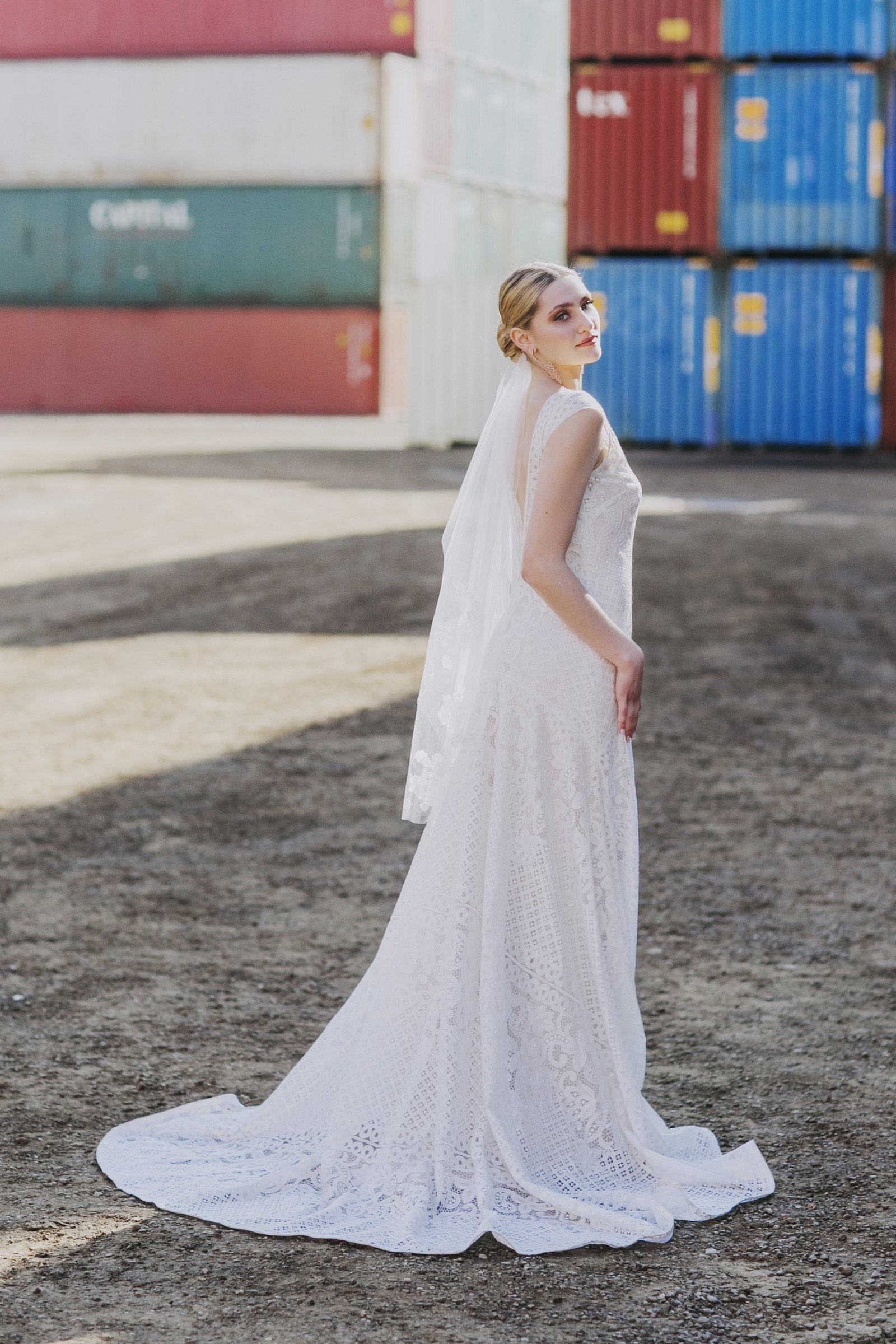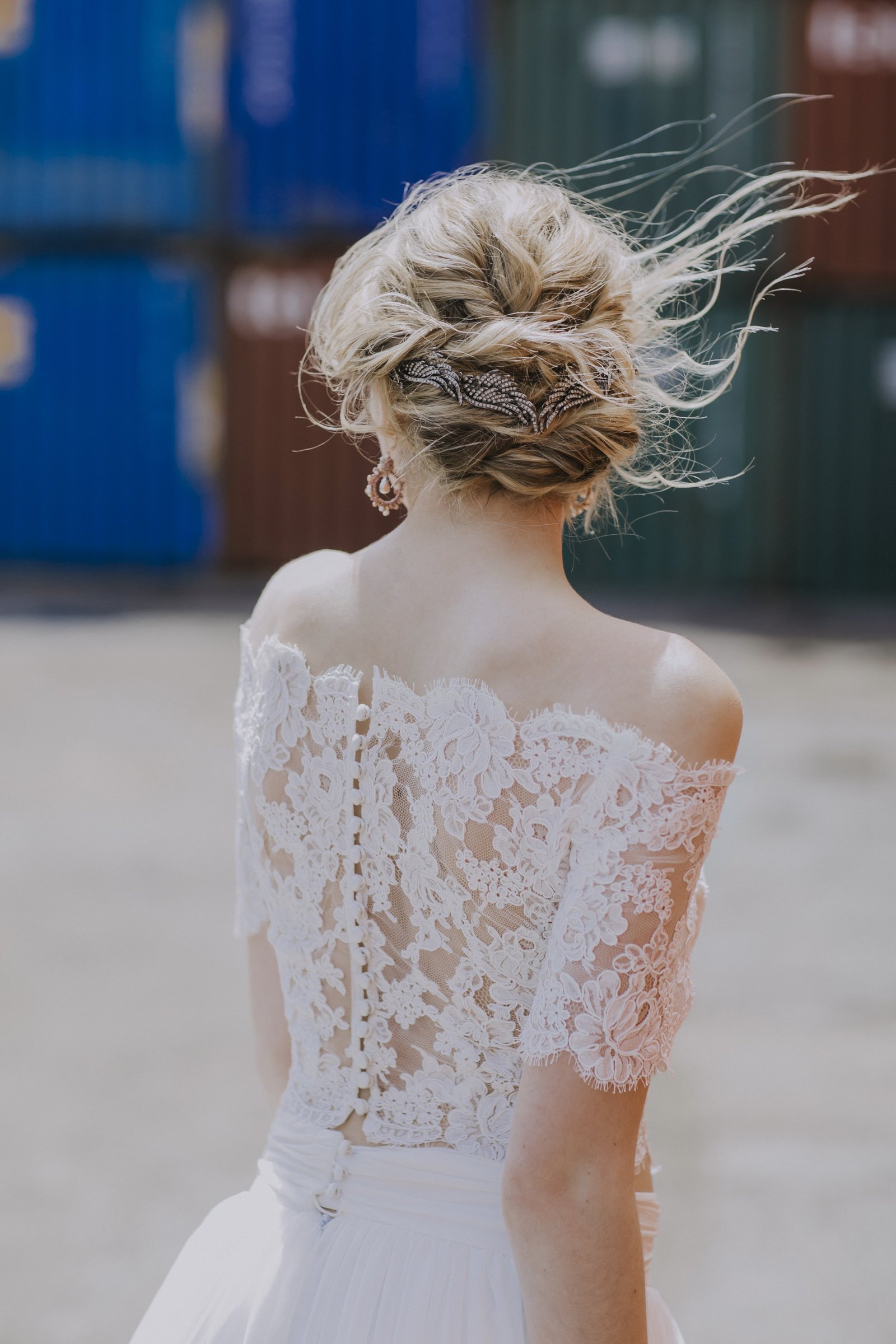 The modern and geometric dress on the left blends into this atmosphere so perfectly. It is a look you might expect to see and it works. The hair tied tightly back into a low and sleek bun with the veil snuggled underneath it completes the vision.
In a very contrasting look to the modern and sleek one on the left, is this romantic off the shoulder lace two piece shirt and skirt combo from Lea Ann Belter. A soft and boho hairstyle with gorgeous hair piece from The Loved One says it all; ROMANCE! This is a perfect example of choosing an outfit that contradicts the space AND it works!!!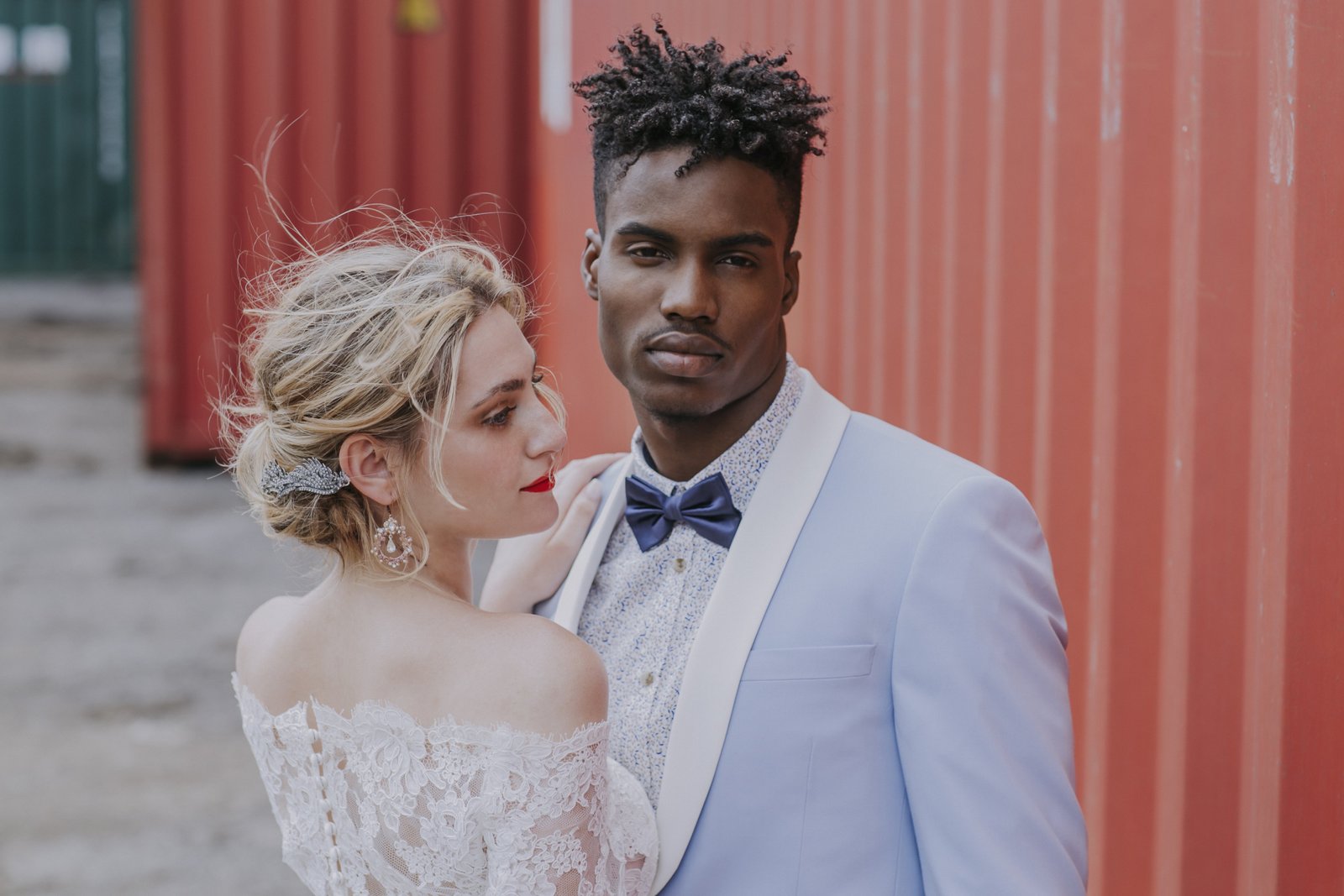 The grooms baby blue jacket with floral shirt adds such a contrast against the reds and oranges of this atmosphere. His bow-tie and slim fitting navy pants complete his modern and fashion forward look. He is stylish and fun and not afraid to make a statement.
Black painted concrete candlesticks mixed with black vessels added texture and continuity of a strong and modern neutral. A combination of using black and gray candlesticks of multi lengths let your eye dart around the table top, which for me is crucial when designing a tablescape.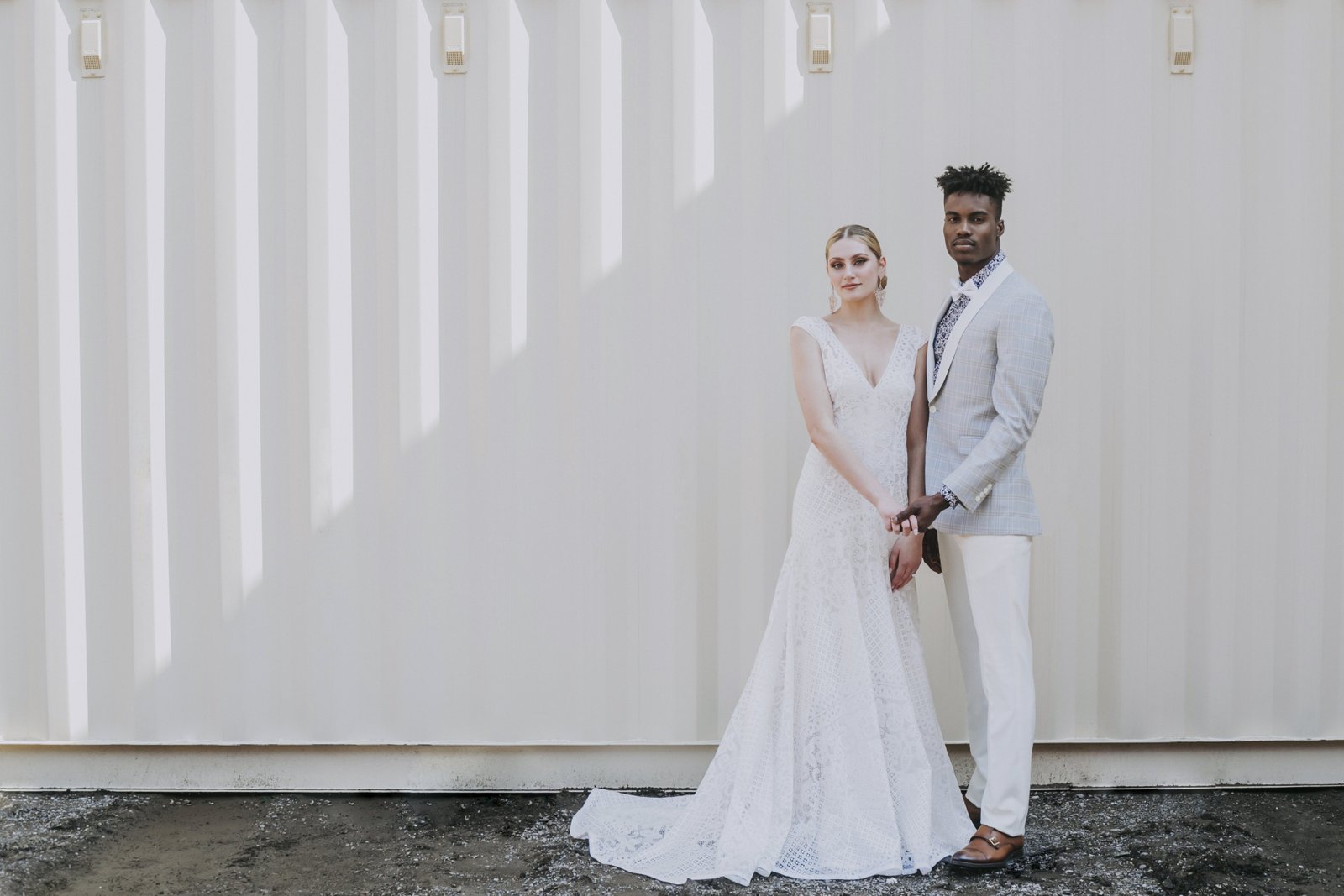 This clean and light colour combo is eye catching! The groom can also play with a white palette. His pale plaid grey jacket with cream coloured pants give him a sleek and clean silhouette. The black and white printed shirt underneath finish the crispness of this look. He is pulling it off and rocking it!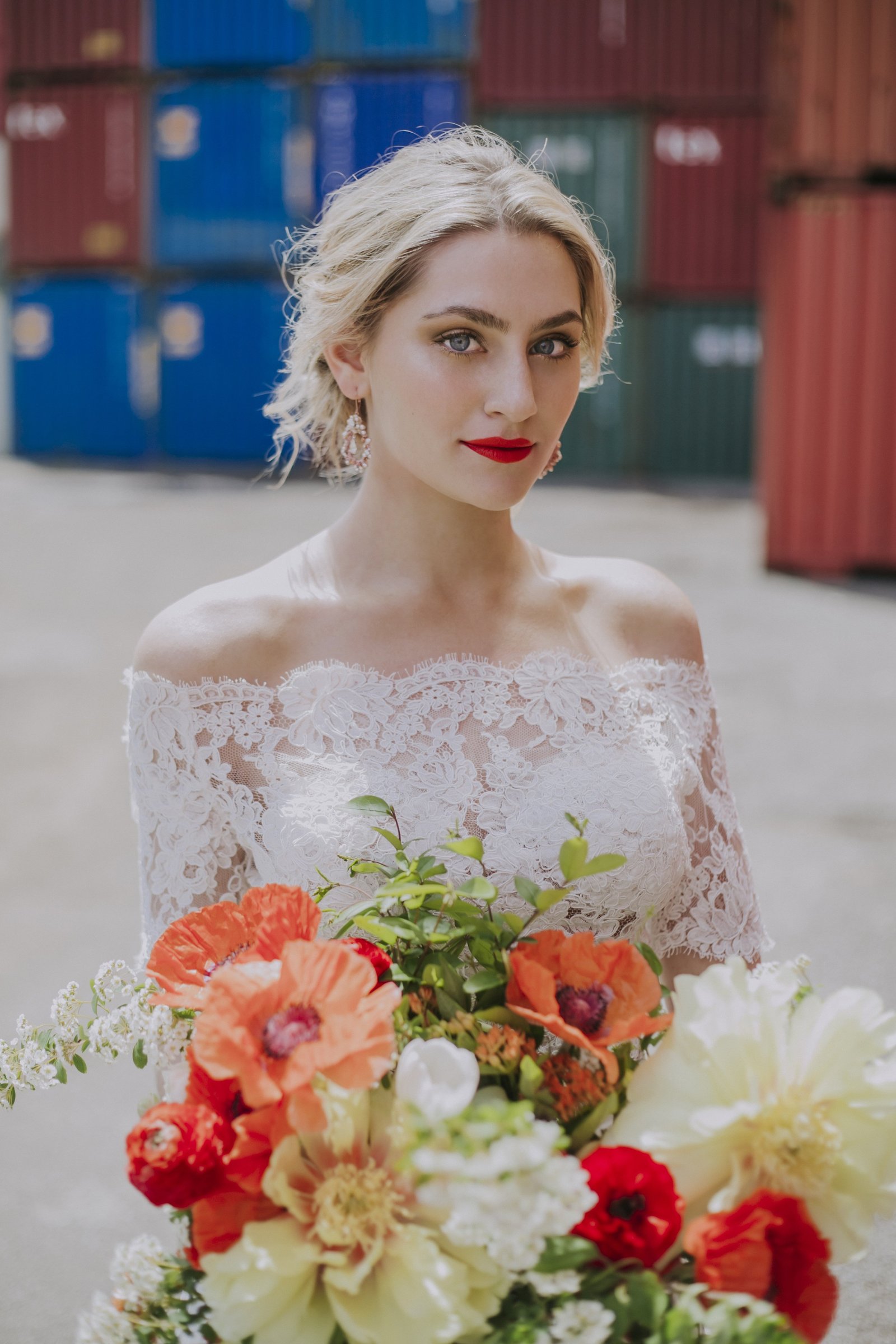 It took me weeks to collect milk crates from around the city. Not many companies use these and discard them anymore. That in itself was a dedicated feat! lol. My inspiration for the crates hanging off the containers came from an unknown artist that made milk crate sculptures throughout cities around the world. It was such a simple idea but so effective and graphic. If I had hundreds more, I would have created more sculpture-like shapes, but I just didn't have the storage or means to transport that many. With the crates I did collect, I decided to hang them in rows from the top in a cascade down the container. This simulated the stacks of containers, which I think was very effective and added interest. To ensure that the crates were a consistent theme, I then used them in towers to flank the cake stand.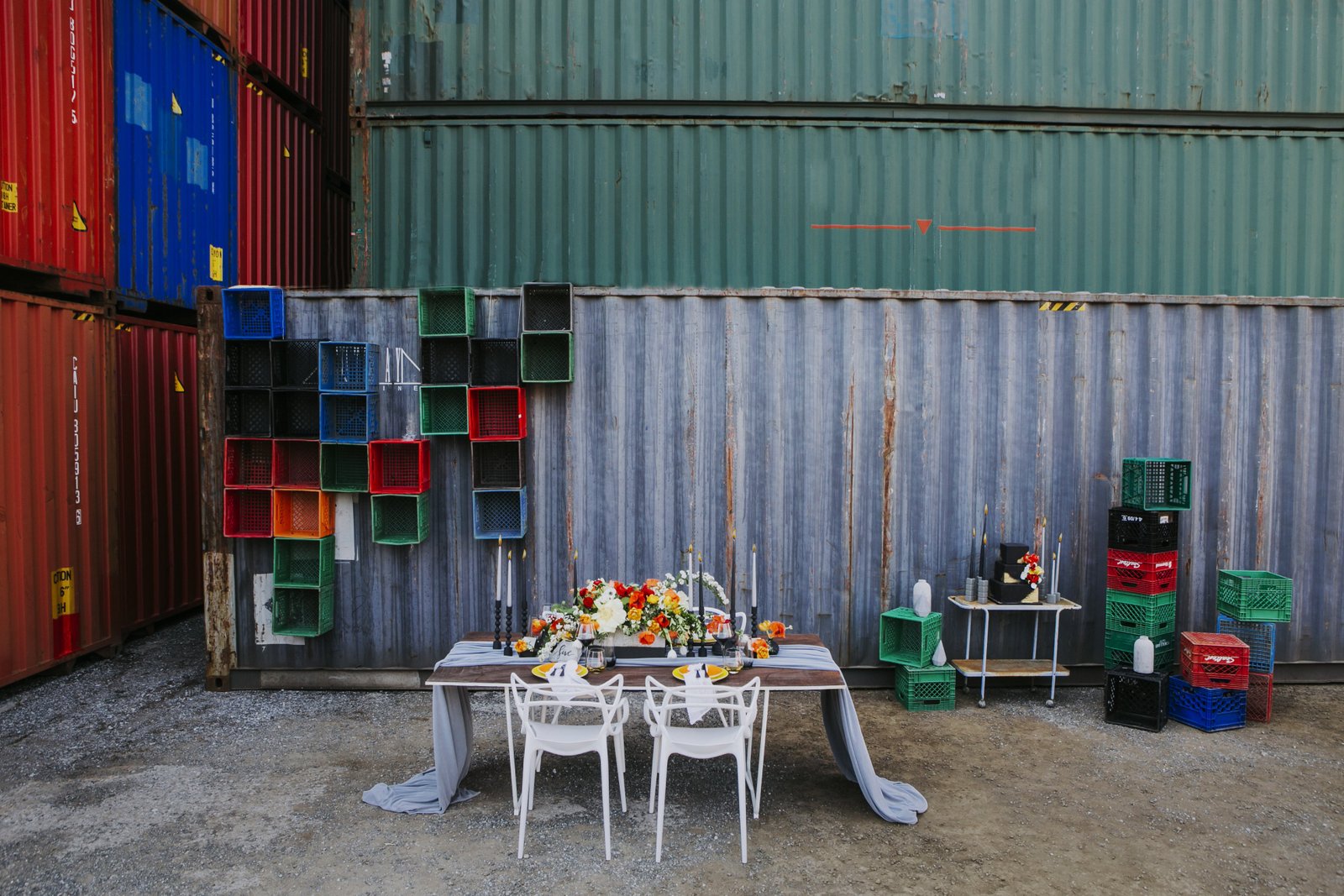 The geometric table base was found at Ikea but to make it more industrial I added a beautifully rusty steel table top and adhered it to a plank of painted MDF.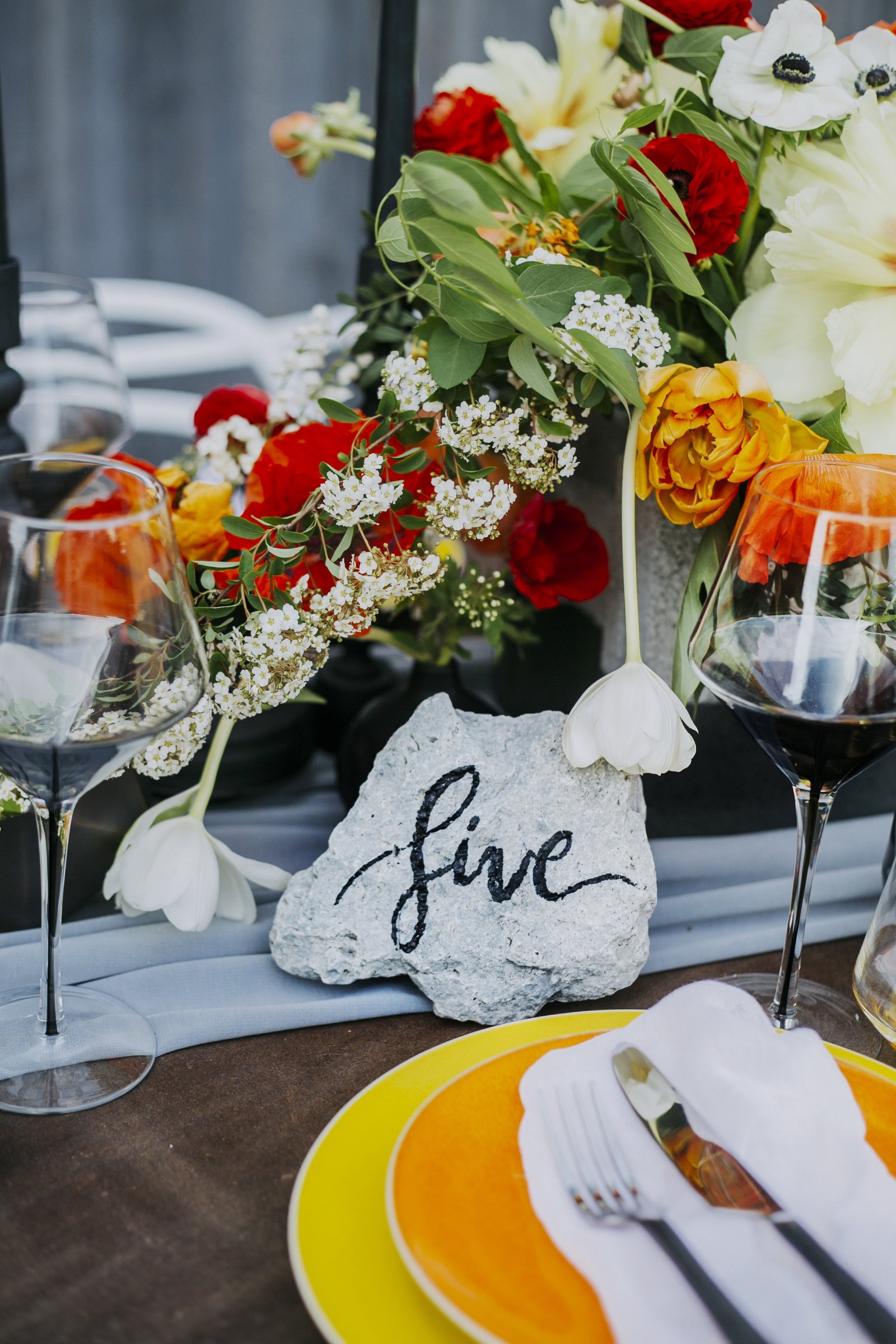 A table number was written out in cursive instead of numerically to contrast the rough rock texture. I find that when making a theme modern and industrial, it is still important to keep an element of romance and elegance which can be effective in the smaller details. The final touch for the table was the main flower vessel for the flowers which was made out of a concrete building block. I spray painted half of it black and voila! An edgy and industrial vase was made!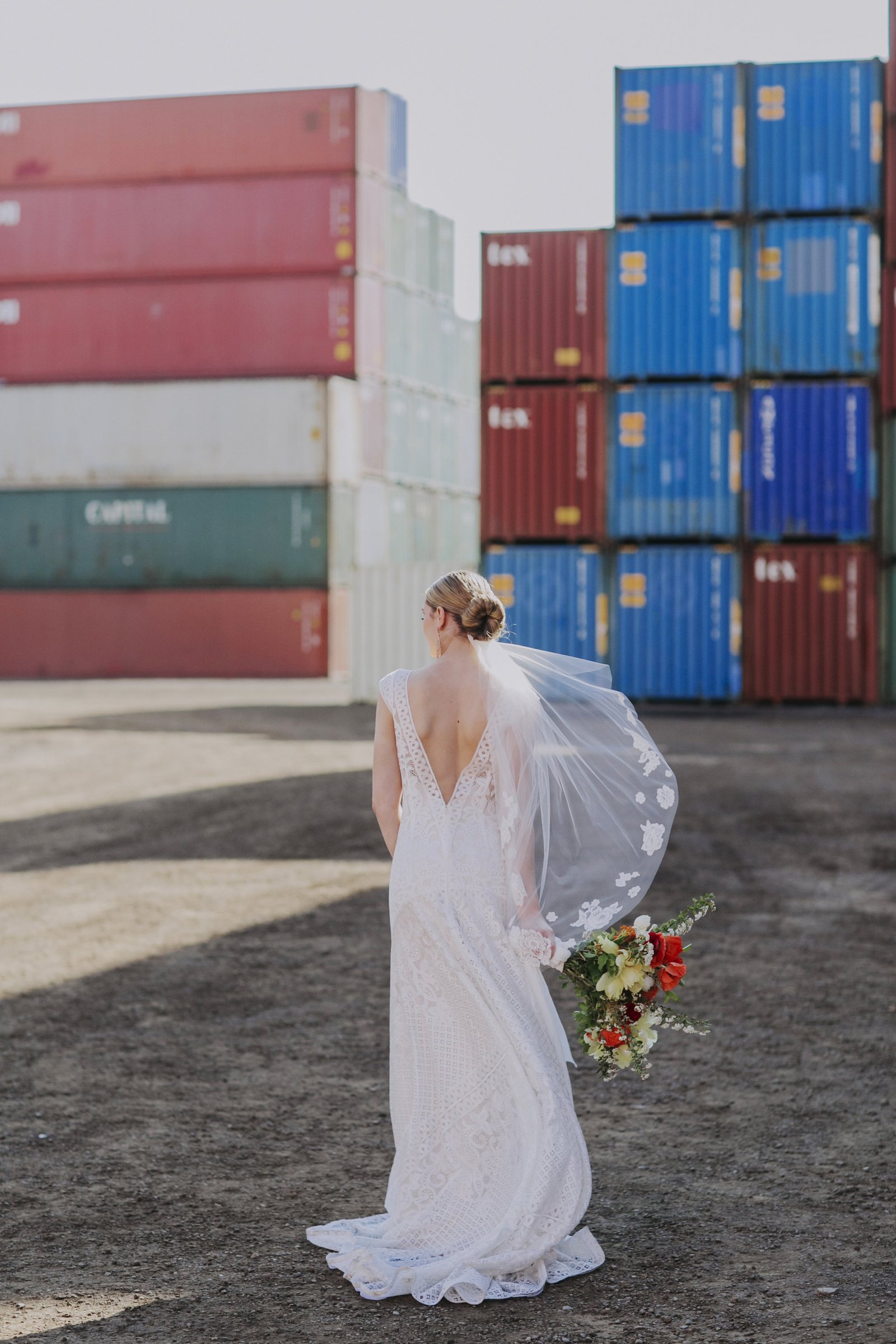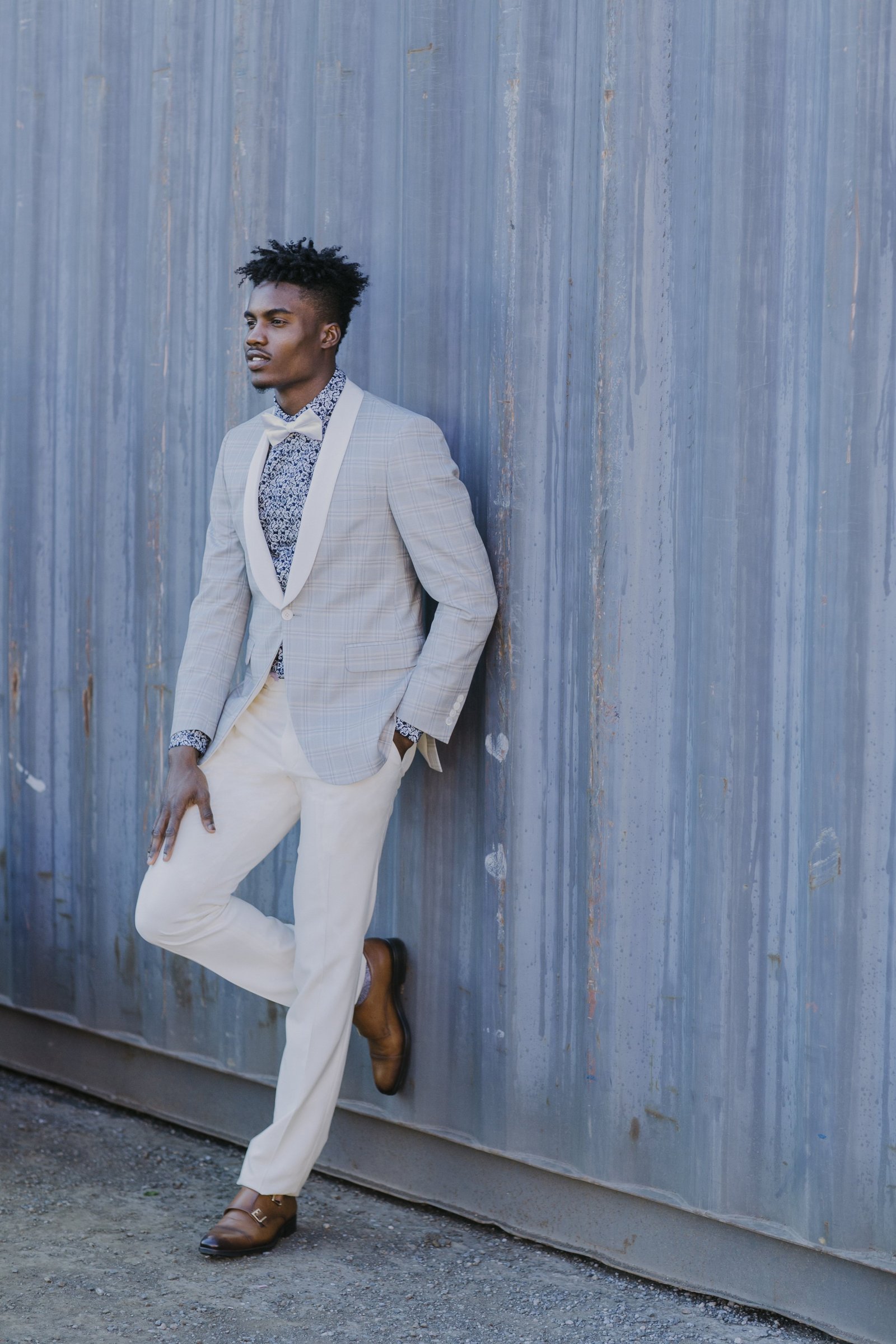 Out of the same backyard where I "stole" my friends cool table top metal surface, I also found his salvaged rusty metal medical cart which seemed perfectly suitable for a cake stand! Who needs a vintage shops when you have friends like this! lol
The modern square black and gold cake made by Yvonne from Make it Sweet Cakes tied in perfectly to our theme. She added gorgeous hand made poppy sugar flowers up the side for that added pop of colour. They looked just like the real flowers! I added some geometric gray candleholders and candles from Yummi candles on either side of the cake. Alone, this was a statement.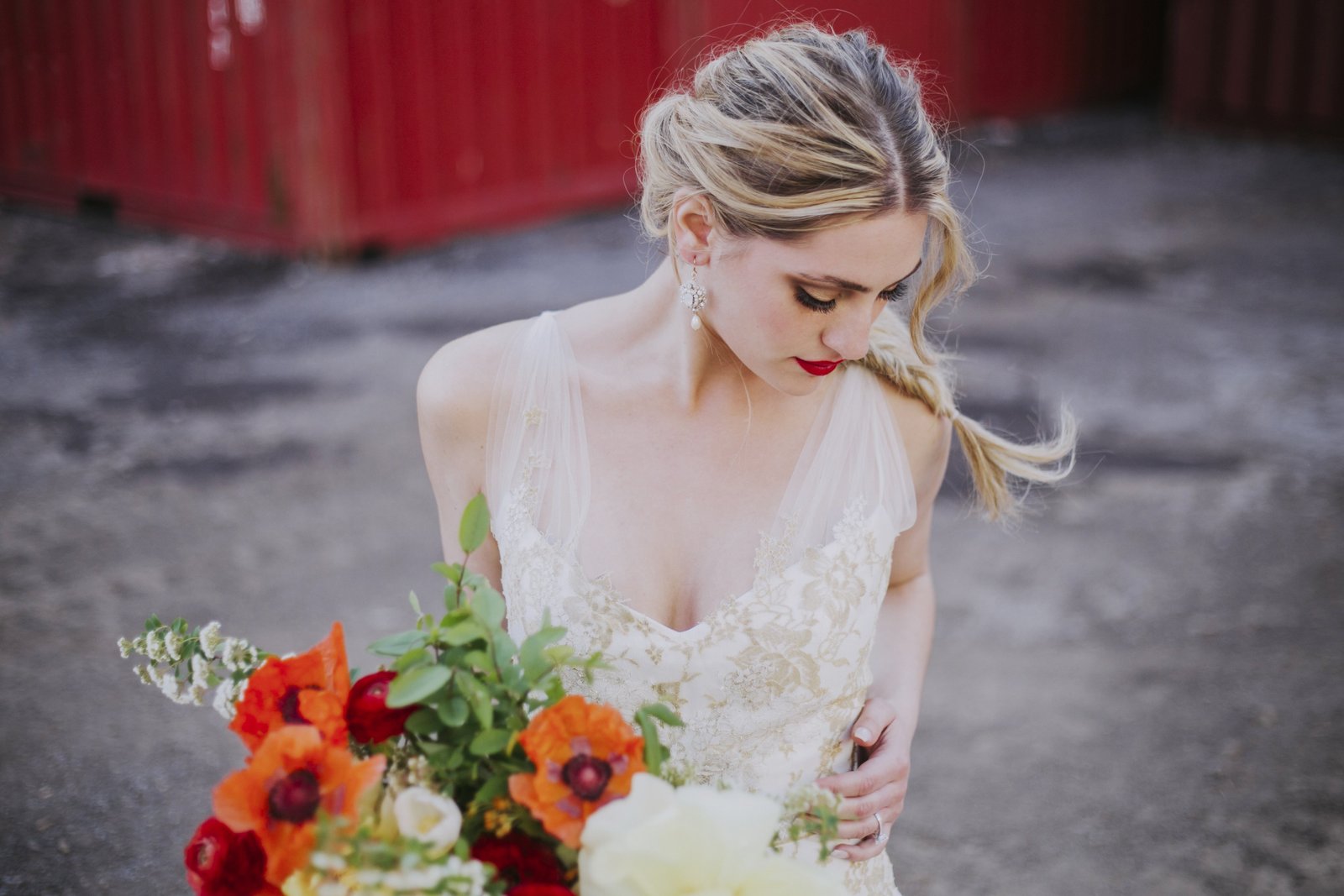 Jennifer, our stylist, pulled some visionary pieces for our model duo to fit the graphic and modern look. It is important to consider how your wardrobe fits into your venue and styling. Does it match the ambiance or contrast it completely? These are both ways make a fashion statement.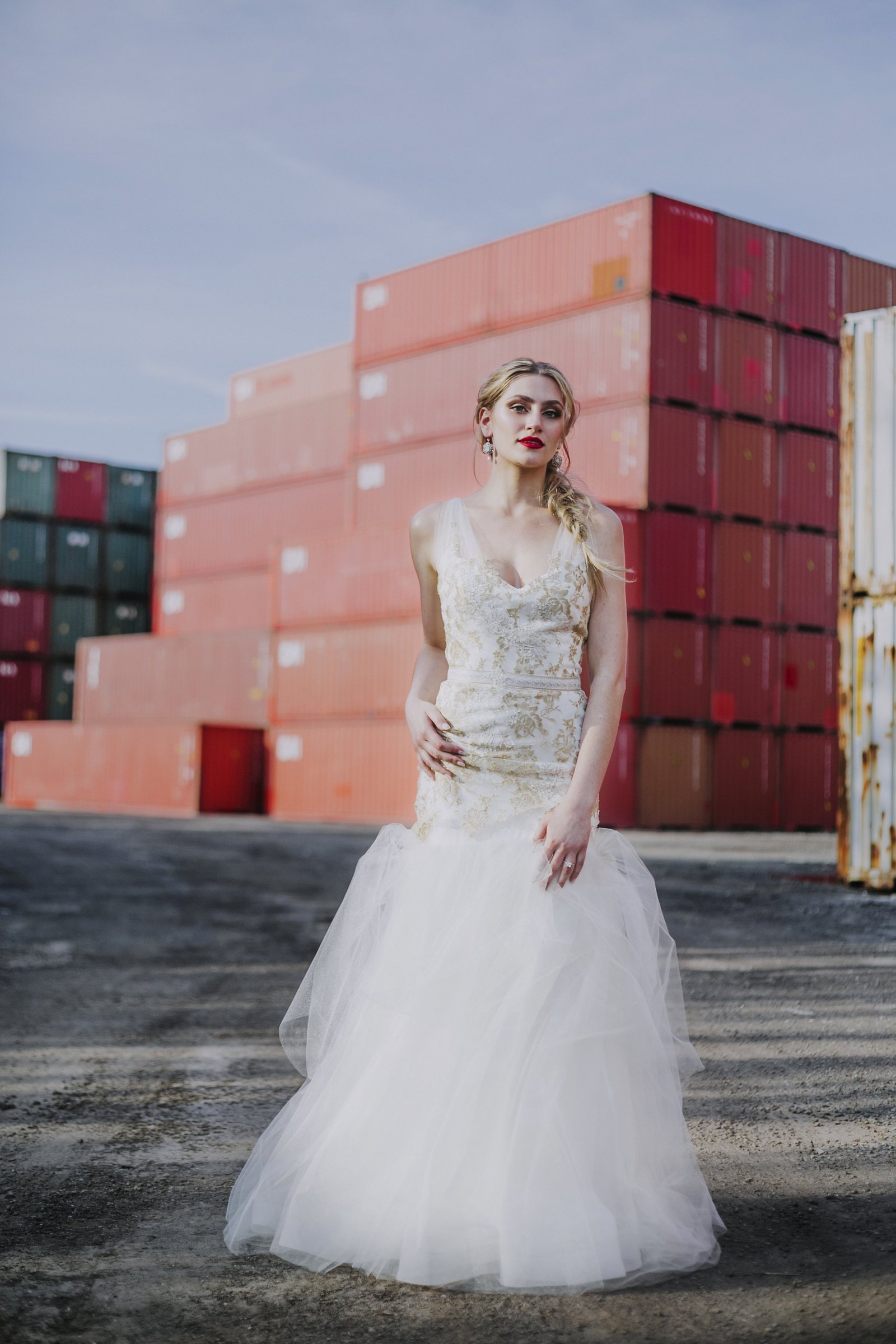 If you have a modern and colourful decor design, why stop at using colour when it comes to your clothes or even makeup?
Karima from Barnone used a bright poppy red lipstick for our bride here. It is the exact colour of the shipping containers and our gorgeous flowers! It looks like she belongs and that was intentional. The dramatic gold and black eyes give our bride a sense of glam which contradicts the dusty lot and matches the gold embroidered dress perfectly.
The fishtail braid modernizes the look and adds a sense of whimsy.
Lets not forget to mention our groom! His floral cropped pants and slick tuxedo jacket make a "spin your head" statement surely not to leave his bride disappointed!
In addition to the geometric menu cards, Jill from The Paper Foundry Co. designed a gorgeous black acrylic invite with laser cutting. This invite is sleek and modern and is sure to leave guests with a vision of whats to come for the wedding day. This is the first impression your guests will have. It also allows them to understand how they should be dressed for the occasion.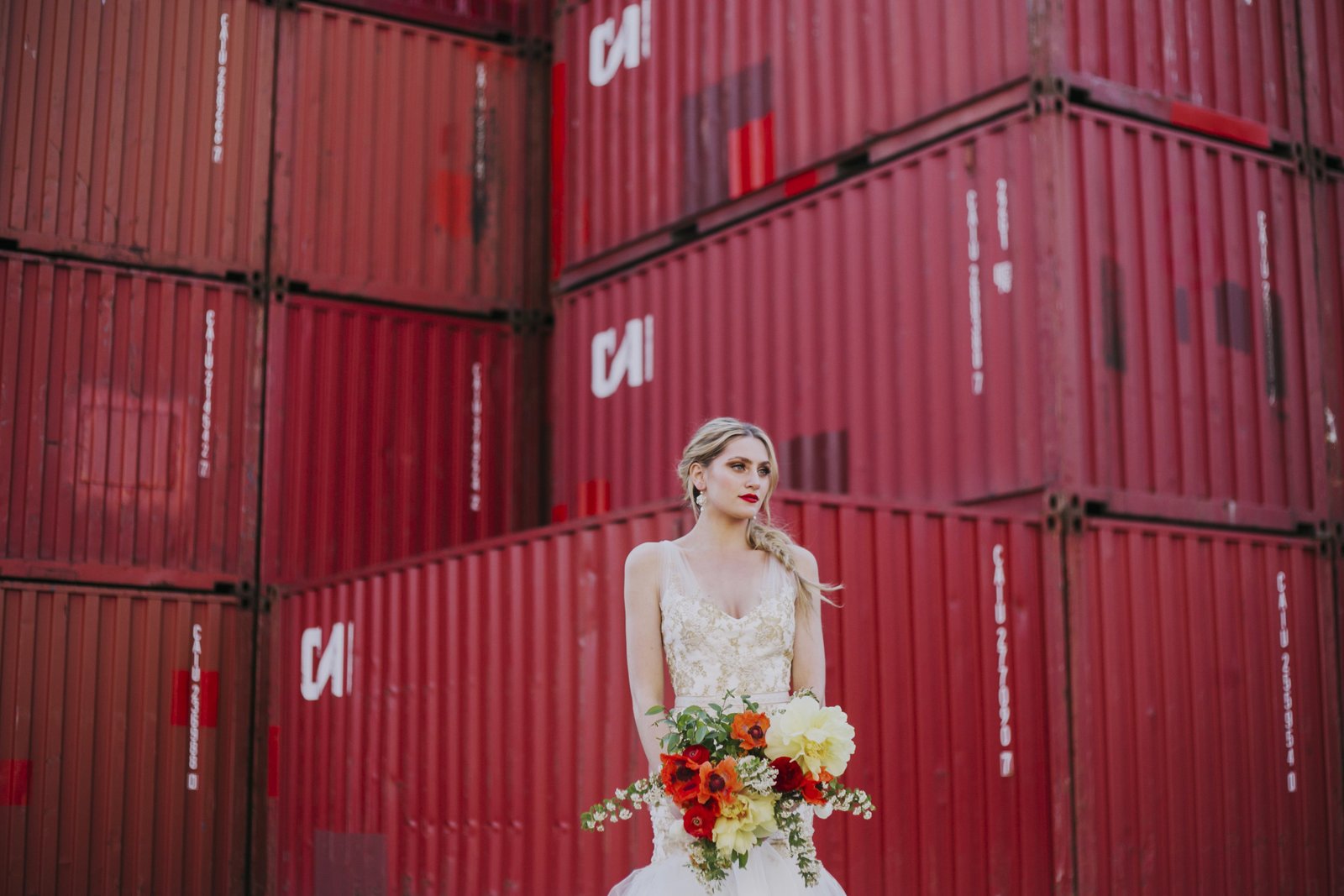 I encourage my readers to think outside the box when it comes to styling and planning your wedding day. You do not have to follow all of the "protocols" that you see everyone else doing each year. It is after-all, your wedding day! Outline your top 5 "must haves" and go from there. As small or large as the idea may become, remember that it is a celebration of your love. It should encapsulate who you are as a couple, as individuals and as dreamers in a future together. Don't plan your wedding around making everyone else happy. Friends and family should take pleasure in seeing you LOVE your celebration of LOVE!!!
All in all, this creative was certainly a labour of love for me. Shooting in an industrial storage container lot proved challenging but luckily I had an amazing team to make it a success. Thank you to Lauren, Susan, Marilyn, Soul, Gloria, all the vendors, models and volunteers who helped pull my vision together! We do what we do because we LOVE it!
This shoot has been featured on Bridal Musings. Click here for more: https://bridalmusings.com/2017/11/stylish-cool-colorful-shipping-container-styled-shoot/
xx- april
————————————-VVVVVVVVVVVVVVVVVVVVVVVVVVVVVVVVVVVVVVV————————————-
credits
photography, art direction + styling: April Maciborka, Olive Studio // flowers: Susan Findlay, Olive Studio // planning: Lauren Maciborka, Olive Studio // venue: Storstac // male model: Roland Dodoo from Lang Models // female model: Savannah Di Muccio // hair + makeup: Karima Sumar, Barone Beauty // cake: Yvonne Kim, Make it Sweet // wardrobe styling: Jennifer Choy, Judy Inc // suiting: Gian-Paolo Mazzotta // accessories: The Loved One // dresses: Lea-Ann Belter; Anais Anette // stationery: Jill, The Paper Foundry Co