---
Romantic Boho Lakeside Wedding Inspiration
January 26, 2018
Who doesn't dream of a lakeside wedding in Ontario? Most city dwellers fantasize about bringing their guests out of the city for a weekend celebration by the lake. And what a great idea it is! Especially for those who don't happen to be the proud owners of an Ontario cottage!
It just so happens that there are more venues available than you think! The Stephen Leacock Museum in Orillia, is set on a gorgeous point on Couchiching Lake. The two-storey house, once a summer home for humorist Stephen Leacock, features whitewashed walls, and a pillared verandah from which the lake may be viewed. The site includes reconstructed arbours, a boathouse, and a visitor's centre on almost 4 hectares of land.
The setting is peaceful and lush, surrounded by long grass, trees and copious amounts of flower gardens. The scene is already stunning so it was easy to up the ante and make an ethereal lakeside wedding inspiration to share with you today.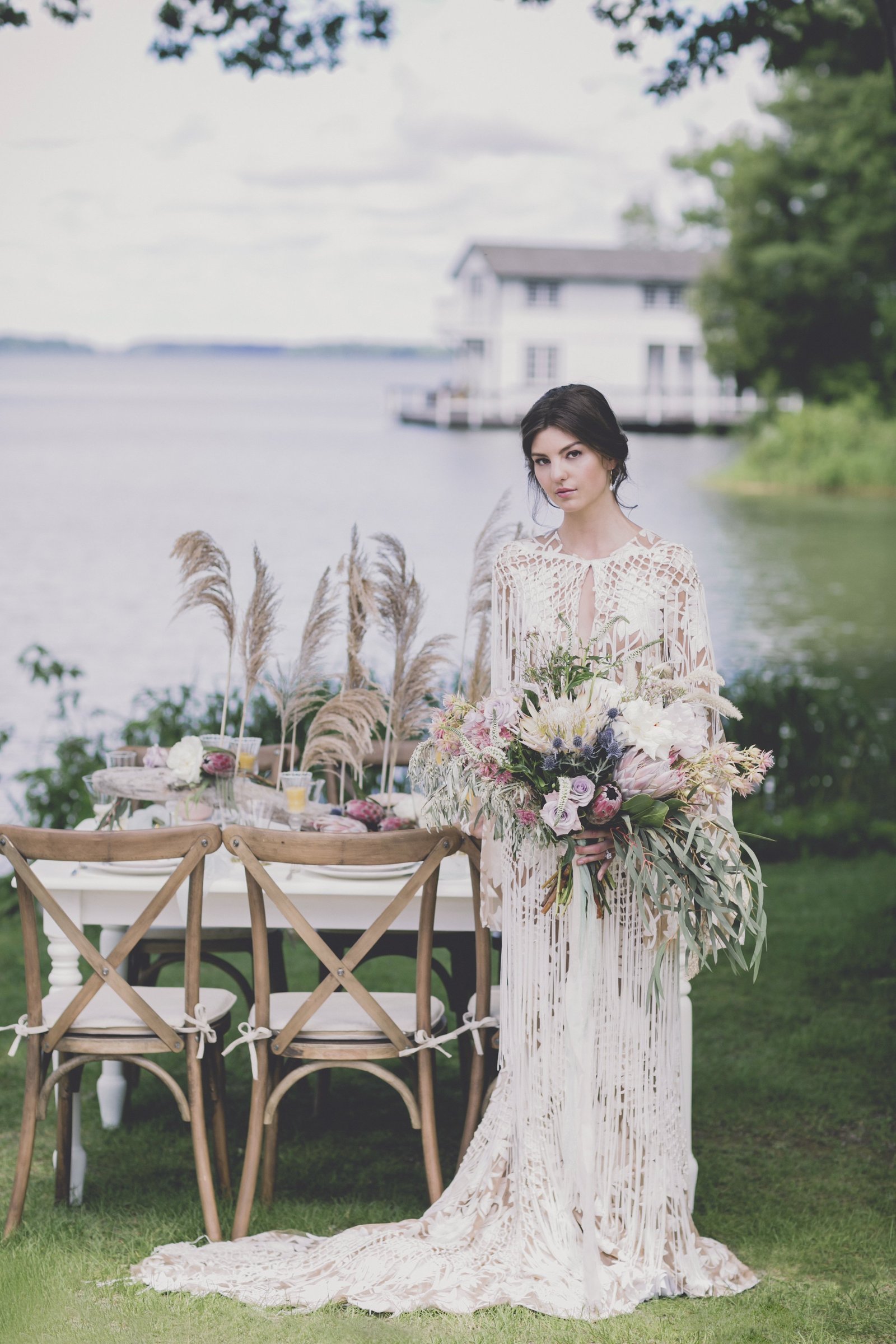 Soft muted colour tones seemed to be choice for a cottage style wedding by the lake. I wanted it to be soft and whimsical, boho and pastel with wheat coloured grasses and driftwood as my initial inspiration. When I think of trips to the cottage I think of laying on the dock and watching the wispy grass blow in the breeze.
Rue Deseine's, "Dakota" fringe and lace dress looks like it was made for our inspiration shoot! Loversland, from Toronto has a sumptuous selection of perfectly bohemian dresses to choose from. Their one of a kind selection helps off-the-beaten path brides choose a dress uniquely suited to them. Not to mention, it also hosts an amazing selection of lingerie, bathing-suits and accessories!
I scavenged all of Lake Ontario for some great driftwood pieces which was a feat! Once I found a piece long enough for my table, I drilled holes into the top of the log. I then scavenged all of Ajax for the best pieces of wheat coloured long field grass. Inserting the grass in the driftwood produced a very whimsical feeling which would be the centerpiece for my table.
I wanted to use unique, tropical style flowers which would contrast what you might expect to see at the cottage. King Proteas are one of my favourite flowers, originally grown in South Africa. For that reason, they are very expensive, but I find that you can set a tone with only a few. The smaller proteas are much cheaper and can be used to continue the design without breaking the look or the bank! I also added some violet garden roses and olive leaf to keep the tones pastel and soft.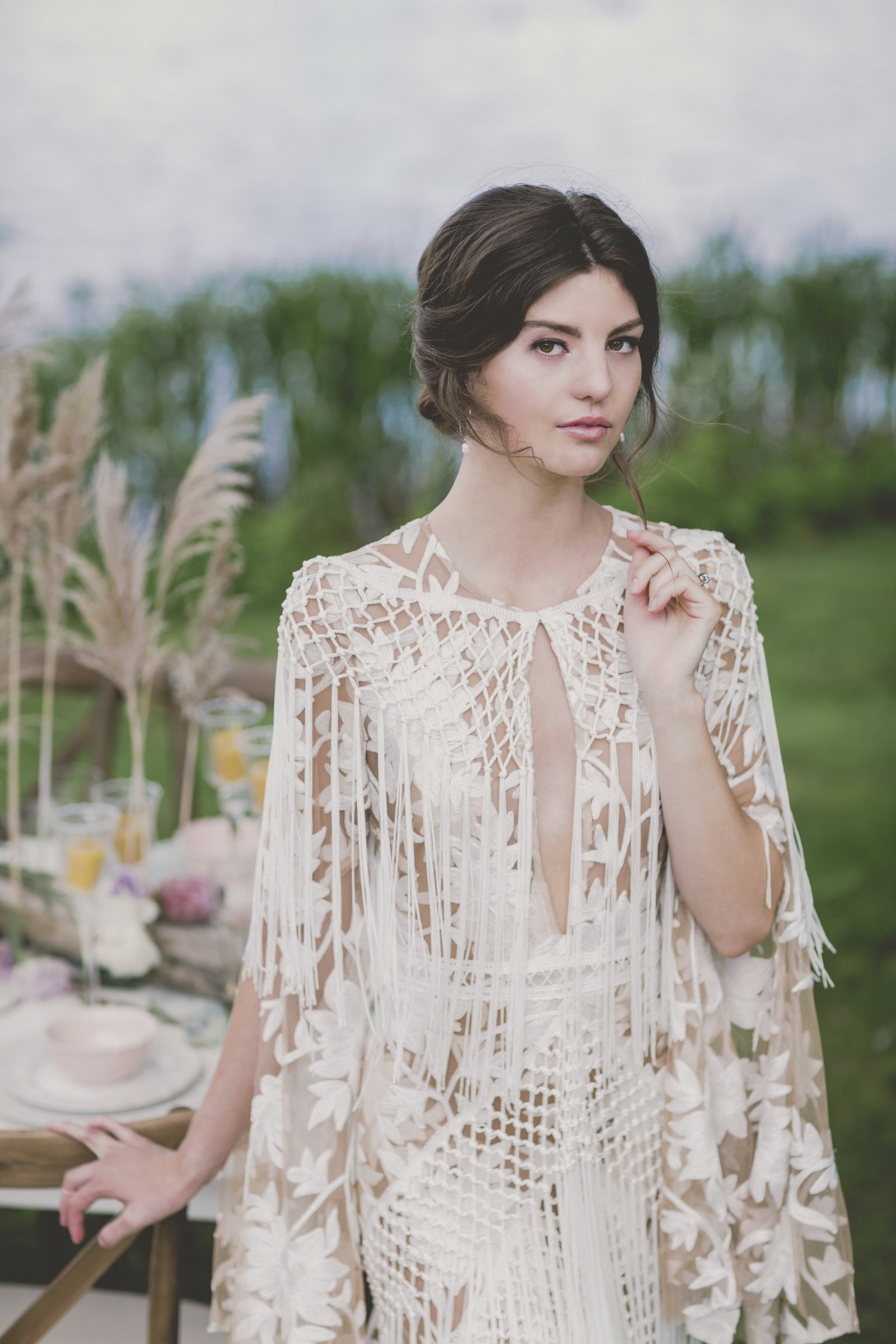 This feature bouquet was insanely heavy but also awesome!!! I used 2 King Protea's as the focal point and loosely arranged with greens and more of the wheat grass. I darted in some soft pastel roses and some garden peonies too.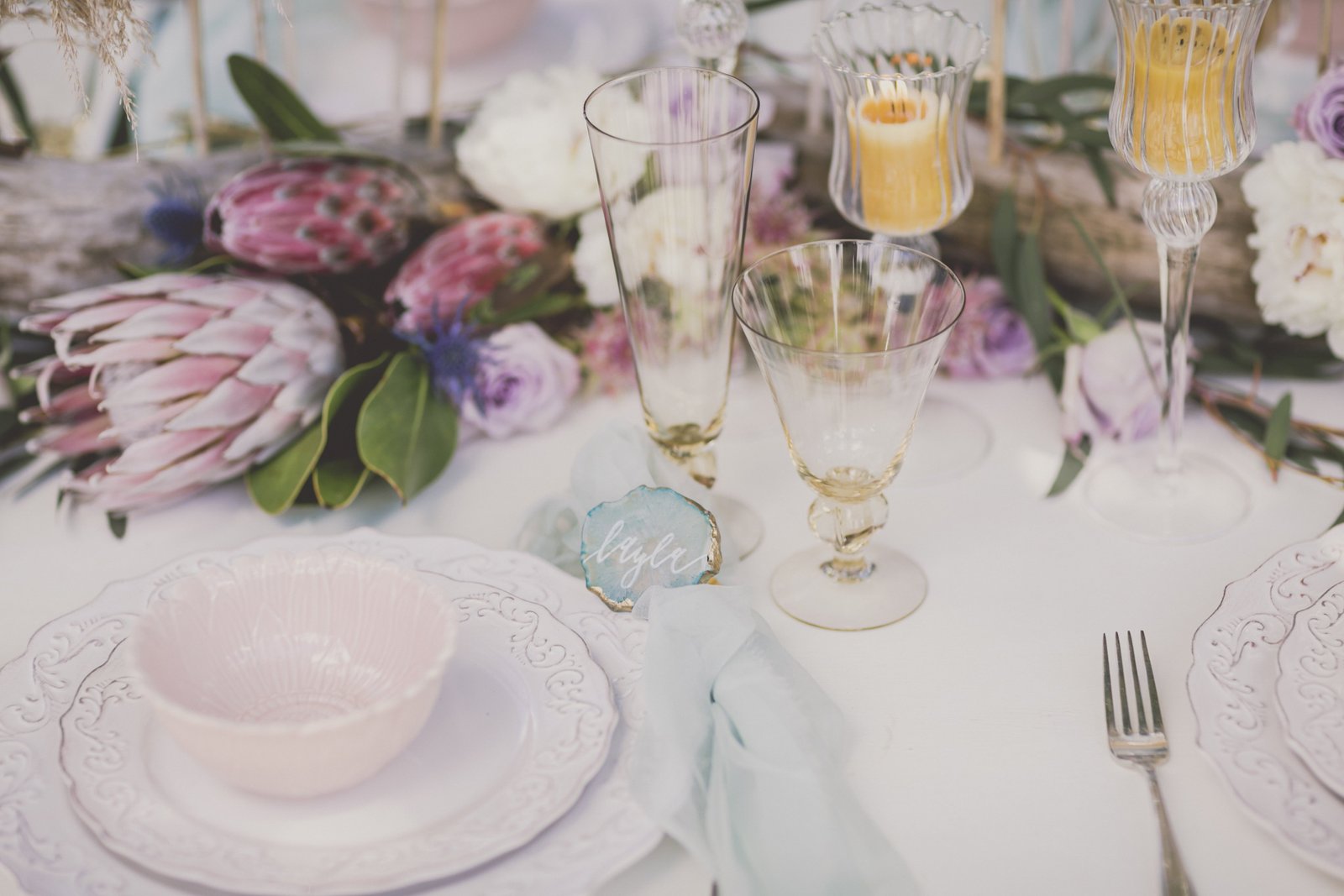 The place-settings were simple and pastel with detail rimmed white plates and a pastel pink bowl. The yellow glasses are a vintage glass collection that we offer for rent at Olive Studio, along with the antique silver cutlery.
Seafoam green silk napkins were hand torn by me to add a cool tone to the otherwise pink and white colour scheme. I try to avoid being too matchy matchy with my colours. The beautiful blue geode napkin holders seem like they were made for the napkins and Velsie, from Grey dove Calligraphy gave them their final touch! She hand wrote names in her gorgeous calligraphy.
Finally, to continue with the pops of yellow and wheat, I added natural beeswax candles in the stunning glass candleholders, also for rent at Olive Studio.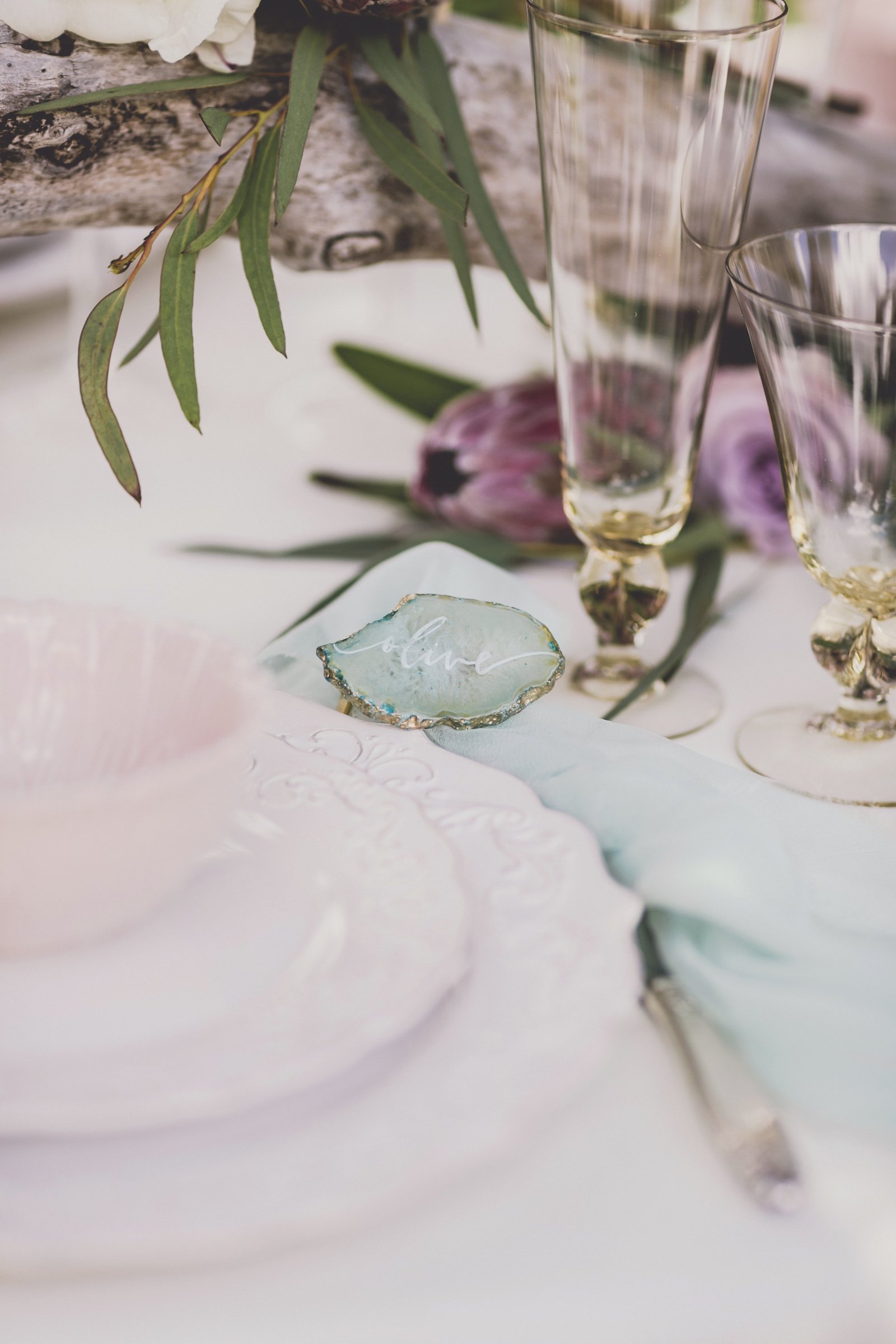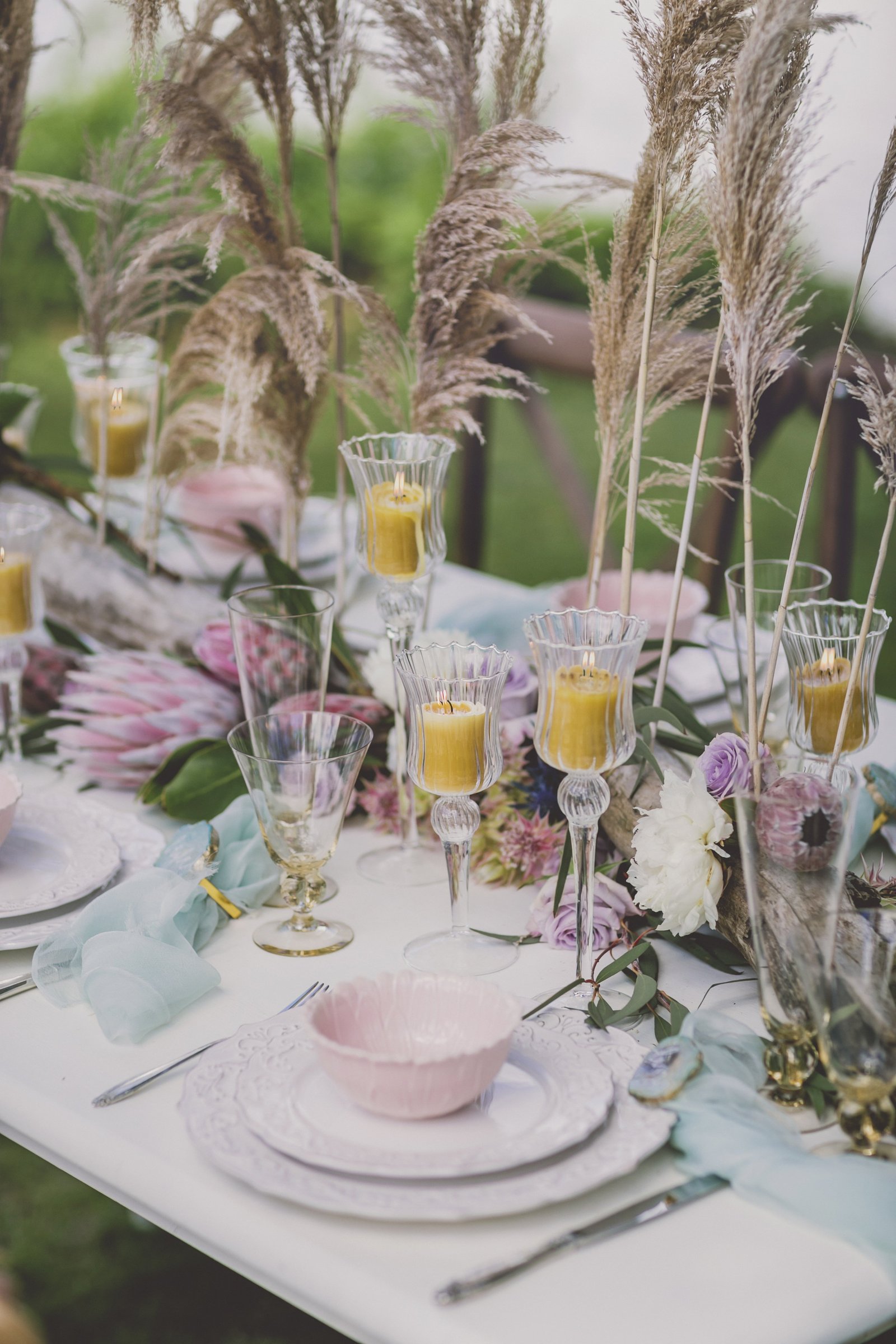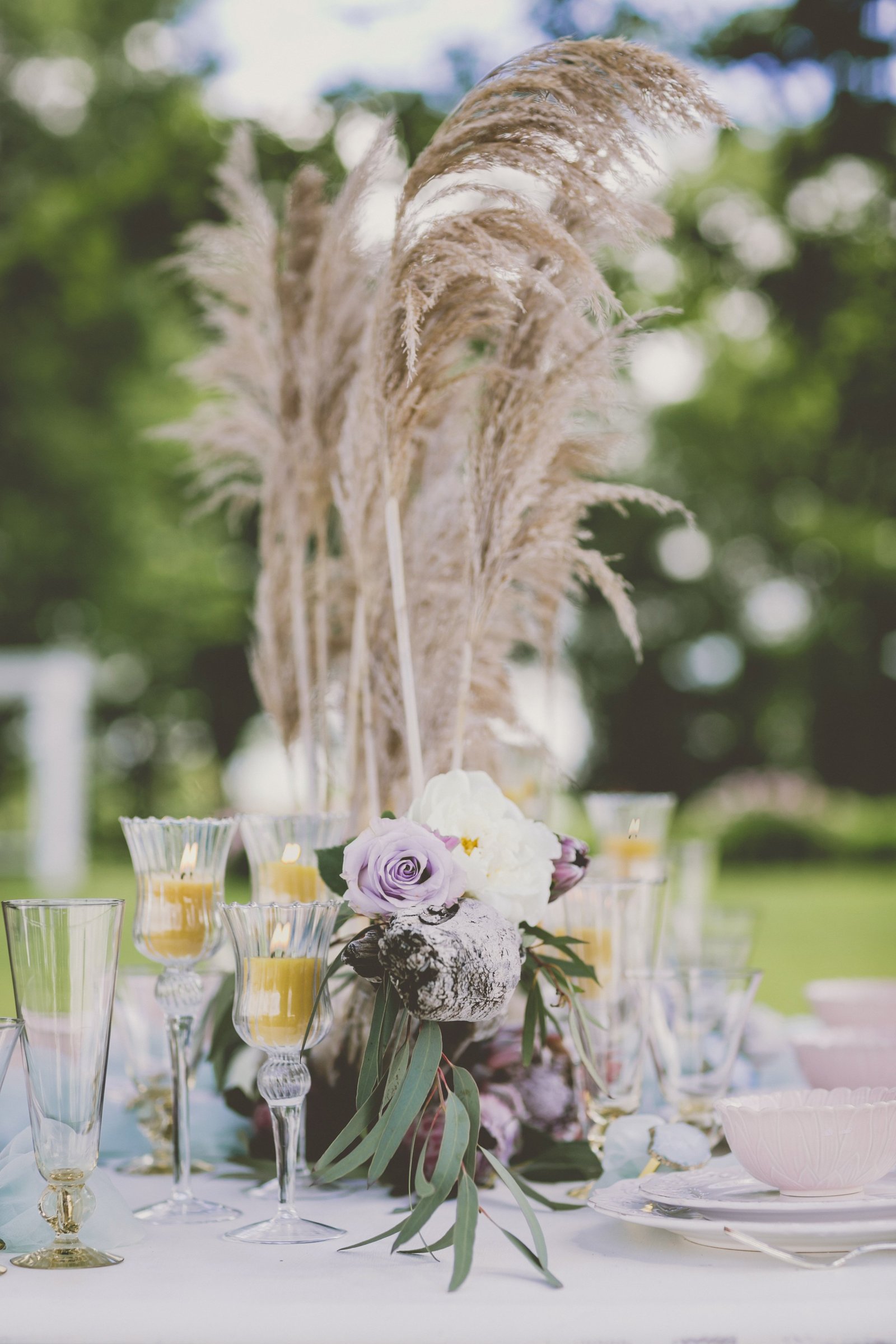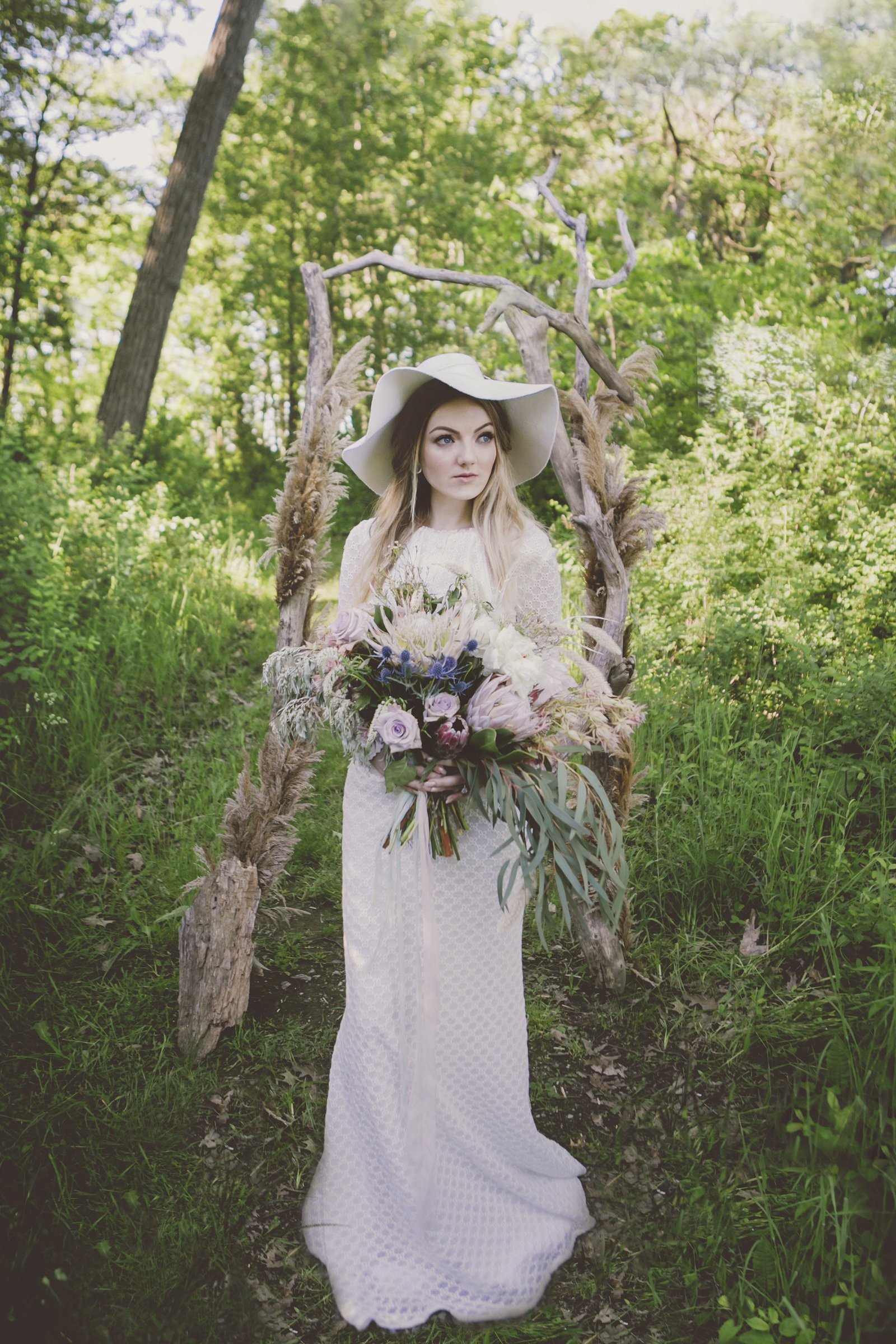 The hand made ceremony altar is made out of driftwood and grass. It is super simple to make and effectively dramatic. I found interesting pieces of wood that flowed in the shape that I wanted. I envisioned either an A-Frame or arch. I dug holes in the ground and buried the base of the two logs and then connected a light top piece as the arch. I then stapled the grasses in the pattern I wanted up the logs and finished the base with more driftwood pieces. Voila! A free and easy way to make a statement ceremony altar!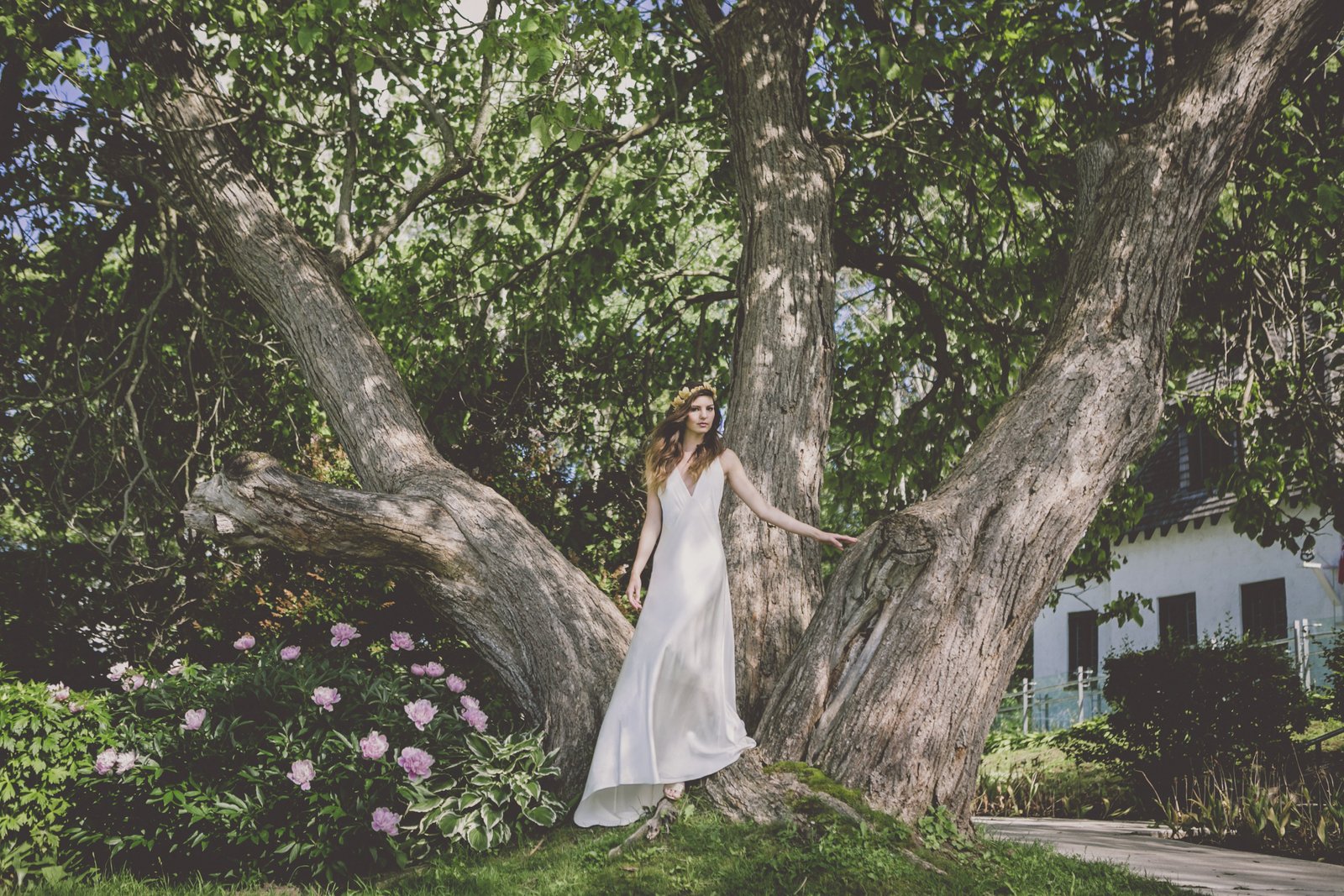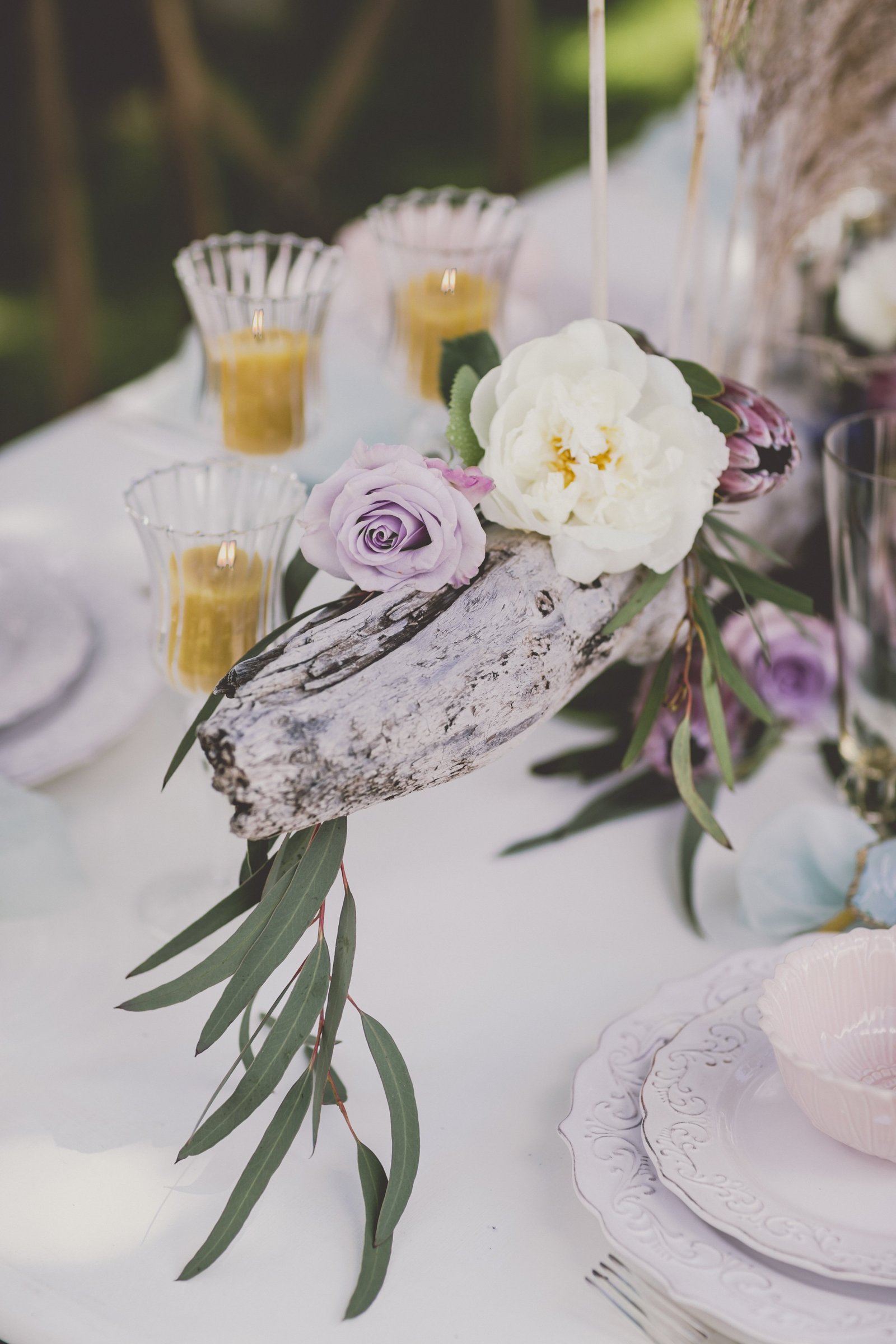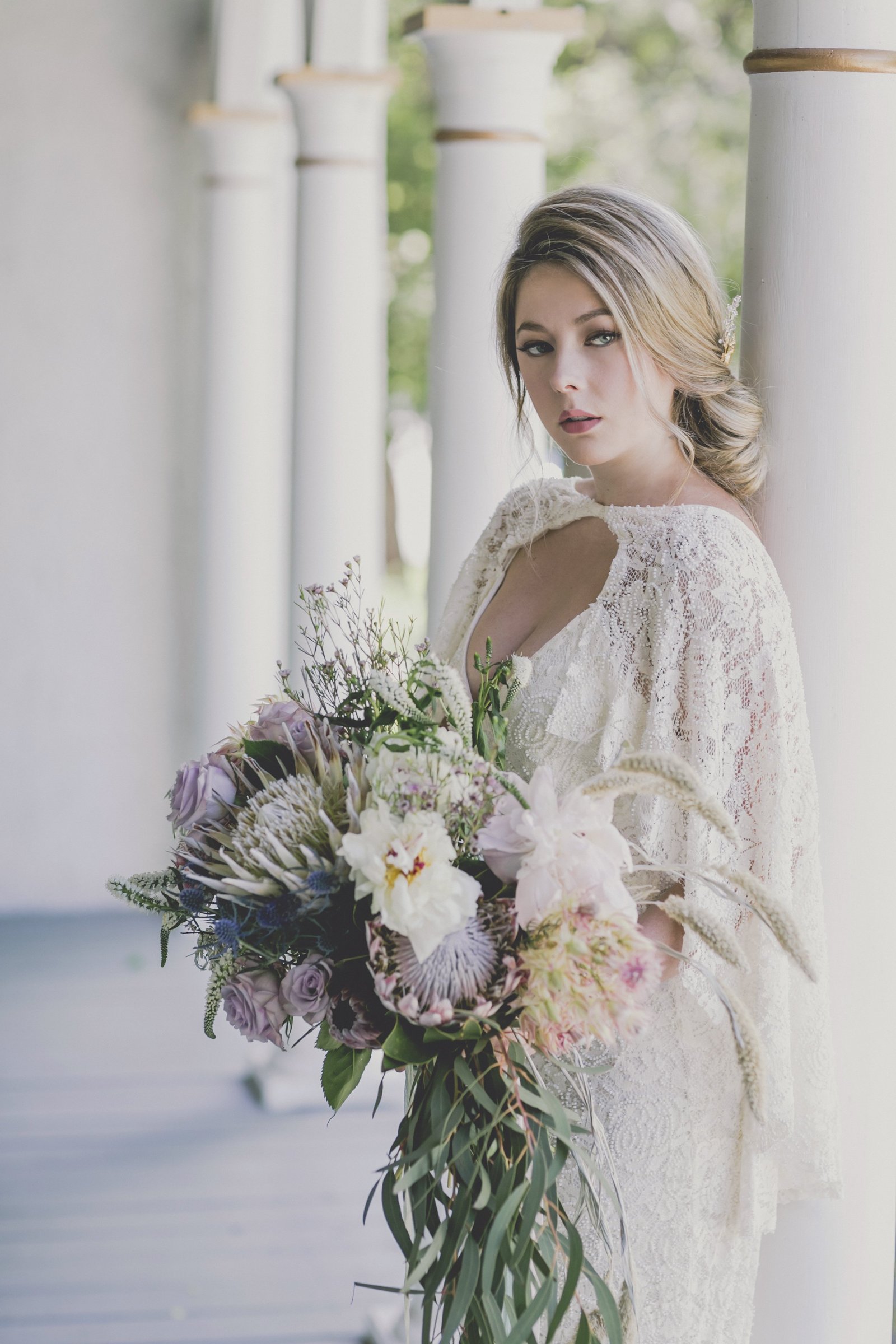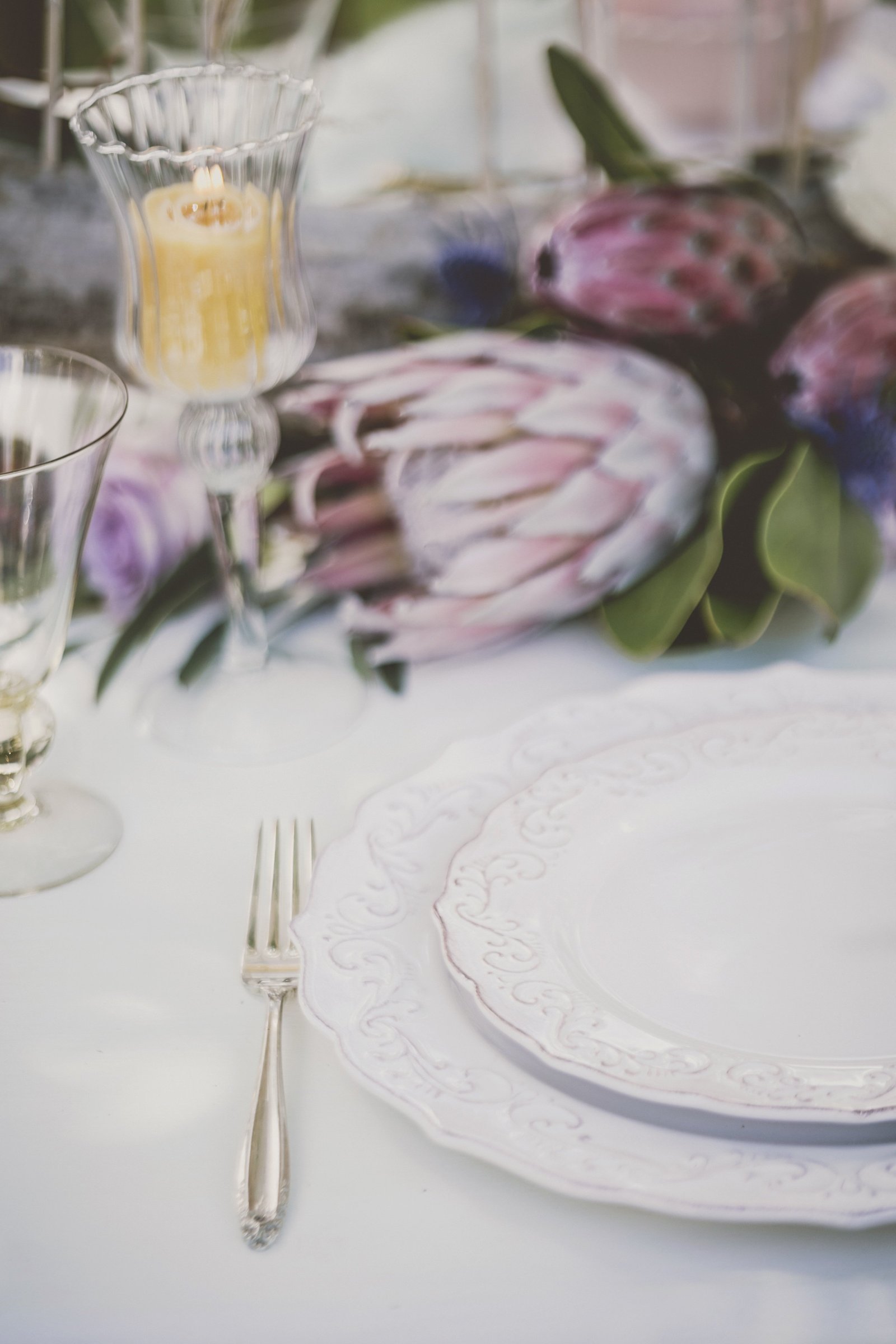 We had an amazing beauty team to help pull our look together. Countryside weddings are meant for laid-back couples. I wanted our inspiration to be simple, boho and natural.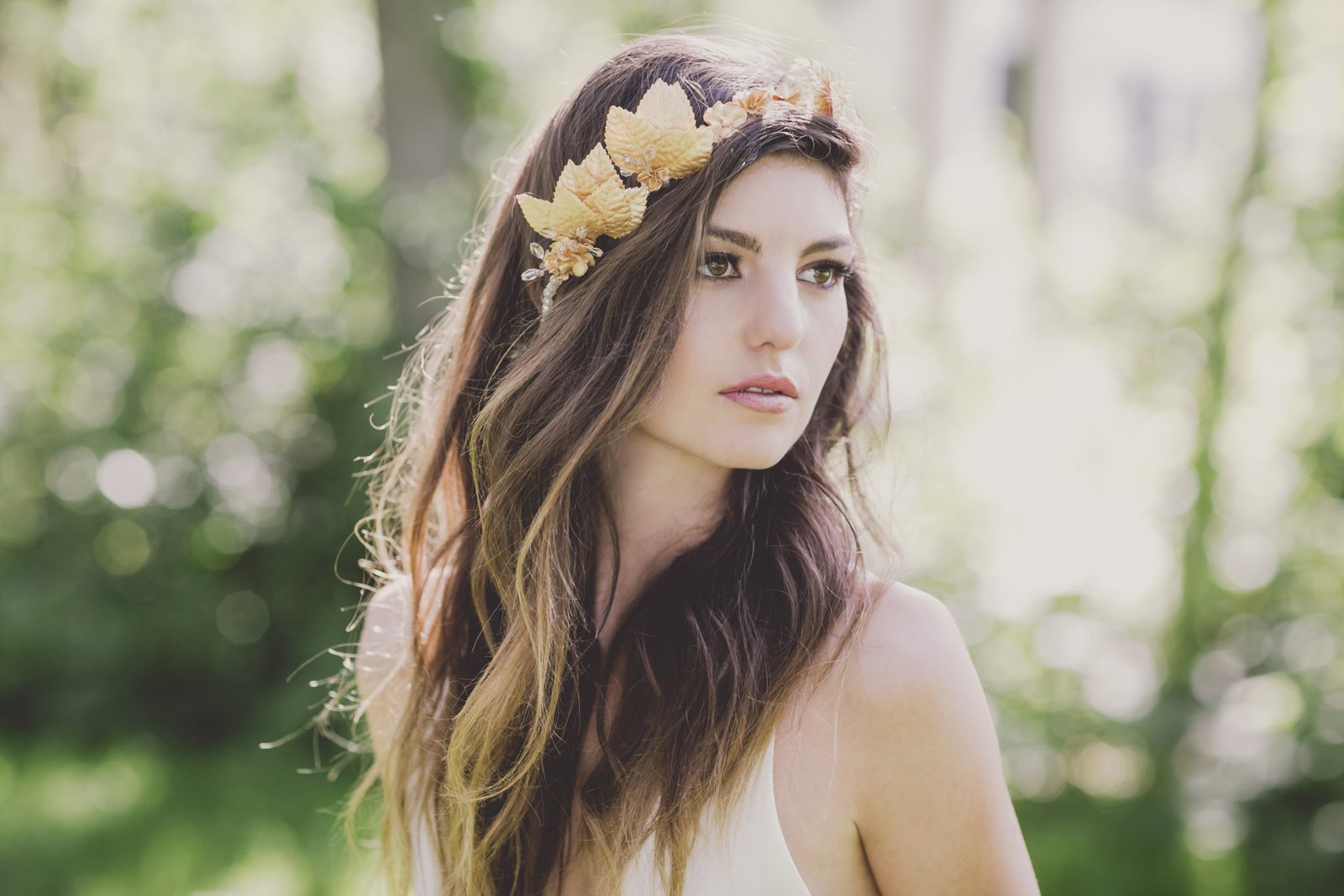 Sometimes brides forget where their wedding is and choose the first dress they fall in love with without considering where they have to walk in it. It amazes me when a bride has a dress that is just too BIG for her! It is one thing when you are inside against all the natural elements of the organic world…but when you are outdoors, in the summer heat, with humidity, dirt, grass, wind, water and bugs, it is a different story!!!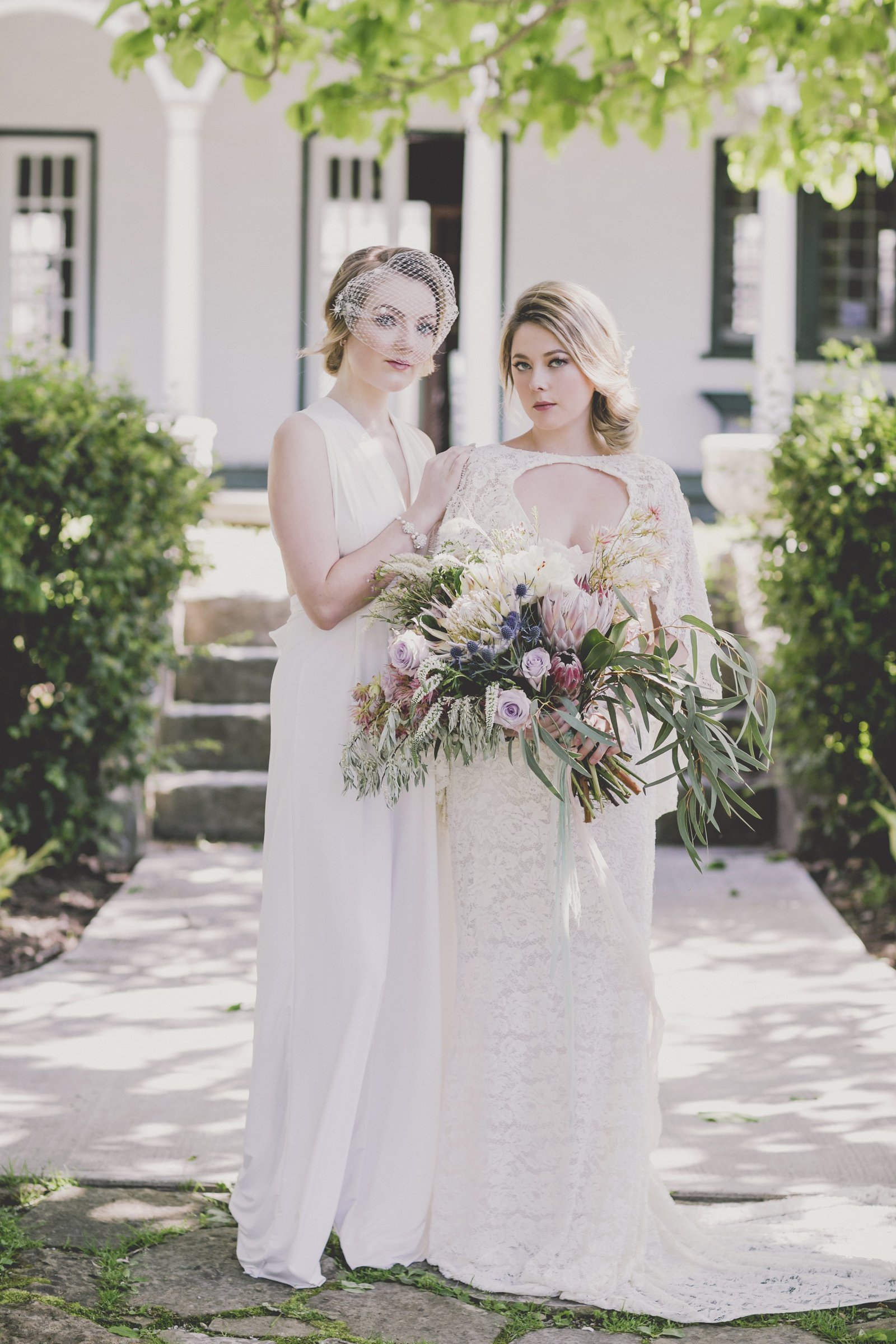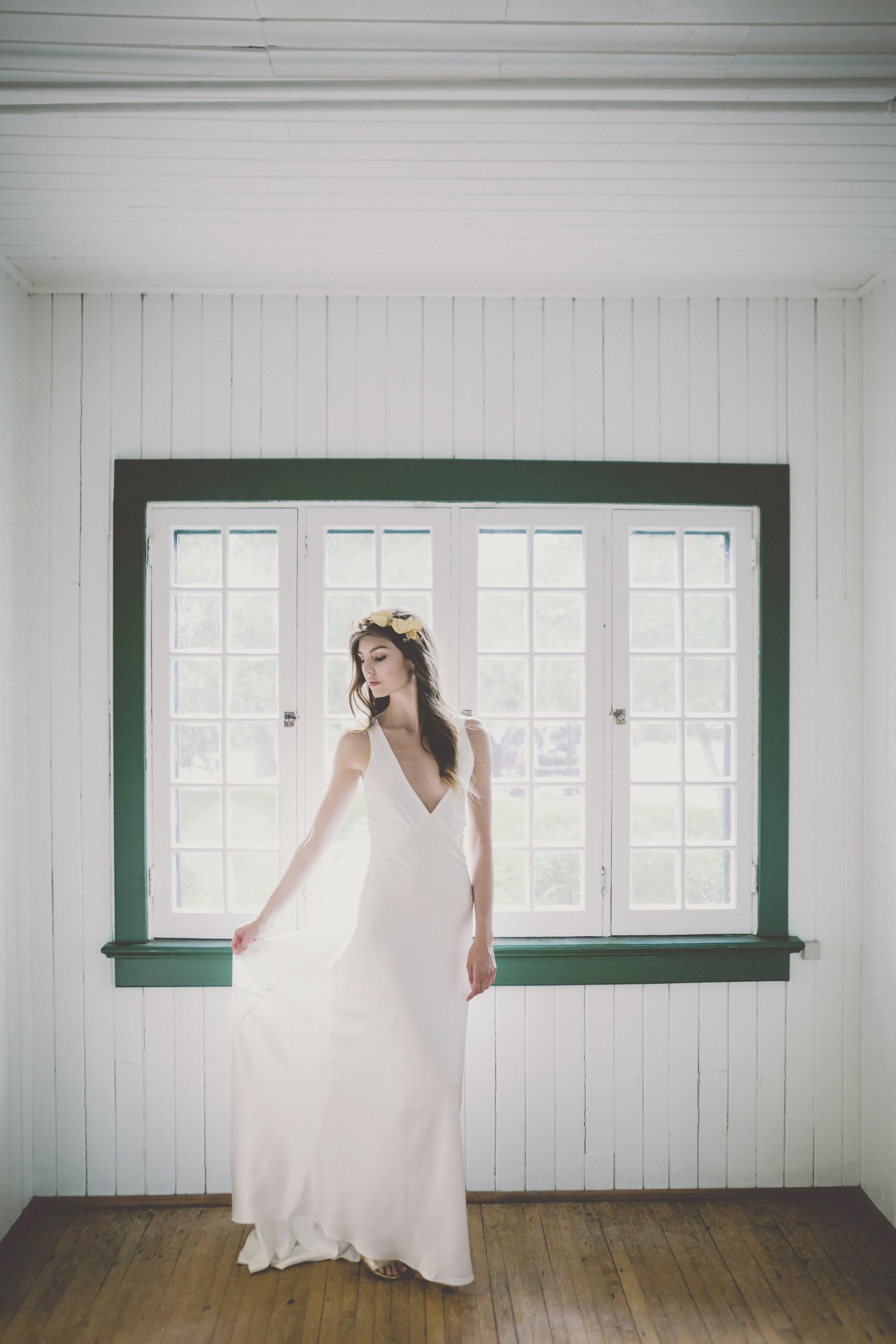 Dress to impress but don't forget that comfort can seriously make or break your day! You shouldn't be wasting time having fun because you are freaking out that there are a million bugs in your dress layers, or your veil is so long that the wind catches it and blows it into the lake. Or the worst is that you can't walk in your heels down the aisle because you sink too deeply in the grass. Ladies……don't forget the days of your young 20's when you would go out dancing and didn't dance to your favourite tunes because your outfit wouldn't let you move!!!! Learn from our mistakes!!!! lol 🙂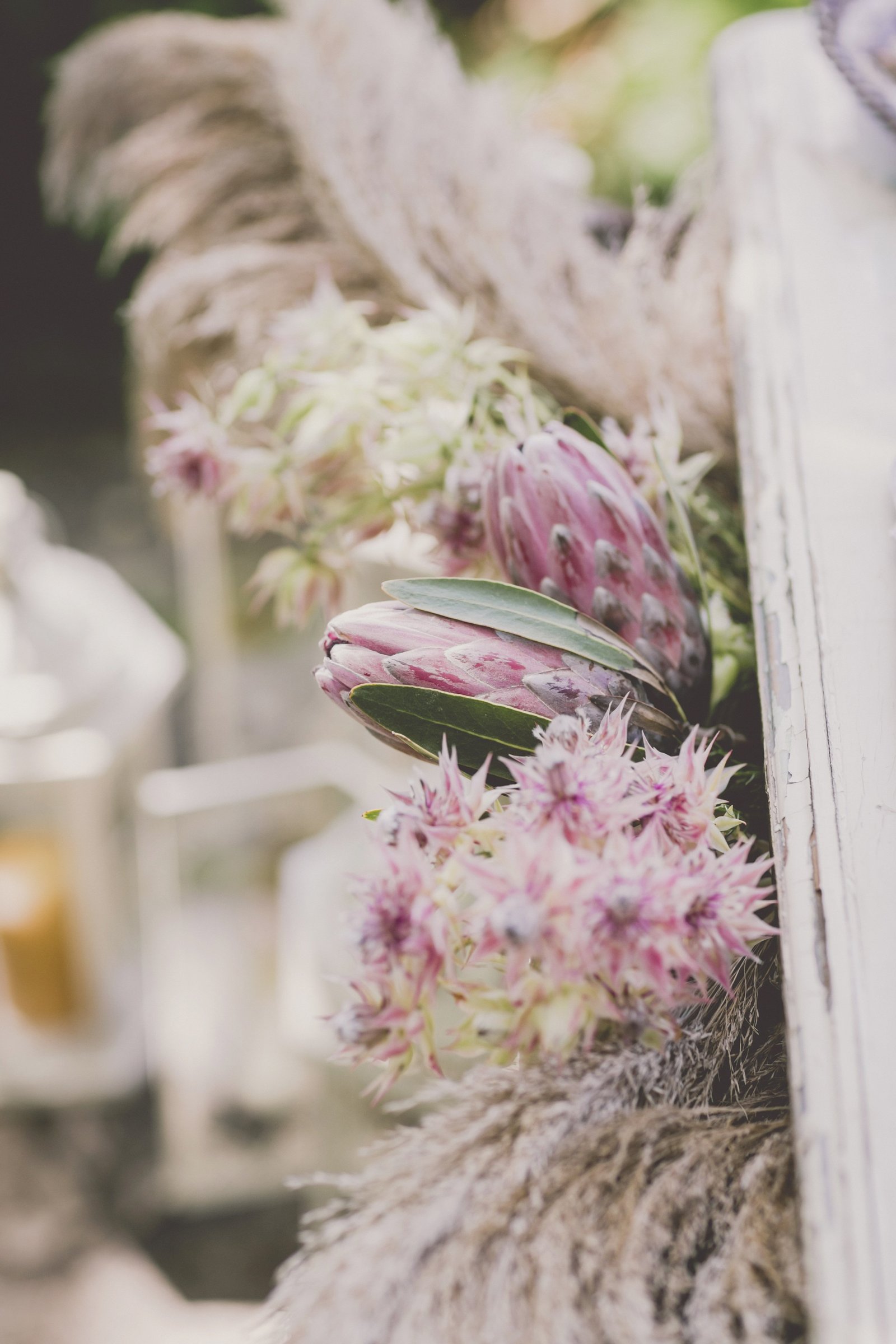 Think more in terms of finding a dress or jumpsuit that lets you look and feel beautiful and more importantly lets you sit, dance and even sweat a bit without being visible. Do a test when you try on your dress and don't feel shy to wear it around in the store for a while. It is a big purchase for a big day where you have a lot of expectations!
This jumpsuit by Twobirds is a modern and bold option for fashion forward brides who do not want the fuss of a dress. It is becoming more and more popular and certainly suited for a relaxed outdoor wedding.
Lauren, our planner from Olive Studio is also a very talented woman who bakes, designs and brands! She designed this watercolour cake in a bright and pastel blue. Again, in small bursts, it is nice to see pops of blue amoungst this pastel pink and purple colour scheme. It looks fab against the garden backdrop too!
Olive Studio's ample collection of antique silver trays, dishes, birds and vessels finish off the ethereal vintage lakeside look. I LOVE silver with pink and purple and to be honest its a refresher from all this gold and copper I have been seeing everywhere lately.
The antique glass candleholder adds the final WOW factor and the pop of natural beeswax tapered candles continue from the tablescape.
Instead of labeling the desserts we displayed a mirror with a quote about love. Sometimes desserts should just be eaten rather than assessed!
Of course, why not pop open the drawer from your antique nightstand table and decorate it with flowers or more food!
We used tons of white lanterns from Susan's collection around the dessert table floor. Candles always add to the romance factor!!! For me – you can never have too many!!!! EVER!!!!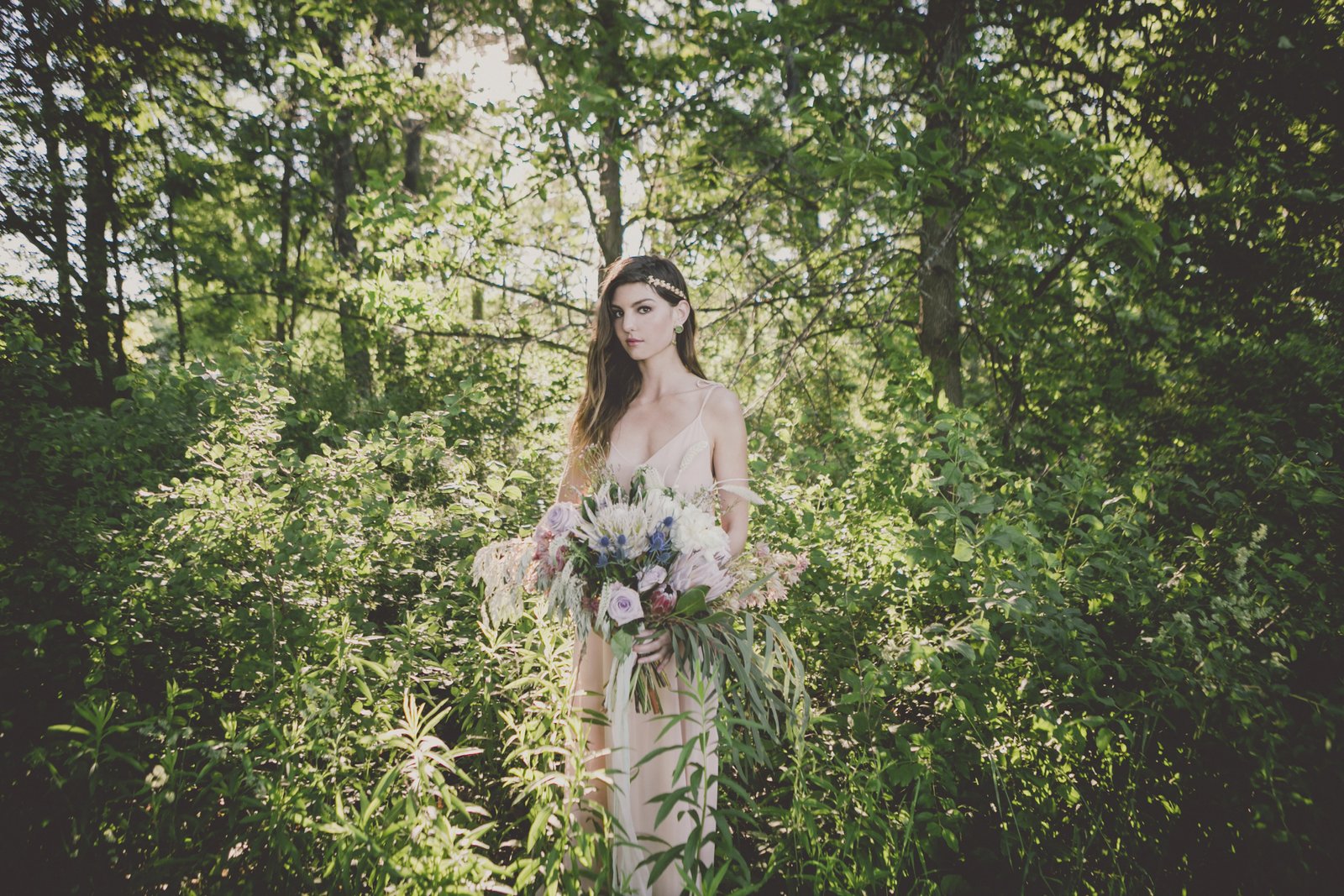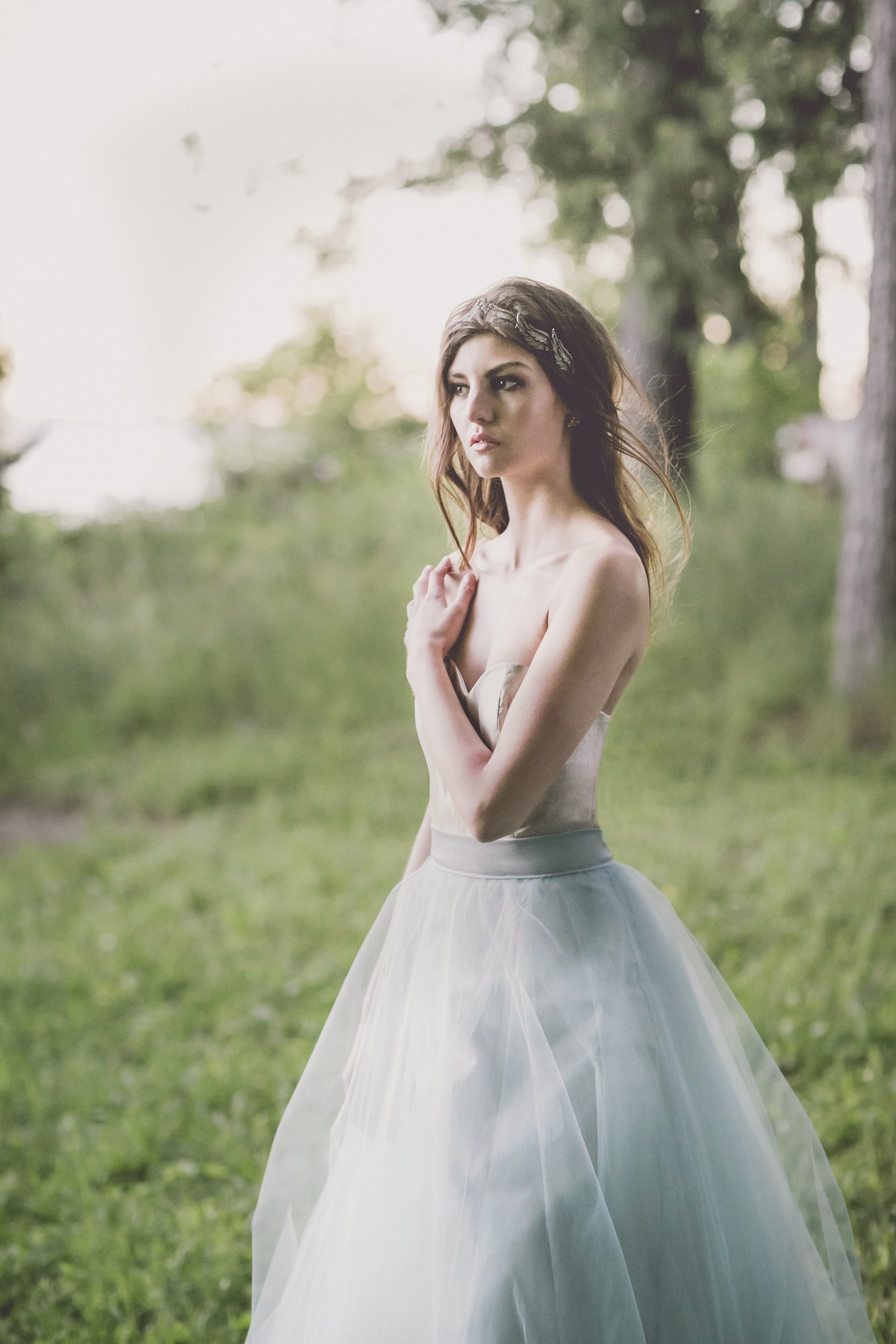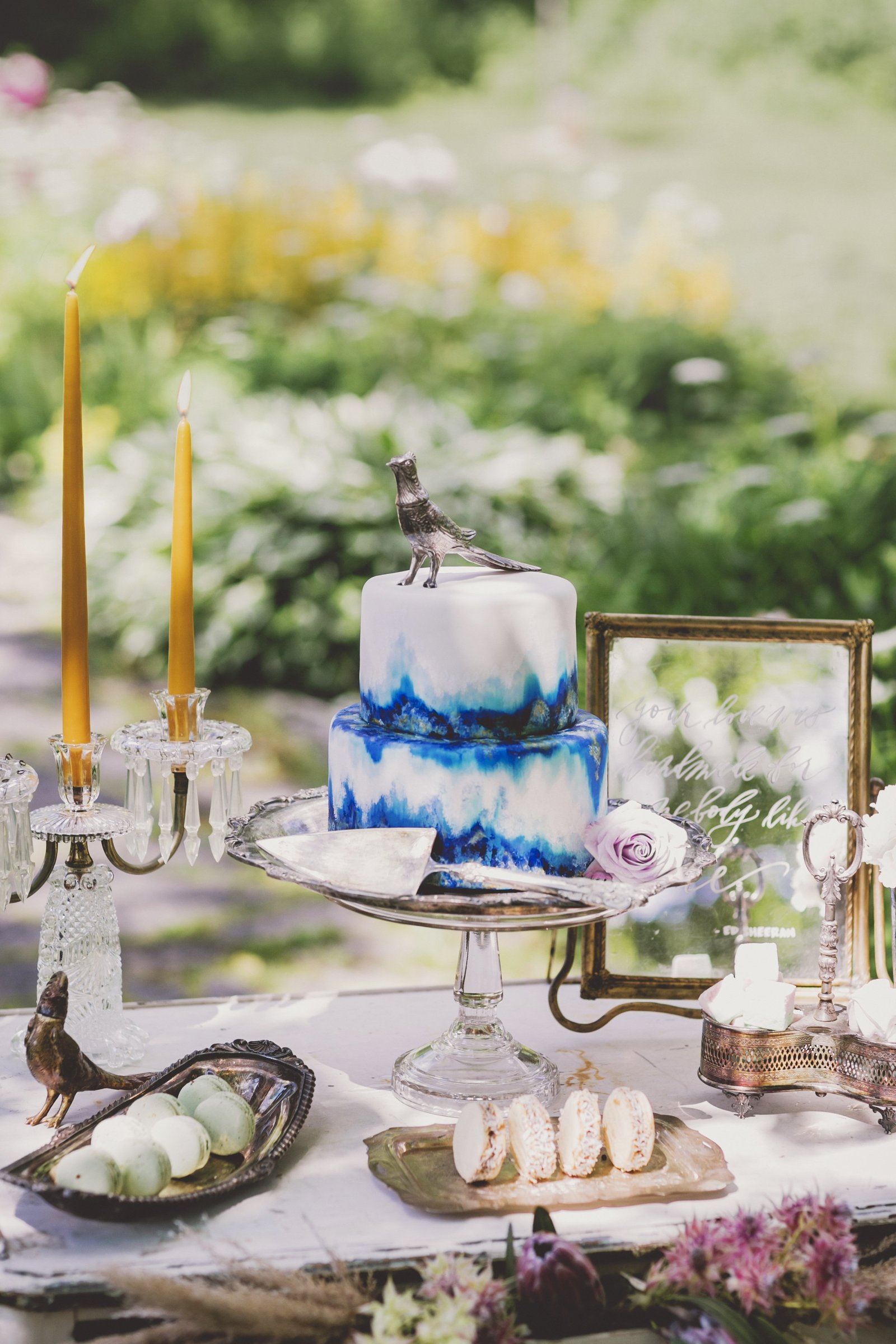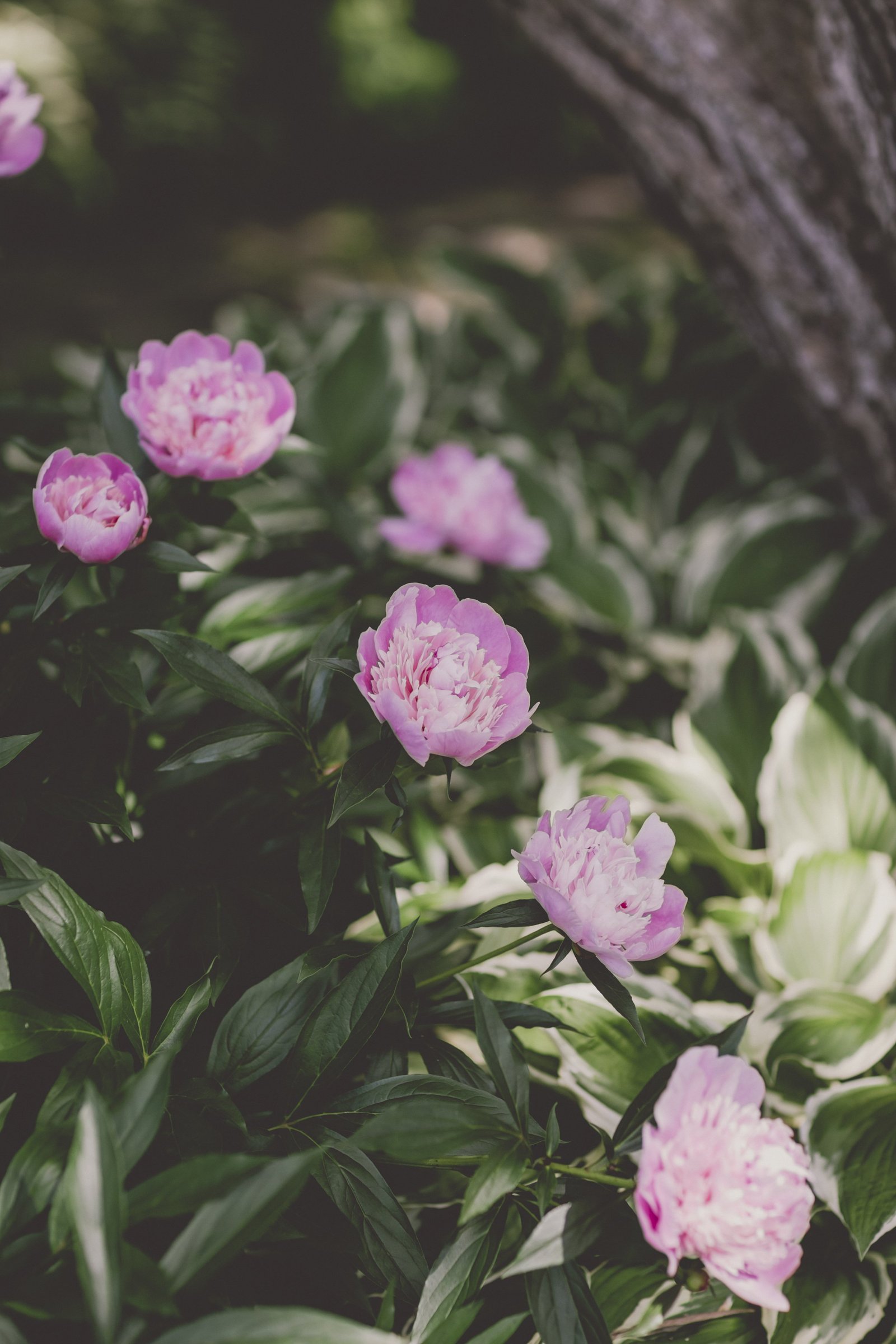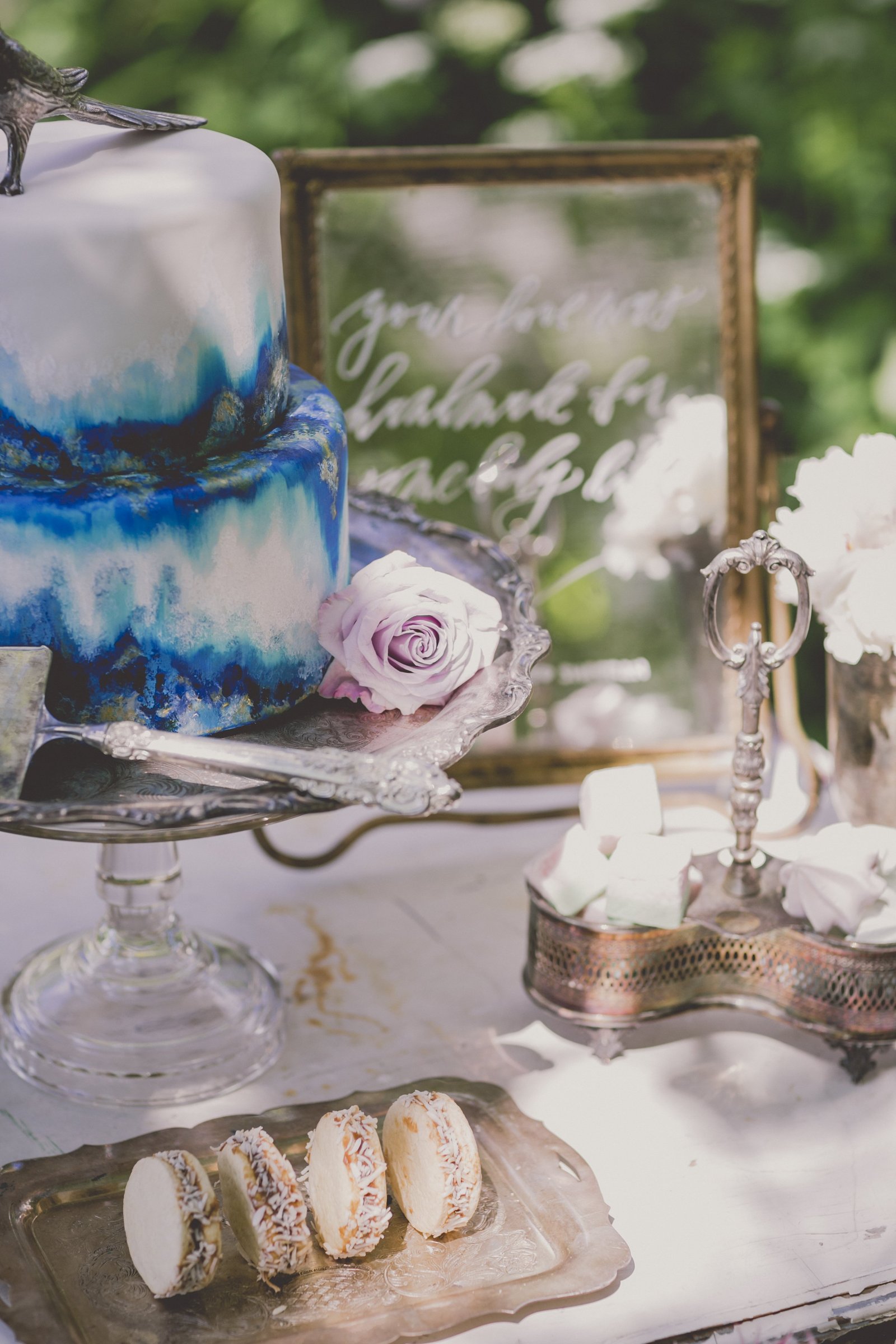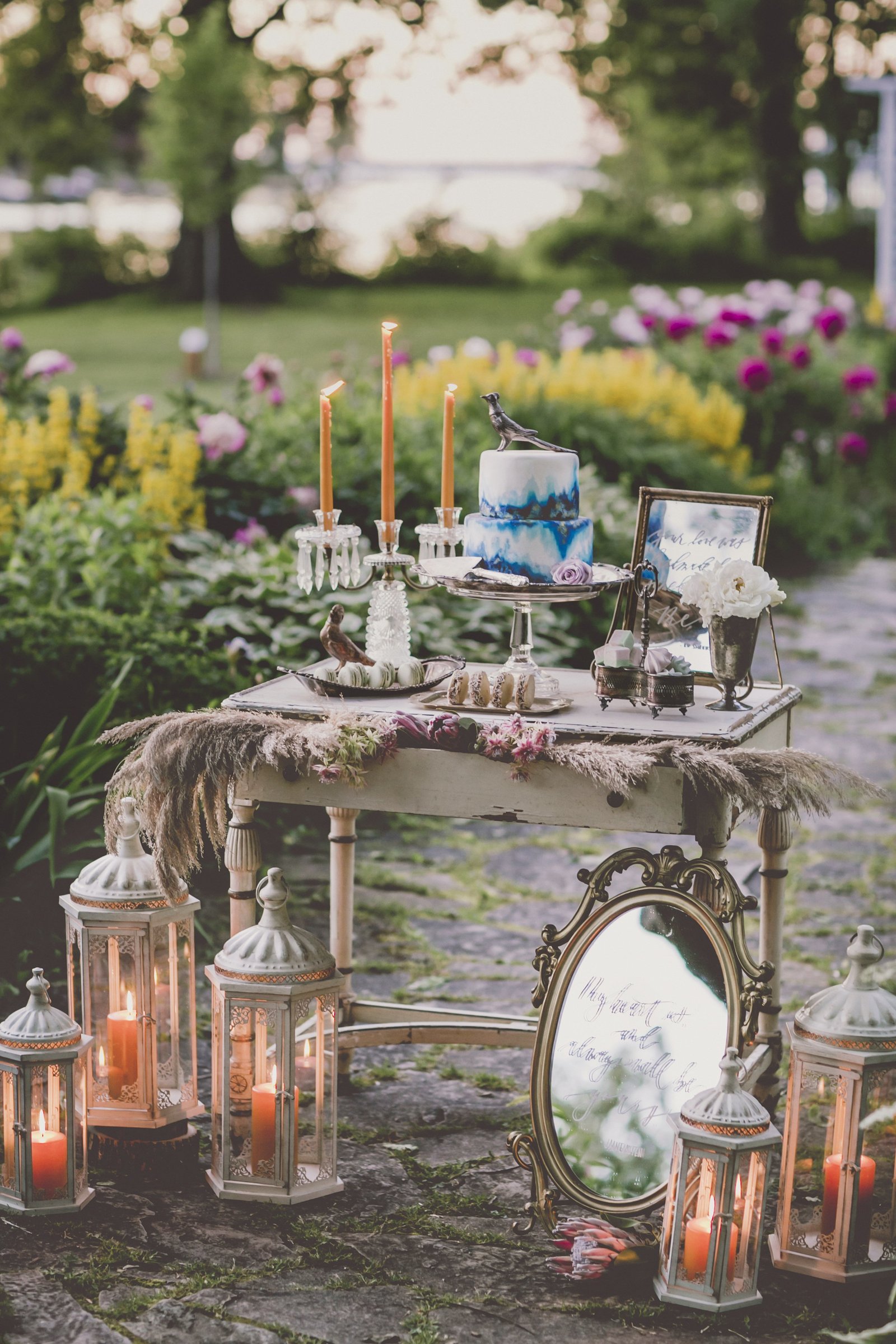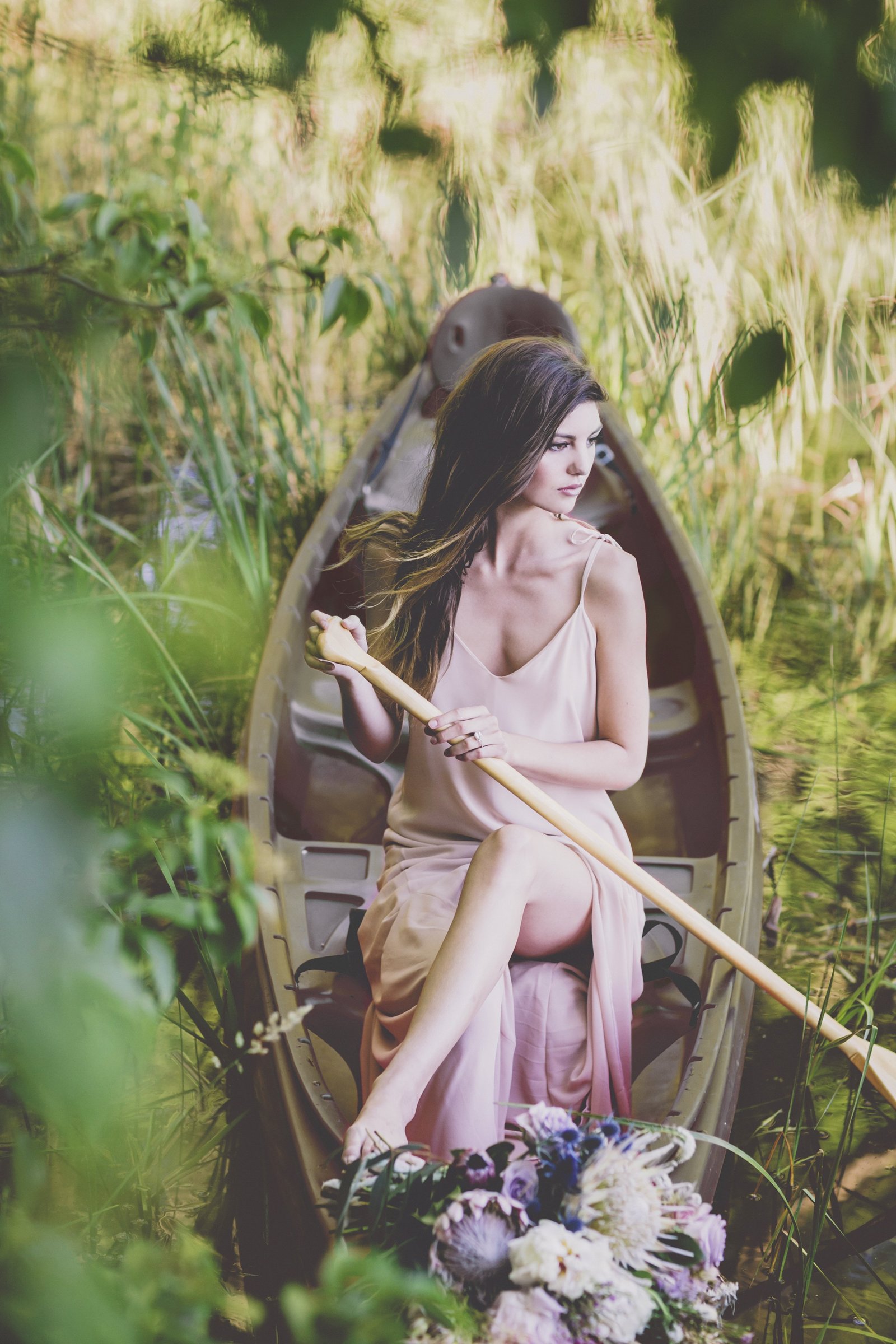 This pink silk slip dress by Catalfo is stunning on our model Christen! It is certainly not a dress that suits every body type – but for those who can pull it off – it is a bold and understated statement that we love! It certainly is easy to wear, light and no fuss!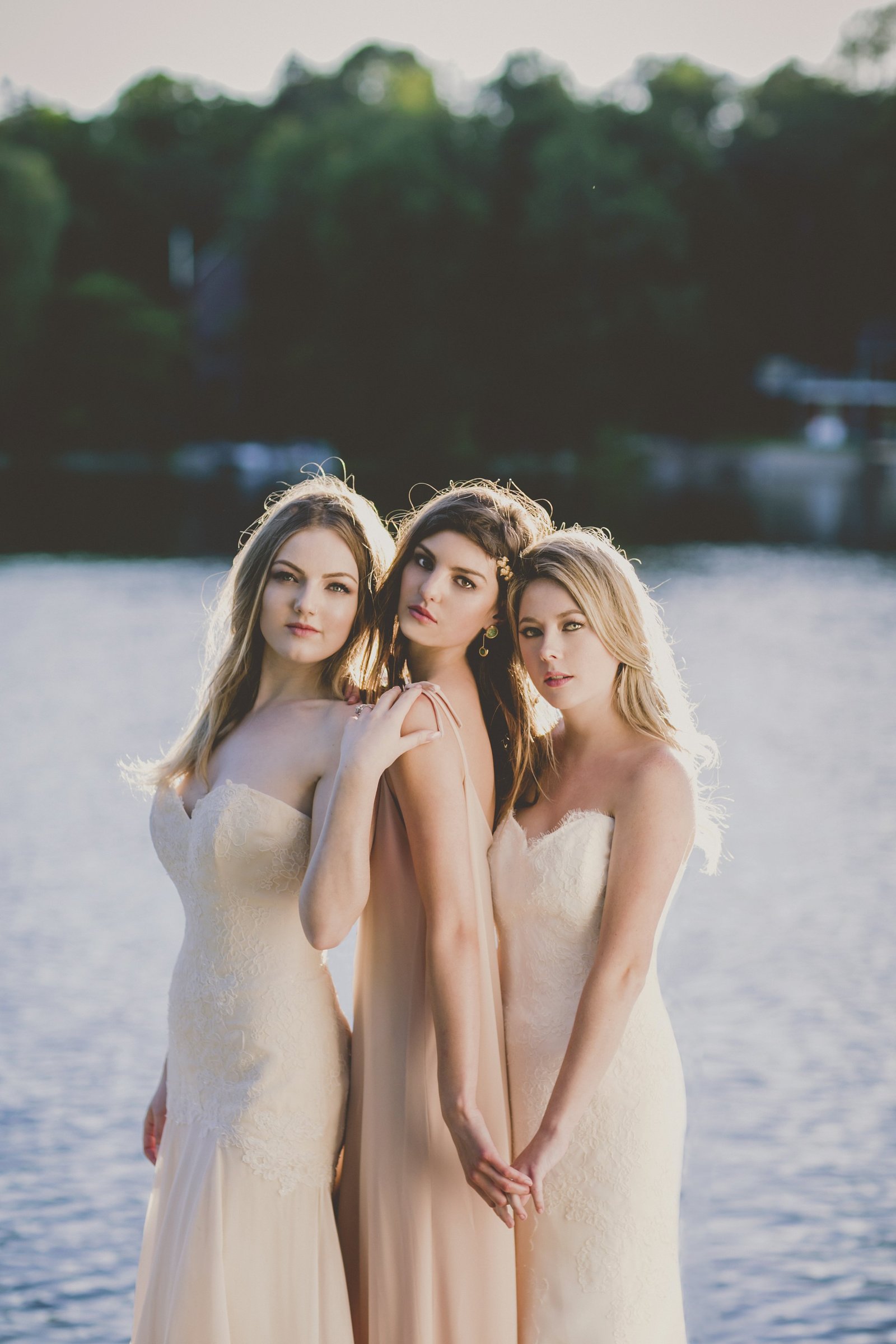 A Northern Canadian wedding experience can be a ton of fun and become as little or less of what you make it! Lakeside beauty is already a given, so you can style it to the nines or leave it naturally beautiful. Whatever you choose, know that there are plenty more venues than you know out there. We can certainly help you find the one perfect for you and your celebration! Moving a little bit out of the city can give you more wiggle room in the budget, and more time with family and friends. Consider it like a destination wedding – only wayyyy closer to home!
xx – april
This wedding inspiration was also featured on Ruffled blog: https://ruffledblog.com/lakeside-wedding-inspiration/
————————————-VVVVVVVVVVVVVVVVVVVVVVVVVVVVVVVVVVVVVVV————————————-
credits
Art Direction, Styling, Flowers driftwood installation, Custom Archway, Photography: April Maciborka, Olive Studio // Wedding Planning: Lauren Maciborka + Marilyn Pacheco, Olive Studio // Props: Olive Studio // Models: Christen, Icon Models; Maeve Clougherty, Melanie Schawill // Wardrobe: Caprice Conners // Calligraphy: Velsie Mak, Grey Dove Calligraphy // Makeup: Marlene Rosamund // Hair: Justin Ming, Puzzle Creations // Venue: Stephen Leacock Museum in Orillia, Ontario // Cake: Lauren Maciborka, Sweets + Lo // Chairs: Higgins Event Rentals // Macarons: Nadege Patisserie // Dresses provided by Loversland: "Dakota" Gown by Rue De Seine Bridal; "Comet" Gown by Rue De Seine Bridal; Bridesmaid Jumpsuit in White by Twobirds; "Simone" Gown by A La Robe; Crochet Dress by Intropia // Dresses provided by Lea Ann Belter: "Belle Epoque" from Alice and Ginger; "Freya" Tulle Skirt, paired with Jordan DeRuiter and silver mini moon dress // Select accessories provided by The Loved One: "Birds of a Feather" bandeau headband; "Ciana" earrings; "Serena" crown; "Stella" Veil; "Queen Bee" hair pin // Select earrings provided by: Patricia Wong Jewelry // White wide brimmed hat by: Little Doe

Thanks to Dina Maciborka, Josh Andrew and the crew at Stephen Leacock Museum for all your help!