---
Dessert Table Inspiration
June 27, 2017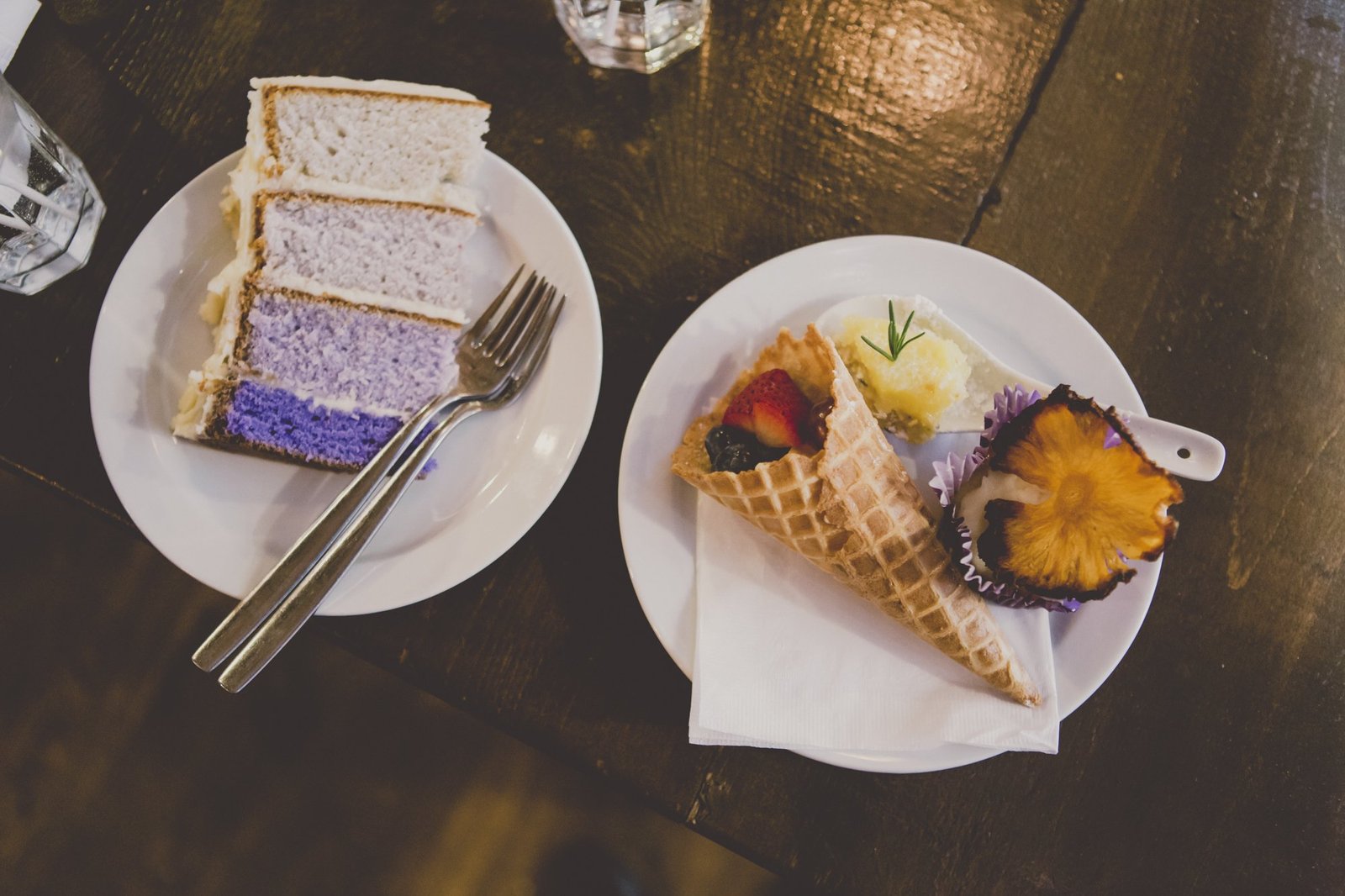 I don't know about you guys, but I'm a dessert girl. Okay, let's be honest here…aren't most people? So of course the dessert table at a wedding, or any function for that matter, is a highlight for me. And not only do I love dessert time, I love it when the presentation of said dessert table looks just as sweet!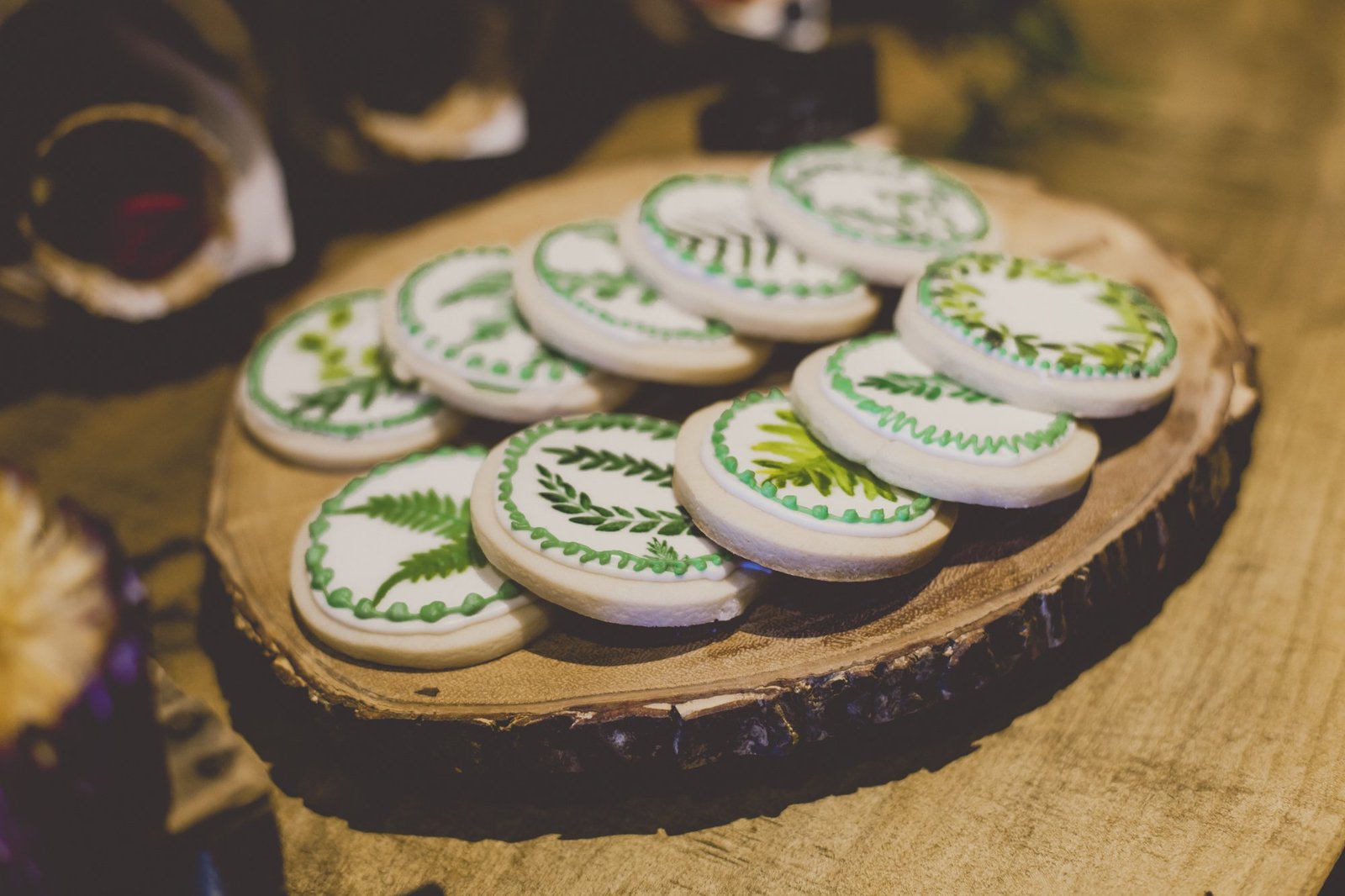 Sugar cookies are a simple cookie to make pre-party. You can freeze them with no compromise on the taste for up to 3 months! This is a great time saver when designing and baking for your event. April, our stylist hand painted these cookies ahead of time, taking her time making each cookie just right! Feel free to play with your designs, and if you don't like it, wipe it off quickly with water.
Use gel food colouring and small paint brushes with a plastic palette to mix your colours. Dilute the water with a drop or two of vodka and start mixing your colours. Have a tester cookie to practice your designs and techniques.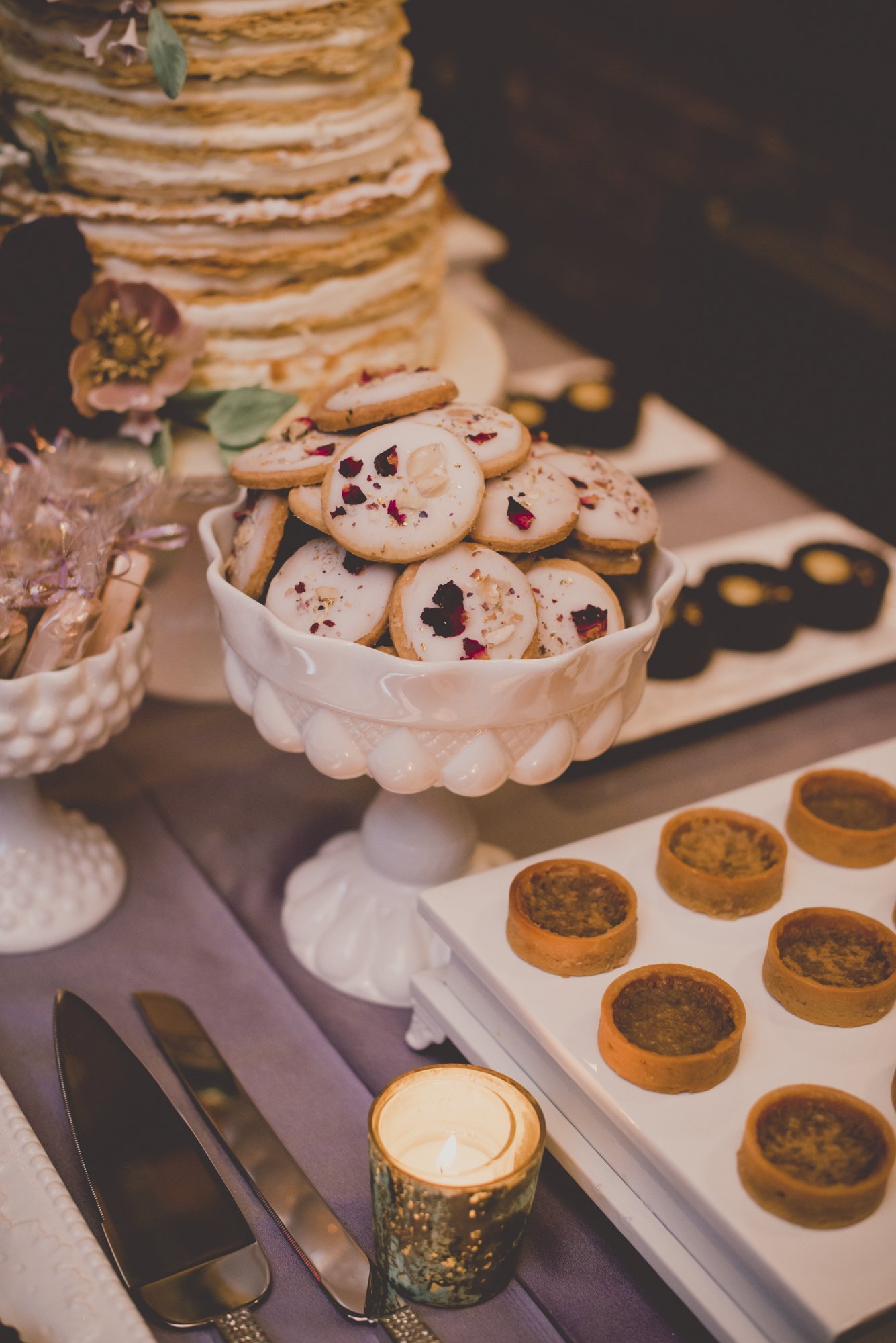 Edible flowers are a gorgeous way to decorate and beautify your desserts. Petals and flowers never fail to impress! If you fear your painting skills are weak, this is a no fail way to impress!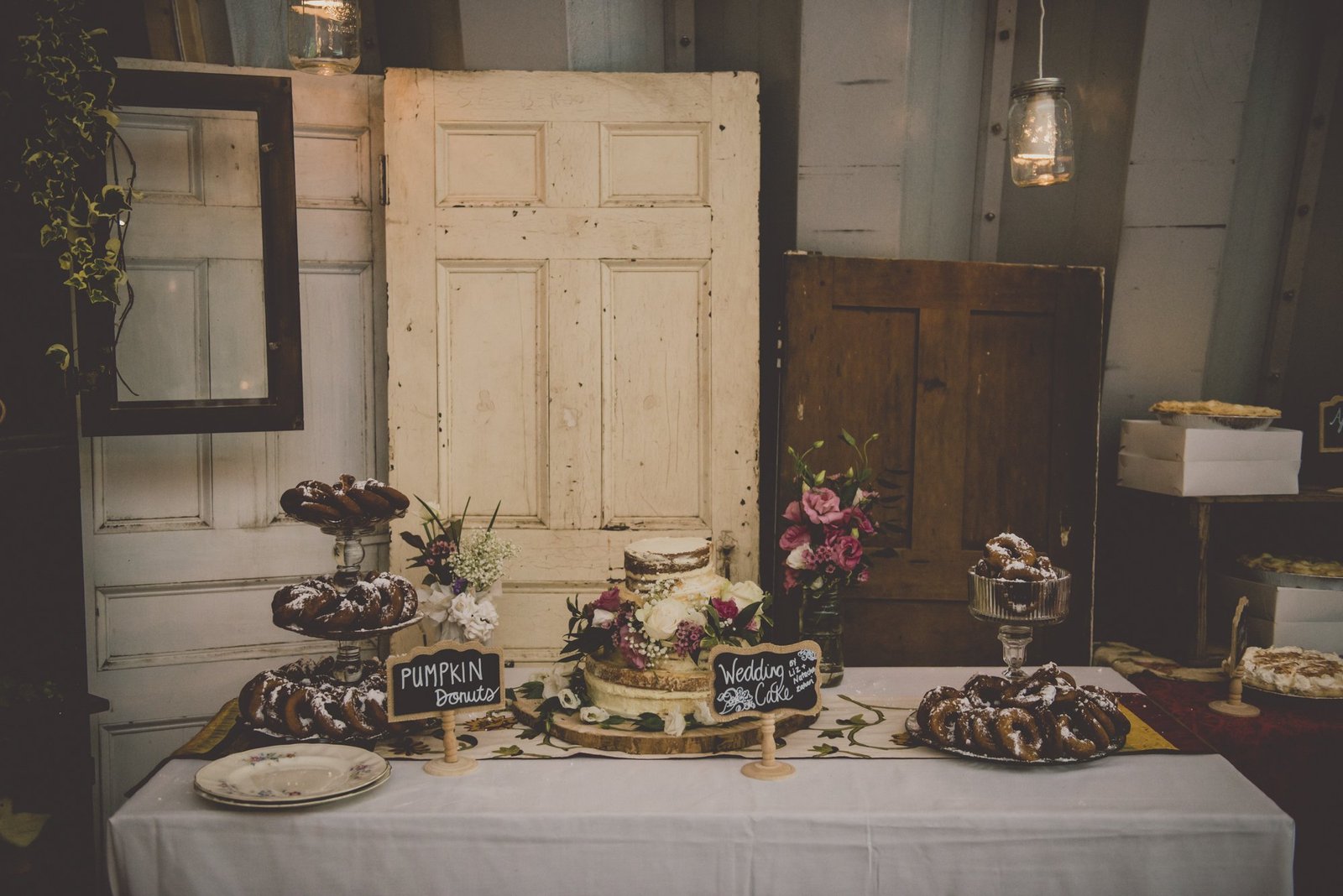 If you're having a country wedding, why not use some reclaimed, vintage doors as a backdrop? Mix up the sizes and colours for maximum effect. When I think of a country wedding, the dessert that immediately comes to mind is pies. Yummy apple, pumpkin, or any kind of berry and I'm a happy girl. Use props to elevate some of your desserts like simple wooden boxes or a pretty pie stand.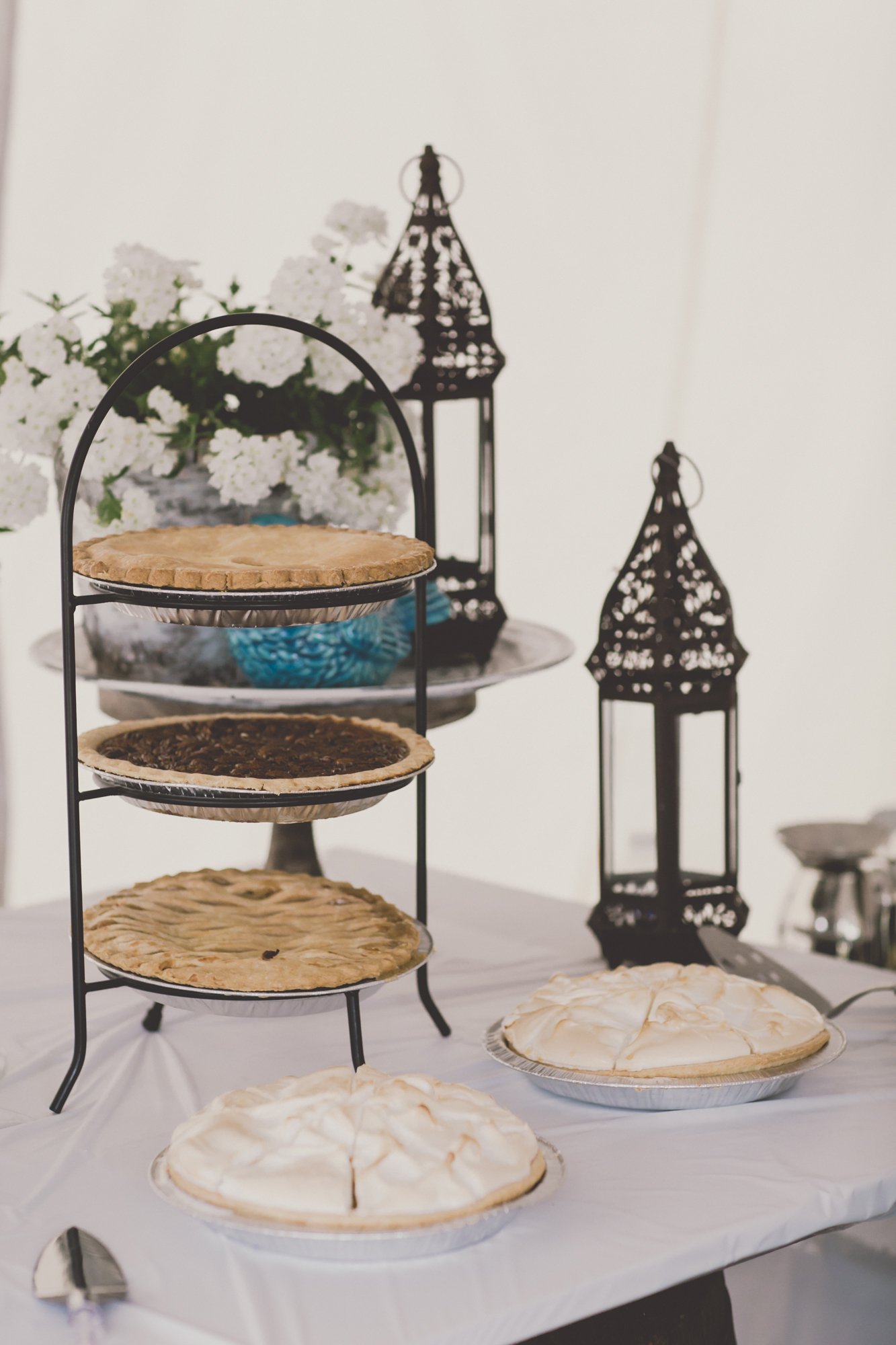 To me, pies and country go hand in hand and since they come in a variety of flavours, this is a great option to add to your dessert table to ensure there's something for everyone. Pretty pie plates are great if you can find them but don't stress over it, you can't go wrong with a plain old tin foil pie plate.
Why not skip the tablecloth and display your sweets on a bare wooden table to really give your display that rustic feel? And bonus for the DIY brides who are providing all the tableware…one less thing to worry about!
You can even make your own dessert table (literally!) by placing wood on top of 2 barrels. Instantly, you have a lovely, rustic table top…it doesn't get any easier than that!
Wooden trunk stumps and cuts are a classic and rustic way to jazz up your display. Play with sizing to give your display dimension.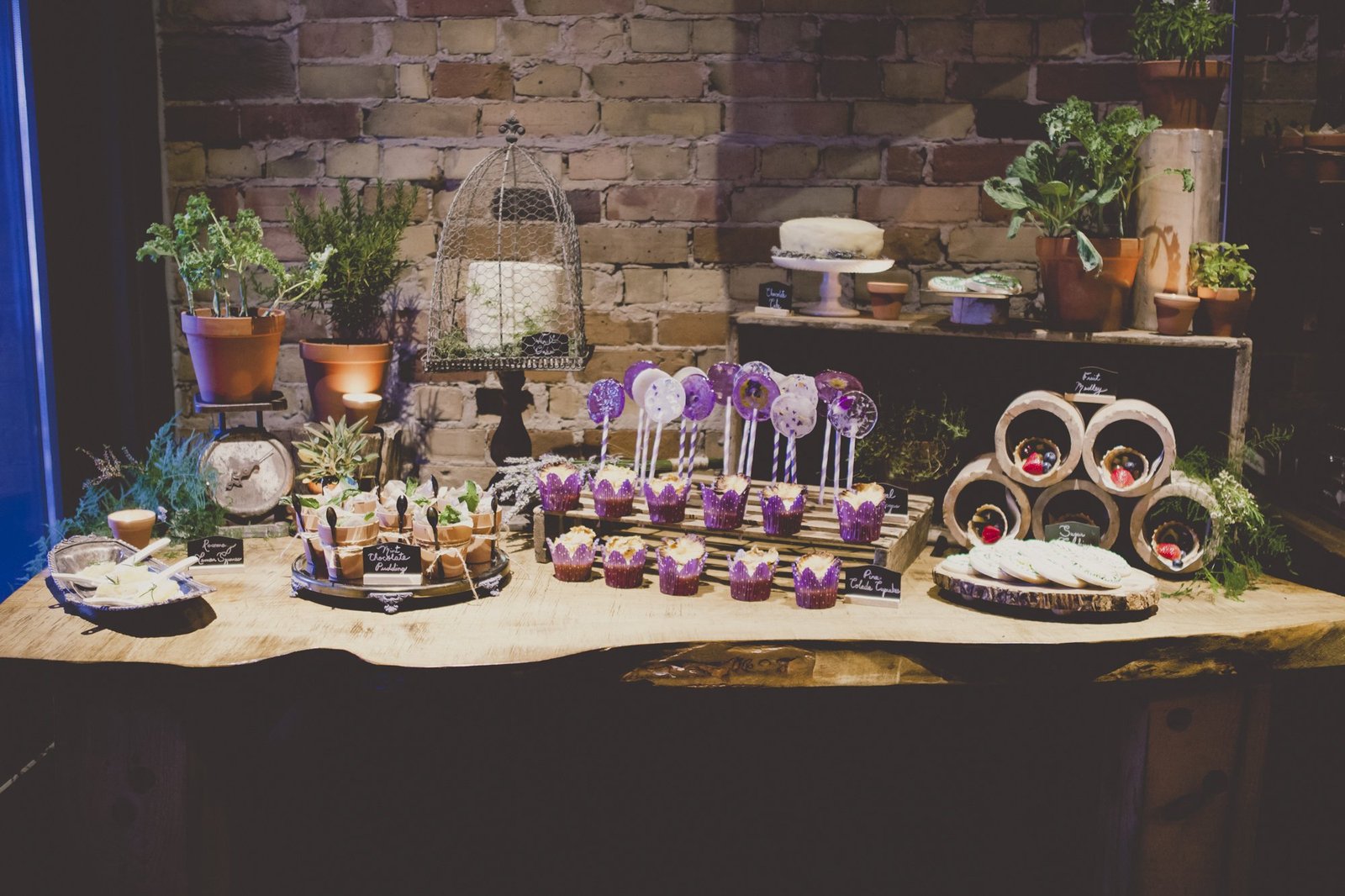 Another great and inexpensive prop is a wooden crate. It sounds like the most boring thing you could use but when positioned the right way and with the right "greenery" like herbs or leaves to add some colour, rest assured, your rustic dessert table will be far from boring!

Fancy donuts piled high or on a peg wall are always impressive. While fancy donuts can get expensive, they are a more modern option to the wedding cake tradition.
Creating a soft and romantic looking dessert table display can and should be more than just hearts and candles. While those things definitely conjure up feelings of romance, they can also be predictable and very 'been there done that.' Keep them to a minimum and use them sparingly for the most impact.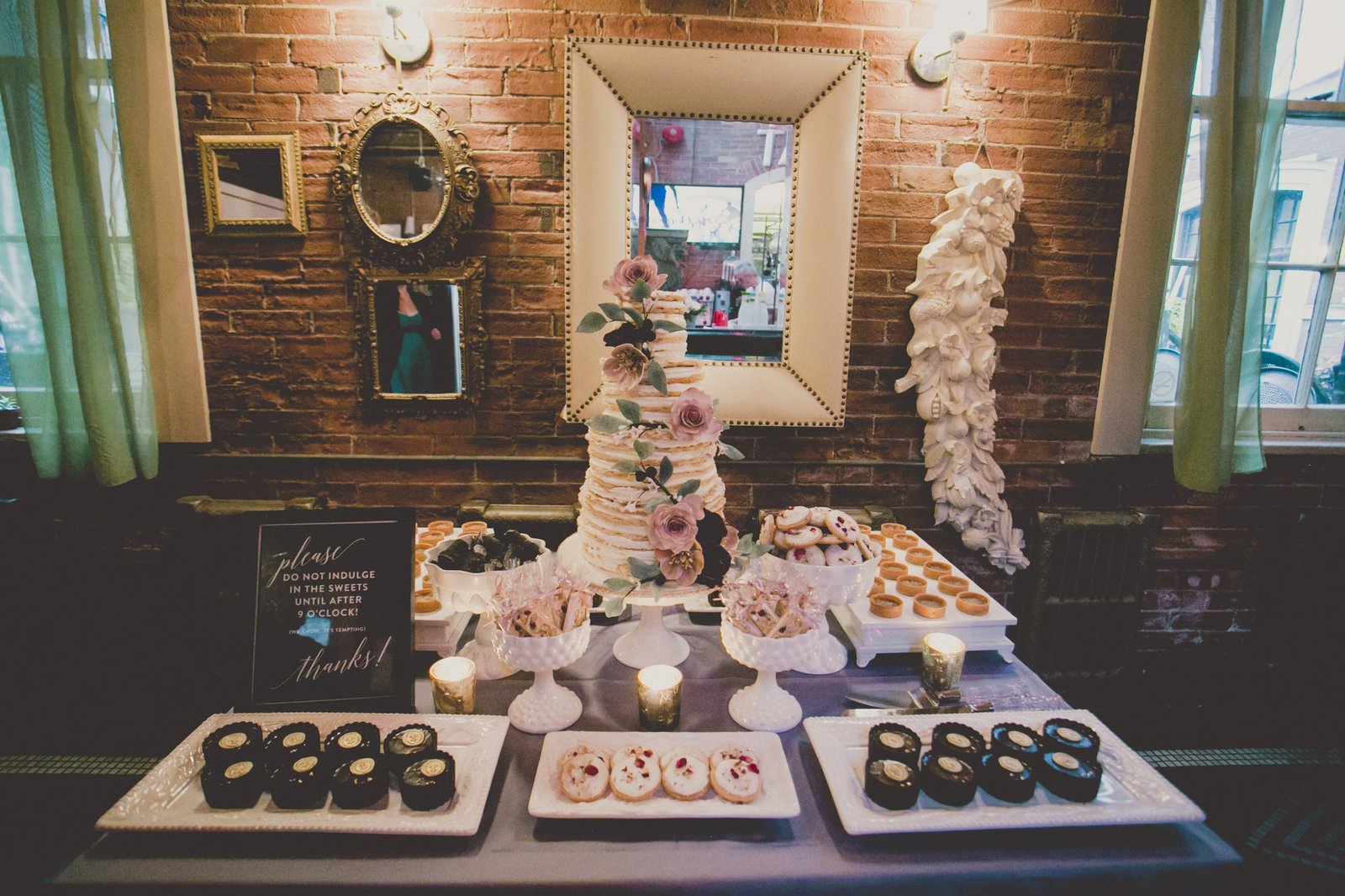 Flowers are another great addition if you're aiming for a romantic look. They are sure to evoke feelings of love and romance, so adding them to your display should be a no brainer. Be selective with the colour and type of flower you choose and make sure it fits with the overall look of your table display.
Mini cakes or desserts are always a favourite for people. Anything mini is impressive AND it also allows for people to get a few flavours in their bellies!
If you're lucky enough to find some vintage pieces to decorate your table with or even better, a vintage desk or sewing machine to use as the table itself, it will make all the difference in the world. This will give your table display character and will look so incredibly charming!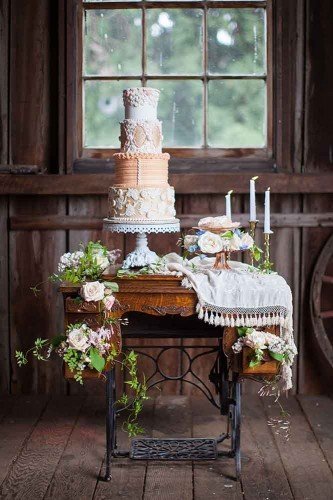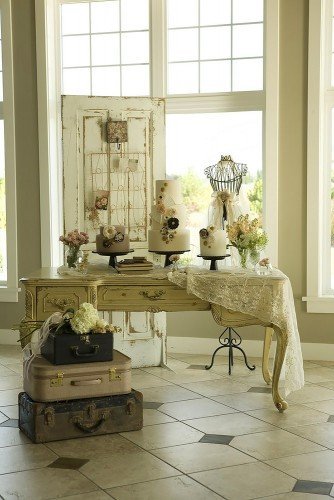 Using vintage dressers or furniture is a beautiful way to display your desserts. Even if you only have a cake, let it be a focal point. Open the drawers and display with forks, spoons, florals or greenery. It doesn't need to get expensive.
————————————-VVVVVVVVVVVVVVVVVVVVVVVVVVVVVVVVVVVVVVV————————————-
photo credits: Olive Studio // tulleandchantilly.com // weddingchicks.com // himisspuff.com // southboundbride.com // indeeddecor.com // weddingforward.com // greenweddingshoes.com // foundrentals.com // stylemepretty.com
~Marilyn