---
unicorns + rainbows
February 12, 2018
We have all seen a Unicorn + Rainbows Themed party in the last year but it is tooooo cute to not repeat it!!! It is a great theme that never ages AND it can offer relevancy for girls or boys of a wide range of ages!
I thought I would bring this 3 year old party to the beaches of Mississauga for some creative inspiration. Although we can't all bring our parties to the beach, you can consider bringing your party to the backyard!
Firstly, I found this coffee table on the curbside on garbage day. I sanded it down and painted with a fresh white for a clean and modern look. I then sat down with my sketch pad and decided what the colour scheme would be. I wanted to focus on a girly palette of soft pastels – purples and pinks to the main colours.
As a kid, my mom always hosted the best bday parties for me! She always made me a fancy cake, and crafted all kinds of activities for us to craft and play. I learned to expect this at parties…and be highly disappointed when other parties didn't have entertainment or crafts! lol
So of course, this little photo-shoot party would be activity based for the girls. The focus here, was to have the girls paint and decorate their own sugar cookies.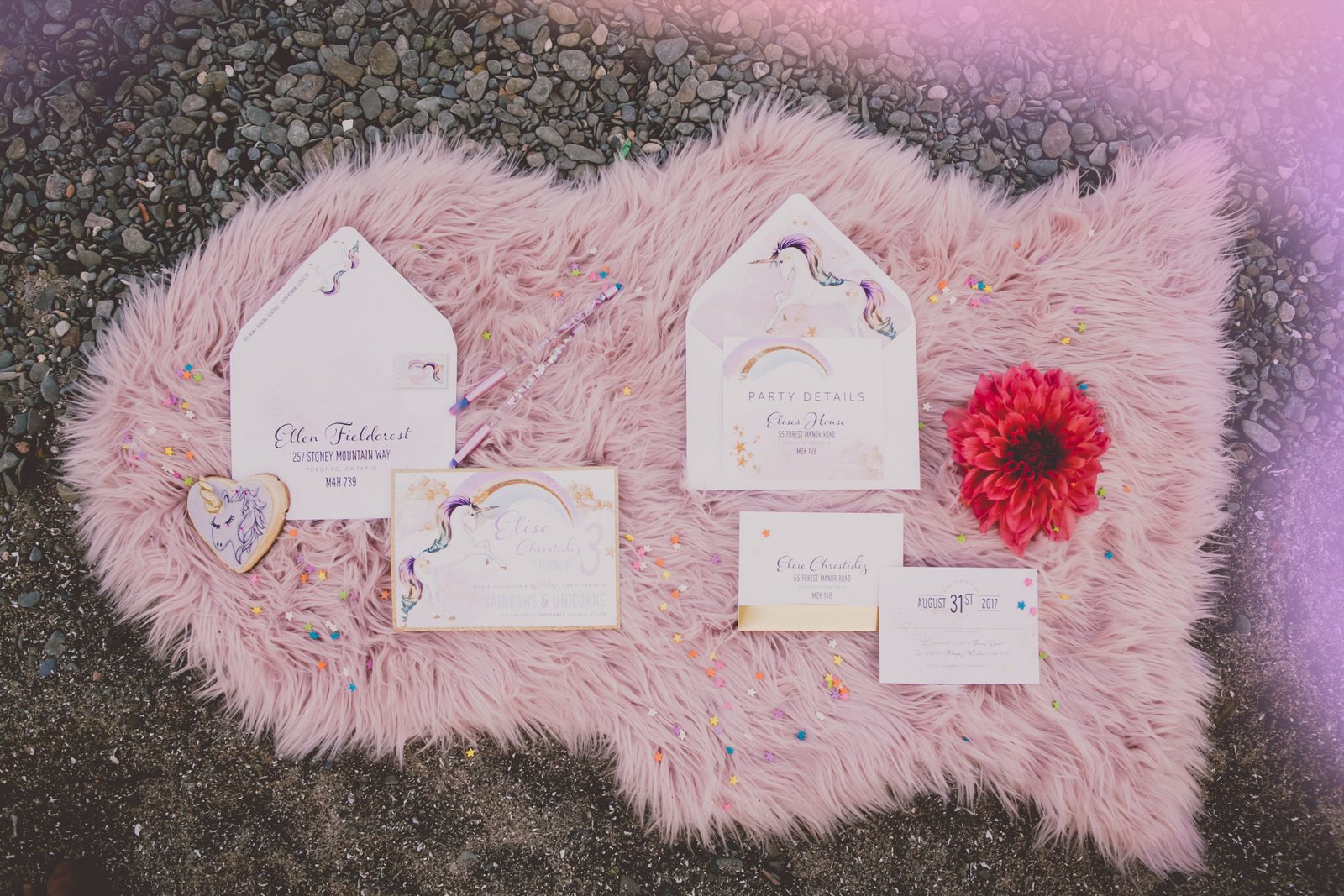 A party isn't official without a themed invitation suite! How pretty are these?!
A clean and fun way to present the coloured icing and sparkles was to present them in a painters palette. I layered the sprinkles in a rainbow in little glass jars and found beautiful glitter paint brushes to finish it off!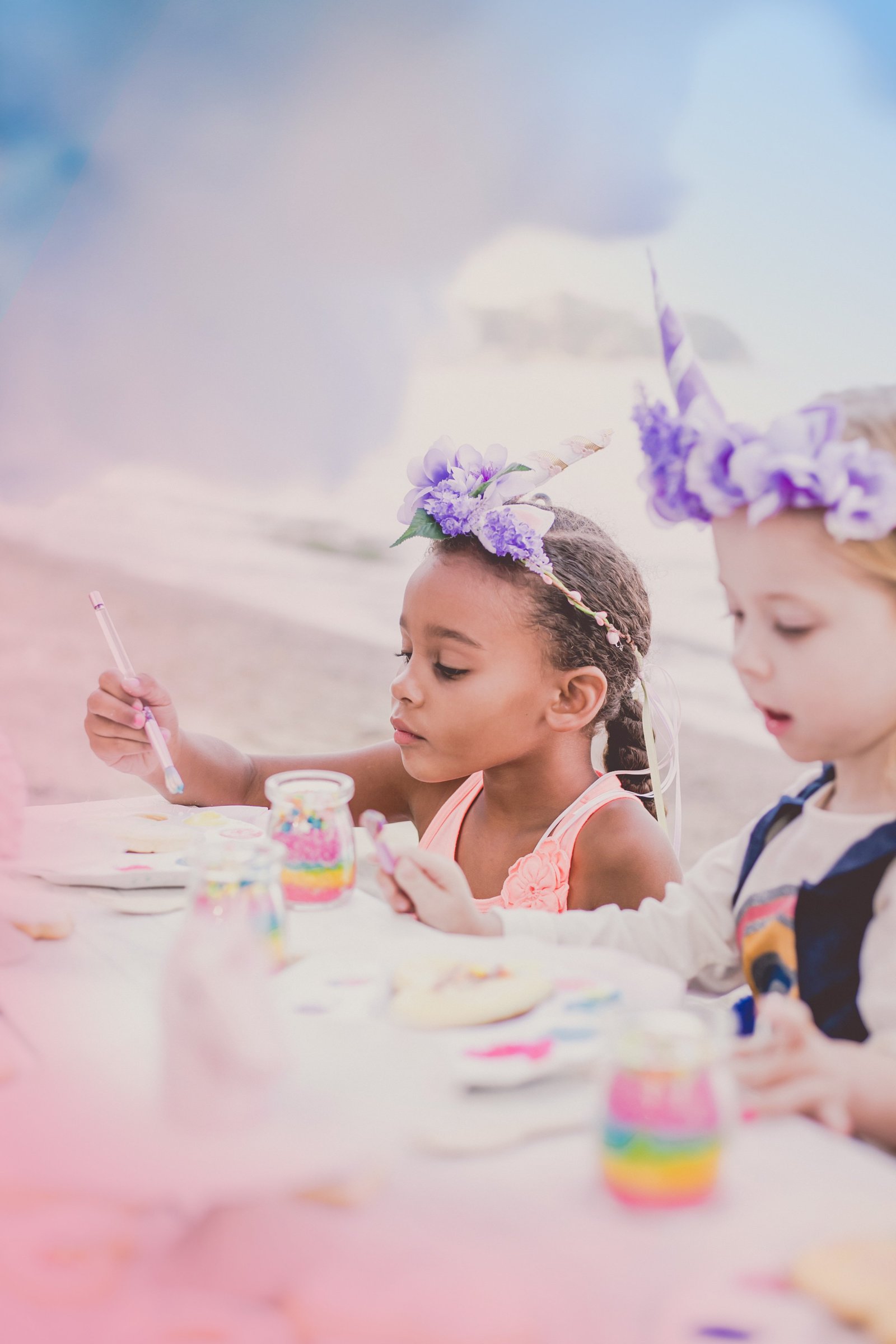 Instead of decorating with flowers which are expensive and frankly not appreciated by kids, I layered sugar cookies made by Caitlin from Cakelaine down the table like a table runner. The kids could easily reach for a cookie to paint and feel free to do as many as they wished.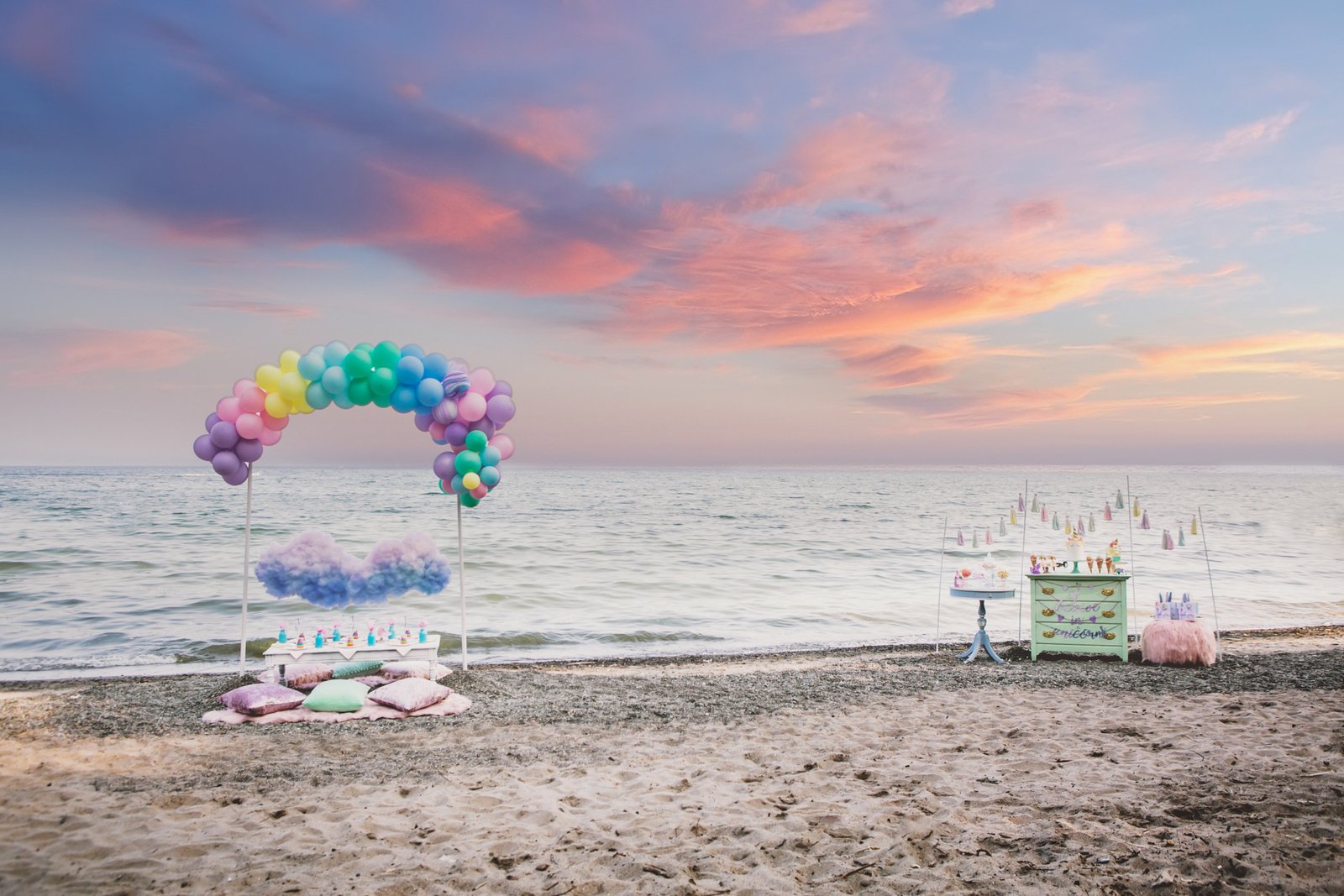 Balloons are another way to feature a table or area of a room. They are a great giveaway for kids to take home and quite frankly entertain children for hours! This arched rainbow of balloons made by Laureign from Sugargirlee & Co. was the focal point of the table and added that special little touch!
Under the rainbow and over the table I of course wanted to add clouds. No rainbow is complete without a cloud! These clouds I originally made out of candyfloss from Candy Floss Land. They were awesome and sticky and my vision was for the kids to grab the floss to eat off the clouds while they painted their cookies. This idea was a grande FAIL. It was way too hot outside and the floss started dripping off onto the table almost immediately. It was a serious sticky mess! I highly recommend NOT ever doing this – even in AC because the air starts to melt them regardless. I did have a backup plan however – since I was at the beach! I ended up spray-gluing cotton balls that I spread apart onto pre-cut foam-core clouds. I then put food colouring in a spray bottle with water and sprayed the first and lightest layer of colouring on. I added more and more blue to the red colouring and kept spraying an ombre pattern on the clouds. It worked out perfectly!!! I think they looked a lot like clouds!!! Although the girls couldn't eat them, it was a pretty feature that added an extra bit of magic to the scene.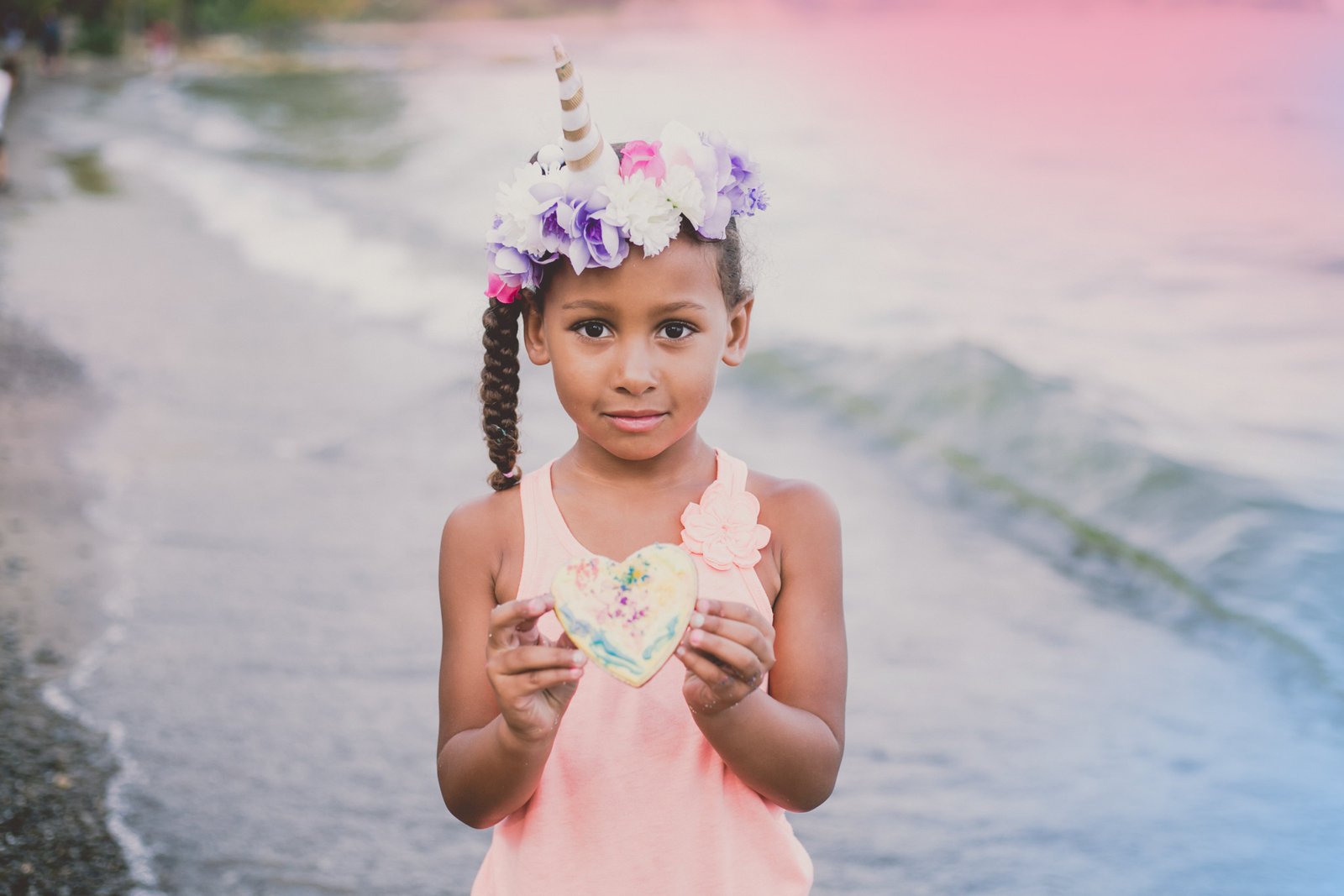 Each girl also got a unicorn crown made out of fake flowers, felt and ribbon. These were easy to make and the girls embraced their themed crown instantly.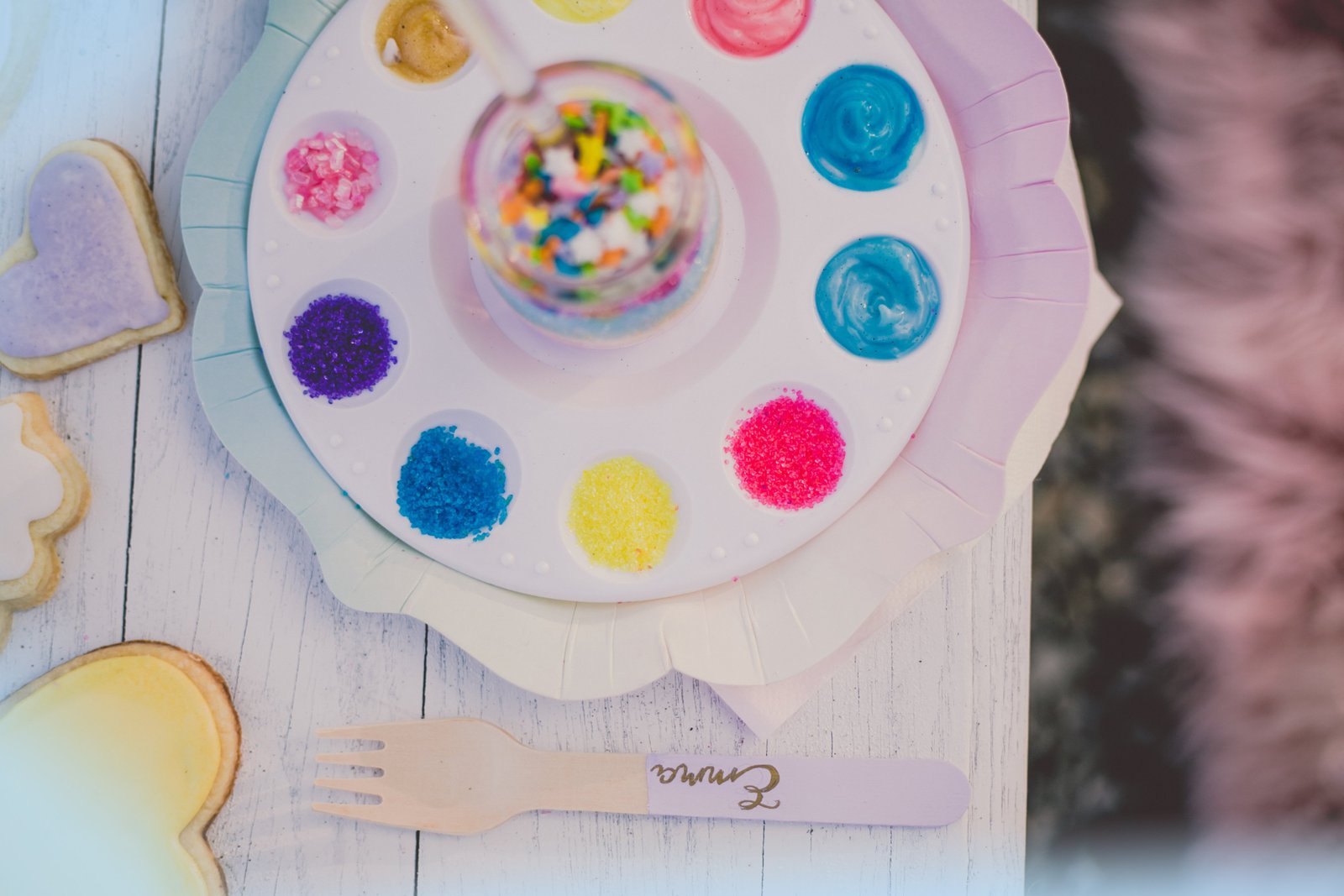 Ombre unicorn paper plates and home-made purple dipped wooden cutlery by Carla at Bon and Co Party Studio finished off the table! I then wrote each girls name on their forks for a personal touch.
"I believe in unicorns" garland was made out of purple paper that I hand wrote and cut and threaded through string. This is a couple hours long project that can save you about $30.
I used Olive Studio's gorgeous mint green dresser and blue table from our rental inventory for our dessert table. Carla made us an ombre dipped tassel garland that I attached to 4 wooden dowel posts I painted white from Home Depot. Against a solid background, these tassels showed up beautifully and gave a lovely focal point to the dessert display.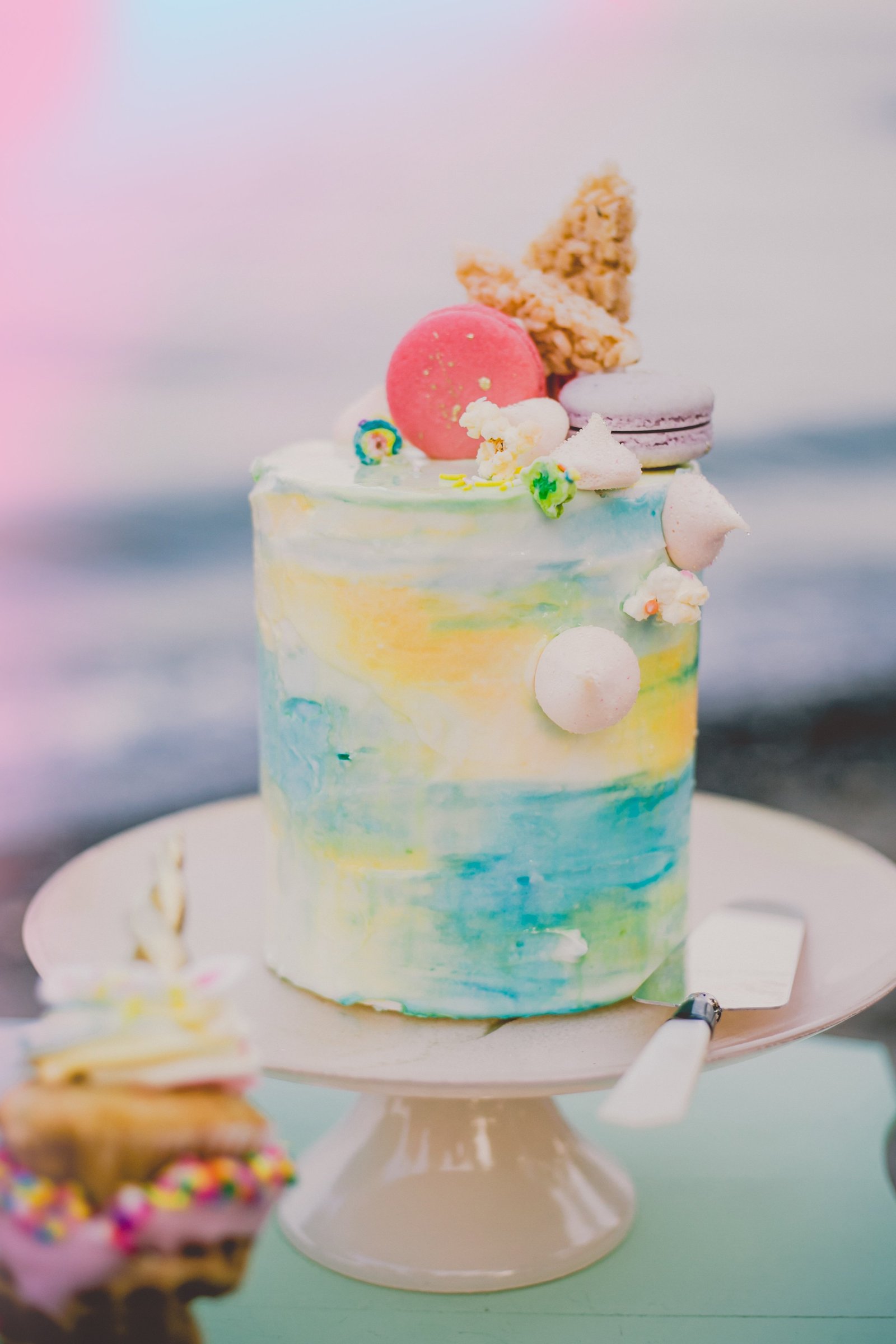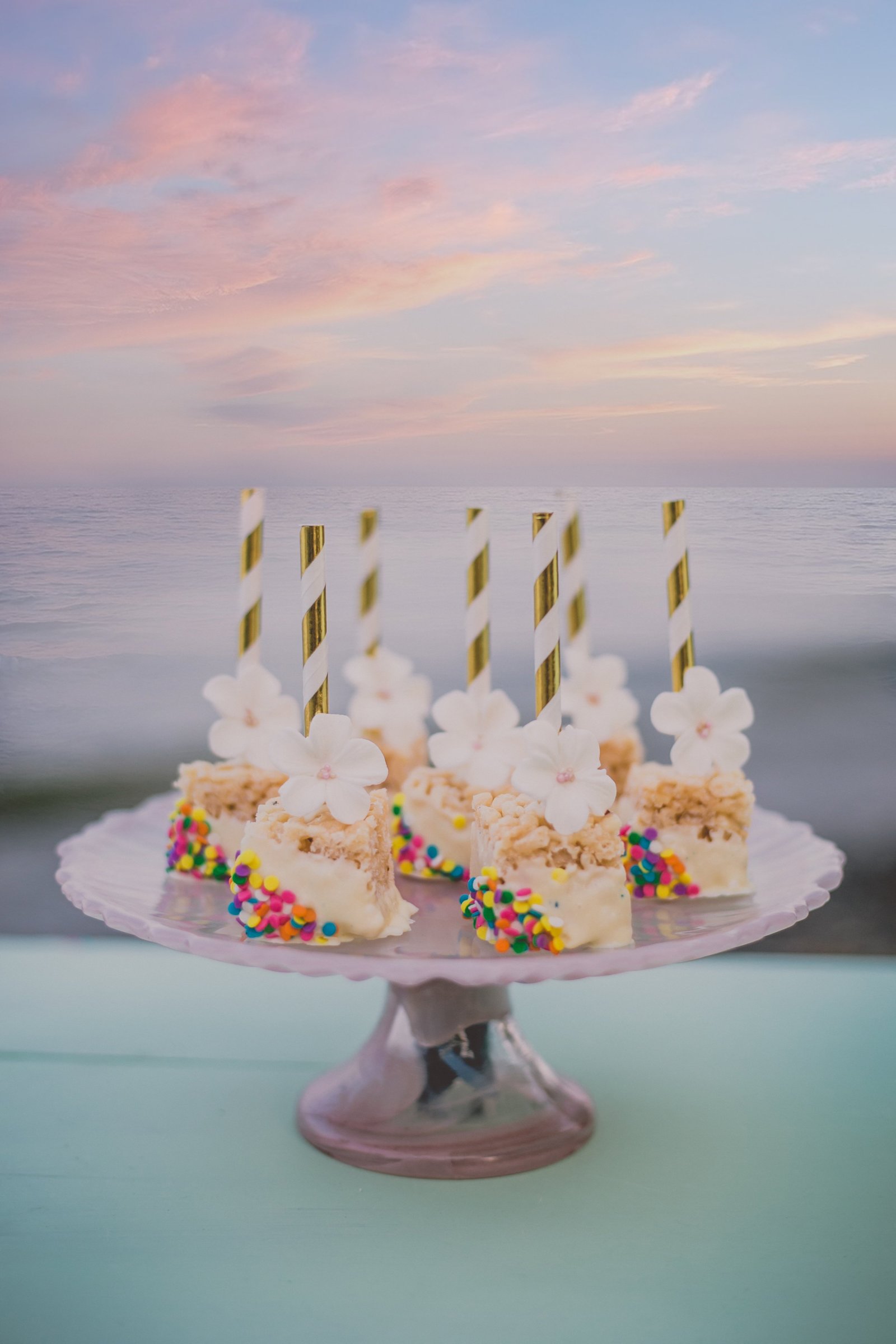 Caitlin made us a gorgeous feature watercolour cake decorated with all things lovely and delicious! She also made us sparkle dipped Rice Krispie squares that are a fun play on a traditional favourite!
Candy never disappoints at a party! Fill pretty vessels with pastel coloured candy, and voila! You have an entire dessert table that is cohesive and delicious! I used cake stands to give some of the vessels different heights to allow the eye to dart from one to the other without confusion.
These soda-candyfloss floats were also a hit! Mix different flavours of soda with a bit of milk and decorate the top with a heap of candyfloss!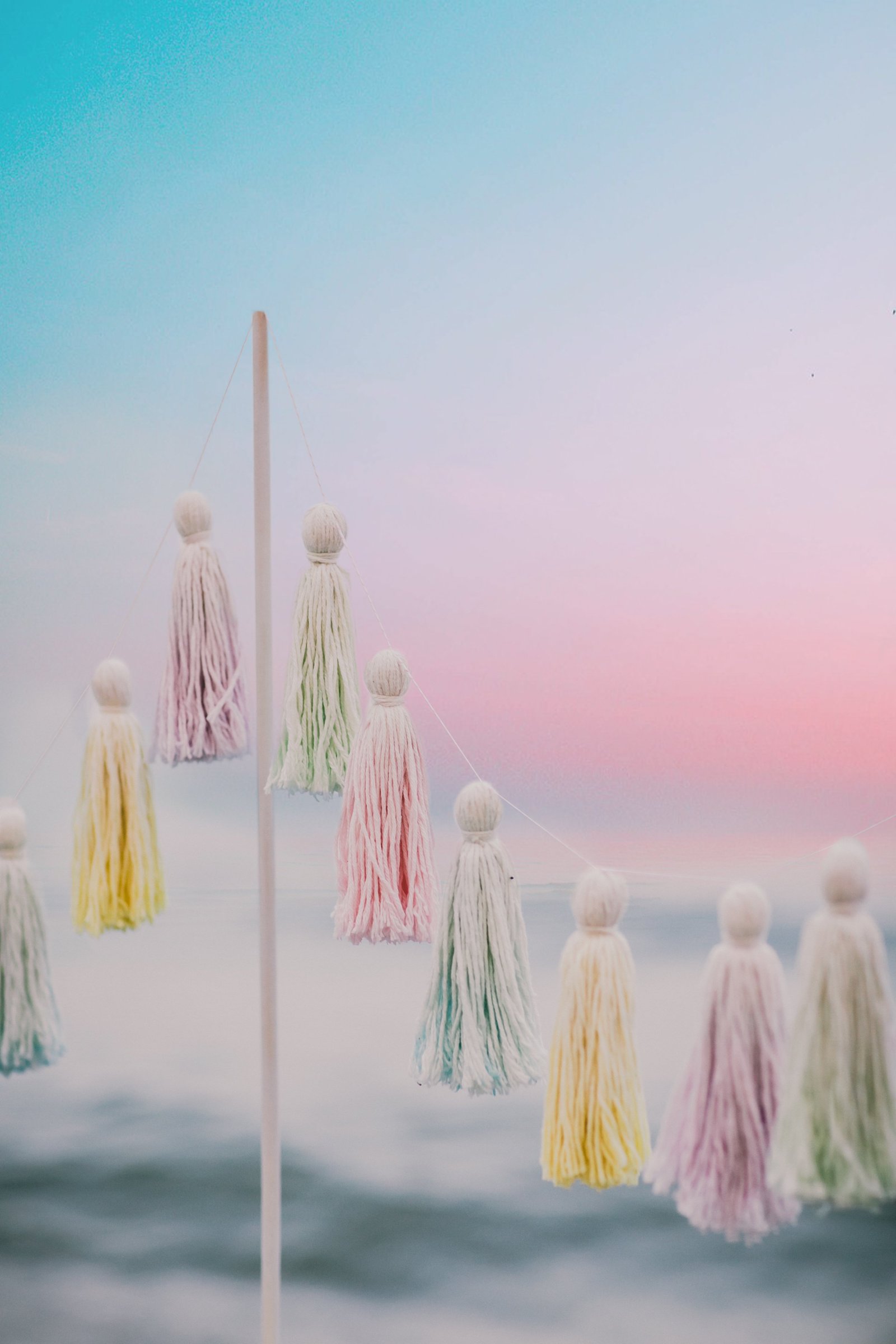 This unicorn cake feature is simple and pretty and sure to please!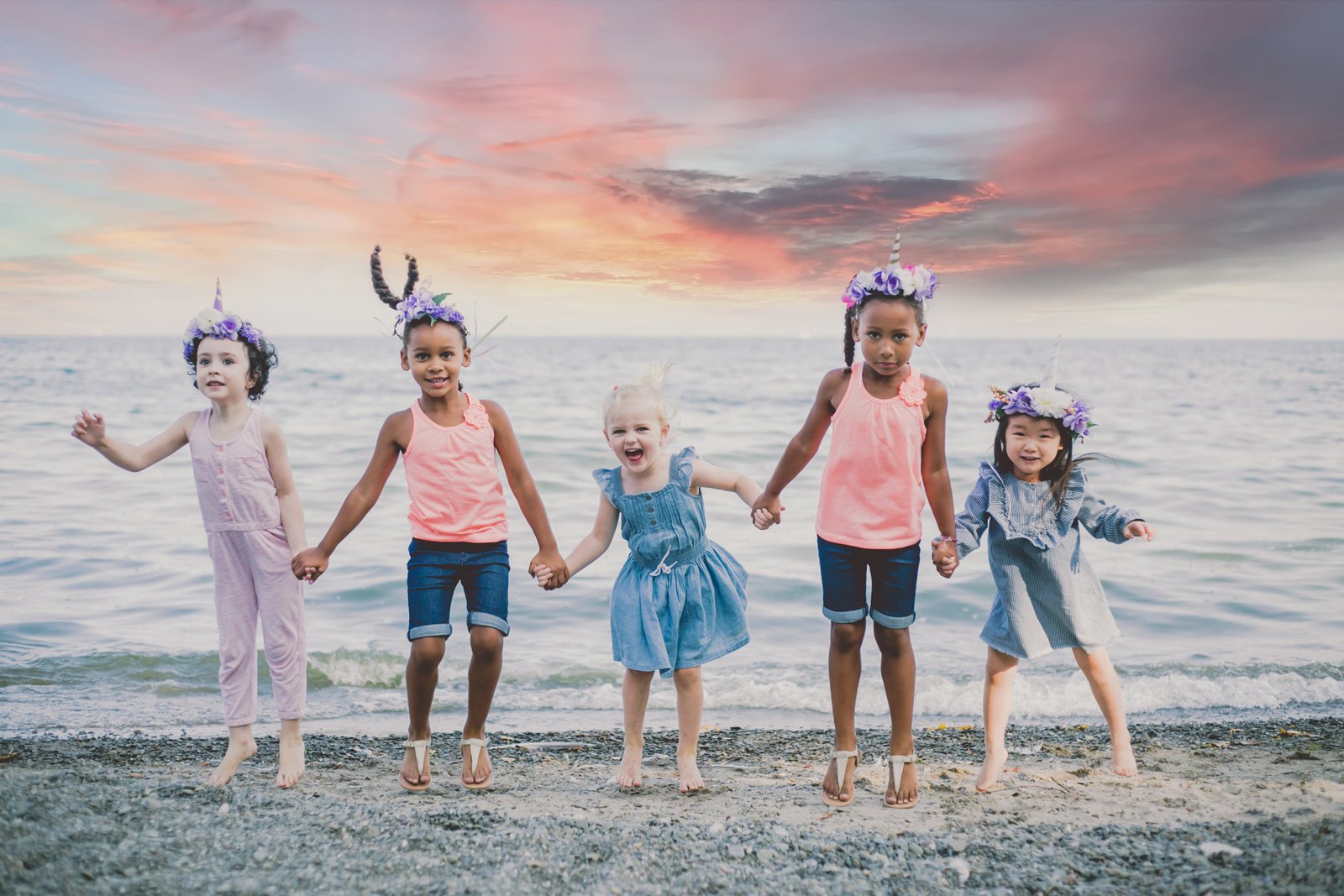 Remember that not every corner needs to be filled with food! I also used unicorn and rainbow themed toys to display just like desserts.
A party without a pinata is barely a party, right? Well maybe think twice about making your own pinata like I did. This may be the cutest pinata I've seen compared to the donkeys in the store…but it took me about 30hours to make no joke! lol. I persevered because I am stubborn and needed to have a unicorn pinata for the shoot, but my gosh – Was it worth it?!
This pinata was originally bought at the Bulk Barn and I tore all of the tissue paper off it so that I could have the body already assembled. You of course can save yourself $30 by making one yourself out of cardboard but then this project might cost you an entire week of taking off work!
So I striped the donkey of its red tissue and cut strips of my own tissue paper and glued the strips on in layers to give the unicorn its bodyhair. The mane and tail was a series of more little cut pieces of tissue…that to the eye you might think will take about 5 hours to create…but trust me!!! Cutting paper takes longer than you might think! Then the eyes, and the horn..all in all it looks fantastic and now that its done I can say it was worth it! But by God, by no means will I allow any child to burst it open!!!!!! hahahahahaha
A beach party wouldn't be complete without a tipi! I bought 4 pieces of wood and painted them white to use as the base of the tipi. I dug holes to secure the posts and roped each triangle together. I then roped the two triangles together and draped light fabrics over it. Throw in some fun pillows and you have a secret little hideaway! Don't forget to leave a little treat outside the door 🙂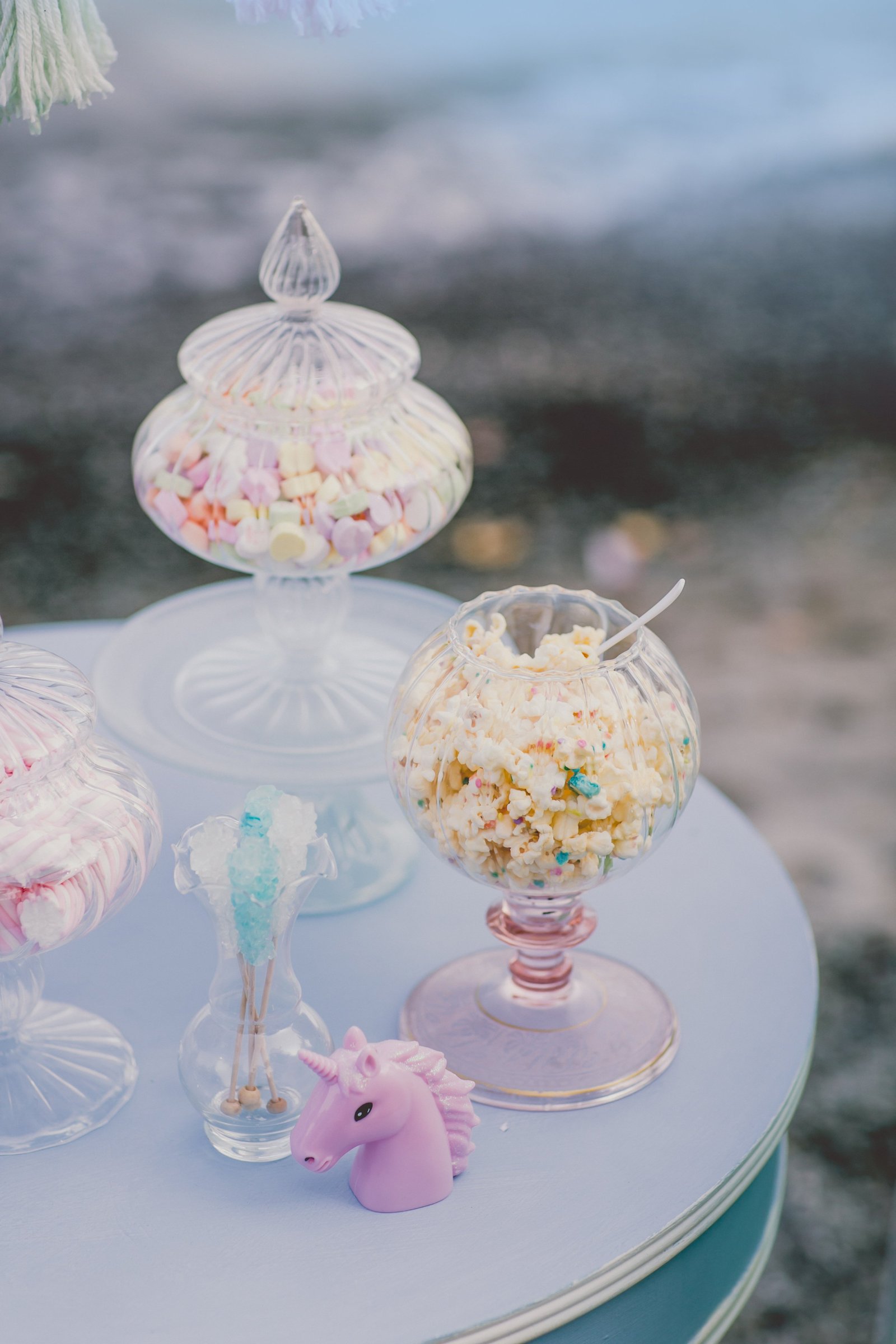 These cupcake unicorn cones are my favourite! How easy to make at home and add that extra drama to the traditional cupcake!! Of course, we all are not likely to make it as pretty as Caitlin did!
A party wouldn't truly be a party without loot bags of course! Fill your themed bags with candies, toys and jewellery. Let the kids take home extra desserts too!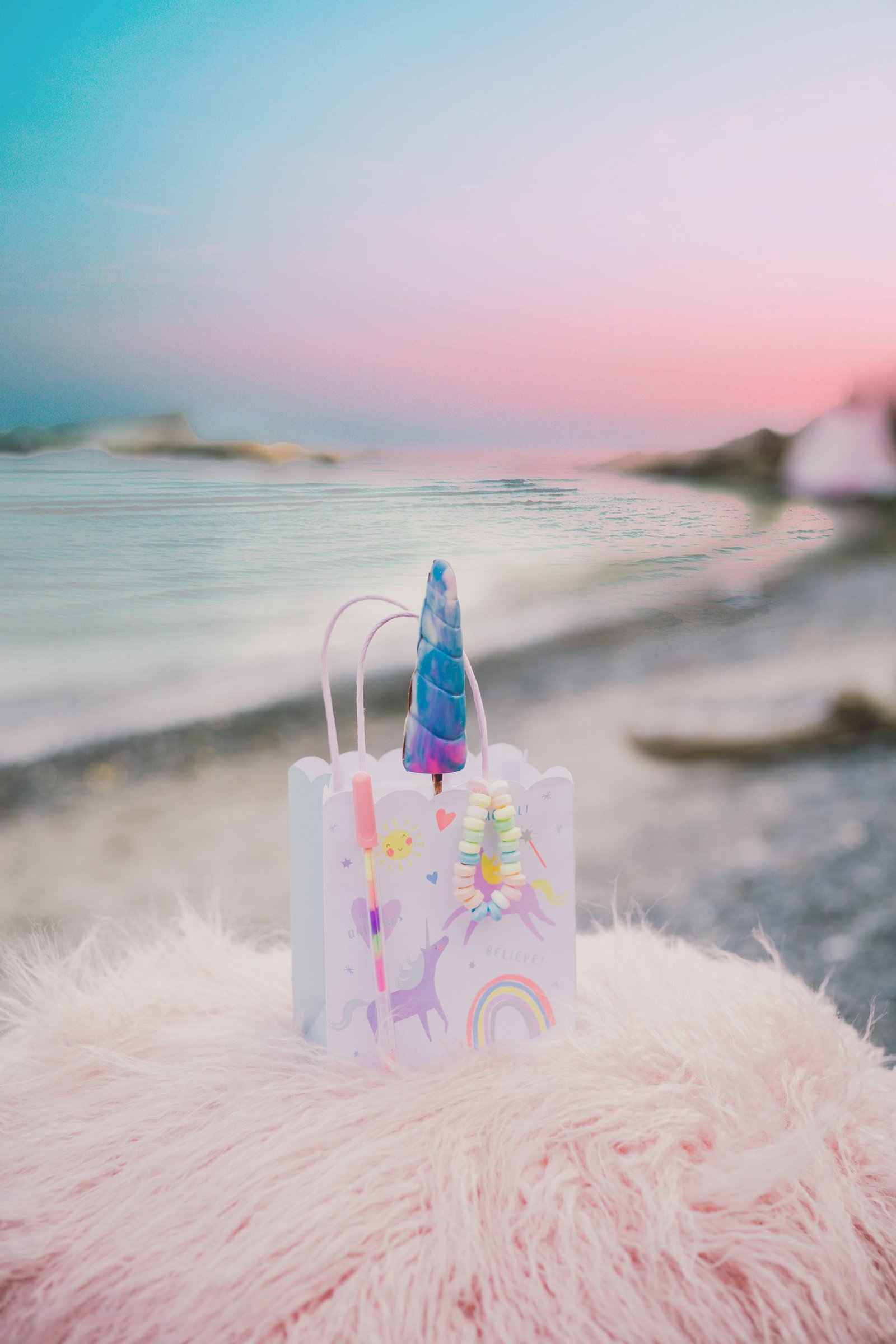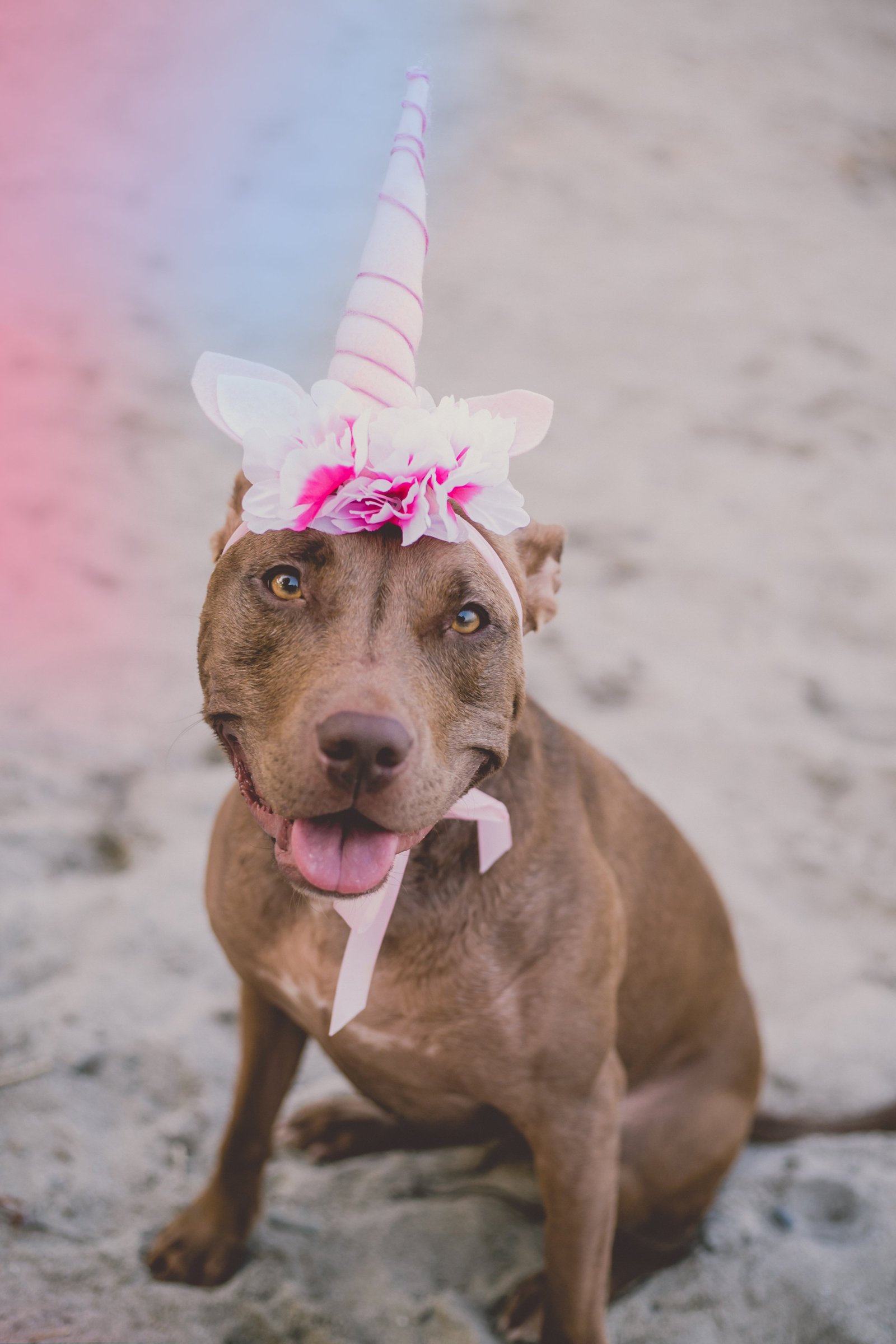 Don't forget to dazzle your fur baby with a crown too!
Thank you to all the vendors, volunteers and little models and parents who came out to join us for this sweet themed party inspiration! I hope that it inspires you for your next hosted party just like my mom inspired me every year that I grew older!
xx – april
————————————-VVVVVVVVVVVVVVVVVVVVVVVVVVVVVVVVVVVVVVV————————————-
credits
venue: Richard's Memorial Park // photography, art direction, styling: April Maciborka, Olive Studio // planner: Marilyn Pacheco, Olive Studio // balloons: Sugargirlee & Co // candy floss: Candy Floss Land // desserts: Cakelaine // paper plates, cups, cutlery & tassels: Bon and Co Party Studio // stationery: Brooklin Paper Co //
Special thanks to our adorable models: Elise, Emma, Aria, Evelyn, Maya, Lexi, and their parents
Special thanks to our super helpful volunteers: Soul, Gloria and Jeni Lupo
This styled shoot was also featured on Aisle Perfect Living